PayPal.me is here. Read below!
For those of us doing business online, we know Paypal is one of the most secured and flexible ways to collect or make payments on the Internet.
Though this payment platform is the most widely used, marketers and online businessmen in some developing countries (including Cameroon, my country) are still quite far from its benefits. Well, Cameroon and a few African countries are a step ahead.
At least, now we can safely make payments with Paypal. Check out details in this post. Paypal now allows us to create country accounts and verify them with Credit/Debit Cards issued by banks in Cameroon.
While this is an exciting step that fuels online business in Cameroon, it only stands to take money out. Most Cameroonians (including me) are overly waiting for the other phase – being able to receive payment 😉
Paypal.me – an easy way to collect money
Paypal has recently published a new way for marketers to collect money from clients. This is one easy way to get paid without necessarily sending your paypal email to clients.
While this does not replace the website integration method, it's a better way to simply get paid.
Everyone with a personal or business paypal account can now have a PayPal.me link. Personal or Premier accounts can get paid back from friends (Friends & Family) or sell their stuff (Goods & Services). While Business accounts can only accept Goods & Services payments.
Of course, creating your own Paypal.me link is free. However, this is gradually being introduced to users from different parts of the world. That means this service may not be available to your country as you read this post. Simply go to PayPal.me to find out.
NB: Check out Payoneer. It may help you receive money online (or make mass payments) if Paypal does not cover your country!
How does PayPal.me Work?
First, go to Paypal.me and create your link which looks something like: https://paypal.me/YourName.This is the link you send to your clients to pay you. Below, I show you how to send this link, requesting for specific amount.
PayPal.me is responsive so you can use in on mobile. Your clients on mobile won't have any issue making payments.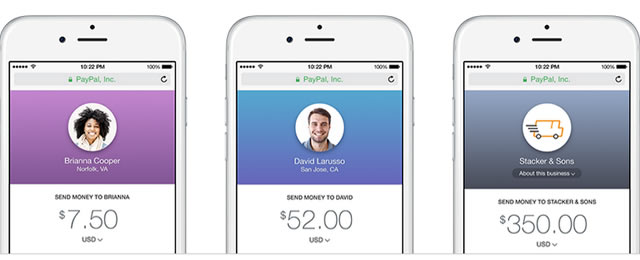 Requesting Money with Paypal.me
There are two ways to request payment using your Paypal.me link. Note however that for this to be successful, both the payee and payer must be in countries where the service is enabled.
1 – Request a specific amount: 
To request a specific amount, just add it to the end of your link. For example, use https://PayPal.Me/YourName/25 to request 25 USD. The request will be made in your default currency. However, you can request a specific currency by adding the currency code to the amount. In our example above, you simply add USD to request for $25: https://PayPal.Me/YourIName/25USD
2 – Let the client decide how much to pay you
In this case, you just send your link without specifying any amount. The payer will have to enter the amount in the field provided.
Note that whether you add a specific amount to your link or not, the amount field remains editable. That means the payer is still able to make changes to the amount requested.
Here is what my PayPal.me payment page looks like;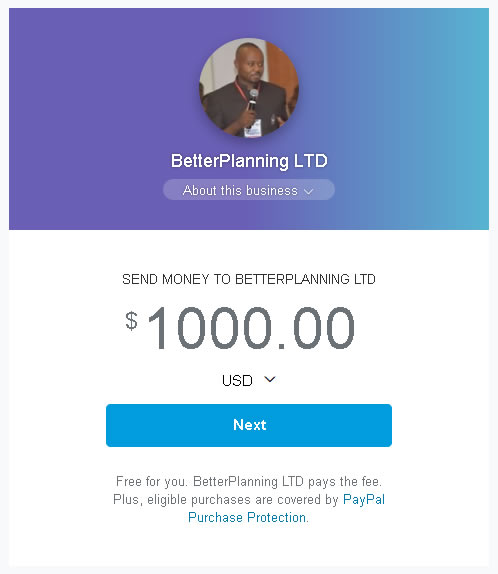 Ok, send me some coffee for $5. Go to https://www.paypal.me/betterplanning/5usd. Do you want to decide on the amount? Ok go to https://www.paypal.me/betterplanning/ and thank you 😉
PayPal.me Limitations!
While this new payment procedure by Paypal is awesome, it has its limits and here are two;
You can't automatically redirect clients to a page (download page for instance) after payment is verified.
There is no way to specify any IPN (Instant Payment Notification) url to capture data and do some processing before delivering product.
However, like I mentioned above, this service is not meant to replace any website integration method which allows you to process payment data posted from Paypal to your script. It is most suitable for freelancers and some service providers who don't need to automate delivery of their services.
Conclusion
So what do you think about PayPal.me? Have you used it before? Does it make any difference in your business?
Please share your views below using the comment form. If you are active on social media, kindly spread the word 😉