It's one year today since this blog went live. The domain name was registered on October 28th 2013. This coincidentally is a day after my birth day, which is 27th of October.
This is one year of blogging on EnstineMuki.com. I have been blogging however for 2 years. I started blogging on EmFastIncom.com in August 2012. Here is my 2 year anniversary post.
My one year journey with EnstineMuki.com has been an exciting one. The growth has been crazy and I have met with more and more awesome bloggers.
My community has been exceptional. My readers (including you) have been the most important asset I have ever had. These stats I'm about to share  here with you are as a result of these wonderful readers.
The first article I published on this blog was on the 29th October 2013. I wrote about Google's hummingbird update. Click here to read the article. Since this first post went live, I have written many more both for my blog and clients. I won't mention about clients' here though.
I'm publishing this post to show appreciation to my readers and friends who have greatly influenced me in one or many ways. You have read, commented, shared, tweeted or linked to my blog from an awesome content. That action you did has hugely contributed to where this blog is today.
Some stats after 1 Year!

In one year, I have published 189 blog posts (an average of 15,75 posts per month) and you my readers have made thousands of comments. Including my replies, there are up to 7922 comments (an average of 660 comments per month). This is of course, clear proof that this blog has been very active during the past 12 months.
Alexa Stats
Though the importance of this traffic and engagement  measuring tool is still highly disputed, it has proven to me its worth.  We cannot completely dismiss Alexa stats if we want to be recognized online.
A good number of advertisers and clients will still consider your Alexa ranking as a pointer to how popular your blog is. I have published a couple of paid posts on this blog thanks to the convincing Alexa stats.
20k after 12 months is impressive. With no blackhat method, I'm so excited to see my stats dropping and dropping. In the next 12 months, my blog should be within the first 10000 sites wordwide.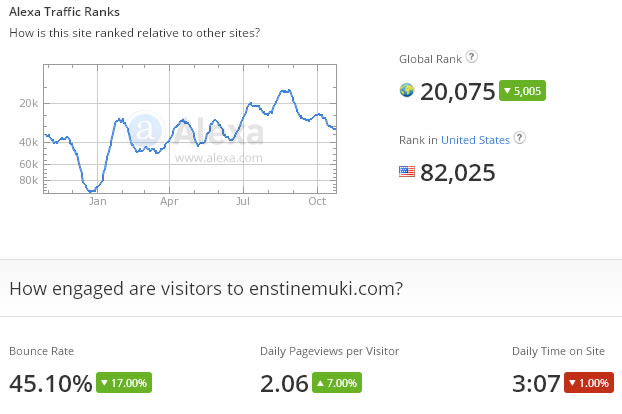 Income report
In this report, I won't be able to give you details. However, I made good earnings from paid product reviews and affiliate programs. Writing reviews of interesting products and linking to them through your affiliate links is a powerful way to generate consistent sales from your blog.
So many of these review posts I wrote in the past keep generating affiliate commissions. If you do affiliate product reviews that keeps getting traffic from search engines, you keep making money from them.
Often, we forget this long term consistent benefit and rush after instant payment from product owners.  It's stupid to accept $50 to review a product with an affiliate program except the product owner allows you to sign up and use your affiliate link.
Here below is exported report from Paypal. I have removed other earnings that are not linked to this blog. Note that ClickBank payments are not included in this report. Clickbank pays directly to my Payoneer Account.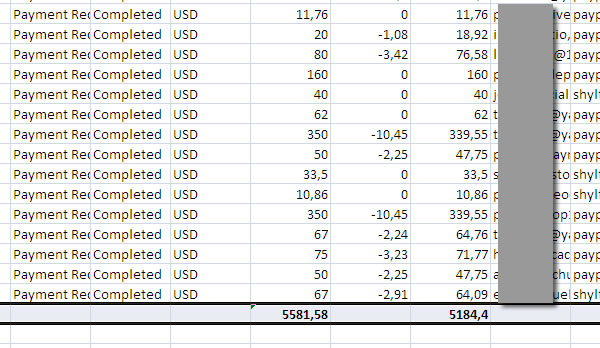 A few months after the blog went live, I accepted paid post from clients for a fee as low as $20. They did their content and submitted. I had a couple of these kind of contents but as my traffic and engagement grew, I began shifting away from low payments.
My gift for you!
As far as blogging is concern, there is nothing else as dear to me as you, my readers. I was thinking what to give you this day so it came to me to offer something very useful.
You know of my new traffic platform. BroadedNet is driving a lot of traffic for many users. So I have generated coupon code for you on it. If you are new to this platform, click here to read more.
To access the coupon code, do me a little favor. Help me spread the word. Share this post on Facebook or Twitter. You will unlock the coupon codes for hundreds of free credits.
Thanks for helping in spreading the word. The coupon code on broadedNet is: 1YEAR.
Go to https://broaded.net, signup/sign in. Click on "Got coupon code?" Enter the code and grab the credits
Over to you
What do you think about this one year report summary? What do you propose I do to achieve more? If you are one of my loyal readers, what did you hate about this blog during the past 12 months? Share your points in the comment box to help me ameliorate.