The WordPress Hosting Business seems to be a profitable deal. As the Content Management System and blogging tool becomes quite popular, the need for dedicated WP hosting services keeps growing.
According to statistics, WordPress is the most used tool that powers online content with over 30% dominance. This content management giant has ceased from being a script.
It's grown into a huge industry with over 9 profitable business ideas. It allows users to create just any site, from simple presentation sites through blogs to complex eCommerce site.
Before we get to the survey results, take a look at this WordPress Hosting Providers comparative view
The most used and recommended WordPress Hosting Service
On the list of WP business ideas is Web hosting. While this remains a complex and challenging business, it doesn't stop as many people as possible investing in it.
There are thousands of WordPress hosting companies but few are well known. A survey I conducted recently brought over 130 WordPress users to revealing 38 of these companies they are willing to recommend anytime this year.
But out of the 38 institutions that are commonly mentioned, there are three that stand out by way of customer satisfaction:
Going through the reviews and comments from participants, it's without doubt that Siteground is the people's choice. Customers are satisfied with the package prices, customer service, server optimization, etc.
Customer satisfaction is the main factor that drives any business to success or failure. Don't tell me how top-notch your servers are. I do not care how experienced and qualified your staff is. If customers leave bad reviews, everything else put together is a huge waste.
Recommended: WordPress for Beginners the Ultimate Guide to Help You
List of 38 voted web hosting services: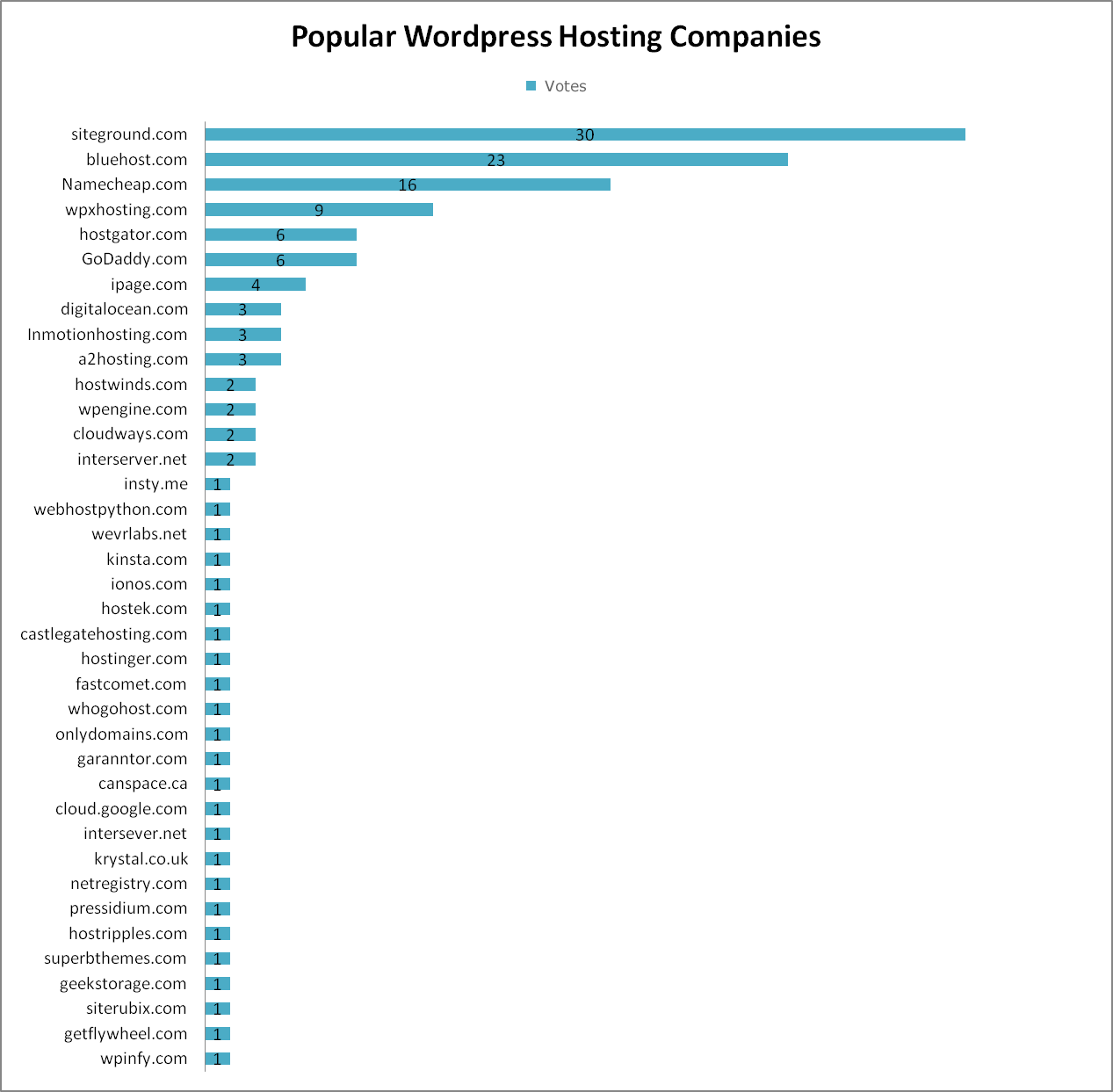 135 WordPress website owners actually submitted data to help come out with this information. I'm going to put them down in order of company popularity beginning with the first 06 most popular hosts.
30 bloggers who use and recommend Siteground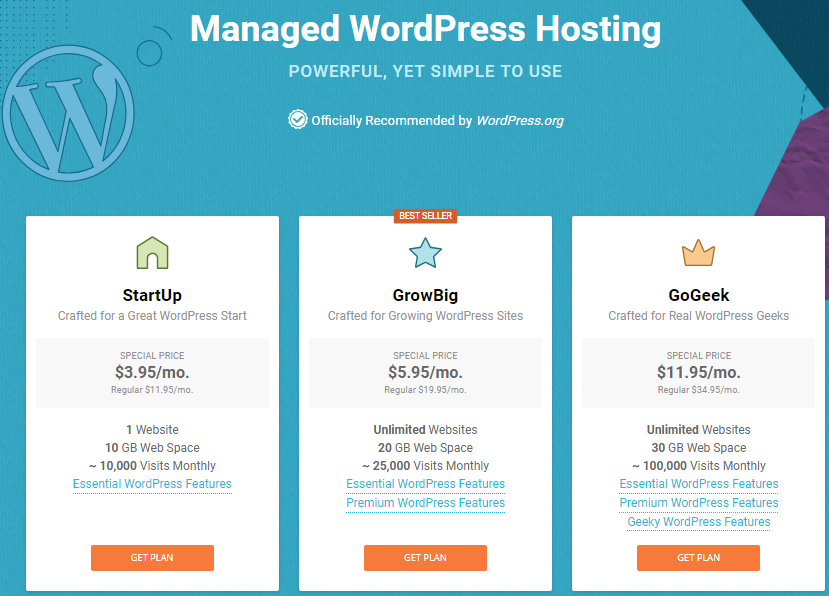 1 – Dalene Ekirapa – The Quintessence of Life and Style
I have been using Siteground for 2 years now and I'm impressed by its speed. My loading time is less and the images load fast. The Siteground support is also quick to reply since I get assistance in at most 20 minutes after consulting them. I'm also glad that I have never suffered from any server error ever since I went self hosted in 2017.
Great customer support, awesome and pain-free migration tool if you're switching from a different WordPress hosting platform to Siteground, KILLER caching plugin that also lazy loads videos/pictures and compresses image size.
3 – McKinzie
SiteGround is a great choice for bloggers because they have great up time and superior customer support. This is the host I recommend for all new bloggers up to 80k to 100k pageviews, then I recommend upgrading to a more robust host.
4 – Moss Clement
My favorite web hosting provider is Siteground. Please, don't get me wrong, I'm not saying there are no other excellent web-hosting service providers in the marketplace. For Instance, my first blog is hosted by Bluehost. However, Siteground has been good to me and I have enjoyed their services beyond expectations.
They have an incredible balance between pricing and quality that cannot be quantified. Although some marketers say Siteground is expensive, I don't see it that way when you compare the exciting features and packages they offer their customers.
For example, speed is an element of Google ranking factor and Siteground gives you excess speed, making your website to run at lightning speed. I love it when my site visitors would message me asking about which web-hosting service I'm using.
And when I ask why? They say "your site loads fast." Nonetheless, speed is only one aspect of the terrific services they offer. I also recommend Siteground to other bloggers and content marketers because they also have a fantastic customer service team.
You don't have to wait for hours on ends to get someone to attend to you. With just a few clicks you are set-up for a chat with a customer service representative. Strangely enough, if you prefer a phone conversation, you're on.
Therefore, I'm endorsing SiteGround because I have had an exceptional experience with their services. Despite that, there are several other excellent brands that provide great service with various processes. Bluehost mentioned earlier is a little cheaper than Siteground but when you contrast both pricing and packages, you see that the later is better. Hence, Siteground is my #1, they offer unlimited traffic space with standby WordPress experts ready to help you with any issues including free migration.
5 – Jenn ➳ One Hoppy Momma
The customer service has been great. They respond to questions in a timely manor and resolve issues quickly. I also received more features for free or at a lower cost than their competitors; such as a free SSL and domain email.
6 – Karen's World
They have always been superb and very quick to answer you. The site is clear to understand.
I've been using Siteground for over 2 years now without any issues. Apart from the fast that it's very secure, reliable and has great uptime, another thing I so much love about them is their insanely helpful and fast customer support.
Its literally impossible to wait for more than 2 minutes without being attended to and without getting your problems resolved.
8 – Jan Orsula 
Siteground is the most reliable and secure hosting I've signed up for. You can be sure that your web is up and running all the time. No matter if you receive ten visitors a day or thousands of visitors.
The other reason why I've chosen Siteground is that their support is outstanding! I messed up my code (I had no idea what I was doing) many times. Since my site is becoming quite popular, I immediately started losing new visitors.
I needed to fix the problem as soon as possible. They have a live chat 24/7. They have the most qualified programmers ready all the time. Every time I contact them with some problem, it's fixed within a few minutes.
It's part of the hosting plan; you don't have to pay for the support. They even help you to optimize your website for search engines and load it faster.
9 – Divesh
best price value for blog beginners. great features and support also for users.
10 – Nathan
Not only are they affordable but they have been working with me as my site grows and I've never had downtime like some complain of.
11 – Emily Tarrier
They made the tranfer over from my previous host really easy (this is something that really stressed me out!). There's great customer service, it's very easy to get in touch with someone and they have sorted out problems for me in just a matter of minutes.
12 – Angeline Ibarra
They've got an amazing customer support and really helps you as soon as possible.
13 – Usman Ghani: 100% Uptime , Quick & Professional Support.
14 – Vishwajeet Kumar
Siteground is one of the best and reliable web hosting provider for WordPress users. I am personally using it for my blog. Siteground is suitable for beginner and Intermediate Blogs. So, If you want to start your own blog or you already growing blog Siteground works best for you.
Siteground servers are highly optimized for WordPress and comes with Memcached and Stagging option. If you are looking for reliable and superfast web hosting for WordPress then Siteground is a right choice for you.
15 – Tushar Dey
Siteground is one of the best wordpress hosting at cheap price. The support on siteground is really amazing. Anyone can enjoy a high speed wordpress at cheap price with siteground
16 – Collins Nwokolo
They are the best out there. They are worth every penny you spend on them.
17 – Manoj
SiteGround is fast and reliable hosting solution for bloggers. It is highly secured user-friendly. It also provides powerful optimization tools to improve our page loading time and traffic.
I am using SiteGround hosting on one of my blogs and really impressed with their service and quality. I will migrate all my websites to SiteGround platform very soon.
18 – Navin Rao
I been using them for a long time on my primary website and recently migrated one more. And I can assure about the robust security system they provide for all their plans.
Yeah, all of their plans won't be putting any hole in your pocket, as one can get those in just a few bucks. And moreover, their support team has good technical skills and answers your any kind of query and get things done on time.
19 – Samantha C
Day or night Siteground has been there for me from a move through any emergency I have had including a major billing error that was fixed in literally hours. I recommend Siteground to every blogger because they are so user friendly.
20 – Santanu Debnath
SiteGround is undoubtedly the top hosting for WordPress users. They are loaded with features that a WordPress website is needed. Here are few of the striking features which makes SiteGround completely unique compared to others.
First of all they offer website transfer service
You will get Let's Encrypt FREE SSL, not shared SSL like others.
Their SPEED technology is outstanding.
SiteGround Supercacher is their inbuilt cache system, that means you don't need a cache plugin to speed up your website.
Highly secure hosting with FREE daily backup from GrowBig plan onward
They are the only shared hosting with SSD disk and latest PHP versions
SiteGround has been voted #1 in many Facebook Polls and Twitter.
They have 4 different data centers and you can choose as per your preferences.
100% up time is practically impossible, but SiteGround has a track record of delivering the same.
SiteGround support team is simply outstanding & highly knowledgeable.
21 – Aakash Patel
Siteground wordpress hosting is my no.1 recommendation for starters. Why? because they are good at what they are doing, they know their stuff. It's fast, realiable and best web-hosting available right now.
In 2019, you should focus on page speed and to achieve great speed on your blog, you need fast web-hosting and I would say you should go with siteground.
Plus, siteground support team help you to migrate your site from other host and they are giving 24 x 7 support which one of best things I found.
22 – Ivan Jurisic
Fast servers, rarely have any problems with them, and on the rare occasions when a problem does show up, the support team is fast & friendly.
23 – Adriana Renee
Siteground easily migrated my site and they have affordable options for beginners. Questions are usually answered within 24 hours and I haven't had my site go down in the two years I've used them.
24 – Adeel Sami
I am a content writer though and have done many review based content where the comparison between several web hosting companies was involved.
And based on the good findings (with much longer research), I found SiteGround winning from the many aspects and the factors. The one brilliance that tops, and that is the customer support from SiteGround!
25 – Esther Namugerwa
Ever since i started using site ground, I've never got any security issues and their customer service is top notch.
26 – Erika Mohssen-Beyk
SiteGround is hosting my and my friends Websites now the fifth year. The SG- Optimizer plugin is also valuable there is not need for other plugin like image optimizer . It makes the change to https easy and dynamic caching.
Not to forget the cloud hosting. For me very important that the support is very good and I always could get my problems solved. There is a chat for support and usually they help.fast.
27 – Aditya Vikram
I've been blogging for 4 years now and I've used almost all leading web host's for my blogs and projects. Among all, I'll recommend SiteGround to everyone out there. There are many reasons Why I recommend SiteGround, just to count few.
I would like to mention the best features of SiteGround: High Uptime: I've never faced the issue of downtime with SiteGround and that's the top reason I recommend it to everyone. Customer Support: In comparison with other web hosts, I loved the after sales support of SiteGround.
They are very responsive and knowledgeable High Loading Time: Their servers are really fast and you get a low loading time that will help you in many ways.
28 – Gerardo
Top support, staging & daily backups in most of the plans, supercacher. (not the cheaper, but worth it).
29 – Umair Ansari: They are officially recommended by WordPress and are hence trustworthy.
30 – Ria: Its fast, easy to use and one of the lower costing wordpress hosting sites on the internet.
Siteground is by far the most popular, listed on top of Nick Galov's hostingtribunal.com as Best Uptime Hosting.
Jerry Low hosts his personal blog, TheRealJerryLow.com, and a few side projects at SiteGround hosting. Based on his personal experience, SiteGround is a reliable hosting company with innovative features and solid performance.
HostScore.net tracks hosting uptime and response speed from 10 different locations. Based on their tracking, SiteGround hosting offers great reliability and reasonable speed.
Screenshot below shows SiteGround shared hosting speed for the past 30 days (August 24 – September 23, 2019). Average aggregate response speed for SiteGround during this period is 287.42ms.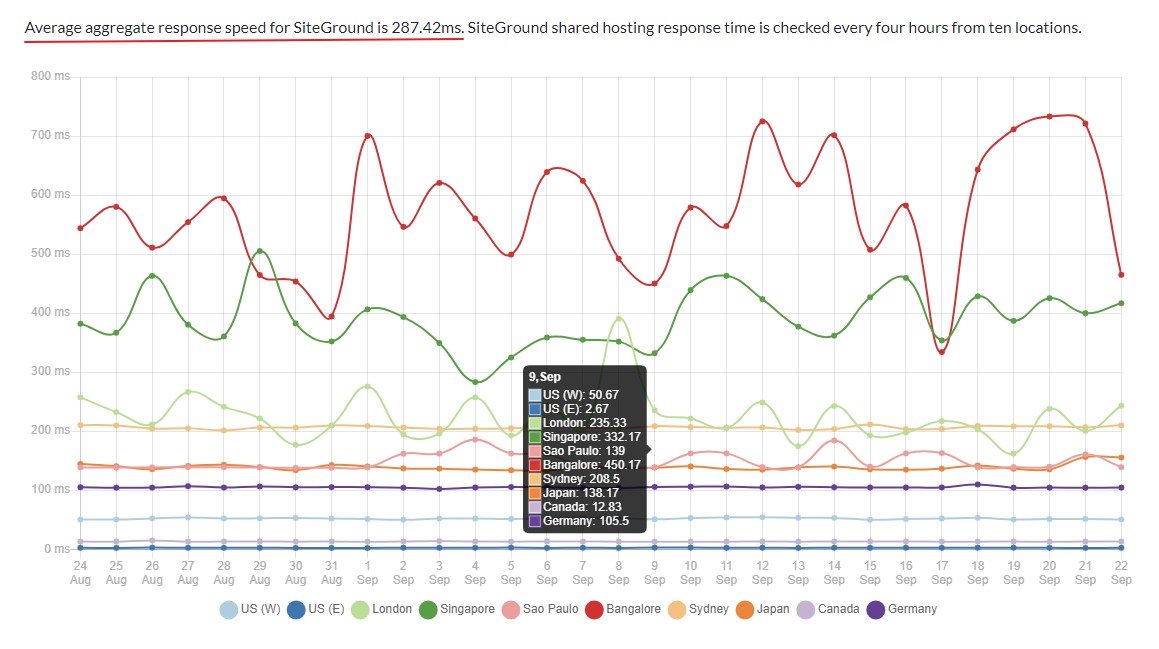 It's suitable for both new and experienced users who want a worry-free hosting solution. Note that, however, SiteGround comes with expensive renewal fees – a mid level shared hosting would cost $19.95/mo after first term.
[thrive_link color='blue' link='https://enstinemuki.com/sgwordpress' target='_blank' size='medium' align='aligncenter']Take a closer look at Siteground[/thrive_link]
23 Bloggers who use and recommend Bluehost
1 – Mark Newsome
The primary reason why I highly recommend Bluehost as your primary host, is because of their outstanding customer service, which is available,non stop, 24 hours per day.Seven days a week.Including every major holiday!
They have been around a long time and are reliable. They are one of the 20 largest web hosts and host over 2 million domains!
3 – Tracy Collins
Because, It's a fast and reliable WordPress Hosting Plan and managed WordPress hosting engineered to deliver total WordPress perfection.
4 – Tasha
I have very little experience with hosting. I've used hostgator before and now this. So far, I think it's much more user friendly and I haven't had any problems yet.
5 – VIkram Chaudhary
Very good customer service helps in on time complaint resolutions, Cheap Plans, Less Downtime.
6 – Dawn Sorenson
Best support for beginners. A few clicks and you're staring at your first blank blog post. Excellent customer service that's super fast and helpful whenever you need them.
7 – Emmanuel E. Sulai
I strongly recommend Bluehost because of their outstanding customer support that are available always to help.
8 – Robert
Bluehost is WordPress recommended Hosting provider. Bluehost offers lot of awesome features with their webhosting packages for businesses of all sizes at affordable rates.
9 – Nelson Maimu
BlueHost come with the right plan in place which is affordable. Includes free domain and mostly important is free SSL compare to Hostagator which cost you an extra cost to setup. So in 2019 I will give BlueHost a thumb up.
10 – Kavitha
My choice is Bluehost because you can create website easily and efficiently with WordPress. They provide strong customer support to help with any technical issues. My first website was built with Bluehost and I highly recommend it for beginners.
11 – Heeren Tanna: Simple, easy and reliable. have been using them since years without any major. issues.
12 – Rahul Jain
I am using Bluehost now for almost 5 years and they have drastically improved a lot. They are good for beginners and intermediate users. Reasons I love them is
Many Premium addons for Free
Easy to use and affordable
Recommended by top bloggers ans WordPress.
13 – Irene Anum: I haven't had any major problems with them. They are quite consistent.
14 – Joseph Seyi Taiwo: Simply the best in terms of WordPress hosting, 247 support and low cost.
15 – Dale
I have been with Bluehost since I started my blog and I have never had a problem with them. I have found their hosting to be fast and reliable, and any time I have had a question, their customer support staff has been very helpful. I think Bluehost is a great choice for new bloggers.
16 – Mike
They offer a very fast and responsive customer service and an online check. All issues have been delt with quickly and professionally. My website speed is very high and I've never had any issues with downtimes, etc.
17 – Hemanth Shenoy
This is one of the easiest ways to get started with a wordpress site. You are equipped with a free domain and SSL when you get on with Bluehost.
18 – Nikola Roza
Bluehost is great because it is cheap, yet delivers the essentials you need to run your blog. First of all, it's secure and reliable. So you don't have to worry about hackers and malware. And downtime is almost none-existent.
My site is on Bluehost and I've had a 100% up-time until now. Then we have a matter of speed. Basic Bluehost hosting is not that fast. However, it is fast enough that your site passes Google's barrier for a slow website, so you will NOT be filtered out of search because you're too slow.
Of course, speed is becoming increasingly important ranking factor and it pays to invest in an extremely fast host down the line, but for beginners and those on a tight budget- Bluehost is great. I use it- and I love it.
19 – Robert: Price wise they have been great and customer service has been really helpful if needed.
20 – Jasmeet Singh
Powers over 2 million websites. One of the recommended hosting providers by WordPress.The interface is very beginner friendly. Very strong up time and fast page loading speed.
Free domain name for a year. Free SSL certificate. 1 click WordPress install. Amazing support and currently we are using Bluehost.
21 – SY Abuzar: My blog partner Tabish has been trying different hosting and he find out it as best performing company.
22 – Dawn-Marie Nesbitt
I can only say they're number one because of my experience with them. I have been with Bluehost for 3 years since I started my blog and have not had any difficulty with them.
As my blog has grown and my traffic numbers have gone up, Bluehost has supported my growth by maintaining great site speed, their price point is affordable for beginner bloggers and I really don't have to think about any payments given their reasonable payment plans.
They have amazing customer service. I am able to go to them and get really great feedback on some of the issues I've had with my blog such as updating it, plugins, security. Only one time did I have a problem with Bluehost and they fixed it immediately making sure that I was satisfied with the outcome.
They also have the tools to enable me to take care of my site's security and backup and they provide very helpful content such as webinars, blog posts to help keep me aware of everything related to my blog and web hosting. Need I also mention that they are one of WordPress' recommendations for webhost? I couldn't recommend any other web host provider.
23 – Makayla: Very easy to use especially for beginners. Also have an amazing costumer support.
[thrive_link color='green' link='https://enstinemuki.com/bluehost' target='_blank' size='medium' align='aligncenter']Take a closer look at Bluehost[/thrive_link]
16 bloggers who use and recommend Namecheap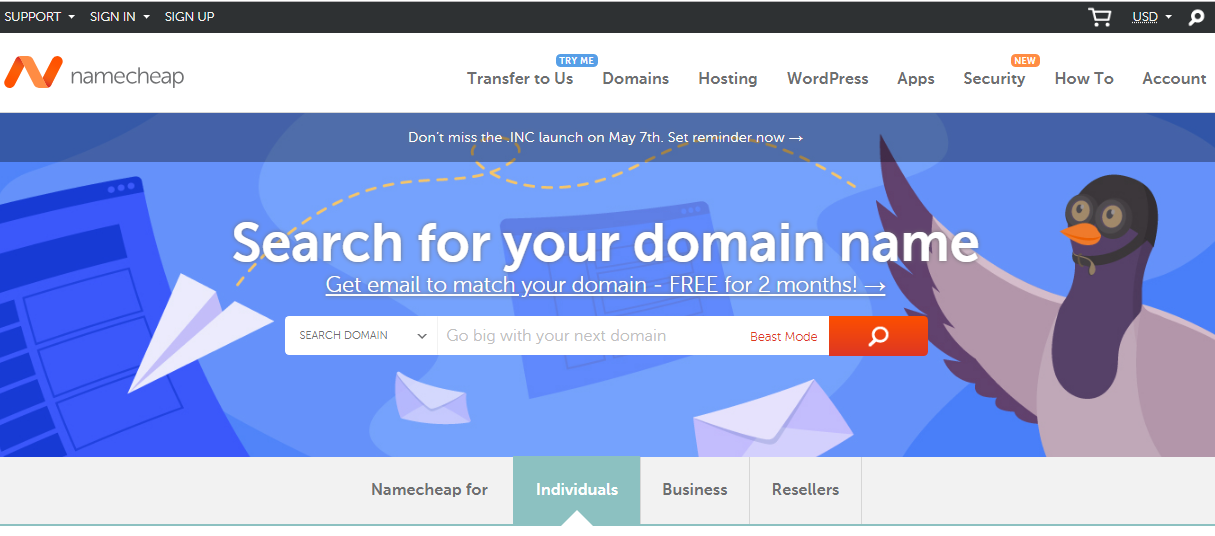 1 – DBA: I love it because their Cost is cheap and very flexible to use comparable to others.
2 – Balogun owomide
Name cheap is perhaps the best web hosting site currently on the web . This is a very reputable company known by many webmasters worldwide . They provide very reliable web hosting services at a very affordable rate.
No doubt NC has many great features that has made it outstanding as compare to other hosting companies .Some of the web hosting features provided by them include but not limited to: -Unlimited disk space (depending on plan) -Unlimited bandwidth (depending on plan) -Host unlimited domains in one account -Unlimited secure POP3 email accounts -Unlimited MYSQL databases -eCommerce features provided -PHP 5/ Perl 5 supported -Wordpress hosting supported -24/7 phone, email and live chat support.
3 – Raymond
They offer good hosting at cheap rates, also they have good support they usually solve any issue you encounter or guide you on how to solve it.
4 – Cece: They are highly affordable, fast, reliable and low downtime. The support is fast and topnotch.
5 – Vitalis Mark
All my life I've always loved namecheap hosting, its really easy to use and has a great support system that is fast and reliable at the same time.
6 – Joseph Chinedu
I love Namecheap basically because it is cost effective and suitable for beginners who are just starting a new site and on a low budget. You can have up to three websites on the cheapest shared hosting plan for about $31 yearly of which you get a 50% for the first year.
Most of the other hosting companies out there only let you host one website. Hence, I find Namecheap's offer very valuable since I can own multiple sites and hosting package at a very affordable fee. Although Namecheap is inexpensive, their plans still come with some great functionalities.
For instance, they are offering cpanel access for their cheapest shared hosting plan and giving access to some useful apps. They are also offering a free SSL certificate for the first year. Namecheap offers backups twice a week, and I find this very beneficial.
While I was working on one of my sites some time ago, I eventually deleted my contents in the process of migrating to a new domain. Unfortunately, I had no backup. What I did was to contact customer support, and they didn't just restore my site from the backup, but also fixed every other error I encountered during the period of migration.
Also, unlike most other companies, they offer up to 50 MySQL databases on their cheapest plan and 50 custom email addresses. I also tried on one of my sites, their EasyWP Starter package priced at about $30 yearly with a 23% discount on the first, and I wasn't disappointed.
Setting up WordPress was very easy, and it's a cloud-based technology which of course is faster than the usual shared hosting. The WordPress plan also offers an easy way to create and restore backups. The package comes with SSD storage, and also sFTP (Secure File Transfer Protocol) which is indeed a safe and secure way to manage files on a WordPress website.
I love the fact that I'm able to manage my multiples sites from a single EasyWP dashboard. Finally, Namecheap has good customer support in my opinion. There was never a time I needed help and didn't get proper assistance.
The wait time is very low as I get assigned to a support staff immediately I leave a message. I do find some negative reviews about Namecheap's customer support. However, I'm making this recommendation based on my personal experience with Namecheap. Overall, they seem to be the best I've used so far.
7 – jikola ken
It has really been good hosting with namecheap. Never experienced a downtime since then and their live chat is quite awesome.
8 – Ayobami Ola
I recently encountered a problem with setting up my certificates and they helped me with that plus their customer care agents are top notch. I could wake up anytime, anyday and still find someone to talk when i encounter problem compared to my old host.
No wonder, i moved my hosting to namecheap. I would recommend them to anyone who needs a reliable and cheap hosting.
9 – Toby Nwazor
Their customer service is exceptional. I once had an issue and the way they resolved it beat my imagination.
10 – Abubakar Mubarak: Namecheap provides a reliable and good customer service. Cheap hosting plan.
I was first hosted with Siteground and everything was going fine until my website got hacked and I realized that their customer service didn't care much about clients so I switched to Namecheap. They helped me move my website for free, their customer service team is friendly and supportive. They are secured, fast and cheap as compared to other hosts.
12 – Fad
Less expensive than GoDaddy, and it's more stable with more powerful features. It's good for small websites.
13 – Prince Akwarandu
I give NameCheap the spot #1 and my reason is simple; Their CUSTOMER SERVICE is WOOOW! I dare say they are 100% reliable – from experience – I have 3 of my sites hosted with them at the time of this writing…and that of my clients too.
The hosting solutions provided by Namecheap are quite a bit less expensive than other hosting companies like GoDaddy. More so, they still remain more stable and come with better features. I speak from experience. I've hosted sites and worked with Godaddy, 1and1, Whogohost, and NameCheap respectively hosting companies.
I started blogging in 2014. My experience with GoDaddy was really terrible (and got me FRUSTRATED!) when someone was tried to hack into my hosting account. I got notified by GoDaddy, and upon logging in I wasn't granted access.
That was a BAAAD FEELING as I lost my first Domain Name to them (it was businessloaded dot com then). I wrote to their support email, and ALL I got was an "automated response" and till date…nothing else. Well, I moved on.
I lost my second Domain Name to 1and1. I don't even want to talk about that, however, my experience with Whogohost wasn't bad. Whogohost is the number one web hosting company in Nigeria. They're good really, but I didn't fancy (or enjoy) their customer service as it takes a bit long to get a response from them.
Guess what? NameCheap customer service is always at your reach – 24/7 and I kid you not! I've been with NameCheap for the past two years and I don't see myself leaving them soon. I recommend them 100% as at the time of this writing I enjoy their service. NameCheap all the waaay! Top #1 or nothing! Excellence is their priority. Choose them!
14 – Shamsudeen Adeshokan
First, NameCheap makes web hosting easy and affordable for all levels of online marketers. Either you're a beginner with very little budget or you're an establish online entrepreneur, there is absolutely a hosting package suitable for your online business needs.
Namecheap online supports system is the best I have experience in recent years. Always on ground 24/7 to provide expert services when the needs arise. I have been with NameCheap for some years now, all I can tell you is this… when it comes to speed and 99% server uptime, NameCheap is really doing a better job in this regards.
With as little as $2.88 you can get started with the Stellar hosting package. If you want to know why I switched to NameCheap back in 2015, read this article http://cybernaira.com/whogohost-review
15 – Robin Khokhar
I have been using the Namecheap for 3 years now. And It is one of the best and the cheapest hosting I have used.
16 – TheShopAlert
They have good customer care and ready to help out without charging any fees like some industries does. There server is also good and not too much expensive.
9 bloggers who use and recommend WPX Hosting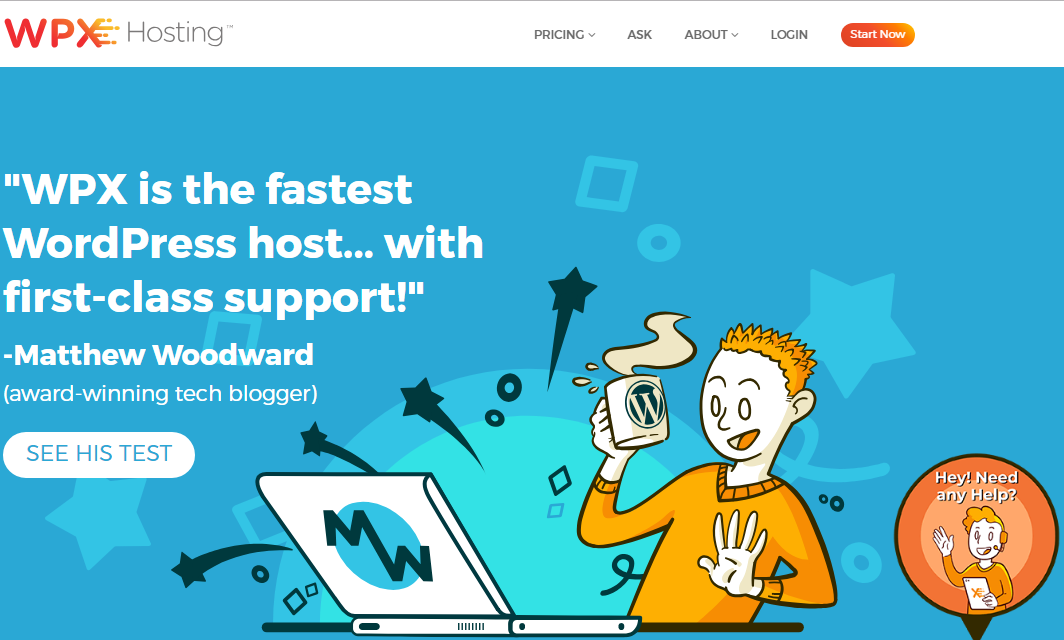 1 – Ankit Singla
I have been using WPX Hosting for my blog MasterBlogging for almost 3 years now and they have never let me down even a single time. I believe their USP is the customer support.
Just go on a live chat with them having your query and see how quickly they solve it. As a blogger with business mindset, I treat my blog as a real asset and its security is of utmost importance to me. Thanks to WPX Team for taking care of it 24/7.
Not just their customer support but their other services are also non-beatable. Their newly added feature – WPX Cloud (their own CDN for WordPress users) when activated, help in loading your site blazingly fast. What else do you expect from a host? 🙂
2 – Akshit Wadhwa: I've worked with this hosting. The hosting speed is really awesome. Also their support team is also good.
3 – Anil Agarwal
The reason is speed, security and faster customer support. You need all these 3 things in web host if you are really serious about your blog. WPX hosting checks all the 3 boxes.
4 – Adam Connell
WPX Hosting offer fast and robust WordPress hosting with extremely responsive support. They also offer the following inclusive with their plans;
Malware scanning,
Malware removal,
SSL,
DDoS protection,
And their own CDN.
And better yet, their plans are priced based on bandwidth, not that "monthly unique visitors but uniques are reset daily" type thing.
5 – Istiak Rayhan
I've been using WPX Hosting for more than two years now. And I am fully satisfied with the service. I've tried some other WordPress hosts and found WPX Hosting offers the best value for money. If you are looking for a host that won't break the bank and at the same time you get the top-notch service, look no further. Go with WPX Hosting.
6 – Aquif Shaikh
WPX Hosting is a "WordPress Only" hosting company. So, their servers are fine-tuned for best performance with WordPress websites. No wonder WPX Hosting turned out to be one of the fastest in my page load time tests.
And it's not just their servers that are quick. Their customer support is probably the quickest in the industry and their support executives too are knowledgeable.
7 – Umapathy
You should choose a WordPress hosting service, that's fast, affordable and promises best uptime. WPX Hosting does that and without any doubt they are the best.
8 – John VanDerLaan
WPX hosting is super fast and what I like most about them is that they will migrate all of your websites to WPX for free. This is huge when you are moving a number of sites. I have found the support at wpx to be amazing and I am so glad that I have switched.
9 – Justin Germino
Fast servers, excellent support, free site migration, automatic tuning for security and caching, built in CDN solution, free SSL certs, live chat support, Incapsula security, supports staging area for cloning site for development work then promoting.
I have migrated all of my blogs to WPXHosting between 2017 and 2018 and consolidated from 3 hosting providers to just one now.
6 bloggers who use and recommend Godaddy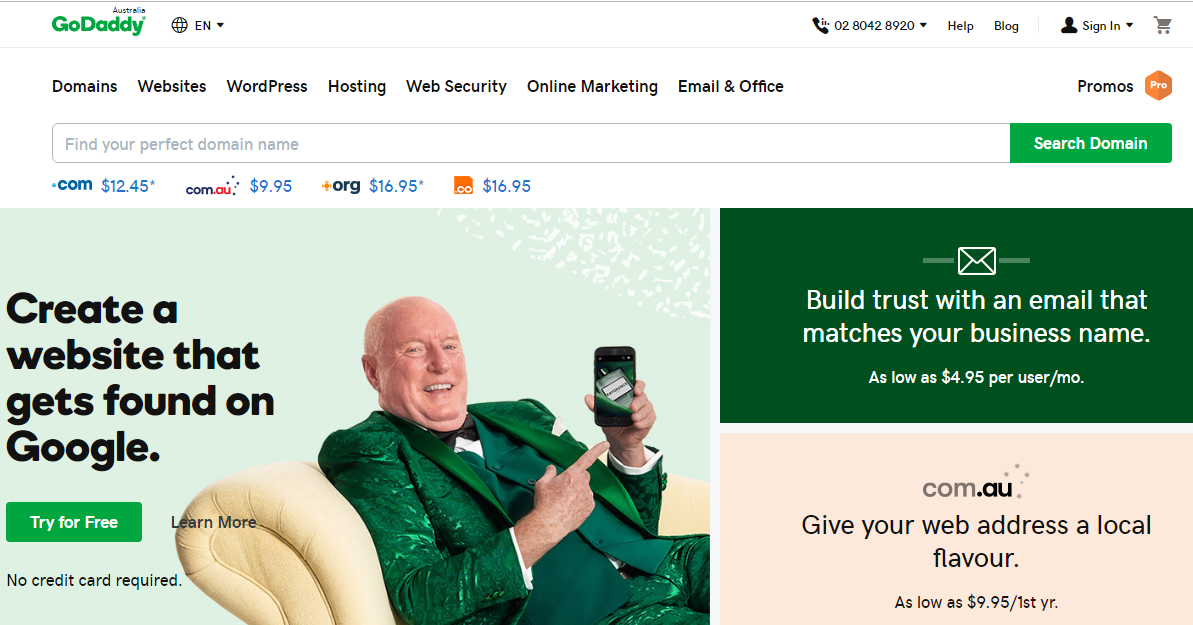 1 – Bargnhtress: Easy and cheap, fast set-up, can pay monthly, free backups, great customer service, no downtime.
2 – Dexter Roona
I currently use GoDaddy. They have a great uptime, I have never been to my site and it has been down because of server problems. My hosting plan is unlimited and great value at just £9.99 a month. I went with Godaddy as a beginner and I have never had any reason to leave them.
3 – Dan Swords: Their help desk is by far the best!!! Knowledgeable and friendly and twenty four hour service too!!!
4 – Mod L Photography – Laura Levitan
I've had a great experience with them over the years. Great customer service for someone like me who is learning as I go.
5 – Charvi & Jaymine: Godaddy is best for us because it provides 24*7 support and proper solution to our queries
6 – Shepherd Traveller: Godaddy is best for us because it provides 24*7 support and proper solution to our queries.
6 Bloggers who use and recommend Hostgator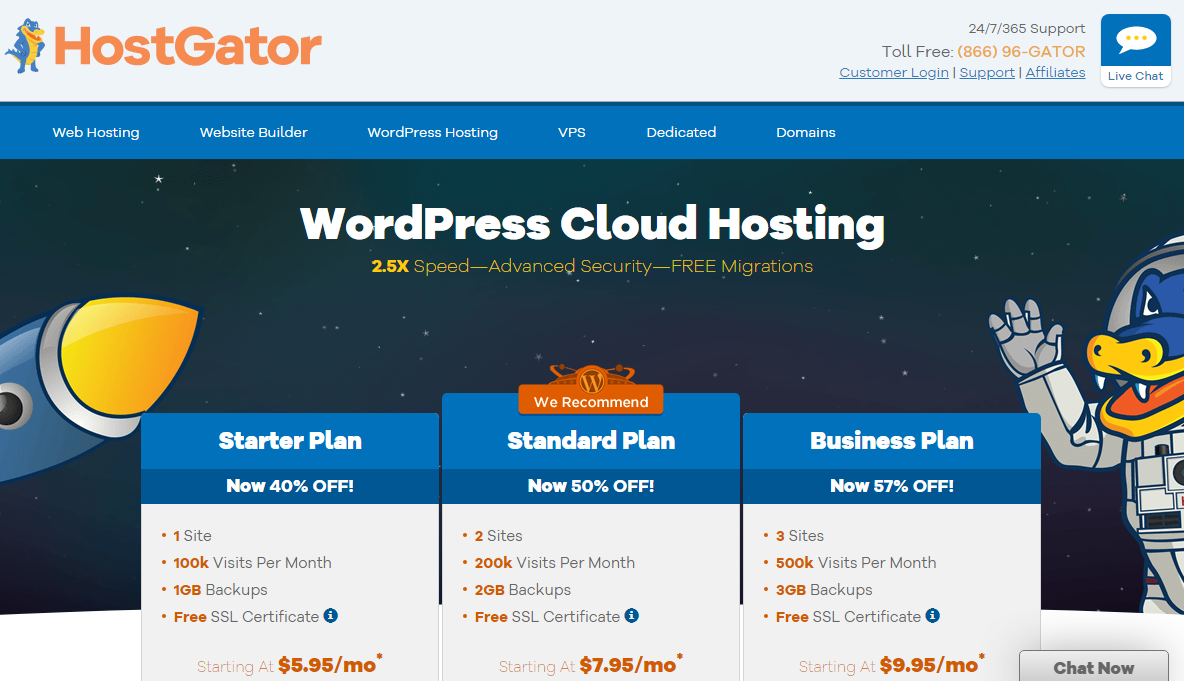 1 – Jan Verhoeff: They answer your questions, provide a security net, and help you maintain the secure status of your website.
2 – Simon Zaku
To begin with, I switched from my previous wordpress host to Hostgator mainly because of two (2) things; Support and https encryption. The customer support my previous blog host offered was pretty poor.
There was no fast email support and also no live chat support. Also, I needed to pay hugely for https encryption and also had to deal with activating it (I hate tech problems). Due to these, I decided to switch to Hostgator and give it a shot. With hostgator, you get efficient customer support (one of the best) with email support, live chats and call lines too.
My https encryption was almost automatic and it was free with the cheap plan I bought. All I needed to do was install and activate the https encryption plugin on my hostgator hosted wordpress blog. In a nutshell, I am pretty happy with the services I get using hostgator thus it's my website hosting recommendation.
3 – Techonda: Been using Hostgator for over three years now and their support is top-notch.
4 – Reviewnxt
I have been using their service from past 2 years and I haven't faced any problem in such long period. Though some minor issues are there, they got resolved in no time. So, I choose this for all my blogs.
5 – Prajwal karki: For me as a starting blogger it was very cheap and i've not moved on since then. In the future maybe.
6 – Lisa Sicard
I love Hostgator. I've been using them for years and they always get right back to me if I ever have issues which is now rare. They offer 24/7 tech support on chat and by phone. I recommend their services.
4 Bloggers who use and recommend ipage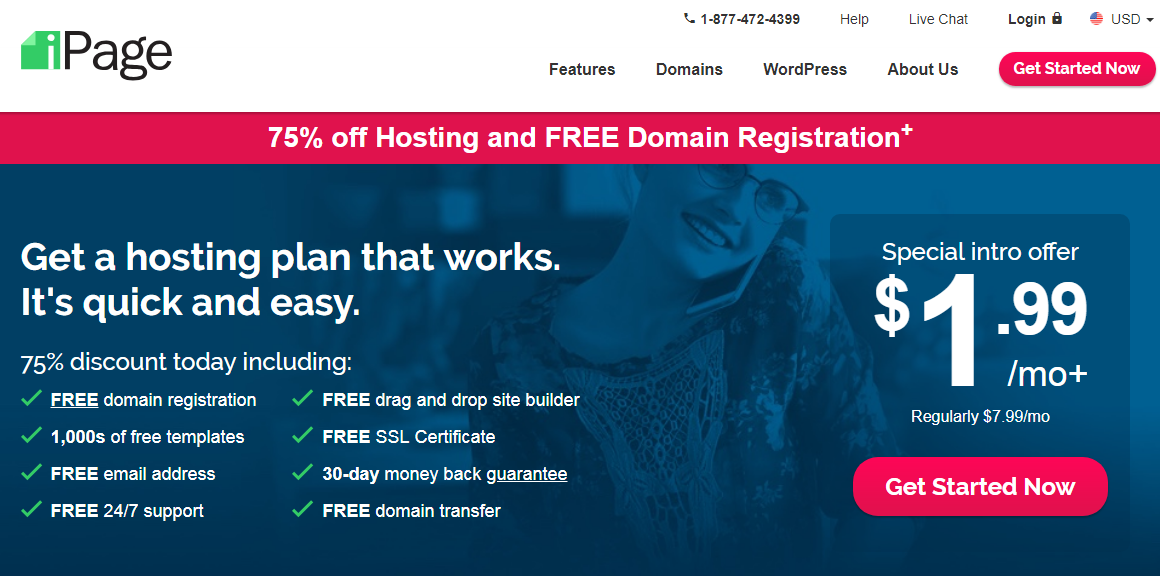 1 – Rinkesh Kumar
Proper Responsing Server and Satisfying uptime. Good customer support. Also provide website builder for beginners.
2 – Kefas Tanko:  This is by far, the best website hosting company I have ever come across.
3 – Chris K.
For new Bloggers or those with limited budget, iPage is the best Value-for-Money option. Its services are only slightly below in comparison to the top web-hosting companies, but the price is about -75% compared to them.
The reason I recommend this is because the majority of new bloggers or website owners abandon their projects a few months after they've started it. So, there's no need to pay a lot for web-hosting until they decide they want to continue. Then, they can move to a new host without any consequences.
4 – Onyeka
They Can handle large database and large traffic,especially their VPS,THEIR team of tech's are readily available to help.
Many more bloggers shared their best WordPress hosting companies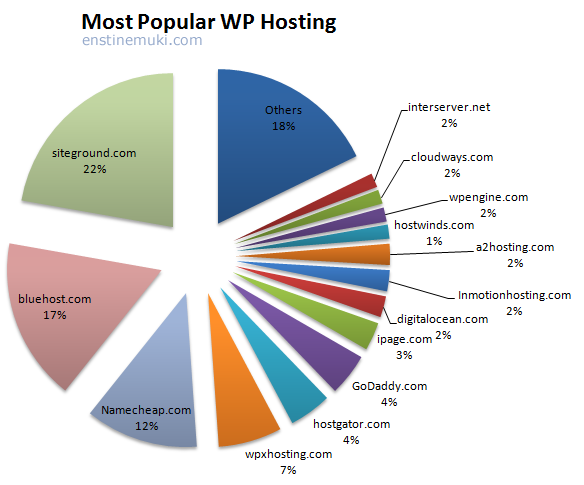 1 – Arfa Nazeer is hosting with Inmotionhosting.com
The reason I find Inmotion Hosting competitive is because it's blazing fast, good-priced plans and great customer support.
2 – Rai is going with inmotionhosting.com
The support is nothing short of amazing. Any problems and I get on their chat support and my query is answers promptly and professionally.
4 – Jennifer Dagi recommends a2hosting.com
I currently use A2hosting and I think I'm going to stay with them for a while because their prices are affordable and their customer service is outstanding.
5 – Lokender Kumar recommends a2hosting.com
Whenever I talk about Web Hosting, A2 Hosting and Siteground always secured the spot in my list. Both provide quality hosting service at an affordable price.
But I have to say there are a few points where Siteground get knocked by A2 Hosting: 1. Lower renewal charges than Siteground 3. Any time money back guarantee 4. Free site migration even from the very basic plan.
6 – Philip Verghese Ariel uses and recommends a2hosting.com
A2 Hosting is known for its speed, uptime and above all the 24×7 support team's (known as Guru) service via chat as well as email is a commendable one.
Especially their prompt reply and support on any concerned queries via email is worth notable. I highly recommend to my fellow bloggers this amazing hosting platform. I have also published a review about this platform on my website.
7 – Joshua Barney uses and talks about digitalocean.com
We have built a custom host for our WP site. This is built from an empty server on DigitalOcean and Trellis/Bedrock (roots.io) as a vert secure. This allows us to customise our host settings and optimise our site all within an extremely fast and secure server (with CDN included).
8 – Emmanuel Chekumbe says digitalocean.com is top
As someone who knows my way around the tech world, there seems to be no faster or more highly performing product than DigitalOcean. It's pricing is also friendly and since I like to do things my own way, DigitalOcean let's me be the boss of my own websites.
9 – Dennis Seymour uses and recommends digitalocean.com
It's now very simple to start a WP site on it. It's also cheap and you know what to expect. The servers are fast and can be configured if needed. Lastly, it's scalable as your site grows.
10 – Saurabh Tiwari says inmotionhosting.com is his choice.
In-motion is the reliable web hosting provider in the market. In terms of customer support and service, it's really good for everyone. I am using it from last 2 year didn't face core issues.
11 – Ann Garrett uses and points out toi hostwinds.com
Great service for the cost of their service. Quick response to technical issues.
12 – Akin Emmanuel says hostwinds.com is his choice.
They are reliable, fast servers and have good customer support service. Hostwinds also provides a 60 day refund policy incase you are not happy with their services.
13 – Olasunkanmi Fakeye goes with Interserver.net
Cheap yet reliable and good customer support since I migrated to them as my third hosting to be used. So, I could compare them with the previous 2 hosting well.
14 – Kevin Vitali- Massachusetts REALTOR®  gives a vote to wpengine.com
I have been with WP Engine for 3 years. While there are cheaper services I have found the service and customer support to be excellent+! I am a real estate agent and not a web designer or coder. There service has been awesome and they have taken on many small tasks I have been stuck on.
I recently tried two cheaper hosing services. Neither could get my site up and running in a weeks worth of time. Both required emailing support and the lag time was terrible. WP Engine actually has phone support that you can get hold of. Any issues I have had they have resolved immediately.
I have also found they do automatic back ups daily and save them for 30 days. They do not charge for the space for the back up. Rolling back is very easy if I found I made a mistake on my site. My experience has been outstanding with WP Engine.
15 – James McAllister says wpengine.com is top
I recommend WPEngine to most new bloggers for two reasons:
It's built for WordPress – everything you need to get started is already there. The host is fast, it comes with a free StudioPress theme (which I've used and recommended for years), and there aren't really any hang-ups you have to deal with. In the event you do have issues, the customer support has been quick to help, and knowledgable in their answers.
Scaleability. WPEngine will bill you for overages, but they won't shut your site off. Through most shared hosting plans, the companies will have to block your site from loading to protect the other customers on that same server. This means potentially losing out on a lot of traffic if one of your articles suddenly goes viral, or being forced to migrate your site if it starts to get too many visitors. WPEngine scales with you and never closes your site during peak times, which makes it a solid mid-tier option for most bloggers.
16 – Jitendra Vaswani says cloudways.com  is his recommendation
Why I am choosing Cloudways managed cloud hosting is because I love their support team , they always helped me up whenever I have issues with my website downtime or any wordpress coding errors.
They have great team who can handle crucial tasks which are very technical and Cloudways team have helped me in best possible way. I am always touch with tech team via Skype. They always prompt on reply. I am using their WordPress hosting plans and I am fully satisfied with them till now.
Earlier I was Bluehost but Bluehost is so big they cant handle support queries promptly. CloudWays is growing and they have fastest WordPress hosting I have ever used recently for my blogs. You must give them a try for your WordPress blogs 🙂
17 – Nirmala goes with cloudways.com
Cloudways is one of the best hosting services for WordPress. Following are the vaild reasons that makes it stand out from the crowd.
Fully managed cloud hosting with unlimited applications.
CloudwaysCDN, Advanced caching and PHP 7 Ready Servers for high-speed performance.
Manged Backups and Security to get worry-free hosting experience.
Active customer support to solve the difficulties. 5. Affordable cloud pricing plans.
18 – Ernest has chosen to go with  interserver.net
FREE SSL to all hosted websites Good customer services 99.9% uptime $1 for domain name used to purchase hosting Hosting is not too expensive
19 – Kufre Ekpo gives a vote to whogohost.com
osting your website with a good web host like Whogohost will ensure your website loads fast. There will also to very little downtime which will, in turn, boost your search engine ranking.
20 – Let's Go Mum gives a vote to netregistry.com
I use them for my WP Blog – they are reasonably priced and have phone and internet support.
21 – Gurunath Nakka  recommends  fastcomet.com
They do what they promise. They are giving SSD hosting with decent price. Fixed renewals, free Domain for life, excellent customer care and technical support help, if you break your site they have daily free backups, value for money features and standards.. using since 2 years.
22 – Alli Abiola goes with garanntor.com
They have good customer and response to issues are top-notch. Always online. No server downtime.
23 – Natasha Haley gives a vote to castlegatehosting.com
We received personalised support from Sean via the phone when one of our smaller websites were hacked. He moved everything over for us and made sure our website was secure and safe.
He set us up more emails, gave a lot of space for storage and sent personalized instructions on how to set up emails on our phone. The support was second-to-none.
24 – Harish Joshi  recommends cloud.google.com
I'm using this web hosting for a while. It is free for first 12 months (you don't have to pay anything for unlimited web hosting + free ssl). There is no such thing as downtime with Google Cloud.
I've installed WordPress (by Bitnami) on Google Cloud & it is working great. As I can easily track my monthly spends in the Billing section, I found that I'm only spending less than 3$ per month which is quite low. So it is a good choice even after end of free trial.
24 – Lily Ugbaja gives her vote to  geekstorage.com
It's hard to come across reliable hosting providers with price ranges suitable for blogs not making any money yet. I gave up on my first blog because of the frustrations of cheap poor hosting so when I wanted to start FBM, I went to a site called Research As A Hobby where the owner, Michael Bealy, keeps live track of some of the most reliable and reputable web hosts around.
What I found was that Geekstorage had outperformed top hosts including siteground for more than 7 years so I jumped on-board! My personal experience with them in 8 months is that my site has been super fast and down only once yet, for around 5 minutes. (I use uptime robot to monitor) To only downside is that it's more suited to "geeks".
25 – Emilia Lewis  placed a vote in favor of getflywheel.com
I love Flywheel because they extremely reasonable prices, fantastic support, and will work with you to really increase your page speed. Migrating my site to them was super easy and resulted in no downtime. They were flexible with their pricing as my traffic exceeded my first plan and worked with me to find an upgraded plan that let my needs.
26 – danyel naq recommends hostek.com
good vps server, they are what I need for my websites. I use it on alotoftrips.com
27 – Pankaj Mondal gives a vote to hostripples.com
Firstly they are cheap. The second reason is they have a very responsive customer support to resolve my issues within a few hours.
28 – Sandy Halliday  votes for insty.me
Was originally recommended to me by an internet marketing coach. Little down time, quick and efficient technical support.
29 – Abel Babalola  recommends intersever.net
I've been with Interserver for over a year and the experience has been wonderful. Although a couple downtime which barely happens, it gets fixed quickly. Plus the support is top notch, really. I don't even have to use the live chat option to get a fast reply. That is what I love most about Interserver.
30 – Mahmudul Hasan recommends kinsta.com
I love Kinsta because of three reasons:
I don't want to use any other separate service for hosting. It's painful. I wanted to get everything under one roof and Kinsta did it.
Kinsta support teams are excellent. They have extensive knowledge about Linux and WordPress and many of them are developer, contribute to many themes and plugins
And their Extensive Security
31 – Daily Deals UK  says krystal.co.uk  is fantastic
Absolutely fantastic support, they have never charged me in over 10 years for any help. Free migrations from your old host and a great price. 9.9 out of 10 based on 777 reviews on Trustpilot
32 – Joy Healey  gives a vote to pressidium.com
Their support line is lightning fast and helpful. Before I joined them my blog had been hacked so badly and so often "somewhere else" that Pressidium said they had never seen such a damaged blog. Yet they were able to sort it out for me in the migration, and it has never been hacked again since I moved to them.
33 – TravelWanderGrow  recommends siterubix.com
They offer great customer service, fast site speed, and setup is pretty much done for you.
34 – Carla Dunn  says webhostpython.com is affordably the best
They are affordable, reliable and super fast. I highly recommend them for hosting!
35 – Mohammad votes for wevrlabs.net
It provides same specs as most the providers out there, and for cheap prices compared to them
36 – Adarsh M.  thinks wpinfy.com is the best
They provide the best support and service for that price. The price is not that cheap but it is better than any other hosting.
37 – Lorraine Reguly  gives her vote to  canspace.ca
A couple of years ago, CanSpace made me an offer I could not refuse. They packaged together a hosting plan that exceeded my needs and offered it to me at a cheaper rate than my current host was giving me. I accepted and have been with Canspace ever since! Their support team is awesome, too.
Whenever I have issues with my websites, I ask them for help and they willingly assist me! I highly recommend them.
38 – Adesanmi Adedotun (Franklyn) gives a vote to hostinger.com
Exceptional speed and on time customer response time. The price is affordable and no single downtime till date.
39 – Aneesha recommends ionos.com
Never had any problems with them. Good service and little to no outages.
40 – Georges Munang  recommends onlydomains.com
They are best in customer support and their hosting is very cheap to me.
You may want more guide before going in for any web hosting. I recommend going to one of the top web hosting services guide online for more details.
Save on Pinterest for later: