The month of May was definitely an exciting month. I got so busy on my new project for bloggers. BlogExpose, the new project is a platform to help bloggers find more jobs and make money money online.
NB: You can quickly check out this 'How it works' page to know the different job types published on the platform.
I was quite less active on the blogosphere. The number of articles I posted on this blog dropped. Comments also dropped but I made more money from both jobs related to this blog and other jobs from local clients.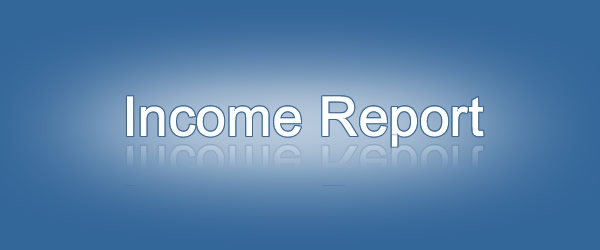 I will not take you through any long post. These are the reports.
Income Report May 2015
A) Sponsored posts
I published few paid posts on my blog last month. While I rejected so many because of very low pay, I simply couldn't accept some because the advertisers insisted on removing the 'nofollow' link tag.
I absolutely don't want to take any chances. All links in any paid post I publish on this blog MUST have be nofollow. Check out why here!
Total from Paid posts: $330
B) Affiliate Marketing
Some of the affiliate reviews I did on this blog in the past still keep generating commissions. That's what I'm working on – to review more affiliate products (While giving value to my readers)
Total Affiliate: $268.52
Other jobs (WordPress related) $500
Total in the month of May 2015: $290+$270+$500 = $1098.52
Engagement Report
Thank you everyone for making up time to engage with me this month. I know they are still some unanswered comments. However, I'll be getting back to them one by one.
Here is my engagement report generated by this free WP plugin!
Total Comments on this blog in May 2015
Hello, My name is Brent Jones.
I dropped 19 awesome comments.
Hello, My name is Uttoran Sen.
I dropped 14 awesome comments.
Hi, My name is Joy Healey.
I made 13 awesome comments.
Hi, My name is Sneha.
I made 11 awesome comments.
Hello, My name is Rachit.
I dropped 11 awesome comments.
Hi, My name is Zac Johnson.
I made 10 awesome comments.
Hi, My name is Alize Camp.
I made 9 awesome comments.
Hello, My name is Sherman Smith.
I dropped 9 awesome comments.
Hello, My name is Hadharm Hiidee.
I dropped 7 awesome comments.
Hi, My name is Adrienne.
I made 7 awesome comments.
Hi, My name is Christy.
I made 7 awesome comments.
Hi, My name is Philip Verghese Ariel.
I made 7 awesome comments.
Hello, My name is Kimsea Sok.
I dropped 6 awesome comments.
Hi, My name is Chioma Anozie.
I made 6 awesome comments.
Hi, My name is John.
I made 6 awesome comments.
Hi, My name is Swadhin Agrawal.
I made 6 awesome comments.
Hello, My name is Vicky.
I dropped 5 awesome comments.
Hi, My name is Umapathy.
I made 5 awesome comments.
Hello, My name is Harleena Singh.
I dropped 4 awesome comments.
Hello, My name is Olayinka.
I dropped 4 awesome comments.
Hi, My name is Romjan Dhayan.
I made 4 awesome comments.
Hello, My name is Tonmoy Parves.
I dropped 4 awesome comments.
Hello, My name is Nitin.
I dropped 4 awesome comments.
Hello, My name is Adeel Sami.
I dropped 4 awesome comments.
Hi, My name is Dennis Seymour.
I made 3 awesome comments.
Hello, My name is android stuffs.
I dropped 3 awesome comments.
Hello, My name is Ahmad Fahrurroji.
I dropped 3 awesome comments.
Hi, My name is Eedris M. Saminu.
I made 3 awesome comments.
Hello, My name is Gurpreet.
I dropped 3 awesome comments.
Hello, My name is Godson Pascal.
I dropped 3 awesome comments.
Hello, My name is Rahul Biswal.
I dropped 3 awesome comments.
Hi, My name is Babanature.
I made 3 awesome comments.
Hello, My name is Dharmesh Khatri.
I dropped 3 awesome comments.
Hello, My name is Ikechi.
I dropped 3 awesome comments.
Hi, My name is Santanu.
I made 2 awesome comments.
Hi, My name is Peter.
I made 2 awesome comments.
Hi, My name is David.
I made 2 awesome comments.
Hi, My name is Emmanuel E. Sulai.
I made 2 awesome comments.
Hi, My name is Yavan.
I made 2 awesome comments.
Hi, My name is Nanda Rahmanius.
I made 2 awesome comments.
Hi, My name is CATRINA ELLIOTT.
I made 2 awesome comments.
Hello, My name is Edi Dominic.
I dropped 2 awesome comments.
Hello, My name is andreea.
I dropped 2 awesome comments.
Hi, My name is Sanju Biswas.
I made 2 awesome comments.
Hello, My name is TonmoyParves.
I dropped 2 awesome comments.
Hi, My name is Tarik.
I made 2 awesome comments.
Hi, My name is Jimmy Dev.
I made 2 awesome comments.
Hi, My name is vtw.
I made 2 awesome comments.
Hi, My name is Ryan Biddulph.
I made 2 awesome comments.
Hello, My name is Samantha.
I dropped 2 awesome comments.
Hello, My name is Olivier Ntanama.
I dropped 2 awesome comments.
Hello, My name is Ethan.
I dropped 2 awesome comments.
Hi, My name is Mohinder Verma.
I made 2 awesome comments.
Hi, My name is Eedris Saminu.
I made 2 awesome comments.
Hi, My name is Pritam Nagrale.
I made 2 awesome comments.
Hello, My name is Moses Chukwu.
I dropped 2 awesome comments.
Hello, My name is Carol Amato.
I dropped 2 awesome comments.
Hi, My name is Irene Anum.
I made 2 awesome comments.
Hi, My name is Bilal Tahir Khan.
I made 2 awesome comments.
Hello, My name is Naveen.
I dropped 2 awesome comments.
Hi, My name is streamer smith.
I made 2 awesome comments.
Hello, My name is Yvonne I. Wilson.
I dropped 2 awesome comments.
Hello, My name is Manidipa.
I dropped 2 awesome comments.
Hello, My name is Evans.
I dropped 2 awesome comments.
Hi, My name is Saminu Eedris.
I made 2 awesome comments.
Hello, My name is Rohan Chaubey.
I dropped 2 awesome comments.
Hello, My name is Ammar Zeb.
I dropped 2 awesome comments.
Hello, My name is Naveen Kumar.
I dropped 1 awesome comment.
Hi, My name is Suprabhat.
I made 1 awesome comment.
Hello, My name is Saifi Rizvi.
I dropped 1 awesome comment.
Hello, My name is Akaahan Terungwa.
I dropped 1 awesome comment.
Hi, My name is Jayne John.
I made 1 awesome comment.
Hello, My name is MsCrookedHalo.
I dropped 1 awesome comment.
Hi, My name is Sarah Park.
I made 1 awesome comment.
Hi, My name is Rahul Yadav.
I made 1 awesome comment.
Hi, My name is luv reic.
I made 1 awesome comment.
Hi, My name is charan.
I made 1 awesome comment.
Hi, My name is Moshiur Rahman.
I made 1 awesome comment.
Hello, My name is Ambya N.
I dropped 1 awesome comment.
Hi, My name is Sreeraj M Ajay.
I made 1 awesome comment.
Hello, My name is Shamsudeen.
I dropped 1 awesome comment.
Hello, My name is Kartik chugh.
I dropped 1 awesome comment.
Hi, My name is Don Purdum.
I made 1 awesome comment.
Hello, My name is Chitraparna Sinha.
I dropped 1 awesome comment.
Hello, My name is Raza Nagori.
I dropped 1 awesome comment.
Hi, My name is Daayur.
I made 1 awesome comment.
Hi, My name is Joseph Chikeleze.
I made 1 awesome comment.
Hi, My name is ologundudu Abraham.
I made 1 awesome comment.
Hi, My name is Pascal Godson.
I made 1 awesome comment.
Hi, My name is MSI Sakib.
I made 1 awesome comment.
Hi, My name is AS Prince.
I made 1 awesome comment.
Hi, My name is Geetha.
I made 1 awesome comment.
Hello, My name is Mobashhir.
I dropped 1 awesome comment.
Hello, My name is Mark McKnight.
I dropped 1 awesome comment.
Hi, My name is Simranjit singh.
I made 1 awesome comment.
Hello, My name is Kuldeep.
I dropped 1 awesome comment.
Hello, My name is John Maduka.
I dropped 1 awesome comment.
Hello, My name is Pique Dan.
I dropped 1 awesome comment.
Hi, My name is Haroun Kola.
I made 1 awesome comment.
Hello, My name is Ammar.
I dropped 1 awesome comment.
Hi, My name is Jaidayal Saraswat.
I made 1 awesome comment.
Hi, My name is Aderemi Dare.
I made 1 awesome comment.
Hello, My name is khasrang.
I dropped 1 awesome comment.
Hi, My name is Arbaz Khan.
I made 1 awesome comment.
Hello, My name is Sagor.
I dropped 1 awesome comment.
Hello, My name is Elva T.
I dropped 1 awesome comment.
Hello, My name is Nnaemeka.
I dropped 1 awesome comment.
Hello, My name is Sachin Saini.
I dropped 1 awesome comment.
Hello, My name is Kiran.
I dropped 1 awesome comment.
Hi, My name is Naved Khan.
I made 1 awesome comment.
Hi, My name is Ketan Jawale.
I made 1 awesome comment.
Hello, My name is Craig.
I dropped 1 awesome comment.
Hello, My name is Fabrizio.
I dropped 1 awesome comment.
Hi, My name is Ammanulah.
I made 1 awesome comment.
Hello, My name is Mamaliki.
I dropped 1 awesome comment.
Hello, My name is Nomon Smith.
I dropped 1 awesome comment.
Hi, My name is suresh.
I made 1 awesome comment.
Hello, My name is hitesh.
I dropped 1 awesome comment.
Hi, My name is Bes.
I made 1 awesome comment.
Hello, My name is Max Newton.
I dropped 1 awesome comment.
Hi, My name is Jon.
I made 1 awesome comment.
Hi, My name is SEO Consultant.
I made 1 awesome comment.
Hello, My name is Frank.
I dropped 1 awesome comment.
Hello, My name is Oskaaay.
I dropped 1 awesome comment.
Hello, My name is Mukesh.
I dropped 1 awesome comment.
Hello, My name is Ailen.
I dropped 1 awesome comment.
Hi, My name is Ankita.
I made 1 awesome comment.
Hi, My name is Marcos.
I made 1 awesome comment.
Hello, My name is Pascal.
I dropped 1 awesome comment.
Hi, My name is Nisha Pandey.
I made 1 awesome comment.
Hello, My name is Erik.
I dropped 1 awesome comment.
Hello, My name is sonia delanoy.
I dropped 1 awesome comment.
Hello, My name is Brenda Lee.
I dropped 1 awesome comment.
Hi, My name is Sylviane Nuccio.
I made 1 awesome comment.
Hello, My name is Monna Ellithorpe.
I dropped 1 awesome comment.
Hello, My name is Vinay.
I dropped 1 awesome comment.
Hi, My name is Sachin Poylil.
I made 1 awesome comment.
Hi, My name is Utsav Aggarwal.
I made 1 awesome comment.
Hi, My name is Arinze Oparaugo.
I made 1 awesome comment.
Hi, My name is gawen.
I made 1 awesome comment.
Hi, My name is Nabeel.
I made 1 awesome comment.
Hi, My name is John Mike.
I made 1 awesome comment.
Hello, My name is Mudasir khan.
I dropped 1 awesome comment.
Hi, My name is Mark.
I made 1 awesome comment.
Hello, My name is Olasot TGF.
I dropped 1 awesome comment.
Hi, My name is Venn.
I made 1 awesome comment.
Hi, My name is ashik ali.
I made 1 awesome comment.
Hello, My name is Thomas Brew.
I dropped 1 awesome comment.
Hello, My name is Yasin Rishad.
I dropped 1 awesome comment.
Hello, My name is Enock Machodi.
I dropped 1 awesome comment.
Hi, My name is John Wheeler.
I made 1 awesome comment.
Hi, My name is Terry.
I made 1 awesome comment.
Hello, My name is Jerry Everett.
I dropped 1 awesome comment.
Hello, My name is Rahul Krishnan.
I dropped 1 awesome comment.
Hi, My name is Yatin Khulbe.
I made 1 awesome comment.
Hi, My name is Atul Sharma.
I made 1 awesome comment.
Hello, My name is Ammanulah Emmanuel.
I dropped 1 awesome comment.
Hi, My name is John Onwuegbu.
I made 1 awesome comment.
Hello, My name is Shubham Bhatt.
I dropped 1 awesome comment.
Hi, My name is Muhammad Mairaj.
I made 1 awesome comment.
Hello, My name is sangeetha menon.
I dropped 1 awesome comment.
Hi, My name is Beth.
I made 1 awesome comment.
Hello, My name is Veer.
I dropped 1 awesome comment.
Hi, My name is korex.
I made 1 awesome comment.
164 comment authors with 375 comments in the month of May 2015This list was generated by MyCommentAuthors
Thanks for being part of the journey. I hope in this new month, there are better days ahead 😉