I'm excited to announce a blogging contest for BlogExpose.com.
This will give users an opportunity to win $300 straight to paypal. There are going to be three winners and details are below.
BlogExpose is a job board for bloggers from all over the world in any niche. There are different types of jobs to make money on the platform. While we are starting with writing jobs, in the near future, we will be adding more job types.
If you are a company looking to hire bloggers for your business blogging or simply want to pay bloggers (with cash or free copies) to write about (review) your product, this is the right platform.
If you are a vendor with an Affiliate Program, you can recruit bloggers from this platform to promote and earn special commissions.
What if you want to do a contest and you need bloggers to take part, promote your product and earn cash? BlogExpose brings you the opportunity to announce your contest to a huge audience of select bloggers.
Check this "How it works" page for more on these different job types
$300 Cash Prize Contest for all bloggers
Contest starts on 07/06/2015 and ends 06/07/2015
To enter the contest, you simply should create a blog post about BlogExpose on your blog. Share your sincere opinion about it in 500+ words. Link to a BlogExpose Home Page or to the 'How it works' page. Make the link nofollow/dofollow. There is no specific requirement.
Check out this 'how it works' page for some more information
Now, there are going to be 3 winners:
First prize $150 + 30 days featured on BlogExpose
Second price $100 + 30 days featured on BlogExpose
Third price $50
Here is how I shall pick the winners:
The first and second winners shall be selected based on points. The contestant with the highest points gets the first prize.
Points shall be calculated as followers
1 valid comment = 5 points
1 referral = 10 points
NB: I won't be using social signals to attribute points. I know some folks can just walk to fiverr and buy them 😉
Special Note on Referral Points
I want you to earn 10 points per new contestant who follows you to enter the contest. All you have to do is promote your contest post and tell your friends and readers to enter the contest.
Pleas Note!
While submitting your contest post for review, you will have to enter the url where you learned about the contest (referral url). That's how I'll be able to know your referrals.
– > Here is the contest submission form
After publishing your contest, go to this form and submit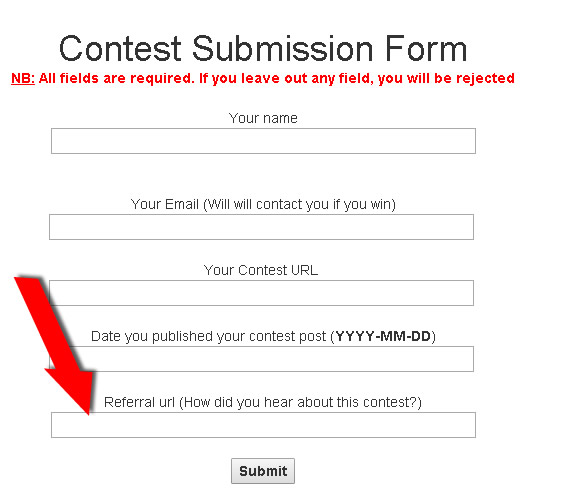 If you are reading about this contest here for the first time, your Referral url should be this post you are reading.
If you read it first on a friend's blog, your referral url should be the friend's contest post url.
NB: If you submit your contest post for review without a referral url, I will minus 10 points from your total points earned.
How the 3rd winner shall be picked!
I want everyone entering this contest to stand a chance to win. So after selecting first and second winners based on merits, I will do a random selection to pick the third winner. So if you do not get the first or second prize, all hope is not lost. You can still be the third winner.
Very important requirements
To qualify for the contest, you must signup as a blogger on blogExpose and apply to take part (No application shall be rejected though).  Once you are in your account on blogExpose, click here to apply
You must mention the contest sponsors on your contest post. Click here to download the txt file containing the html code. Copy and paste code on your contest article
There must be at least 20 entries before the winners are selected. If by the end of the next 30 days and there are no 20 entries, I will postpone the result date.
BlogExpose Contest Sponsors
Guest Crew

Guest Crew is your business launch specialist.
We store and buffer every social share: for example Facebook likes, tweets etc. and release them all, automatically – at the same time, on the due date of the campaign. Thus creating a huge buzz and possibly a trending hashtag about your business on the Social Media.
What will you Promote Today? Start free right-away by creating your Business Campaign.
---
WorthBlogger – Blogging the ideas worth reading

WorthBlogger offers general blog ideas, content writing tips and other related topics that will help you stay informed online!
The founder WorthBlogger is Jackson Nwachukwu, a seasoned professional blogger/writer whose work has been published on top industry blogs like JohnChow.com, ProBlogger.net, SearchEngineJournal.com, FreelanceWriting.com, BasicBlogTips.com and many more. A gift from Jackson to you! Click here to unveil it!
---
The Bloggers Forums
The Bloggers Forum is an Online Community of Bloggers. Join Us to Learn, Share and Connect with Bloggers from Around the World Across Different Niches!
We Talk About SEO, Traffic Generation, Blog Monetization, Content Writing and So On. Registration is Free! Join Us Today!
---
Make Money Nigeria
A Top Class Online Business Resources & Inbound Marketing blog started in July 2010 for the purpose of providing quality tips, training, mentorship, which allows people & businesses to improve their income online, building successful online businesses and creating wealth legitimately.
So what are you waiting for?
Go to BlogExpose and Signup for free
Once in your account, Click here to apply. Just tell me you want to enter the contest
Check out this 'How it works' page for more
Start writing your contest post
Publish and Submit your post here
Promote your post, talk to friends to join so you can earn more points
NB: Tell your friends to enter your blog post as referral url on the submission form
Drop a comment and let me know what you think about this contest