Naturally thinking, the more your traffic grows, the more your business expands and the more profit you make. That's quite true and it explains why people struggle to open more ways to drive traffic to their blogs.
But what if your traffic grows slowly or doesn't even grow at all? What if your traffic is dropping? Does that immediately affect your income?
The thinking of a usual man is that business and thus profit will drop with a drop in traffic. But we want to dare and put on the cap of an unusual blogger and business person to see unusual ways to increase income while the traffic remains or moves down slope.
How to increase income with dyeing web traffic!
I can say with a huge dose of confidence that you can increase profit while your traffic remains where it is. The only bad case is when you don't even have traffic. However, if you have a certain minimum (like 100 readers a day) and you are thinking you need 1000 daily readers to make more money, you've got to read this post with motivation.
With social media, blog commenting, blogging communities, traffic tools like Pinterest, etc, it's hard to think that you don't have 100+ daily readers after having been blogging for about 5 months. You'll need to rethink your strategies. Something is wrong with your method.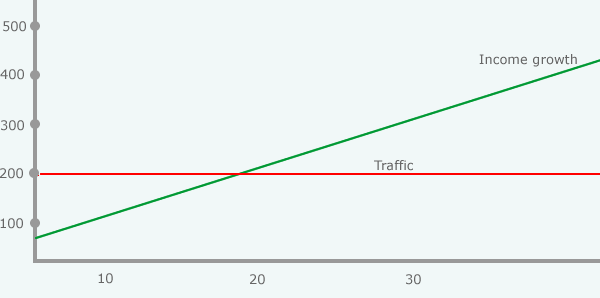 2 things to do to increase income
There are 2 things I suggest you start doing right now to inevitably step up profit.
1) Define a new strategy or rinse and repeat!
Now if you've seen some little success, the good news is that you've identified something that works for you.
Go back to the point where you had some success (maybe you promoted some products and made some sales), rinse and repeat.
What this means simply is that you should do what you did in the past and this time, do it better. For instance, if a certain banner on your blog already generated sales, that shows you the position of your audience. What you want to do now is write an in-depth review of that same product.
Get to the product owner and request for a unique discount code. That's a hot strategy that will combine the SEO power of review articles to increase your sales. You'll be making more income even with the same level of traffic.
What if with 100+ daily readers, you've not seen any income?
There are possible 2 reasons here;
You are not monetizing your effort or
You are doing it wrongly.
One of the core reasons people don't make money doing business online is that they are missing the right point. I have seen completely unrelated banners on some blogs and this makes me think that some of  us don't even know out business.
If you don't know your business, chances are that you won't know your clients. That means everything else will end in fiasco.
One other reason that could explain why you are not seeing results with your current level of traffic is the source of traffic.
Not every traffic is good traffic. If you belong to wrong Facebook groups or Google plus Communities, that may be the reason non of your visitors is engaging with you.
The solution is to leave those time wasters and join target groups that are able to send targeted traffic to your blog.
2) Know your current readers
The best way to get something from someone is to know that person. The simple truth is if you don't know your readers and what they want, you won't be able to satisfy them. Once there is no satisfaction, there is no business.
If you know and understand your readers, you will know their problems and that will enable you develop content that will provide solutions to their need.
What's the point rushing for 1000 readers when you don't even understand or know the needs of the first 100 you already have?
How do I get to knowing my clients Enstine?
That's an interesting question isn't it?
There are a couple of ways or tools to use on your blog to help you know what your readers expect of you. One of these tools is a heat map tool.
I think this is one of the best ways to read the minds of your readers as they click and scroll your pages and posts.
Basically put, a heat map tool will count how many times a link, banner or an element on your blog is clicked. It also shows you where visitors scroll most to.
All these clicks and scrolls will help you know the hot and cold areas on your blog. The data collected evidently will help you know the type of content your audience is more interested in.
Look at some test I did on this blog in the past;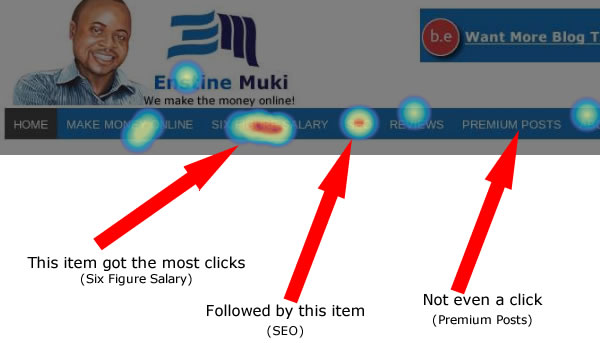 You can already find out from the image where my readers click more. The 2 hot areas on this menu are 'Six Figure Salary' and 'SEO'
That means if I write more towards these directions, there are chances of making more money even with the current level of traffic.
Bottom line…
There are many other tools (Polls, Surveys, Google Analytics, etc) to help you know your readers but let's stop here. Why because I want you to try these 2 areas I have talked about;
Make sure you know the business you are really into. Identify were you've had success in the past. Rinse and repeat.
Study your readers and know what they want. Checkout my hotjar review and set it up on your blog. This will help you know those areas that are wasting on your blog.
I want to hear from you. Do you have 100+ daily readers? How else do you think you can increase income with your current level of traffic?
Share your points in the comment box below.