I want to start this hotjar review by asking you a couple of questions:
Do you understand your visitors?
Do you know where they click more on your site?
Do you know what they think about your site?
Do you know which portion of your site they spend more time on?
One of the most crucial things to do to succeed with your website is to understand your visitors. Whenever a reader is on your blog, it's crucial to track and record his mouse movements. As a matter of fact, this is the best way to know what's on their minds. 
Every space on your site is important and should be maximized to its optimum. From my experience, there are some links on my top menu that are more attractive than others. I need to know those dead spot so I can make the maximum use of my menu bar.
In this hotjar review, I want us to see how Hotjar is helping me understand what my visitors want on my blog and  how I can server them better.
Now, this is very important because Hotjar allows me to see and read my visitors' minds; I can see where they click more, which area of my blog they scroll to, I can even watch how each visitor moves his mouse on my blog.
Hotjar Review  – Heatmap, Visitor Playback, conversion funnels, etc
Like I mentioned above, this is not just about grabbing screenshots and pasting them here. I want you to see my own results after having used Hotjar on my blog.
Hotjar is not only a heatmap tool but a combination of features to help you better serve your audience and make the best out of your site.
Hotjar has 7 measure features all developed to address different areas of user behavior on your website, helping you to interact with them while optimizing your site. Let's see the heatmap feature.
Heatmap – Mouse clicks, movements and scroll actions
This is one exciting Hotjar feature that tells you with more precision what's hot on your pages. This reveals where you get more clicks, which portion of your site gets more attention.
Let's see how this tool reveals which item on my top menu gets more clicks/taps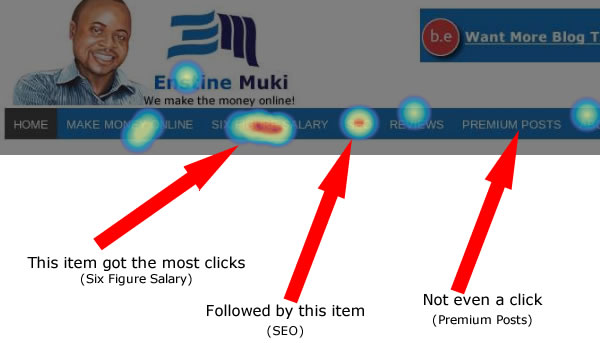 You notice that the Six Figure Salary item is the hottest spot on my top menu while Premium Posts has gotten no clicks. You understand with me this is vital and gives me an idea how to carry out some changes on this menu. If premium posts is not getting enough attention, I'll get rid of it and use that space for something else.
We can still go further to see where visitors move their mouse the most on the top menu;

It's quite clear in this image that my visitors pay more attention to these 2 elements – earning more money and SEO. Now, I know the kind of content that gets more engagement on my blog.
Visitor Playback
This is a fantastic feature that lacks in many other heatmap platforms out there. What it does is record the mouse movement of every visitor on your blog so you can playback anytime to see exactly how the visitor browsed from one area to the other.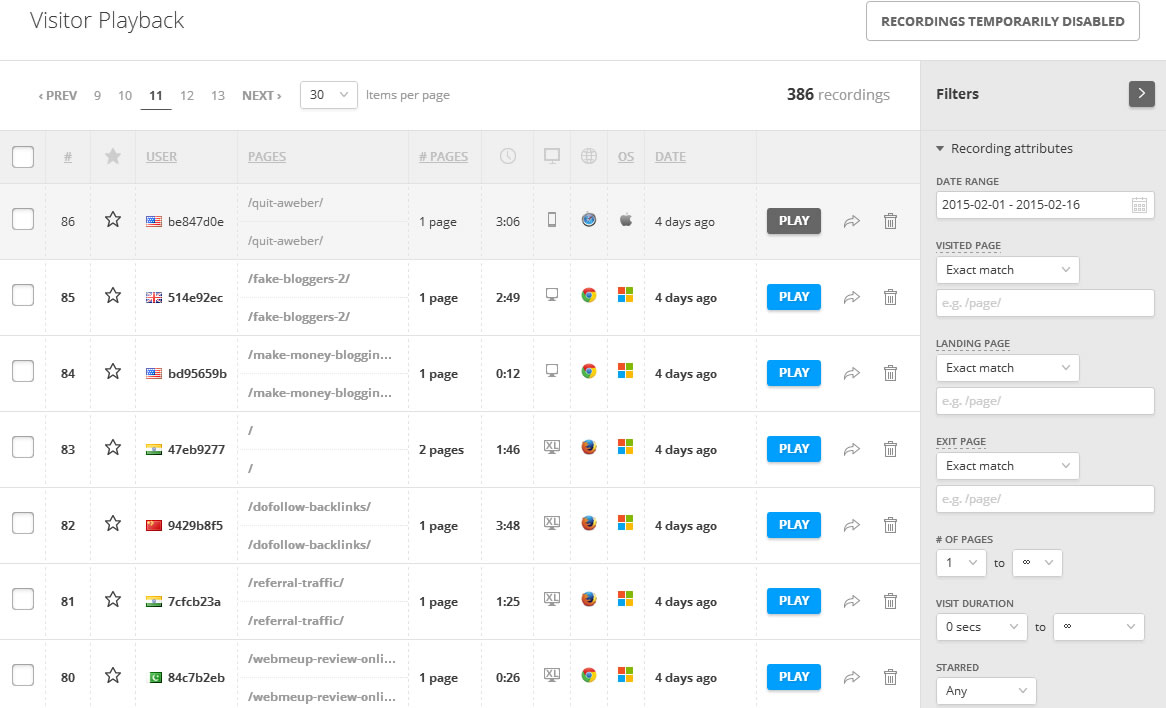 This image is visitor recording on my blog for the past 1 week. Now, you have some more information to help in you developing your strategies – country, entry page, exit page, number of minutes spent on site, number of pages viewed, browser and OS.
Click on the "Play" button to playback the recording and see exactly how the visitor moved his mouse, scrolled your page and clicked.
Conversion Funnels
This is a tool to set goals and monitor the effectiveness of campaigns. You may want to use this feature to track sales, form sign ups, downloads, etc.
It's a simple analytic component that has a lot to do in helping your conversion rate.
Here is a simple example I used
I set a funnel on my home page through a sticky article. I wanted to see how many visitors who land on my home page will click my sticky post.
This information will help me measure the strength of the title and probably the description of my sticky article.

In each funnel, you can set as many steps as possible. That means you may want to track visitors from entrance page through certain pages to the final conversion point.
Feedback Polls!
This  is an inevitable marketing tool every blog/website should have. Hotjar Feedback Poll facility is so simple and allows you to create beautiful questionnaires to collect data from your readers and integrate in your marketing plans.
The Polls feature is very flexible and has support for over 20 different languages.
You can create a feedback pop up form with multple questions, set when it should pop up, on which pages to show the poll, position (left or right) colors, etc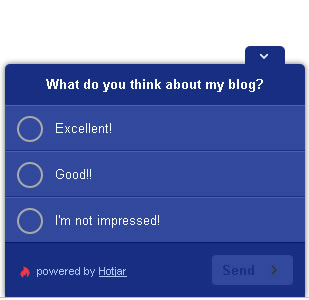 This is the poll that has been running on my blog for the past 4 days.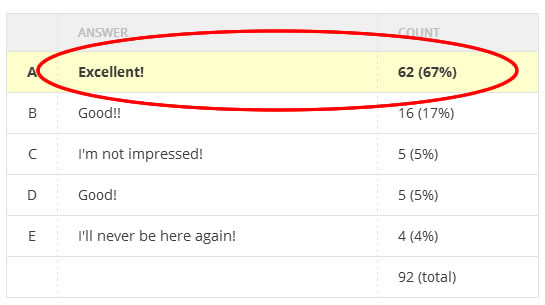 And here is the current poll results as I do this hotjar review;
Excellent 67%
Good 22%
I'm not impressed 5%
I'll never be here again: 4%
Note that there were some updates to this poll some hours after I set it up. I know doing this will falsify your data but I'm using it here just for the sake of this demo.
Hotjar Review ~More features
These are some more features I have seen while using Hotjar. I have tested them out though I have not used them to collect live data;
– > Form abandonment or Form Analytics! : This is absolutely amazing feature and one of those you don't quickly find elsewhere. Sometimes you have a web form on your site and you don't know what's going on each time a visitor lands on it.
This feature will help you discover which fields take too long to fill, which are left blank, and why your visitors abandon your form and page.
– > Surveys: One of the ways to gather vital data from your audience is to run Surveys. I found it quite easy to create surveys with Hojar. The beauty with it is that you can actually dig deep and specify which pages or blog posts on your blog to trigger friendly pop up window announcing the survey.
– > Recruit User Testers: Do you intent to recruit beta testers for your next product? This feature has be designed to specifically cater for that.
I think Hotjar has distinguished itself from its competitors. Well, that may be my opinion. You may want to find out for yourself what makes it great.
Go request for free access here -> 
Now, what do you think about using tools like this to measure activities on your site that will help in decision making?
Share your comments with me in the comment box below.