Hello everyone, we are this week going to Nigeria to meet a good friend, footballer, businessman and blogger. He's the second blogger I'm featured from this country after Jackson.
As I continue in this series, I'll be touching bloggers from all over the world. That's the beauty of blogging. We in this industry are not limited by space.
If you have not read about some bloggers I have featured in the past, check out this list. You're certainly going to find someone to hook up with.
Meet Shamsudeen Adeshokan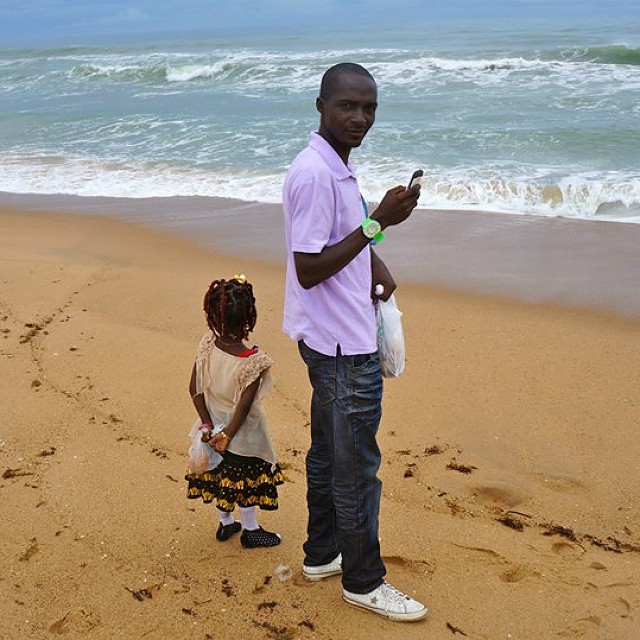 In the beginning, the dream ambition was to become a professional footballer trading his skills beyond the shores of Nigeria… but that wasn't meant to be; it was a dream that never become a reality. Being an important member of the squad that lost the cup while in primary six, he was later elected as the school captain for five years in his secondary school days.
Two weeks after writing his final exam in secondary school on 17th of June 1997 at the tender age of 17, Shamsudeen decided to learn how to repair indoor electronics sound system from his eldest brother who is already making full-time income from the trade in the popular Alaba International Market Ojo, Lagos, Nigeria – the biggest electronics market in the whole of Africa.
Two years after, at age 19, Shamsudeen had already become a master in the act and science of repairing indoor house use sound system and no longer serve as an apprentice under his eldest brother.
This trade turned out to be a very lucrative 9 – 5 day job instantly for him, generating good income to take care of life responsibilities and providing him with most of  life important needs – food, cloths and shelter.
At the very tender age of 21, Shamsudeen got married to his school mate, best friend and a hardworking social class woman with the most beautiful character – "Ib" as he use to call her for short.
So at 22, Shamsudeen became a father to a son who is now 14 years of age, they now have two sons and two daughters together, awaiting the birth of their fifth child.
But after two years of blissful and wonderful marriage life, making full-time income from his trade, technology advances and there came a change in the electronics industry which saw the business that got him better standard of living no longer sustain his responsibilities.
Shamsudeen had to look for alternatives as the business that once give enough financial support for his family can no longer cater for only his needs.
So in 2002, he left the electronics industry and became broke and jobless for almost four years. During this hard and trying moments, his wife took the driving sit to cater for the family.
Shamsudeen got back into playing football to try his luck if things could workout his way. But after four years of active playing and practicing…nothing happened, so he went out of it and tried again something else – National Lottery agent. 
This he did till 2009 before he was diagnosed with "tuberlocosis" which lasted for about a year before finally cured. This was a very trying and life threatening moments in his life as the infections had already done some major damage to his health before he could get proper treatment for it.
Bouncing back strong and healthy, Shamsudeen returned to the trade that once gave him life and happiness – Electronics Engineering – but after two years again, things couldn't just get better, so he finally bowed out of the industry and once again became dead broke and jobless.
After his mother's death on April 24th 2013 from a chronic diabetic illness, the following year in the month of February 2014, Shamsudeen took to driving job for a nearby bread bakery distribution agent.
It was in the year 2009 that Shamsudeen ever heard of the world blogging from a friend who constantly spoke about a daily newsletter publication anytime they gather to gist.
From that time in 2009 he has tried different sort of internet money-making programs such as "Paid to read", paid to click, hyip, etc…before finally starting a blog on WordPress on 03/07/2012.
CyberNaira was born and has remain the major online project of Shamsudeen where he writes and teaches others about his online experiences and day-to-day achievements in internet marketing as a professional blogger and internet marketer.
The greatest achievements as far as Shamsudeen is concern as a professional blogger is not the money, the fame, the massive blog readers, the mentions or anything of such but the belief and trust other young upcoming aspiring blogger have and look up to him as a role model, someone they can relate to and get help from when they run into a hitch.
This he has achieved so far as he has in his short period of blogging become the go-to-guy for a host of young bloggers out there spreading across different states and nations, and especially his native country – Nigeria – where he has successfully coached and guided many newbie bloggers to start their own blog successfully.
This made him to sit down and writes a book on blogging titled "Beginners Guide To a successful blogging Career In Nigeria", Since its publication in 2014 this book had been downloaded over 200 times and mainly by those who have shown interest to be coached by Shamsudeen on the subject of blogging either through email message, whatsapp, Skype or by making phone calls.
To fulfill is mission as someone who is here to help and not just after the money, Shamsudeen has made the book available for FREE. Despite putting three weeks into making this "72 pages" blogging eBook a reality, he still let it out to the public as a FREE download.
From a complete internet novice, he has become an internet junkie, marketer, author, blogger, and a mentor.
For Shamsudeen, making money from blogging doesn't have to depend on daily page view, frequency of posting or the amount of traffic your blog could drive, this is why he has from day one of his blogging career chosen to create a blog business called "Expert Model" – this he learned and endorsed from Yaro Starak.
This is the type of blog business he usually advises his student to go with if they're to create an internet business that will run off system in the future. A blog business that is not post frequency dependent or amount of traffic controlled, or any of such metrics.
You can connect with him via his Twitter page or Like him on Facebook, and get a PlusOne for him on G+
 Shamsudeen Adeshokan will be here to interact with you in the comment box. So please drop him a comment.