One of the good things freelancers and bloggers in Cameroon have is the fact that the Payoneer free cards are being sent straight to them.
Though Paypal is fractured in Cameroon, Payoneer is here to resolve the issue of receiving funds from online business. I have this post on Paypal Cameroon so you may want to check it out.
Few days ago, I had a quick question from one of my students. As a matter of fact, she got ahead of the classes and wanted to know how the Payoneer card got to me in Cameroon.
How does payoneer send your card to Cameroon ?
Yes Payoneer does send their cards to Cameroon and you don't have to pay for it (but). The card shipping takes a couple of days: From 3 to about 30 days, all depending on the method used:
Regular shipping
Expedited Shipping
The postal system in Cameroon is quite simple but many Cameroonians don't have a Post Box number. I personally had one years back but the Internet Email system slaughtered my interest for the traditional snail mail utility.
However, many of us belong to (or are active in) in some public institutions. My church has a very active Post Box so I often make use of it. A couple of times I have used it to receive cards for friends too.
How long does Payoneer Card take to get to Cameroon
My personal experience with 3 Cards received at the moment is 21 days max. This is because I often go for regular shipping which is absolutely free. Yes I have always had the time to wait 😉 But if you are in a hurry, you'll have to spend. More about this later.
Once your Payoneer Account application is approved, you will be sent an email with some confirmation details.
It may take about 3 business days to print and ship your card: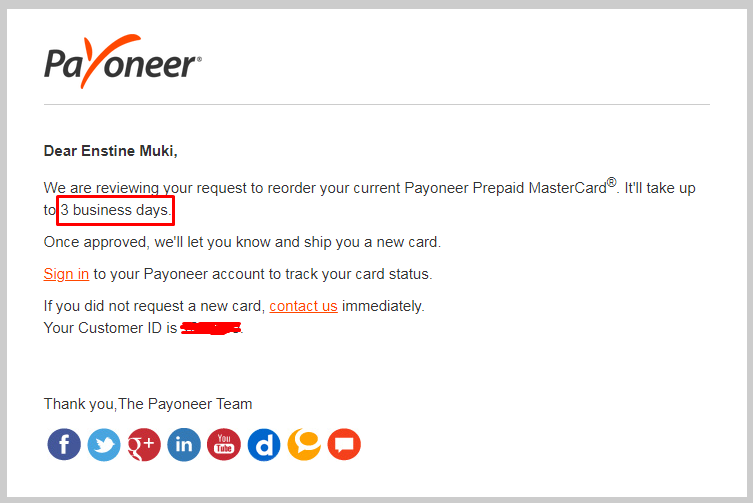 So if you order on Saturday or Sunday (weekend days), you probably should start counting from Monday.
The cards come with your names printed on it so this process definitely requires some time. Once the card is printed, it's ready to be shipped to the address provided.
In 2019, I ordered a new card with my longstanding account: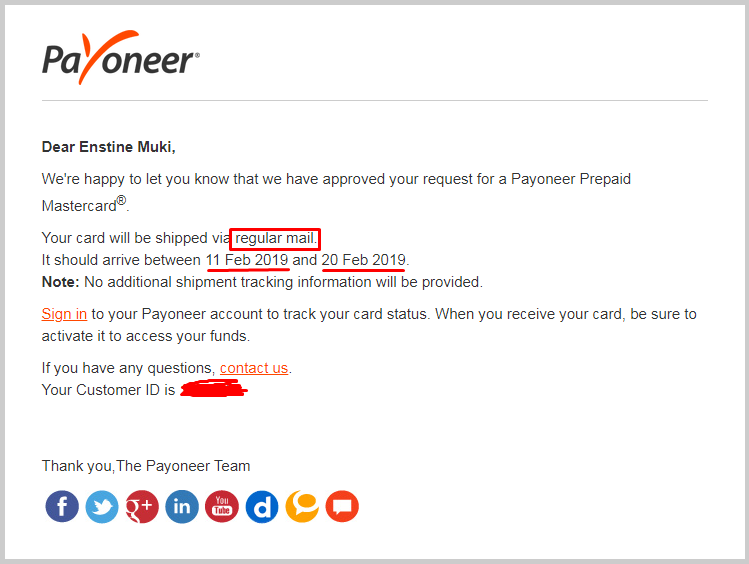 This was just a request for a card in an already active active. Like I mentioned, I have the time to wait so I go in for the free regular mail method.
The time mentioned above was going to be a maximum of 21 days.
While Payoneer does everything they can to avoid delays in shipping, they have no control over the processing times or delays in Cameroon's local postal system.
If the estimated shipping time for your card has passed, or if you believe there is an error/delay in your local postal system, it's recommended you contact them as they do their best to resolve the issue.
What about Payoneer's Card Expedited Shipping
If you are impatient or you have a client who has to pay and you need the money within few days, you may want to spend some money to get your Payoneer card shipped within 3 and 7 days, mainly via an expedited shipping service, such as FedEx or DHL.
As FedEx and DHL are all actively delivering to Cameroon, I think it's good news for local Payoneer card holders.
Note that I don't have any experience with this method. But enough information is available on the Payoneer blog.
However, shipping outside the US to other international destinations (excluding Russia), DHL expedited shipping is at a cost of $40/€35/£30 and overall shipping time is generally 4-7 business days (But note that the actual shipping times may vary depending on FedEx/DHL service availability)
If you wish to order the card via expedited shipping, Payoneer requires you contact them with your address in the following format:
Street Address Line 1 (limit to 40 characters):
Street Address Line 2 (limit to 40 characters):
City/State:
Country:
Zip Code:
This is something we (In Cameroon) are struggling to deal with: The Street Address and Zip Code. The BP (Boite Postal) or Post Box Number (PO Box) does not work for expedited shipping. This is only needed for regular mail: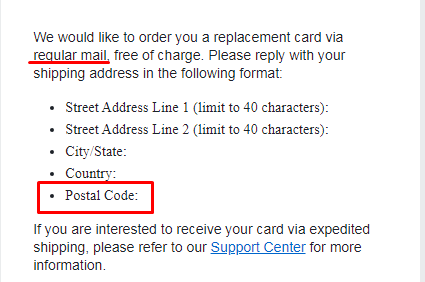 So my recommendation is you contact Payoneer and have a chat with them on this.
Once the card gets to FedEx or DHL office, they will call you. That means you must make sure your phone number is properly set in your account.
Before you order the card via expedited shipping
Two main things are required of you before you proceed with this ordering method to avoid delays or missing card:
You have to confirm your phone number by clicking "Update Profile" under the "Settings" menu in your MyAccount. Make sure you update it if it's no longer valid. The reason is that the expediting service will have to call you once the card arrives Cameroon.
Make sure you have enough funds in your account to cover the cost of expedited shipping. Payoneer as per my understanding only debits your account to collect funds needed for this method. Find out from there if some other payment methods are available.
Now you know the two main ways Payoneer can send your card to Cameroon. Use any of them based on your needs.
==> Go here to create a free Payoneer account.
What do I need the Payoneer card in Cameroon for?
Cameroon is one of the best places to spend money made online. This is because of the exchange rate and the fact that online earnings are not taxed yet.
Yes I know the Internet facility is still so poor and expensive, we are doing with the bad quality we have.
Young Cameroonians should turn to freelance services online. We have sleeping skills. Why not monetize them on micro-job sites like Fiverr and the rest?
Once you are paid for your services, the Payoneer card will help you receive your earnings in local currency.
May affiliate platforms like Shareasale pay commissions to Payoneer. That's a beautiful way to do affiliate marketing and get your commissions paid to Cameroon.
You may also use your Payoneer card to attach and validate your Paypal Account. Though this is a different difficulty, it's still done.
Drop a comment let me know what you think.