There are thousands of Free WordPress Themes out there and many of these free themes keep coming up every moment. Of course, WordPress script itself is shipped with a couple of free themes.
While these free templates have their advantages, there disadvantages to my opinion outweigh the positive points.
You can have free wordpress templates just in any niche – from very simple to somewhat complex designs – for business, photographers, churches, musician, writers, etc When I say free, I mean free;
Some so-called free themes have as a requirement to place a link at the bottom pointing to some url. As long as the the author gets some benefits in exposure and SEO from you using the theme, it's no longer free. You pay for it by giving the author some advertisement.
However, Google has come up with a cane to fight the SEO benefits (dofollow link) required by some so-called Free WordPress templates developers. They either get a nofollow link or no link at all.
In any case, free may be expensive in a long run. Let's see how free theme users end up spending more;
Before you read on, check out this post where I guide on what to consider if you are looking for a theme that can help you generate income from your blog. Not all themes can help you make money.

Here is a comment one of my readers made on this recommended blog post;
How Free WordPress Themes will cost your leg
Sometimes, I'm of the opinion that free is not free. You get something without spending money but paradoxically, you end up spending money because you got that same thing free. How is that free?
In another case, because something is free, it lacks the necessary ingredients or facilities leading to your incapacity to be productive – free is expensive indeed!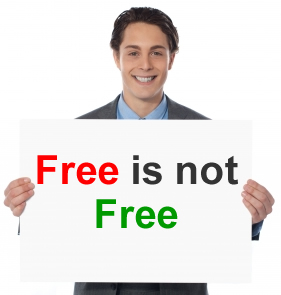 There is no business growth without financial investment. Most of us want to make money online but we don't want to invest in premium tools. We spend time looking for the free stuff that ends up costing us a lot.
Are you having a free wordpress theme on your blog?. Whether you have the best free wordpress themes or not, you may still be on the downside. Here are some possible ways this will cost you;
1 – Branding
If you are serious in your business, you won't want to be tagged in anything that will compromise your brand. Seriously, grabbing some free design that lacks professional qualities reduces the value in your business.
Your brand is the image your current and prospective customers have about you.  While the big shots are doing every possible thing to eliminate any negative impressions and implant a bright image in the minds of their customers, you should not be an exception.  Your blog should boost your business and not bring it down.
2 – Customer support
For the most part, you don't get any customer support with free wordpress themes. Providing support is one of the must crucial characteristics of any technical system. Where customer support is not available, the service or product distributed is potential source of damages to its users.
What if danger strikes? Who do you turn to? I bet you the free theme developers may not offer the complete support required. That will certainly drive you into frustration, disappointment, loss of business, etc
3 – Business Expansion
No business wants to be stagnant and that includes yours. Everyone strives for growth and more profit. If your blog doesn't give room for expansion, then you are in some difficult situation.
You want some additional modules, some modifications, some other additions, etc, but you won't get any of these because your theme is free.
Now, to hire a developer to have some additions done to your free template will be as a matter of fact more costly.  That's how it is!
– No updates
Most free themes don't get as constant updates as are required. You agree with me that this is a big security menace.  Why then go in for something that threatens your business?
Now, WordPress is a platform that grows with changing times. While new core functions are developed, old ones get deprecated. With your free theme that lacks these corresponding updates, I can assure you that danger is near. It's just a matter of time.
What you should note is many free theme developers simply update the version number in their free themes to make you believe they are up to date with the current version of WordPress. But the core script is hardly touched.
– Vulnerability
Most wordpress free themes have security openings. That's not just because they are free. The reason is the amount of resources the developers put in to get the bugs corrected. For the most part, little time is assigned for the maintenance of these free wp themes
Some evil minded developers consent to dropping malicious code within the core script of some free themes. This is meant to leak out key information about your blog. Isn't that bad enough to keep you away from these free templates you can't really blame someone for?
The dangers and disadvantages of free WordPress themes are numerous.  The long term implications on your business may be heavy. See beyond your nose and build a solid tomorrow for your business. Invest in premium themes that get the attention of the developers.
– Plugin Compatibility issues
WordPress is powered by plugins. You can do literally everything by just installing one or more plugins.  One common problem with plugins is incompatibility. For the most part, with a free theme, you will always hit one or more incompatible cases.
The dark side is that you may not have anyone to run to for solutions. You will therefore be left with two options; do without the plugin or hire a developer which makes it more expensive – free is  not free
Any recommended Premium theme?
Yes of course! My blog runs on Thrivethemes's Focusblog theme (At the time of writing this post). Thrivethemes are on the list of the most recommended WordPress themes because of the constant updates, active community, theme responsiveness and SEO benefits.
Thrivethemes isn't just about themes. It's a collection of conversion optimization tools to power your online business. Here are some interesting details.
There are actually two ways to get Thrivethemes products:
Buy the single product
Signup as a paid member (which is super cheap) and access the collection of tools
Now let's talk …
Are you using  free WordPress themes? What's your opinion about free templates in general? Please share your thoughts in the comment box below.