WebMeUp Review is what we are doing in this post today. I want to introduce you to this online seo software and let's see how it can help us gain green status before search engines. You may want to get straight to the webmeup official website and start right this moment by creating a free trial account with full access for 15 days.
One of the things we as online entrepreneurs must do is to keep up with the constant mutation in the SEO industry . The most appropriate way to keep fit is to have a cutting edge SEO software.
Google, carrying a mighty cane behind webmasters today makes it a must to attache ones site to a tool that constantly monitors and provides tips for SEO performance optimization.
WebMeUp is a terrific combination of all the innovative and pioneering facilities to enhance SEO of any website, from simple one-page presentation blog to full blown eCommerce transactional site. It's a bundle of every tool you need for an in-depth analysis of your site or blog and its SEO strategies.
ATTENTION!

Rankinity a webmeup alternative

Rankinity is a unique cloud-based service that allows to check positions
of a website for certain keywords in all popular search engines in real time.
A full-featured real-time mode implementation makes it possible to obtain website rankings without any additional queries or reloading of the page in a browser. The checker is 100% automatic.

Another remarkable feature of Rankinity is the support for both global and local search. This provides a user with ability to check rankings in a given country, region or city. And automatic competitor search allows a user to quickly determine leaders and the nearest competitors.

The advanced comparative analysis allows revealing weaknesses in user's own SEO strategy to quickly reconsider it and make appropriate changes in time.  Signup now free
I must admit there are SEO applications out there that can carry you from keyword research to competition and market analysis but a limited number of them will go beyond this limit. Any SEO tool that does not help you acquire green status before Google's recurring ranking penalties lacks the necessary ingredients.
WebMeUp stands out and here are a couple of reasons to justify my unbiased position. Note that in this review, I will highlight some key features that will trigger your interest. This SEO web tool is a complex yet easy-to-use tool we may not be able to go through all those excellent features in a single post.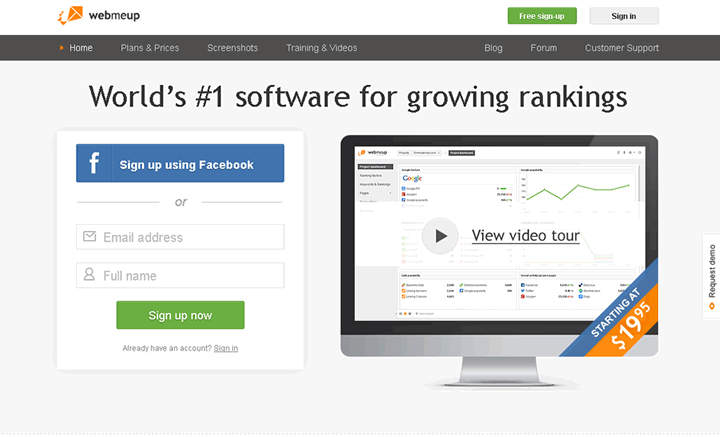 WebMeUp Review ~ Why this online SEO Software is must recommended
It helps protect your site against Google's ranking penalties
Backlinking is one of the most important ranking factors in today's SEO. While this is most sought for, it must follow principles. For the most part, webmasters and bloggers don't have an eye into what's happening at the background.
We have hundreds and thousands of links (both internal and external) putting our ranking efforts at risk. As a matter of fact, we need to be clearly situated on how many links (dofollow and nofollow) are pointing to other sites from our site (Outbound) and how many are pointing to our site from other sites (backlinks). How do we know this and how does WebMeUp help?
A – The danger of external links – how to resolve it with WebMeUp SEO software

There are two types of external links we want to take care of;
Nofollow (harmless)
Dofollow (SEO Danger)
WebMeUp SEO web tool tells us the number of links that point out from our site (outbound links) and whether they are dofollow or not.
"Dofollow" links means we are telling the search spiders to go check out the linked page. It means we endorse and recommend that page in the eyes of search engines.In other words, we are passing PageRank to those links
These links have the highest chance of being regarded as unnatural.The danger here is that Google may conclude we are selling links. The result could be a negative impact on our blog.
Treating Outbound links !
Here below is what my blog looked like after 3 months. I never thought I had over 800 dofollow outbound links. With time and if nothing is done, this is going to be an issue. Google may think I have been selling these links and you know the result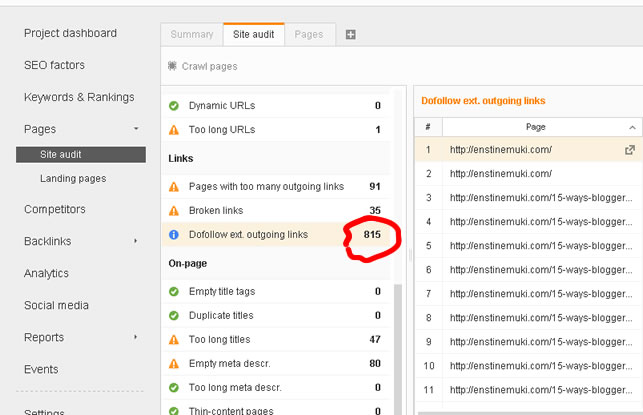 Now it's time to check yours. Go to WebMeUp  and signup for a free trial account and click "Add project" to add your domain. Simply follow the on-screen instructions.
Click your project name -> Pages -> Site audit. While on the Site audit page, be sure to be on the Site audit tab.
To see you outgoing dofollow links, click dofollow ext. outgoing links. Here, you will see lots of other critical information available on this page – broken links, heavy pages, too long titles, etc
There are a couple of ways to sort out this issue – open those pages with dofollow outbound links and manually add the "rel="nofollow" tag or if you are on WordPress, You may want to download a plugin that takes care of this
B – Dangerous backlinks – WebMeUp is very helpful online SEO tool
Backlinking is an important ranking factor. However, this too can also be reason to receive a slap from Google. Google loves backlinks. The more natural backlinks you get, the more Google sees your content as useful.
Logically, if people keep linking back to you, that means you are valuable. But there is danger when these links are not natural – in other words, people don't deliberately link back. That could mean you are using some black-hat seo and that's one big enemy of the search engine giant.
What WebMeUp does is practical and straight forward – It analysis all the links pointing back to your domain (source, anchor link, age of source domain, etc) and puts them into 4 categories according to the risk factor;
Dangerous

Suspicious

Neutral

Trusted
Let's see what I got with my domains in the following image (Click image to enlarge);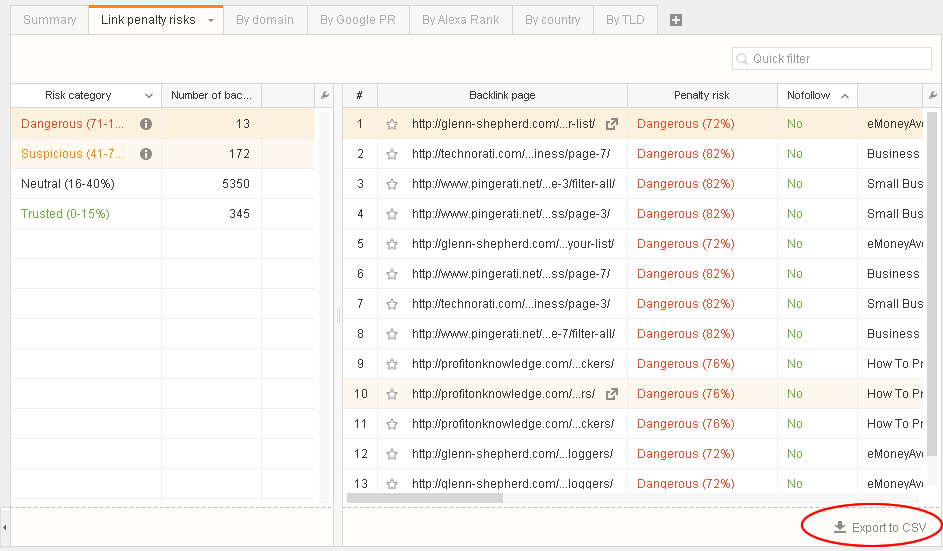 See that? I have 13 dangerous links, 172 suspicious, 5350 neutral and 345 trusted.
Here is how to check yours;  go to WebMeUp (I hope you have created your free account already), choose the project, go to Backlinks/Profile and click the Link penalty risks tab
Those 13 dangerous and 172 suspicious links are my headache now. To secure my ranking, I'll have to make sure these dangerous links get removed or disavowed.
As a matter of fact, there are 2 ways to do this;
Contact the webmasters of these domains to get rid of the links
Use Google's Disavow links tool to tell the search engine it should ignore those links
NB: Check out this article on how to create a disavow file with WebMeUp – step-by-step guide!
Protecting the green links
Now I have to take care too of my green links. Fortunately, WebMeUp has a solution. In the article I linked above, you will learn to be able to  protect your trusted links in different ways;
Monitor their status (are they live or has a webmaster deleted them by mistake)
track their anchor text (if anyone changes it, you'll get an alert)
monitor on-page factors, such as page's title
store webmaster's contact data with useful comments and notes
Avoiding Google's penalty with WebMeUp link-cleanup tool – Summary!

In a summary, this online seo software helps us escape Google's ranking penalties in 2 ways;

Checks and adjust dofollow outbound links
Builds a list of inbound links, protects the trusted ones and disavows the dangerous links.

Go to the official website and create your free trial account. Click here!
What else does WebMeUp, the online SEO tool do?
A lot!
This is a complete online seo tool. Like I mentioned above, I can not detail every feature in one single post. However, for the sake of knowledge, I'll do a quick run-down of some other features that are available;
It helps in keyword analysis
It helps in competitor analysis
Hooks up with Google analytics – that means a lot of more analysis.
Gives an insight of social media popularity
Etc
Bottom line…
I can recommend this as your all time online seo software. Why because it delivers the service and follows you everywhere you go.
However, if you have used this before, let me hear your thoughts in the comment box. Are you however still planning to use it? What do you think about it?
Go to the official website and  Create your free account. No credit card numbers required though. Have full access to all the features for 15 days. Thanks for your attention and time you put in to read this webmeup review. Let's see what you get in your free account.