Google mail or google gmail as some call it is one of the most advanced email systems we have today. Being a free email client, it has advanced features only found in most paid systems.
How to properly set up gmail account has been a pending issue faced by most users. As a matter of fact, some users don't even know where the gmail settings page is located. Well, that's not the main point I'm addressing in this Pump Up Gmail review. I want us to see how Pump Up Gmail can guide us to Set up gmail account making it a full time business and Client Relationship Management aka CRM tool.
Why most of us bloggers (not leaving out some other businesses) have private emails attached to out domain names, we still want to open a gmail account. This is simply because of the facilities it has. In the early days of gmail, you needed an invitation. However, today, one can create a new gmail account anytime anywhere.
Pump Up Gmail is a gmail tutorial and a 'How to' ebook written by Kimberly Castleberry, a well respected blogger and gmail user. Kim shows you in her publication how to use gmail for business. She reveales secret Gmail hacks that will turn your inbox into a full time sales machine.
Gmail has a lot of hidden tools. That's what Kim exposes in her book. She goes on to show you where to find these tools and explains why you should need them.
Pump Up Gmail – Turn your Gmail address to a business machine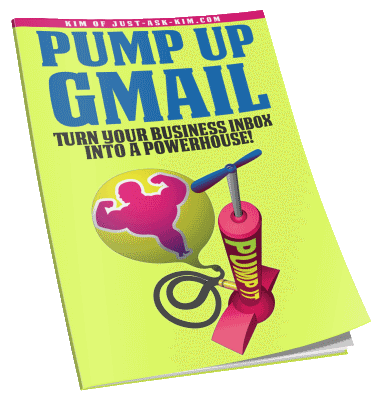 I bought my copy of Pump Up Gmail. That's why I'm writing this review and recommending the product. Let's have an overview of what's inside
The report is 41 pages divided into 22 parts with step-by-step, well illustrated points and in-depth descriptions of each recommended tool.
A lot of things I did not know are revealed in this report report ;). I think it's worth my $7 and even more.
On Page 12, Kim shared something you may want to jump straight to as quick as possible.  It's about branding but Gmail takes it a little further with an awesome little tool. You are going to like this!
There is something crazy on page 17 (Part 9) you'll need to check quick and according to Kim, it's the best solution to serve its purpose. Each time I send a mail, I always wish to have this sneaky thing attached to it. Gmail makes it very possible and I think it adds value to any business communication.
No clue whether the client got – and opened – your email? There's a way to know!
You can really turn your gmail inbox into a Customer Relationship Management system. Don't know the plugins to use? Check out Page 21 (Part 11)
Now, there are some dreaded and often times ugly tasks that none of us like thinking about. One of these is keeping the address book up to date. However, do you know Gmail has a tweak to keep your address book up to date automatically? Check the details on page 22 (Part 12).
Are you thinking of getting your Facebook contacts into Gmail? Well, Kim got you covered on page 23 (Part 13) with step-by-step instructions with images.
If you are an avid user of Evernote, Kim on Page 35 shares a tool you need to integrate your Google system with your Evernote system.
There are lots of beautiful points in this report to set up gmail account as a real business tool and kim has put this up for just $7.
You can create a gmail new account here if you don't have one, then grab a copy of Pump up Gmail here. Put this together and build an excellent business tool.
Let me hear from you …
As a blogger, how often do you use Gmail for business? Do you have a copy of this report yet? do you think you are able to properlly Set up gmail account. Share your views with me in the comment box