One of the issues computer users face is to move files and applications from one PC to the other or from one storage unit to another on the same PC.
It may not really be a problem moving smaller files. But when it comes to transferring huge files from one logical location to another, it becomes a real problem.
What about moving an app you've installed on one PC to another?
A hard nut isn't it?
In most cases, you'll have to reinstall on the next PC. Needless to mention this is pain in the leg.
Recommended: EaseUS file recovery software review
Moving from old to advanced edition of Windows
At least, at one point in time, you are going to have to upgrade. In the past, we used MS Windows 98, 2000, Windows XP, etc.
These have all been discontinued. What happened was we had to move our files to the more advanced edition of the operating system and manual transfer wasn't a piece of cake at all.
Windows 7 was published. This pulled folks up from Windows XP. Then we had Windows 8, Windows 10, and it's continuing to grow.
The complexity of these OSs makes it hard work to migrate apps because of incompatibility issues. Besides, having to reinstall on the next PC requires more time and possibly some financial obligations. The good news however is that we have EaseUS Todo PCTrans that will handle complex tasks for you.
The best part is that you can start using the app for free and I will be showing you how to do it in this post. First, go download EaseUS Todo PCTrans Free here.
EaseUS Todo PCTrans Windows to Windows file/program transfer
This is the award winning PC-to-PC file transfer software that moves your file with a simple click from one computer to another without any data losses.
The free app can can move data, applications, and account from one computer to another in Windows 10/8.1/8/7/Vista/XP.
Traditionally, you are going to have to manually load your music, photos, videos, PDF documents, or text files to a storage device, then connect it to the next PC, copy and paste. This is task that plays your productivity down and must be dealt with.
Recommended: EaseUS Free Data Recovery Wizard for Mac ~ Recover your lost files easily!
EaseUS Todo PCTrans doesn't only move files!
The free PC migration tool can also safely transfer programs from one computer to another without compromising or causing bugs. This simply means there won't be need to go download and install these apps on the new system.
Some of the Windows applications/programs supported include MS Office Apps (Word, Excel, Outlook, etc.), Adobe software, Photoshop, QuickBooks, Google Chrome, Firefox and more.
EaseUS Todo PCTrans functions in 3 modes
There are three modes to use this powerful file migration software to ease your work:
Transfer via Network Connection: This mode allows you to move files and software from one PC to another on the same network, cabled or wireless
Transfer Locally: With this mode, you can move applications from one logical or hard storage device to another on the same computer, like from disk C: to disk D:
Transfer via Image Files: Th e image file transfer functionality allows you to create images of your files, programs & account, and automatically export them from the source PC to the target PC
Recommended: How to recover deleted files from USB, External Drives and Android!
EaseUS Todo PCTrans local transfer to save disk space on Drive C
I found this transfer mode to be a great way to create some more space on your C: drive. The C drive in Windows carries the operating system and some more temporary and deleted files.
Note that basically, when files are deleted from your folders, these are simply relocated to the recycle bin. They still hold space on your device.
Now, lack of sufficient space on your C dive often leads to low system performance and consequent drop in productivity.
One of the safest ways to clean up and create more space is to relocate applications that were installed on this drive to another drive in the same computer. The other drive could be a logical partition or physical hard drive.
Run your copy of EaseUS Todo PCTrans: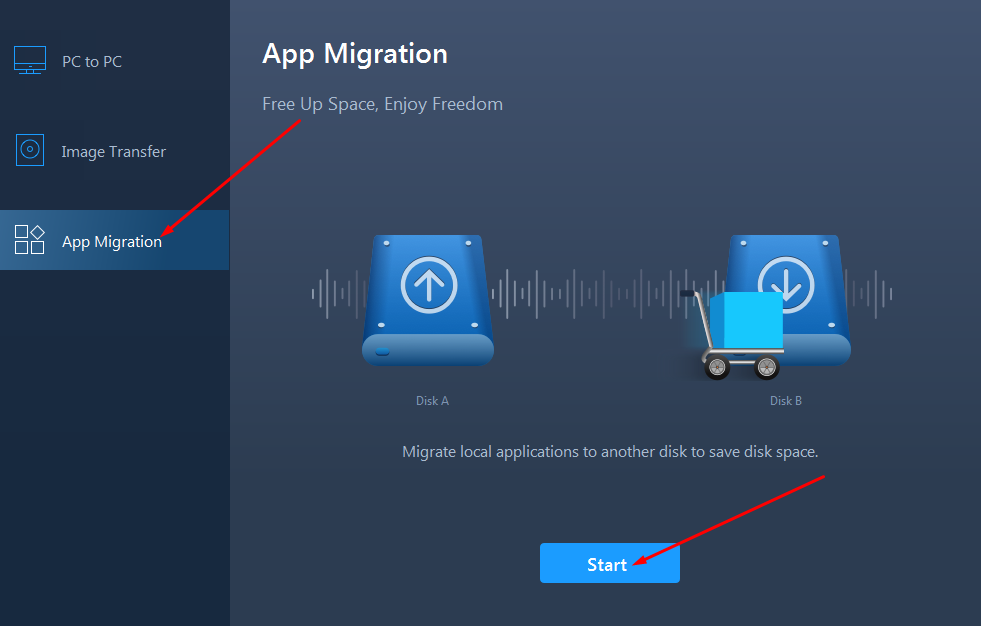 Go to "App Migration" tab
Then Click the "Start" button.
This will scan your drive C and pull out a list of all installed applications and and every other drive that's available. There must be two or more drives on the same PC for this to work
Note that you have to close any apps you want to migrate.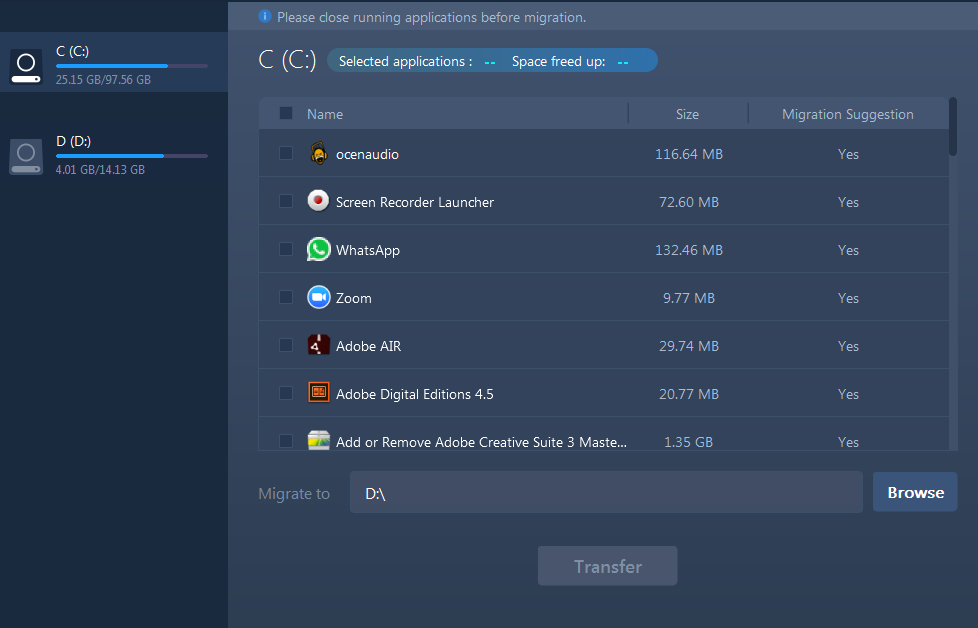 Select the apps you want to migrate from the list. Browse your computer to pick the available drive to migrate the applications to.
Make sure there is enough space on the destination drive to contain the apps being migrated. However, the migration tool is intelligent enough to let you know whether or not there is enough space at destination:

Recommended: How to recover lost files from formatted SD Card or Hard Drive
EaseUS Todo PCTrans Windows OS migration possibilities
You are able to move files and apps between two computers running the same edition of the operating system or migrate data from a PC running in an old version of Windows to another PC in an advanced edition of Windows. Let's see this in more details:
Transfer from 32-bit to 64-bit
Migrate from Windows 10 to Windows 10
Migrate from Windows 8.1 to Windows 8.1/10
Migrate from Windows 8 to Windows 8/8.1/10
Migrate from Windows 7 to Windows 7/8/8.1/10
Migrate from Windows XP to Windows XP/Vista/7/8/8.1/10
Migrate from Windows Vista to Windows Vista/7/8 /8.1/10
For details on system requirement, language support and list of supported applications, click here
Conclusion
EaseUS Todo PCTrans is free so you may want to go ahead and grab a copy. Let me know what you think in the comment box below.
If you've had any experience moving files, share it with us in the comment box as well