It's an awesome experience if you use software to rescue a friend from a serious trauma. I had that same exhilarating atmosphere around me some few days back shortly after one of my friends came visiting, panicking and looking beaten.
She thought she had lost her thesis and all research work to a formatting error performed on her removable storage device. But thanks to EaseUS file recovery software, we were celebrating shortly after.
EaseUS file recovery software review – best free data recovery software
Deleting files from your storage devices does not instantly mean the end. Formatting your disk drives doesn't mean you've lost your documents.
What about emptying your Recycle Bin? Is your hard Drive Damaged or you are simply frustrated because of viral attack that has eaten up your files?
My friend's case was just lack of caution and proper computer skills. Somehow, she got her USB storage device formatted. And yes, she would find a blank page each time she tried to access the content of her flash disk.
But thanks to this file recovery software, there was a comprehensive recovery of her files in just a few simple steps. So I thought to share this experience with you as that could help at some point.
First, you should download the free data recovery software available for both Windows and Mac users. Install and run the application.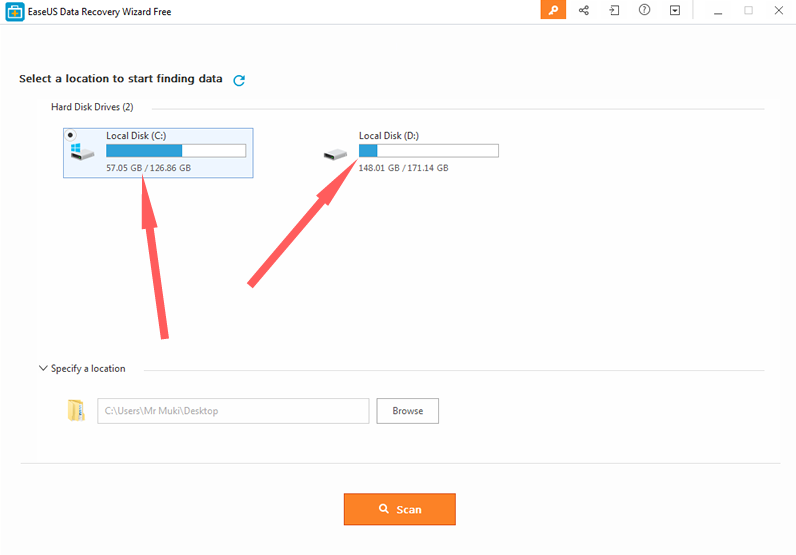 This will scan the chosen location, looking for deleted files.
There are two scanning options:
Quick scan
Deep scan
The quick scan will run first automatically. If you run the deep scan, it will take more time to search the file indexes to find more lost files.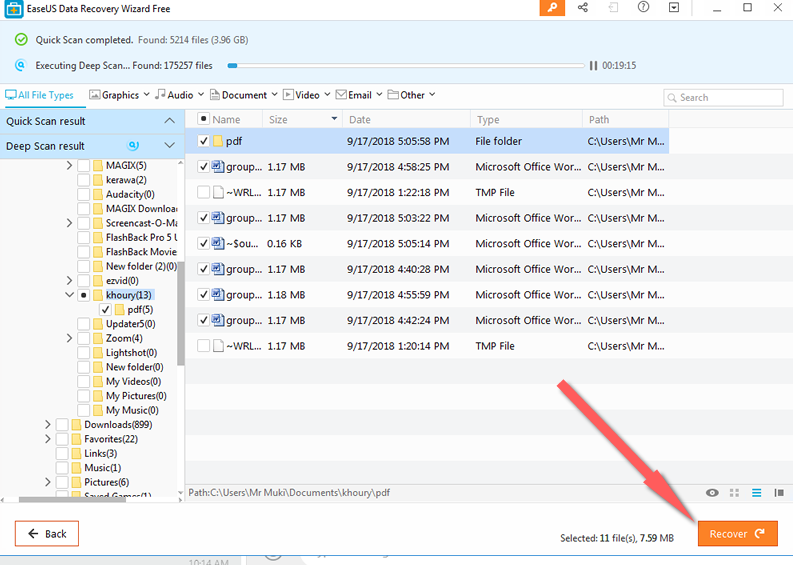 Once the scan is complete, you are going to be presented with a list of found files on the right pane. Select the documents you want to recover and click "Recover". Allow the application to do the rest.
System requirement for EaseUS data recovery software
[one_half_first]
Supported Devices
PC/laptop
Hard Drive
External Disk
SSD
USB Drive
Micro Card
Camcorder
Digital Camera
Music Player
Video Player
RAID
CF/SD Card
Zip Drive
Pen Drive
Other Storage Devices
[/one_half_first][one_half_last]
File System
FAT(FAT12,FAT16,FAT32)
exFAT
NTFS
NTFS5
ext2/ext3
HFS+
ReFS
Operating System
Windows 10/8.1/8/7/Vista/XP
Windows Server 2016
Windows Server 2012
Windows Server 2008
Windows Server 2003
[/one_half_last]
Disk Space: 32MB minimum space for EaseUS Data Recovery Wizard installing
CPU:  At least with x86
RAM: At least 128MB
Evidently, this app runs even on low performing PCs which is great.
File types recovered by this software
The EaseUS data recovery software recovers more than 1000 types of files. Here are just common file types we find:
Document: DOC/DOCX, XLS/XLSX, PPT/PPTX, PDF, CWK, HTML/HTM, INDD, EPS, etc.
Video: AVI, MOV, MP4, M4V, 3GP, 3G2, WMV, MKV, ASF, FLV, SWF, MPG, RM/RMVB, MPEG, etc.
Graphics: JPG/JPEG, TIFF/TIF, PNG, BMP, GIF, PSD, CRW, CR2, NEF, ORF, SR2, MRW, DCR , WMF, RAW, SWF, SVG , RAF, DNG, etc.
Audio: AIF/AIFF, M4A, MP3, WAV, WMA, APE, MID/MIDI, RealAudio, VQF,FLV, MKV, MPG, M4V, RM/RMVB, OGG, AAC, WMV,APE, etc.
Email: PST, DBX, EMLX, etc.(from Outlook, Outlook Express, etc.
Other Files: Such as Archives(ZIP, RAR, SIT, ISO etc.), exe, html, SITX, etc.
Recover Files and Folders Deleted by Shift + DELETE Key?
There are two ways to delete a file from the Windows computer:
Just hit the DEL key and move the files to the Recycle Bin. That means this files can simply be recovered by browsing to the trash folder.
By using Shift + DEL Key. This option removes the file completely from the system and allows the user no means to recover without the use of special software. Files and Folders deleted using this method are not deposited in the trash can.
Now, users need a special recovery software to undelete files that were lost due to method 2. This is where EaseUS comes in.
When users perform shift + delete method to removed files, the content of the file remains on the drive until that section of the drive it occupies is overwritten by another file.
For as long as that section isn't overwritten, EaseUS file recovery software is an excellent application I recommend you try out to get your files back so easily.
Conclusion
I hope this is going to help you get back your lost files and document from any of these devices. Go ahead and try out the software or recommend it to a friend.
Let me know what you think. Have you ever lost documents on your drives before? Drop a comment.