Kharim Tomlinson of Webmaster-Success is an experienced blogger. I have known him since years back and have been reading his blog even before dreaming to start mine.
I knew Kharim when I created EasyRetweet and he was one of those bloggers who worked closely with me on the platform to make it a useful tool for bloggers.
Today, I have created BroadedNet and he is one of the active users on board.
BroadedNet is wonderful traffic platform uniquely created for bloggers. I created this platform so that bloggers can have a tool to help them get targeted traffic without commenting on entries, voting, liking, etc.
All you need to do as a blogger is fill a simple form (create a campaign) by copying and pasting your Post titles and URLs. Once approved, your campaign will be spread on other blogs in the network.
Note that this is perfectly Google friendly and does not constitute any source of backlinks or artificial clicks. BroadedNet is perfectly Adsense safe.
To know more about broadedNet, check out this post or click here to create your free account
cashdonator-blogPostBelowH2
30,000 BroadedNet Credits From Kharim
Kharim bought up to 30,000 credits and asked me to share to broadedNet members so if you are broadedNet member, you are qualified to have some free broadedNet credits in your account 😉
What do you know with these free credits?
Simple! Create campaigns that will pull traffic to your blog posts
Check out Kharim's blog post for your coupon code. All instructions on how to grab the code are on that post.
Here is  proof of Kharim's purchase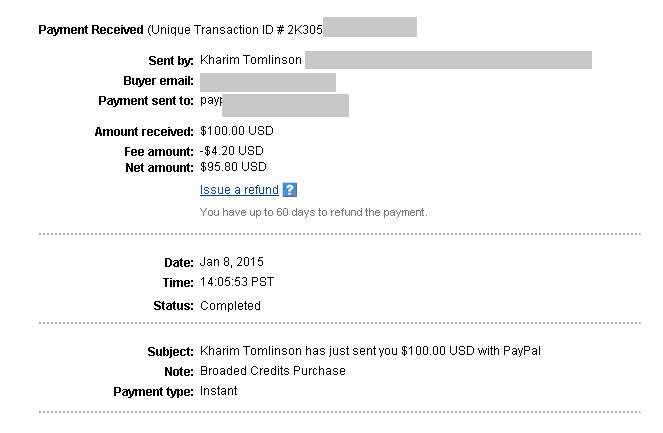 What else do you get  on Kharim's blog
I mentioned above that this guy has been blogging before me. I started reading his blog before writing my first blog post. He's got quite impressive contents on Make Money Blogging, Blog Traffic, How to blog, etc so I encourage you check out his blog, signup to his list and hook up with him on social media.
Leave a comment to say thank you to Kharim 😉
NB: Some ongoing contest by GuestCrew to give you more credits, see this post