Isn't it beautiful that we are getting more results from BroadedNet? All you simply have to do is fill a simple form that takes you less than 60 seconds ;
Copy and paste your post title
Copy and paste your Post URL
Select a Category
Set amount of credits to be given out
Enter keywords (optional)
Then hit the submit button.
That's all it takes! No voting, no commenting, no sharing required. BroadedNet is based on a very beautiful and effective concept that sends you targeted traffic even while you are away. 
It's Google safe! You are never going to get any backlinks from it so it's no link building platform. It's no PBN! It's no artificial click generating platform because no one will ever login to click links to earn any reward. NO CLICKS are made on broaded.net.
It doesn't generate artificial views because no one is going to be viewing pages to earn any reward. It's 100% Adsense safe. cashdonator-blogPostBelowH2
BroadedNet is an advertising platform. Just like Google Adsense and other ad networks, ads posted to BroadedNet are served and displayed on blogs in the network. If you are blogger, you need to sign up to it now. See more on how it works here
It's free so click here 😉
It's a credit based system. That means you need credits in your account to create your campaigns. These credits are earned by other bloggers on whose blogs you campaigns will show sending traffic to your blog. They send traffic from their blogs to your blog and earn credits in their BroadedNet account from the clicks their blogs generate.
When someone clicks on your link on their blogs, they will earn your credits. Just like Adsense where people send traffic to other sites from their sites and earn cash in their Adsense account. When someone clicks Adsense Ad on your blog, you will earn money from the advertiser.
Up to 34,000 BroadedNet credits from GuestCrew!
GuestCrew is unique social media tool that is capable of generating hundreds of thousands of social media shares on your campaigns even in a single day.
I love this concept put in place by my friend Uttoran Sen. It's unique and produces exceptional result. Simply, you create a Social Campaign. Members believe in you, and then choose to share your idea to their follows on Twitter, Facebook, Google+, Pinterest, StumbleUpon.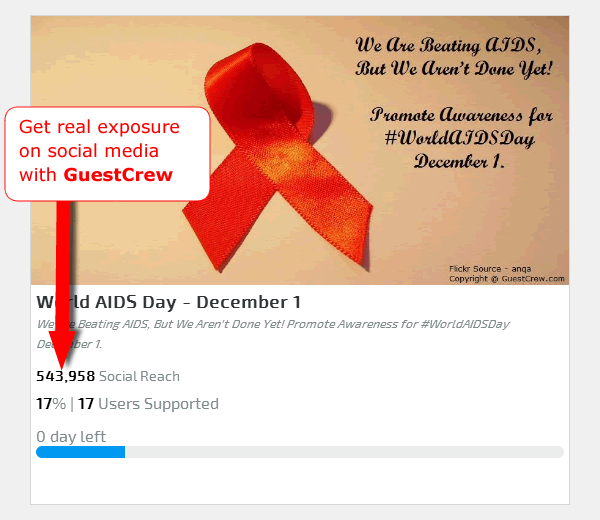 This is the kind of result you get with GuestCrew. As a matter of fact, your campaign is able to reach millions on social media. This is exceptional!
What happens?
When members share your campaigns, the sharing does not go to their profiles instantly. All the social shares are saved in the GuestCrew system and will be released on the due date of the campaign.
Perfect for product launch 😉
The result is an inevitable huge buzz on social media capable of making your campaign trending on the social media surface.
As a GuestCrew member, you earn credits each time you share a campaign. The amount of credits earned largely depends on the exposure you provide – the more followers, the more credits you earn per share.
As soon as you have 100+ credits, you will be able to create your own campaigns. This is an amazing platform you need to try today. You can reach thousands on social medial without loosing your leg. Check out their prices here
Earn instant 500 BroadedNet Credits
You can earn instantly 500 BroadedNet credits by sharing the BroadedNet campaign on GuestCrew. All you have to do is go to GuestCrew and create a free account. Then Click here to go straight to the campaign page.

NB: Once on the campaign page, you will have to click any of these buttons (except G+ for now) and share this campaign to your followers. A Coupon will then be sent to you to use on BroadedNet for the 500 Credits. You will also earn credits in your GuestCrew account that will enable you create Social Campaigns on the platform.
Win 10,000 broadedNet Credits
This is another absolutely great opportunity to get up to 10,000 broadedNet credits. All you have to do is take part in the ReffleCopter Contest on this campaign page
You can also participate in the contest directly below. We have made it so simple – just one Rafflecopter tweeting task.
BroadedNet and GuestCrew are two wonderful tools you can use to find solutions to your traffic problems. Don't waste this opportunity. It's simple and free to enter the contest, get instant 500 Credits and stand a chance to win up to 10,000 More credits.
That's how 2015 begins in beauty.
Let me know what you think about BroadedNet, GuestCrew and this Campaign. Share your views in the comment box below.
NB: Need more free credits? Check out this 30,000 credit gifts from Kharim Tomlinson