In the past couple of years, it was difficult to create an online form and allow people fill and sign electronically.
Generally, they would have to download the form (in pdf format), fill, sign, scan and resend. This is tedious, time consuming and may have security issues.
In our days' content world powered by WordPress, allowing electronic signatures in online forms is a possibility. You are able to create a web form and allow your readers to sign using their mouse or touch screen.
We are going to see how to add a signature box to your web forms easily with WPForms, an electronic signature solution.

How to create a form with electronic signature in WordPress!
One of the most flexible form plugins for WordPress is WPForms. This is because of its endless list of features and possibilities.
If you want to create service agreement forms, contact forms, payment forms and any sort of electronic forms or digital document to collect some data from your readers, WPForms may just be the best option.
Having the feature to attache signatures to your web forms makes this plugin a hot attraction. Besides, WPForm has been:
Technically approved
Hugely reviewed as the best
Developed by a team of experts led by Syed Balkhi, a renowned WordPress brain
Known to be constantly updated and upgraded. Some plugins go for months and years without attention from their developers, which is a big security weakness.
Etc
You may want to take a closer look at WPForms Features here
Recommended: How to Create Quick and Easy Conversational Forms in WordPress
Three reasons you need to create signed agreement forms in your WordPress website:
Make it easy for your readers to quickly sign and submit service agreements. No downloading, signing and scanning to resend.
Saves you time from sending multiple emails to get documents signed.
It makes you become more productive
3 steps to create a signature form in WordPress
1 . Get the plugins
The first thing you are going to do is download and install WPForms:
The next step is to install the form signature Addon for WPForms which allows readers to add digital signature to web form:
-> See details about the addon here
Once you have WPForms installed and activated, go to WPForms -> Addons on your WP dashboard. Then locate and install the Signature Addon on the list of Addons: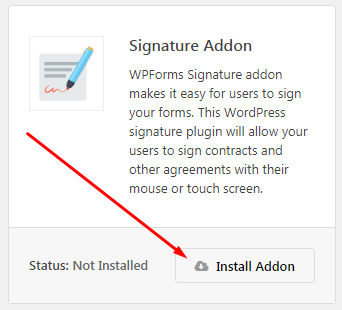 2 . Do some basic settings in WPForms
There are two levels of settings here:
Plugin-level setting: Here you have adjustments that affects the functioning of the plugin as a whole.
Form-level plugin: These are settings that are applied to the specific forms.
You may go to WPForms -> Settings on the tool bar to access plugin root settings. But let's focus on your electronic form settings.
Go to WPForms – > Add New.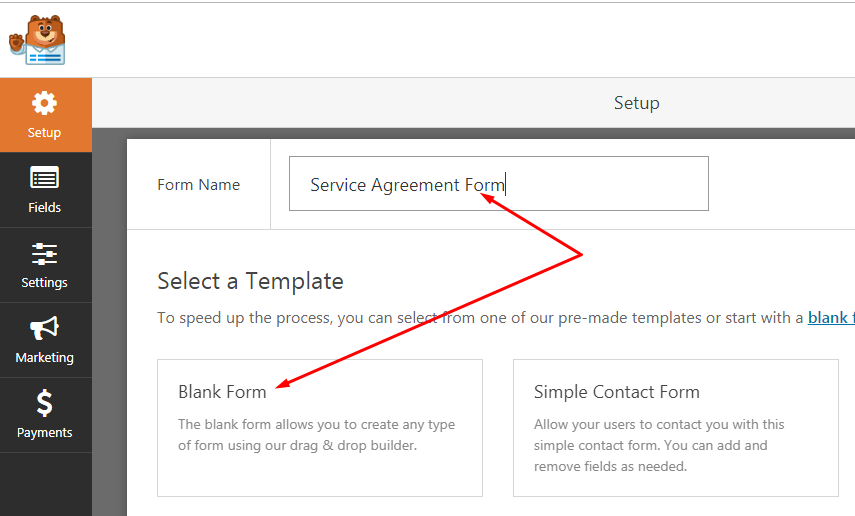 Enter a name for your new form and click on Blank Form.
This will bring up a page with form building settings options. On the list of Fancy Fields, click the Signature button to add the signature field to your form: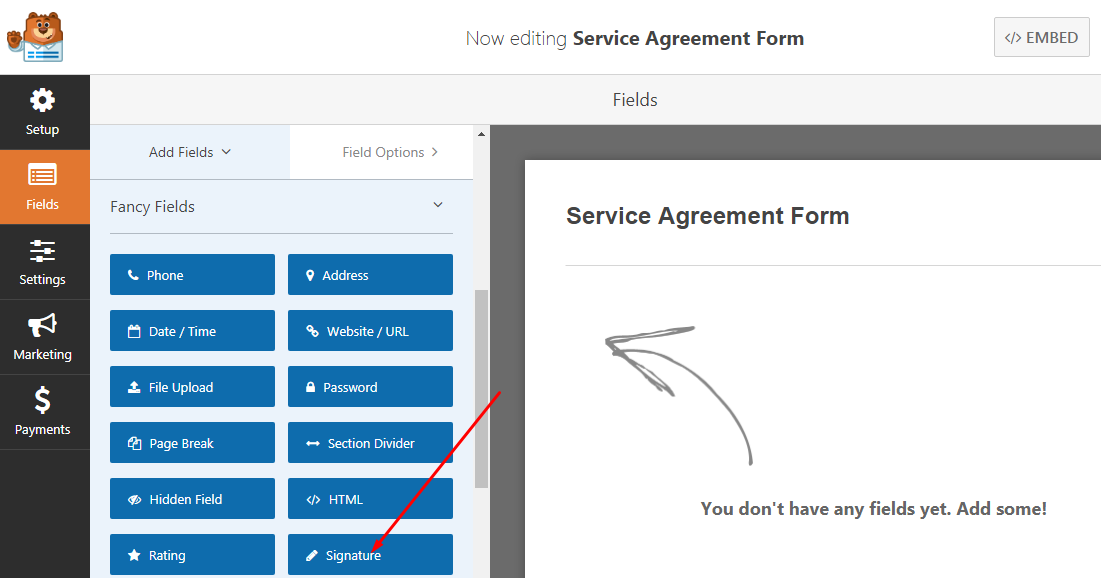 NB: This will add the signature option to your form. Later on in this post, we are going to see how to add other elements in the form.
At this point, let's see the basic form settings:
a) Click the signature element: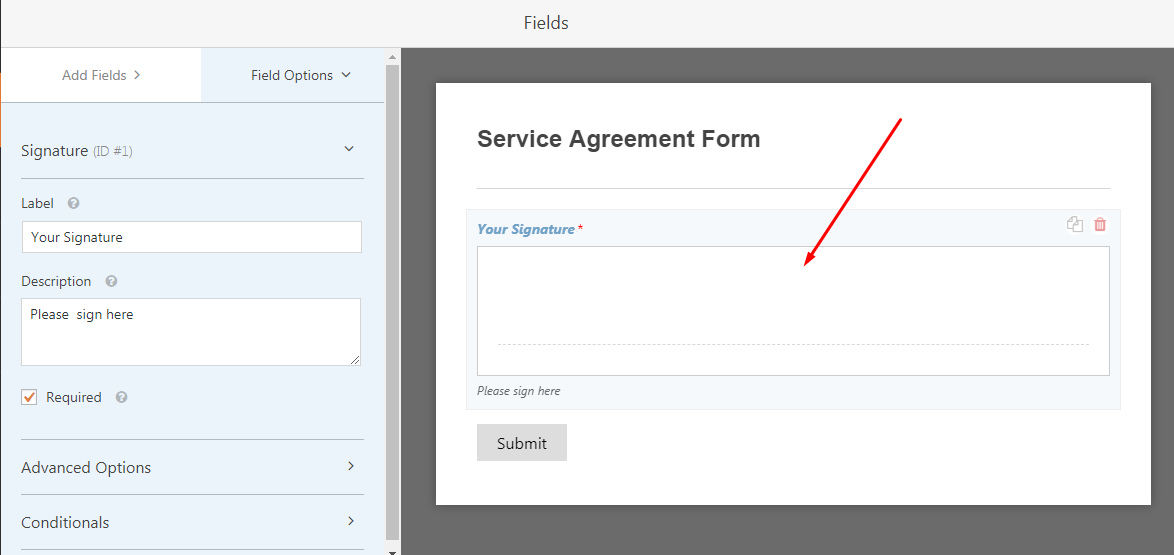 Label your form, enter a description and mark it required. There are other advanced options but let's leave that for now.
Remember to click the Save button top right of your window as you build the form on.
b) Click the Settings button on the builder tool menu

Let's look at three setting options at this point:
General: This allows you to rename the form, rename the submit button, Enable anti-spam honeypot, Enable AJAX form submission, etc.
Notifications: This option allows you to set email addresses to receive notifications each time a form is submitted. You may also want a copy of the message to the visitor who submits the form. Read more about notifications here
Form confirmation: Use this option to set the confirmation message that shows up once the form is submitted. You may want to rather redirect the visitor to a confirmation page on your site or completely off your blog.
These basically are the settings you need on your service agreement form with electronic signature. Now let's see how to go ahead and add more fields to your form.
3 . Build your form
The many other fields to add to your form depend largely on which data you want to collect from your readers. For the sake of this demo, let's add the First name, Last name and Email form fields.
Add this point, you should be on the Settings tab. Now, click the Fields tab and then on Add fields. As per the current version at the moment of writing, we have three field categories:
Standard Fields
Fancy Fields
Payment Fields
You simply have to scroll up and down to locate these fields. Some fields may not be enabled until you have their Addons installed.
We are going to the Standard Fields to add standard textfields to our agreement form with electronic signatures. Simply click or drag and drop the elements to the form: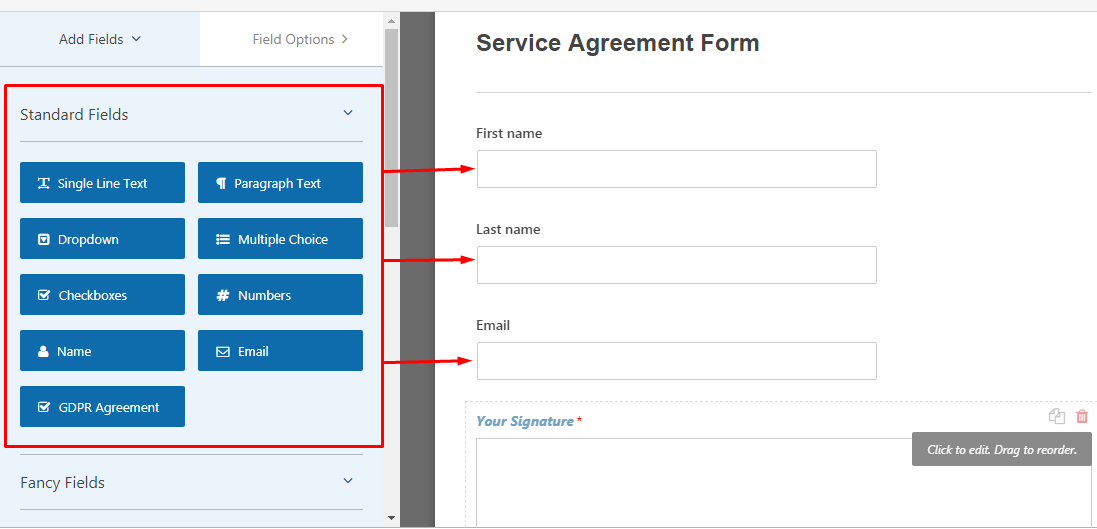 Click each form field on the form to name it and carry out some more changes.
Again, do not forget to click Save top right of your window.
Add your service agreement form to any page in WordPress
Now, we've just created and saved our first form with an electronic signature. WPForms has made it pretty easy to add the form to your pages in WordPress.
Option A:
You may just want to grab the shortcode by clicking the EMBED button top right of your window: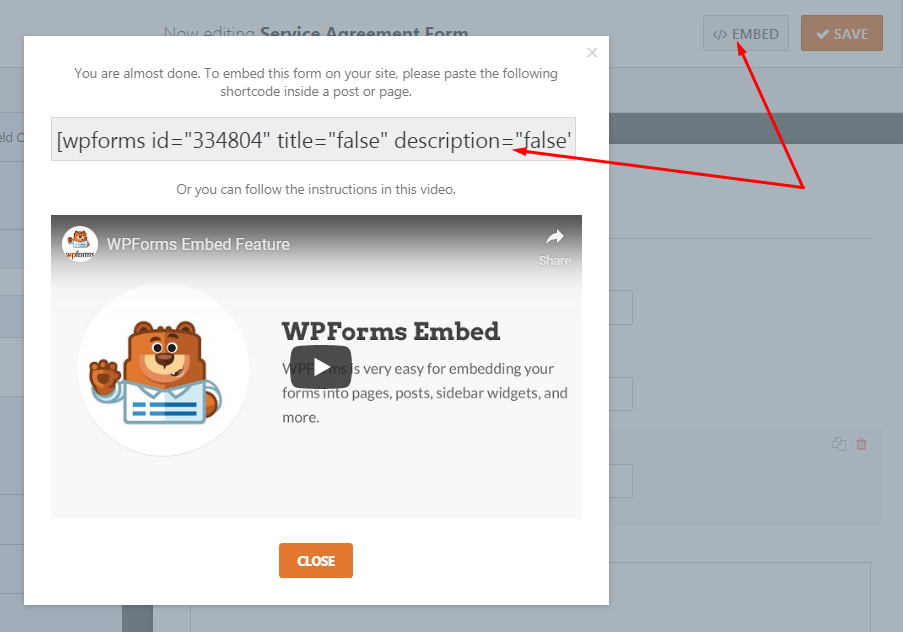 Simply copy and paste inside a page or post.
Option B:
Go to your content editing space and insert the form.
B1 – Using Gutenberg:
Click on the Add Block (+) icon. Now search for the WPForms block using the search box and click on it: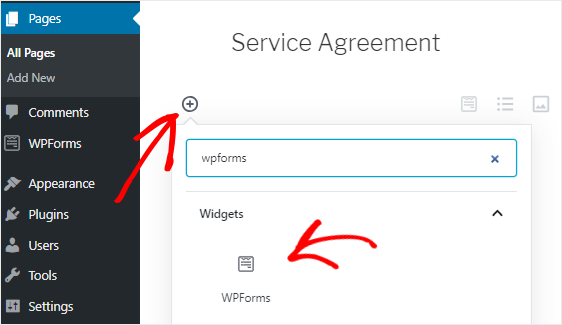 B2 – Classic editor
There are many WordPress users who are still stock to the traditional editor which is fine. Adding your electronic form to your page is still very easy if you write with the classic editor.
Click the Add Form button on your editor's tool bar, select the form in the window that pops up and click Add Form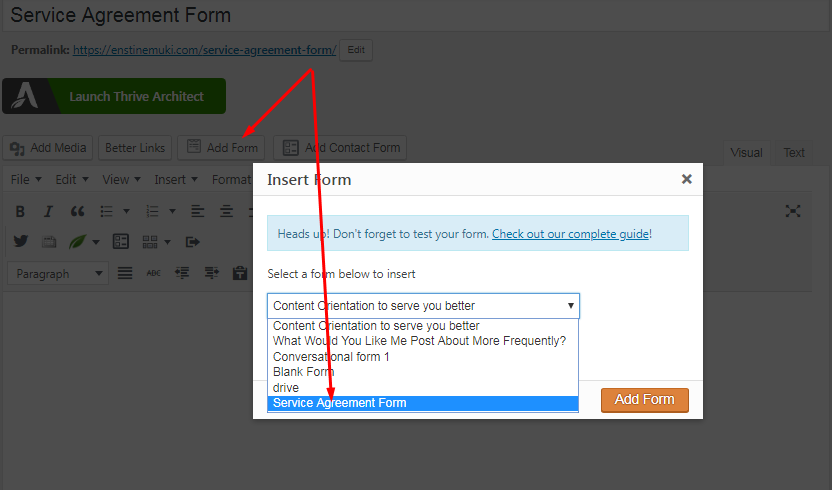 Doing this will automatically paste the shortcode to your page.
Go ahead and publish your page or post once it's done.
Conclusion
Now you see it's quite simple to create web forms with WordPress, allowing your visitors to submit data with electronic signatures. If you are using or looking for any electronic signature form template, you may have no need for it as this is even more.
With WPForms, your visitors can provide their signature on the form with a click of a mouse or by using their fingers on mobile devices.
Go ahead and download WPForms plugin. This will allow you do much more than create simple contact forms.