One of the serious threat to your online business success is form abandonment. This definitely happens to every website that collects some data from its visitors using a web form.
The craziest thing is most of us marketers and bloggers don't even know it's happening and we are losing business minute by minute.
Do you have a form on your website?
Order forms
Contact forms
Free quote forms
Support request forms
Etc
Chances are some of your readers who click to fill your forms, for some reasons abandon and quit to never return. And what do you do about it?
Any form on your website is meant to connect you with your readers on a more personal and business note. Losing that reader who made an attempt to get in touch is unacceptable.
That's why we must make some additional effort to quickly get some basic information from the form abandoning readers so we may attempt to get back to them any time later.
How to capture partial data from abandoned form in WordPress: Step-by-step
WordPress is the most widely used content editor because of its ease of use and massive variety of useful freebies.
One of the things that make WordPress a quick attraction is the flexibility to quickly setup a blog, business or e-commerce website and build simple and complex forms using drag & drop form building plugins like WPForms.
The  unfortunate thing in all this is the fact that most of these WordPress Forms plugin lack the capacity to intelligently capture partial data when a form is abandoned by the reader.
On the other hand, there is no need to lament. WPForms is bringing a huge relief with the built-in Form Abandonment feature.
The best part?
This is very easy to setup. So you will know who started filling that very important form but left without hitting to submit.
Step 1 . Download and install WPForms
This WP form plugin is by far the most highly rated in its category with a massive list of features capable of transforming your WP website to a complete business tool. However, in this post, I want to let you see just one of this crazy features.
Recommended:
-> Click here for details how to download the plugin
Once you've gotten your copy of the plugin, follow these steps to install and activate it. You are going to have the new WPForms item on your WordPress admin menu. Go to WPForms -> Addons and click to install the Form Abandonment Addon.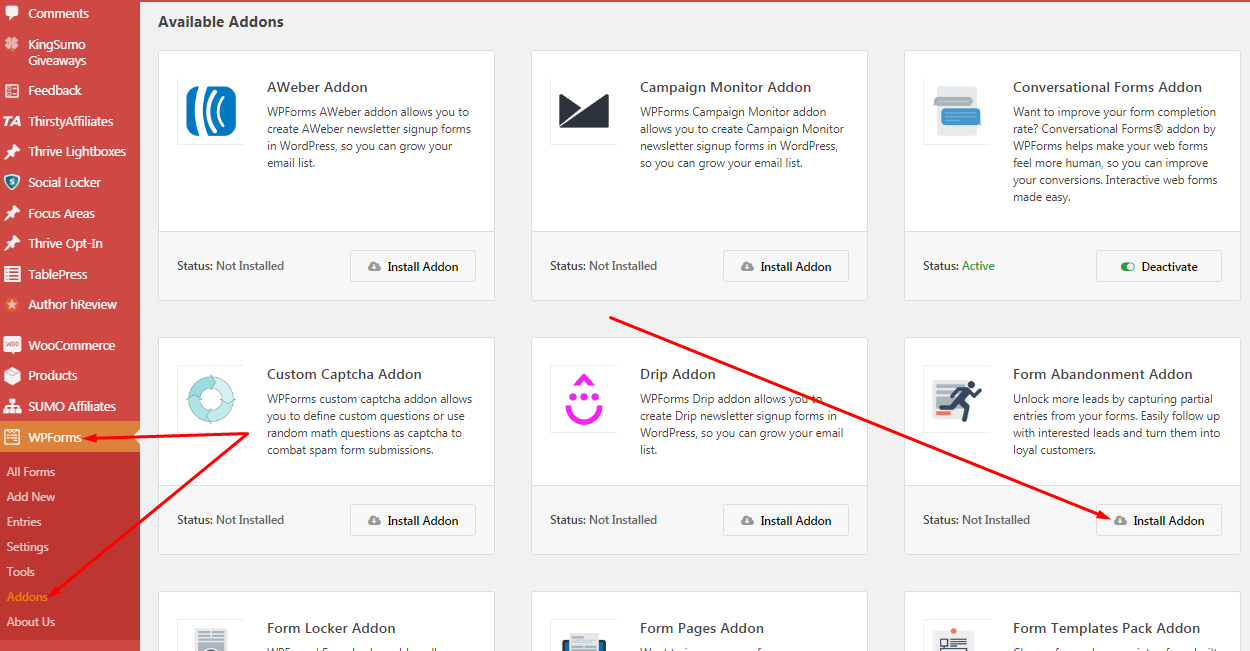 Now you have your plugin installed and the Abandonment Addon activated. Let's move on.
Step 2. Create your form
The are unlimited form types you can create with this plugin. While talking about this is beyond the scope of this page, quickly you can create:
Simple contact forms
Order forms
Free quote forms
Donation forms
Newsletter signup forms
Suggestion forms
Survey forms
Job application forms
Member registration forms
Etc
For the purpose of this demo, we are going to create a Request a Free Quote form.
Now, let's go to WPForms – > Add New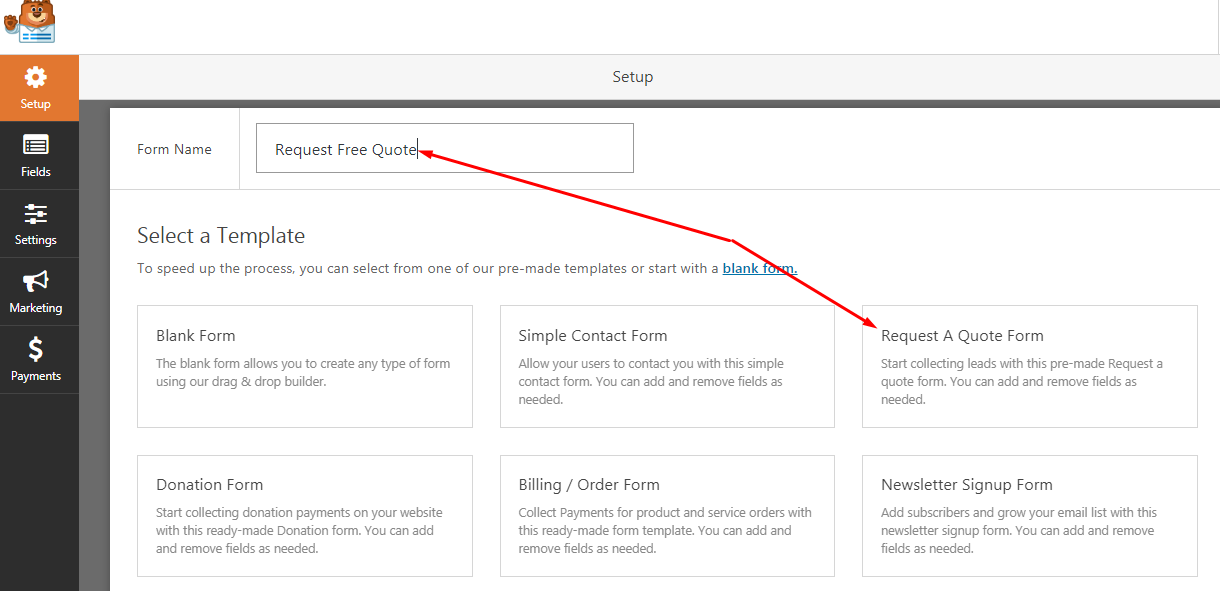 1 – Enter the name of your form (for internal use only)
2 – Click "Request A Quote Form"
Remember this is a pre-made quote form. This will allow us add/remove fields if required. You may want to click "Blank Form" to create your new form from ground zero.
Clicking the Request A Quote Form box will bring you to the next window: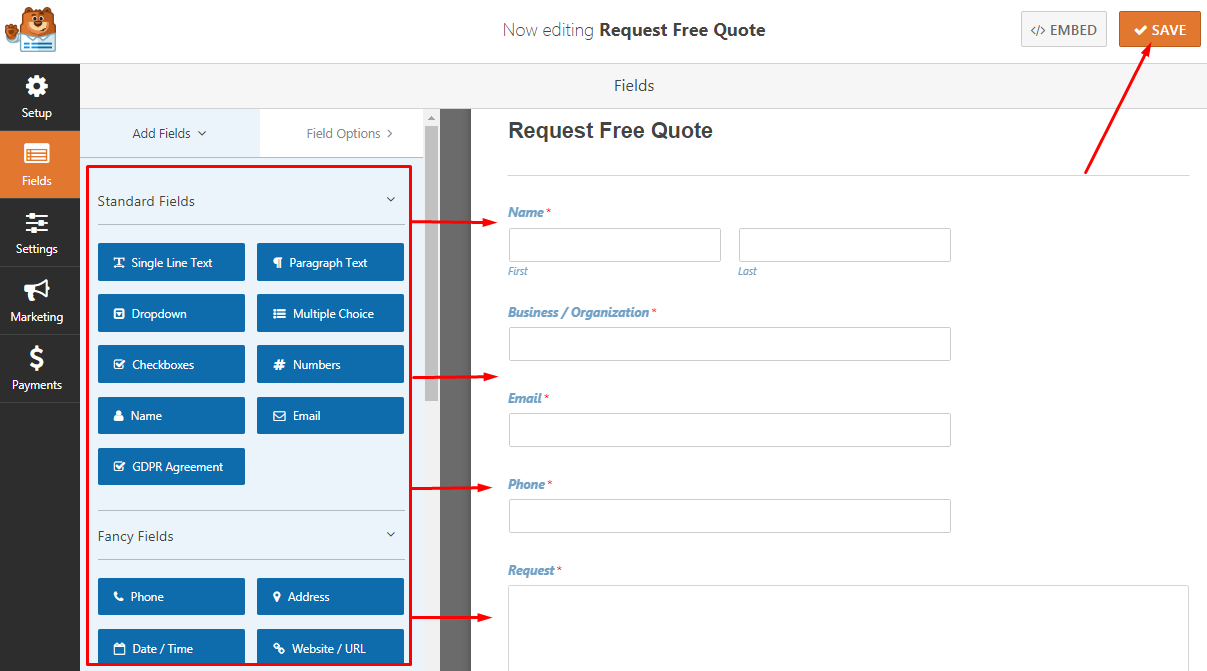 Simply click (or drag/drop) a form field element on the left  to the form. There are three main field categories:
Standard
Fancy
Payment
NB: Add the fields to your form according to the data you want to collect from your readers and don't forget to click the "Save" button at top right.
Step 3. Enable the form abandonment feature
You've created your form and it's ready to go live. But let's activate the Abandonment feature by simply checking a form option.
While we are still in the WPForms editor, click on Settings -> Form abandonment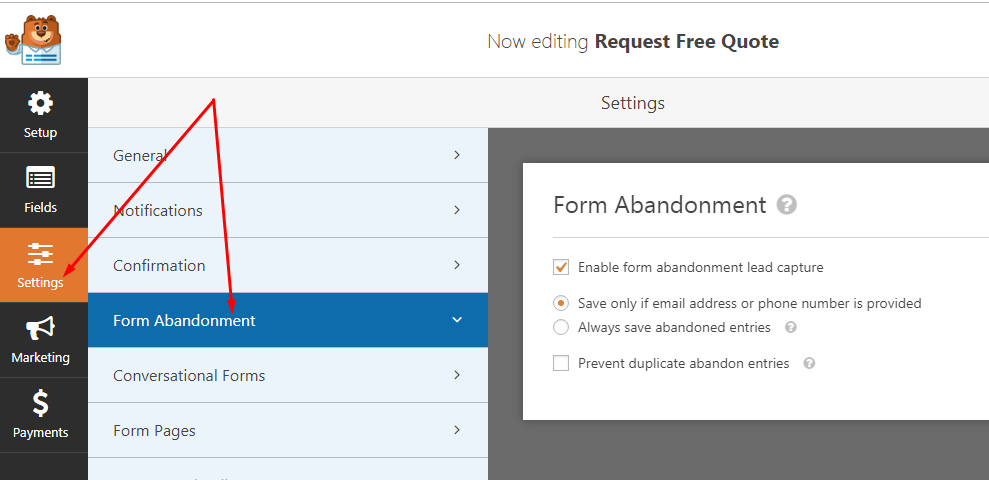 Click the checkbox "Enable form abandonment lead capture" to enable the feature and pull up some other options. I recommend you go through these options to see which is the perfect fit for your need.
Remember to save your form by clicking the button at top right.
NB: There are other settings options you may want to look into:
Notifications:

This allows you to set email addresses to be notified each time the form is submitted.

Confirmation:

Set the confirmation page or message to show to reader after successful form submission.
Step 4. Adding your form to posts/pages
Now you've created your form. You need to publicize it and make it available for use by your community. There are three ways to do this:
1 – Create a unique page for the form
While still on your WPForms editor and on the Settings tab, click the Form Pages option: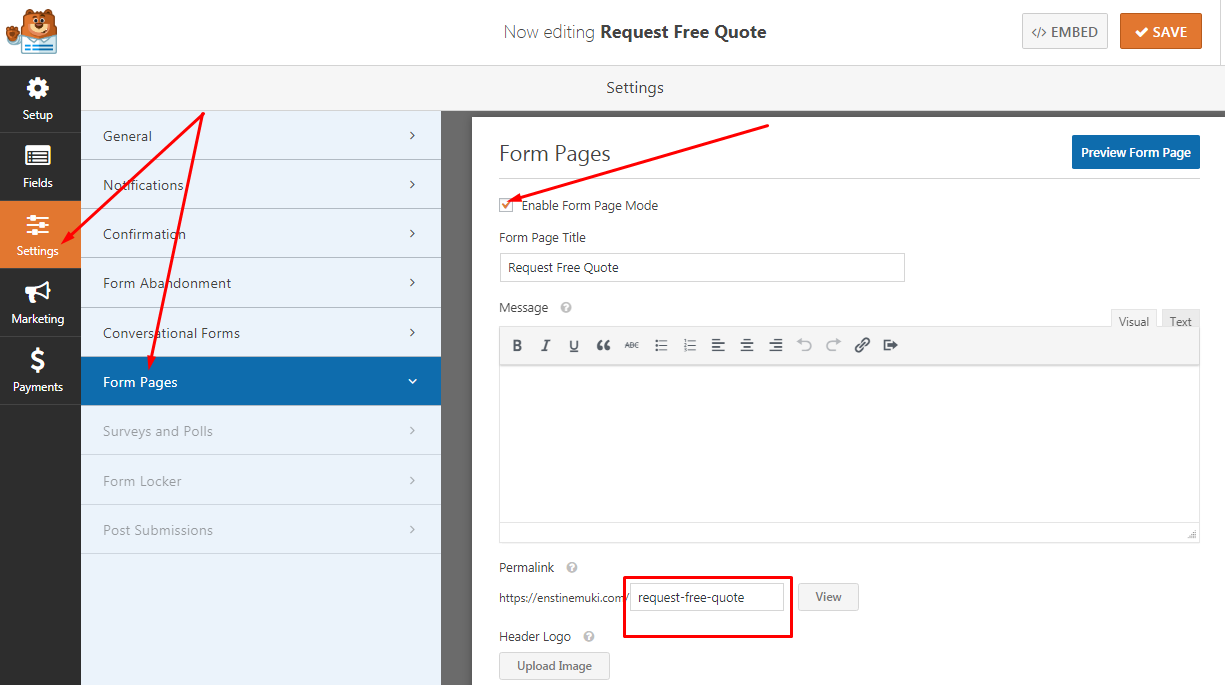 This will allow you create a stand-alone url that carries your form. You will have options to design the page, including your logo and additional text and colors.This may be completely different from your overall website design.
2 – Copy/Paste shortcode
This is one of the two steps if you simply want to grab the shortcode and paste in a blog post or page to show the form. Simply click the EMBED button top right before the Save button and copy the shortcode: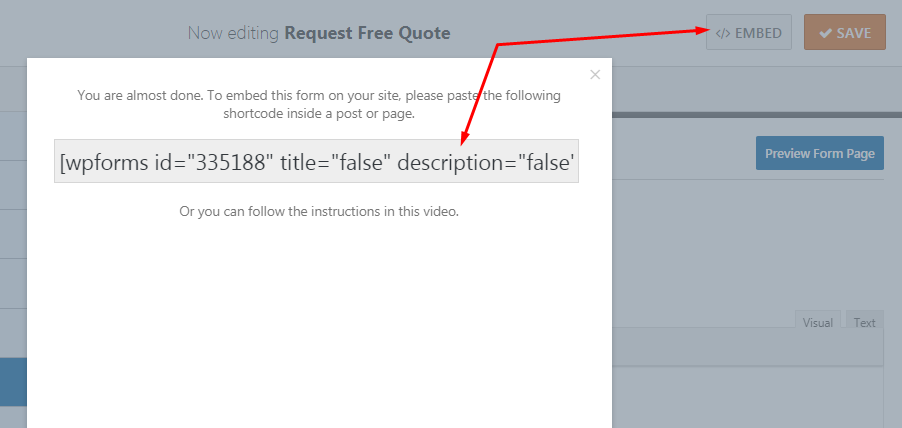 3 – Insert from content editor
You may not want to copy the shortcode follow step 2 above. Another option is to use the Add Form button on your WordPress Classic editor:
Select the form (Request Free Quote in this case) on the list and click the "Add Form" button to pull up the shortcode.
For those of you using the new Gutenberg editor, just click on the Add Block (+) icon and search for the WPForms block using the search box and click on it: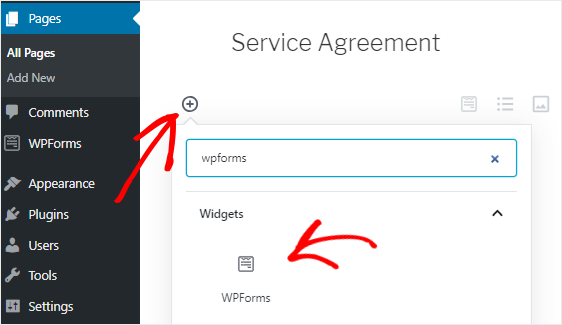 How do you view abandoned form entries ?
I knew this was going to be a question coming up. Once your form is up and running, it's easy to view abandoned entries in the form.
Go to go to WPForms > Entries and select the form you want to see entries for: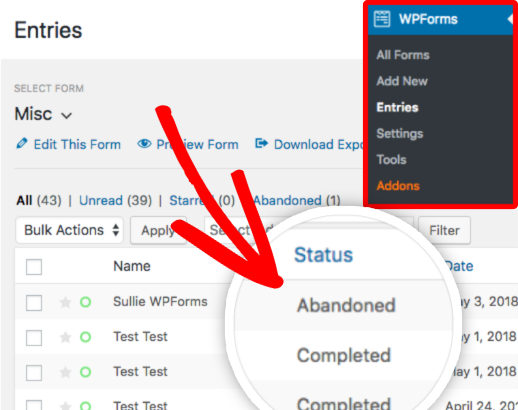 How to Send Abandoned Form Emails
When it comes to sending emails about abandoned forms, there are two things:
1 – Trigger an alert to admin
This will send an email to any contact of your choice each time a form is abandoned, allowing you to quickly follow up with a potential lead: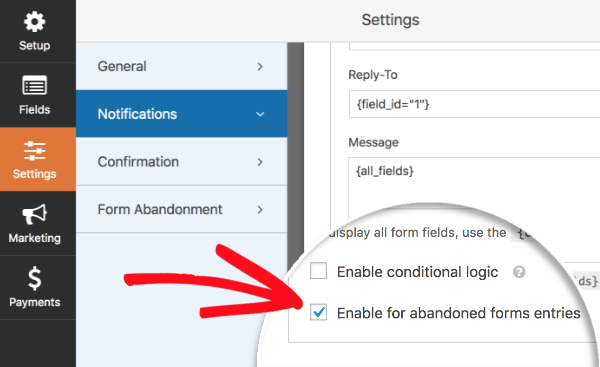 2 – Send a mail to the reader who abandoned the form.
The reason to track abandoned form is to allow us get to the readers quickly after they are away. There are two ways to handle this with WPForms:
1 – Set an automatic message that will be sent to the user as they move away
2 – Manually copy out their email address from the list of entries and send them a message.
In either ways, the purpose of contacting the abandoning reader is met.
How does WPForms capture data from abandoned forms?
A form is actually considered abandoned when the user moves away from it without clicking the submit button to complete the process. This may happen after filling some or all of the form fields.
In any case, WPForms has two events that trigger it to capture some data on the form when it feels the user is moving offer halfway:
When the user moves their mouse outside of the browser's viewpoint
When the user clicks on a link on the page
Conclusion
Act wisely and take steps to grow your business. Don't lose any single reader to form abandonment. Grab and install this plugin. Create your forms and enable this intelligent feature so you always know who is going away without completing a form submission process.
[thrive_link color='blue' link='https://enstinemuki.com/wpforms' target='_blank' size='big' align='aligncenter']See more about WPForms here[/thrive_link]