Search Engine Optimization is difficult and always will be.
That being said if you're using the world's most popular content management system, WordPress, this post is about to make it a lot easier for you.
Quick read: WordPress for Beginners the Ultimate Guide to Help You
And as you might have guessed, this post is all about why I chose Rank Math as my WordPress plugin and choice and have officially made it one of the first (if not the very first) plugin I install on all of my websites. Here are 6 reasons why:
1. It's fast
Everyone knows that performance matters, but few actually take the steps to make the best choices when it comes to themes, plugins and hosting for their websites. Using Rank Math helps me stay one step ahead of my competition and prevents my website from needlessly slowing down.
This is something that I've had to deal with on old SEO plugins for ages because they make additional database calls on every page load. Fortunately, this is one less thing I have to worry about Rank Math – it's lightweight and fast to work with.
2. It's fully capable of supporting 14 types of structured data
The second reason I love Rank Math is that I no longer need to turn to alternative methods of configuring schema markup for my website's posts and pages. When installed, configuring any of 14 types Schema.org markup for your content is all possible without leaving your post editor.
Article Rich Snippet
Book Rich Snippet
Course Rich Snippet
Event Rich Snippet
Job Posting Rich Snippet
Local Business Rich Snippet
Music Rich Snippet
Person Rich Snippet
Product Rich Snippet
Recipe Rich Snippet
Restaurant Rich Snippet
Review Rich Snippet
Service Rich Snippet
Software/App Rich Snippet
Video Rich Snippet
We won't go into more detail about rich snippets and structured data in this post, because that's something that would deserve an entire dedicated post (maybe something I'll write at some point in the future). But feel free to check out Google's post here.
3. The SEO Analysis Feature is Perfect for the Extra Piece of Mind
No matter how experienced you are with search engine optimization and WordPress, mistakes can happen. You set up the install and think that ticking the discourage search engines from indexing this website option is a good idea because the website isn't ready for the public yet, but then launch day comes and you forget to turn that off.
These silly, minor settings can be detrimental to the success of your website when it comes to ranking highly in search.
Thanks to Rank math this isn't something that I need to worry about anymore because using their SEO audit and analysis feature it's extremely easy to ensure that none of these settings are overlooked and everything is set up properly.

People often recommend running SEO audits on a relatively regular basis, like perhaps one every quarter; if not even more often than that. The frequency would also depend on the type of website you operate obviously.
If you have a one-page website that hasn't changed in a year then there's no reason to run audits even four times a year, whereas if you have a large website with a large number of writers, conducting an audit once a month could be considered more suitable.
4. Optimal Settings Applied On Install Automatically

While older plugins do have some of the functionality that Rank Math does, none of them actually configure the optimal settings on install.
The result of this is that most of them are left untouched by people after they're installed resulting in a site that isn't able to perform well – leaving the plugin untouched isn't devastating with Rank Math because it automatically applies the best possible settings such as
no-indexing empty category,
tax,
and author pages which don't contribute to your site's overall content since they're so thin.
5. Their team provides support that actually cares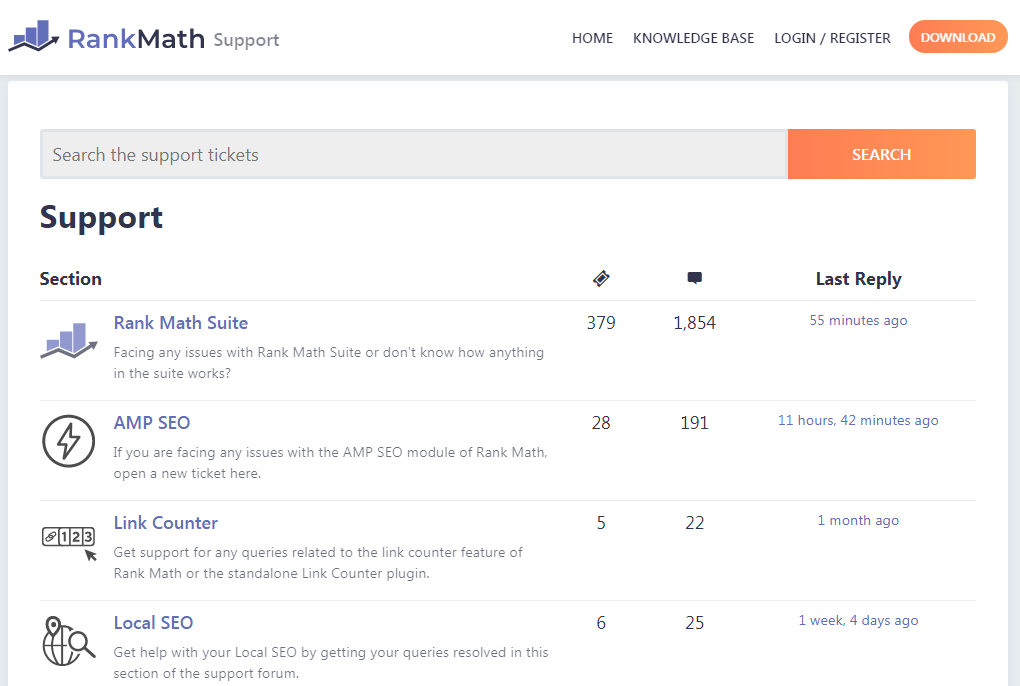 While the likelihood of ever needing to contact support with a plugin like Rank Math is so low, it's still good to know that they're present, available and interested to hear what you have to say when you do reach out to them. All of which are qualities in stark contrast to what you'd get with other plugins in this space which clearly don't allocate enough effort and time into ensuring customers are happy.
6. Supported by a community of passionate SEOs
It's one thing to know you're in good hands when it comes to plugin support, but it's a whole new world to be the user of a plugin with a strong, vibrant and knowledgeable community.
If you do take the advice in this post and start using Rank Math, I highly recommend joining their Facebook group because it truly is a great place to learn and get support in addition to the usual support channels.
Conclusion
If you're entirely new to search engine optimization, I highly recommend checking out this post about SEO for newbies which will definitely help by pointing you in the right direction. Obviously, it's important to note that an SEO plugin isn't the be all and end all of SEO.
It certainly helps and Rank Math saves me time every single day. Everything from being able to easily implement redirections all the way to being able to configure an incredible 14 types of schema markup all without having to waste time tweaking a single line of code contributes to why I really enjoy using the plugin on my websites.
It goes without saying that the fact that they don't charge money for features as simple as creating a redirect to deleted pages – daylight robbery (often alternatively characterized as blatant and unfair overcharging) if you ask me – is a nice plus too.
But, when the time does come which I hope it does soon, I'll be really excited to try the paid/premium version Rank Math on my websites. If this is what the Rank Math team release in their free version, I can only begin to imagine what's next for them!