You want to drive targeted traffic to your blogs and make money right? You have every reason to do that. No one can stop you!
We have the technology but the limit is our brains. A little thinking can drive us into marvelous money making moments
Let me share with you how I got paid $660 by advertisers to drive traffic to my blog, increase engagement and build my list. The crazy thing is that this same activity is making more noise that shakes more earnings into my wallet.
But wait!
While this is making me money, it's not the first reason of running this on my blog. What this means is that the best way to make money is not to want to make money first. You have to seek to satisfy a certain group of people or persons. Their satisfaction drives bank notes to your wallet.
Let me tell you a little story how I got my first PC worth $1200. It was in 2003. (When was the year you had your own first PC)
I remember the first time I ever came closer to a computer was in 2000. I can still vividly remember how perplexed I was when I saw this lady shaking something with her right hand on the table and a small arrow jumping on her screen. It was the mouse on her table and the cursor moving over the famous Windows 98 screen. (Microsoft ended support for Windows 98, 98 SE, and ME on July 11, 2006)
As time runs so fast, by 2003 I was a well trained PC Technician and windows 98 & 2000 operator.
One very rich and well-to-do guy here in Douala needed someone to teach him Outlook Express. Do you remember Outlook Express? Somehow, I was taken to his home where the training had to take place.
He asked me a question and my answer to him is what I want you to note. If you have this at the back of your mind and pursue to accomplish it, you will make money.
Here is the question my client asked;
"How much do I pay you to teach me outlook express?"
Now here is the answer I gave him.
"Sir, let me teach you first. At the end, if you are satisfied, you will then decide how much to pay me"
I got him nailed! He was speechless for about a minute. It looked to me like I made a statement he never heard …
Finally, after about two weeks of deep-digging into outlook express, I was shocked when he paid me about $600 and told me "… that other PC is yours"
Note that the normal fee for the lessons I dished out to him is in the neighborhood of $60. Now you see how much I finally got from him?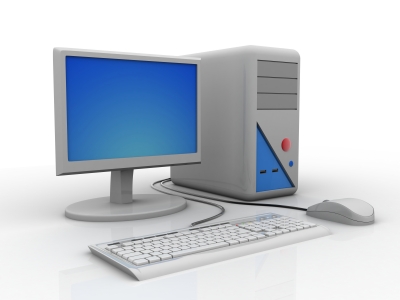 About $600 Cash
1 PC worth about $1200
That was a rough total of $1800
Here is the point…
Seek to satisfy your readers first as a blogger. Must of them will become your clients. That's the only transforming power that's able to turn visitors to customers – satisfaction.
Provide real value and you get paid back in dollars!
But how did advertisers pay me $660 for me to promote my blog?
I turned product reviews into commenting contests.
Simple!
I do a product review and at the same time run a commenting contest on the same review post. Take a look at this example: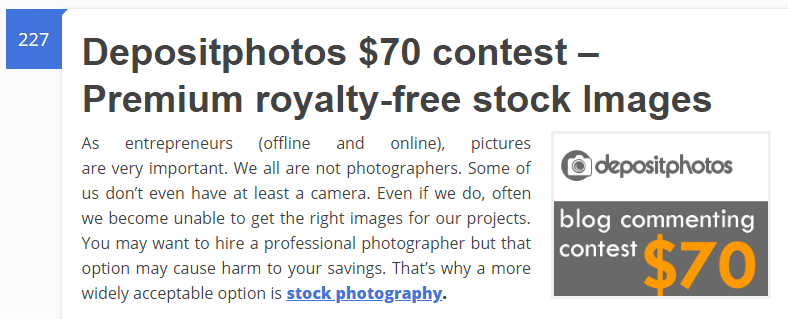 Advertisers want exposure and any activity on your blog that brings what they want, they will pay for it.
Instead of asking for $300 for simple review, I ask for $300 for review contest. Advertisers are happy to see that my readers spend time talking about their products.
NB: Depending on your traffic, you may want to ask advertisers to pay more.
The battle to win the contest prizes pushes contestants into researching to know more about the product. This will help them leave reasonable comments. The result is brand promotion and establishment, sales and even more popularity. That's what advertisers want.
Traditional banners are gradually producing less and less results. We need innovative methods that trigger discussing, create more awareness and generate leads and sales.
Wait!
Before I continue, Let me ask you this silly question;
Do you know there are many ways bloggers can make money?
Silly question isn't it?
Well, I have written an almighty post on ways bloggers can make money. This is an article I highly recommend you check out. There is surely something in for you.
How much money do I make from this method?
How much I earn is not the immediate concern. I don't have a method or formula. I negotiate with my advertisers how much I'll spend to pay the contestants and how much is put in to run the contest. However, in the last three commenting contests, I got a total of $660 sent to my Paypal.
In one of the contests, I reviewed an interesting product. The owner formally rejected a $150 sponsored post proposal on this same blog. But when I went back to him a few weeks later with a brand new review contest proposal for $300, it caught his interest.
NB: This is where to find advertisers ready to spend money on your blog
[page_section template='1′ position='default']
The 'drive traffic' part of it …
[/page_section]
During these contests, my traffic jumped over the fence and my list saw some growth. I did paid promotions that pull in a bit more traffic. All I spent on promotion came from advertisers.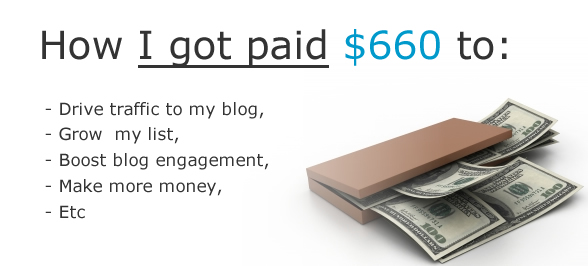 Here is the point …
I mentioned above that it's not about the money. It's about customer satisfaction. I made my advertisers know that part of the money paid will be used to buy targeted traffic to the contest posts. That's win win isn't it?
Why they get the exposure, traffic and sales, I get exposure, traffic and money. Everyone is happy.
Driving this targeted paid traffic is easy with Facebook Post Boosting. Some of it can come from contest directories like Emperola, ContestChest, etc
Why am I revealing this to you?
I have tried my hands on this and it works – generating money, traffic, engagement and linking me up with more advertisers and bloggers. I don't think it fair to keep this a secret. That's why I'm sharing it with you.
One of the things that will motivate advertisers and take them closer to approving your proposal is when you let them know you will go some extra steps to generate more traffic to their sponsored posts.
It becomes more interesting if you point out that part of the money paid will be used to promote the post – so it's not just all about making money.
Now let's talk…
Let me hear from you in the comment box. What do you think about sharing your money with your readers? Do you think this is an effective way to attract advertisers? – Use part of the money they paid to run giveaways or contest and buy traffic to the sponsored posts.