As entrepreneurs (offline and online), pictures are very important. We all are not photographers. Some of us don't even have at least a camera. Even if we do, often we become unable to get the right images for our projects. You may want to hire a professional photographer but that option may cause harm to your savings. That's why a more widely acceptable option is stock photography.
In today's blog commenting contest, we are looking at Depositphotos, your number one source of premium royalty-free stock Images for both online and offline projects.
Whether it's spicing up your blog posts with relevant premium images, creating professional videos, printing calendars, T-shirts, billboards, invitation cards, business cards, newspapers and magazines, etc, Depositphotos is your only stop point for Stock Images, photos, Vectors, textures,  Illustrations, editorial files and videos.

With over 22,369,700 (and growing) Royalty-Free Stock Files including more than 1,483,600 high quality editorial photos, 2,504,129+ high quality vector images, 543,152+ high quality stock Videos,  Depositphotos is the fastest growing micro-stock agency in the world serving customers from over 192 countries in 14 languages
Depositphotos is for you
Whether you have a website or not, you need images your entire life. Deposiphotos is for everyone. Let's look at three categories of people who need this creative content marketplace;
Top quality file buyers: You can signup and instantly access millions of high quality professional stock photos, vector images, editorial files and videos from the world's top contributors. If you are blogger or designer, you are covered.
Top quality file sellers: Are you a photographer (still or motion pictures) ? Are you a photojournalist?,  Are you comfortable with creating stunning vector files? You can sell your files on this marketplace for profit.
Affiliate Marketers: Affiliate marketing is simply selling other's products online and earning commissions. They have an affiliate program for you to promote the platform and make money.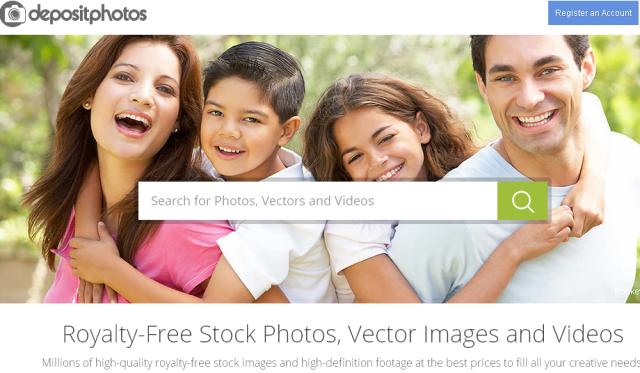 5 reasons to download files from Depositphotos
I'm aware we have been getting stock images from some sources on the net but here are indisputable reasons you need to consider Depositphotos;
Quantity and Quality: The platform has over 36 categories to chose from. This covers every sector of activity. whatever business you are into, you are surely going to find the top quality stock images that perfectly answer your needs.  The quality of these images is impeccable. Jump on board and find out for yourself.
Size: Don't be limited by size.  With this stock image marketplace, you can download photos, vector images and videos  of any size.
No language barriers: Services are provided to customers in 14 languages. That means you can access images in French, English, Italiano, etc, completely eliminating any failure that may result from not understanding English.
Customer support: If you have need for customer service (in any language) just hit the live chat for instant support service. No need to wait 24 hours for your mails to be answered.
$70 commenting contest instructions
Anyone can be picked. Here are the simple instructions;
Read this review
Visit Depositphotos.com website
Come back to this post and drop a relevant comment about Depositphotos
NB: Irrelevant, one-line or short comments will be rejected.
How to multiply your chances
Leave an attractive comment.
Reply and reply to other comments.
The more your comments on this post, the higher your chances of being picked.
Good luck!