Since the ending of the blogging year for 2014 and the beginning of the blogging year for 2015 I have seen tons of articles on what you should do in order to become a successful blogger.
I am not going to write this article as to what you are to do to have blogging success, because there are also things that you shouldn't do as well in order to be successful bloggers as well.
In 2015 there were tons of new blogs that were created and many blogs that fell off the scene as well.
What about your blog? Is it still standing strong? Or is it falling apart?
I hope that your blog is doing well and that you are willing to put extra work into it because this year 2016 will be an epic blogging year. I can already feel it!
Well lets get into the things that you shouldn't do as a blogger for 2016.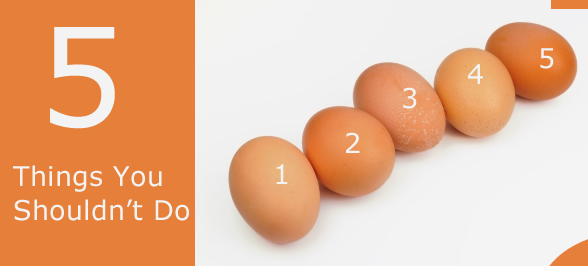 1 – Never Ignore Your Blog For Too Long
As I had just mention above that 2016 will be an epic blogging year.
Why is that?
This is because tons of people are having blogging success and they want others to have success in blogging as well. So these successful bloggers are now helping new bloggers to create a blog and giving them tips on how to be successful as well.
So with lots of new blogs being created you now have to be proactive with your blog as much as possible so that your blog can stand out in a crowd.
This means that you are going to have to write more often for your blog and promote every chance that you get.
Make sure that your blog is updated on a regular because this is what will determine if you will have blogging success or not.
2 – Do Not Be Afraid To Optimize Your Blog
In 2013,  when I heard that Google Penguin was slapping the hell out of everybody's blog, I was afraid to use keywords or certain tags on my blog posts.
I was afraid of optimizing or over optimizing my blog.
I didn't want my blog to be hated by the Penguin or Panda.
But the thing is I'm not the only person who was afraid of these search engine animals. Lots of people were scared and some are up to this very day.
This is because search engine is free targeted traffic and it can help your blog to be successful. Free targeted traffic from search engine are people who are genuinely interested in your content and will purchase from your affiliate links.
So if you are afraid to optimize your blog, how will you get these type of people to your blog?
You are going to have to do some sort of search engine optimization to get ranked by search engines to benefit from such traffic.
Just don't over optimize your blog and use the best keywords that matche your articles. Doing this will help your blog to be successful.
3 – Don't Ignore Guest Blogging
Guest blogging is being practiced by many and they are having success with it.
It is also a great way to build backlinks for your blog and pull in new readers and subscribers to your blog.
If you want to become successful in 2016 then you should be participating in guest blogging as much as possible.
One thing for sure is that blogging is not all about your blog.
So be sure to rally around other blogs and write guest posts, this will help to expose your blog and boost your blog traffic.
4 – Don't Be Afraid To Challenge Yourself
In order to become successful we at times have to challenge and push ourselves to the limit.
As a blogger why not challenge yourself to a writing challenge.
Challenge yourself to write a blog post each day for 2 weeks or do something you've not done before for your blog.
If your circumstances allow you, why not do a 30 days writing challenge?
Remember blogging is mostly about writing contents for your blog. The more contents you have for your blog then the better it is for you. Of course, don't forget this content has to be promoted too.
In fact it's not hard to write a few words for your blog each day. You can even write a great blog post in 20 minutes.
The more you write then the better you will become as a write.
Whatever weak spot that you have as a blogger, whether it is networking, guest blogging, social media engagement, challenge yourself to it and this will help you to become a stronger blogger for 2016.
This will even help you to become a successful blogger.
5 – Don't Be Afraid To Make Money Blogging
You will never hear a blogger say, "I'm afraid to make money blogging".
But instead you will hear them say, "I can't make money blogging" or "I don't know how to make money blogging".
Well it's time to change that up for 2016. Here are 15 ways bloggers make money!
Last year I was successful in generating money from blog.
Enstine as well was successful in making money from this blog, and I bet that tons of other bloggers as well was successful in making money from their blog.
So what makes your blog different why it can't make money?
This is because you haven't much traffic or if you have traffic then your blog monetization is weak.
You need to try different monetization methods for your blog. What works for my blog might not work for this blog. So you have to try tons of things to see what works well for you.
As for getting traffic, remember that you can't make money from your blog if you don't have any targeted traffic. So strive to increase your targeted traffic, monetize rightly and the money will follow.
In Conclusion…
Those are 5 things that you shouldn't do as a blogger in 2016 if you want blogging success.
What are some other things that you wouldn't do as a blogger for this blogging year? Please drop a comment and let's interact.