Anyone not living under the bridge today knows that video content is soon becoming a leading factor in content marketing. Professional trainers are constantly looking for the best video distribution platform for coaches.
With the Internet, the world is fast becoming a global village where business are breaking regional barriers and acquiring customers worldwide.
The best way to minimize cost while expanding your coaching business across national boundaries is taking your programs closer to customers through videos on the Internet backbone.
According to Adelievideo, businesses using video grow company revenue by 49% faster;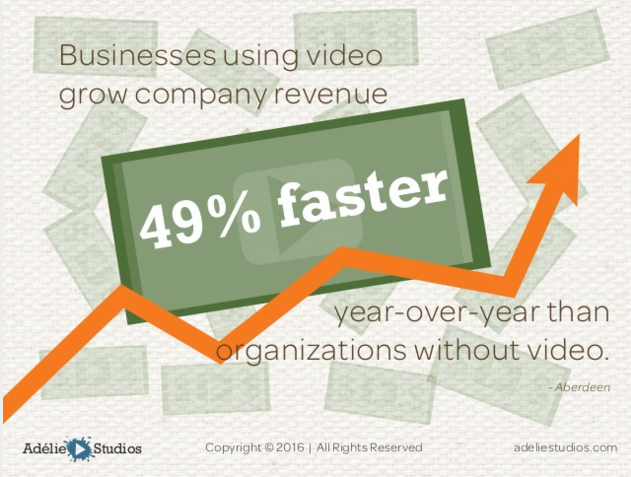 No sane businessman will reject an opportunity to grow his revenue by almost 50% That's why you are wrong not thinking video in your marketing strategy.
There are two main phases in video marketing;
Video production
Video distribution (an element of Digital distribution)
Production is simply the process of converting an idea or a message into video. This is a huge industry that has a lot of different interventions from cameramen, sound engineers, video software experts, etc.
Once the production is complete, there is the distribution phase which seems to be where folks have a lot of challenges.
The video file you have right there on your Hard Disk Drive (or any storage organ) has to be viewed by your target market.
Now, you have two options:
Send it to your customers as attachment or burn into storage or electronic media and have it moved to them
Host on a professional video platform and grant access to your customers who from anywhere in the world can access and watch online or download for offline consumption.
Option two is more flexible and cost effective. But the main problem most coaches have is to find a distribution platform that has all the flexibility any successful and growing business requires. That's where Uscreen.tv comes in to put an end to their worries.
Why is Uscreen Best video distribution platform for coaches?
There are lots of video distribution platforms out there and that makes it even more difficult to locate the best. But what makes Uscreen.tv stand out?
The price?
The price tag is an exciting and attractive business factor. But beware of anything cheap because being cheap can just be a trap. What use is it to buy cheap and be unable to grow your business because of lack of necessary qualities?
The features?
Well, features are things to look out for when making a decision on buying any product. But don't get carried by a huge list. The question is: how are those features useful?
So what makes Uscreen the best option for businesses to distribute their videos?
I have just one word and that is:
Flexibility
Any business tool you have that doesn't allow you to expand in any direction is as a matter of fact one of the reasons your business is stagnant.
With Uscreen, you can host video training programs for any market size. Both small and large scale video distribution services have found the right tools in Uscreen.
It allows you to sell single videos and set up subscription options for clients who sign up and pay monthly, quarterly or yearly.
One other option that makes Uscreen a wonderful option is the fact that you can set up a video program with multiple videos but they get delivered to your customers systematically. Your students only get to see the next videos after completing and assignment and that can highly aid understand.
Your students won't have to randomly view any course as that can rather distort the whole learning process. When lessons are delivered in ordered steps, as one chapter depends on the other, you can be sure to deliver value in your program.
6 quick videos to help you see how Uscreen works and why it's the best video distribution platform for coaches.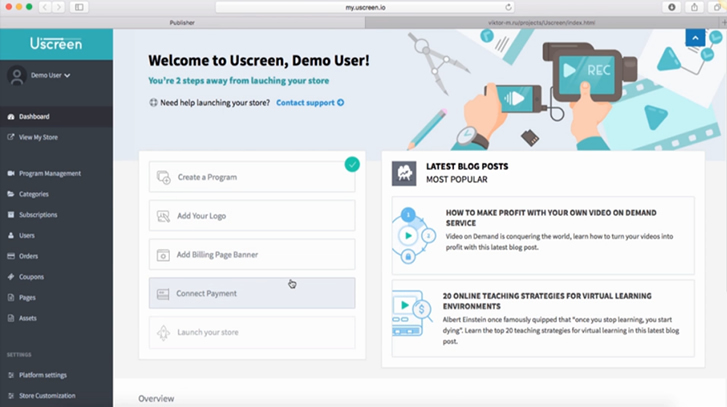 Before you take a decision to sign up to Uscreen, I want to show you quick videos to help you make informed decision. They will allow you see why Uscreen is the best video distribution platform for coaches.
However, you may want to quickly jump on it by creating an account here. No credit cart required!
Video 1 – Getting Started
Ok you probably should start here. This video gives you introductory information to the platform. Watch the short video to have a broad idea what Uscreen looks like
Video 2 – Creating a program
This video has 9 chapters that will teach you everything you need to know about creating a program on Uscreen.
Video 3 – Setting up a subscription
Here, you are going to have 8 chapters. By the end of the video, you will be able to create and manage subscriptions – Creating a New Subscription, Setting Terms & Prices, Creating an Unlimited & Free Subscription, Creating Multi-Subscriptions, Customize your Subscription Page, etc
Video 4 – White-labeling your store
Do you want to completely brand your platform so that no one knows Uscreen is behind it? This video walks you through the process. Learn how to set your own domain name and keep your brand for your complete website & storefront.
Video 5 – Order Management
The reason for setting up your courses online is to be able to sell them and effectively manage orders. This video helps you understand your orders on the platform with three statuses – Paid, Voided and Overdue.
Video 6 – Case Study – MarriageToday
I added this video so you can see how MarriageToday, one of Uscreen customers is doing well on the platform. With thousands of subscribers in 12 months, they use Uscreen to stream on-demand and live videos.
If you are looking for the best video distribution platform for coaches, I recommend you try out Uscreen. You don't have any engagement. Take the free trial here