Video Streaming For Churches and ministries – The most recommended tool for live church events and Video on Demand!
If Jesus were on earth today, he would be using video streaming for his sermons and worship services. The reason is that while on earth, he would use any acceptable communications method to reach out to those in need. Today, churches need to go online.
There are a couple of tools to enhance video streaming for churches but the best choice of course is to be able to manage your own video streaming website where you have full control over both live worship services and sermons, and Video on Demand (VoD)
If you belong to a church community that's not broadcasting on the Internet, you may have to discuss this post with your church leader.
Here are a couple of reasons I think every church or ministry should have a video streaming facility;
Some of your followers may be too old to attend sermons at the church premises.
Some may be sick or injured.
Some may be nursing moms who have to stay back home to take care of children.
Some may be travelling while desiring to take part in church services.
Live streaming and VoD can help grow your membership.
You can get support for your ministry through touching lives online.
Your sermons can get to a wider audience through sharing on social media and other related websites.
Members who leave church after service may want another experience with the sermon in church while traveling or at home.
Etc
Live streaming platforms have allowed church members to experience their sermons, worship services and events from all over the world in real time. However, some church and ministry leaders have though it's rocket science to add live streaming to their strategies.
Video streaming for churches – Uscreen is the answer!
After a quick search I found some video streaming platforms but my excitement was quickly bitten by a couple of factors including;
Price,
Bandwidth limitations,
Lack of white-labeling, etc.
One of the tools however I found, tested and recommend is Uscreen.
Uscreen offers a 14 day free trial with no contract and no credit card needed. You can access 100% of the service within this period. This gives you closer contact with the tools so you can test-drive every single angle of it.
It's the platform that allows you to easily distribute video content to users all over the world. The Uscreen video distribution platform not only allows you to upload videos. Its flexibility and a plethora of unique features also enables you to upload all sorts of other content including audio files, podcasts, and PDFs of sermon notes, etc.
If you have sermons or teachings that are organized in series, Uscreen's Chapters feature will be the perfect facility to organize your program so that users can easily find what they're looking for.
Why I think Uscreen is the perfect platform for Video streaming for churches!
Uscreen has packages that are suitable for every church size.
You have unlimited bandwidth to distribute your sermons and events.
Completely white label your site with your own look & feel, and remove all references to Uscreen.
Uscreen platform allows you to use your own custom domain name or subdomain that you have registered at another registrar.
Members can view your videos on their mobile devices while on the go.
Videos on the platform can be downloaded for subsequent viewing.
Your content is nightly backed up and stored both on site and off site. This ensures safe recovery in case of data losses.
100% Up time.
For more reasons why you need to give Uscreen a try, check out this post
Case Study – MarriageToday
MarriageToday is a US based ministry founded by Jimmy and Karen Evans in 1994. Its mission is to utilize seminars, conferences, simulcasts and more than 100 marriage building resource to touch and build marriages worldwide.
MarriageToday's video Library on Uscreen;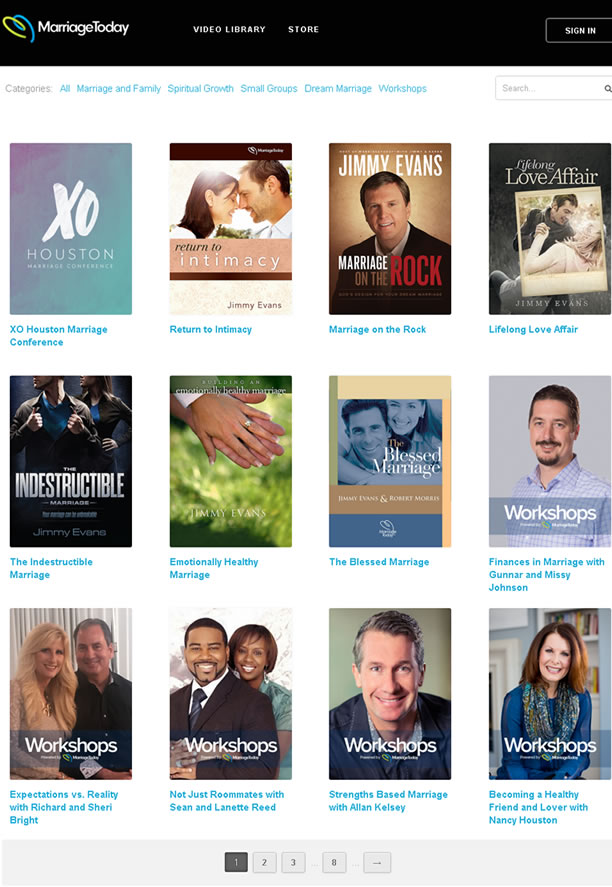 A few things to note here;
The video library and other pages are completely customized. No references made to Uscreen.
Their storefront's url is a sub domain on their main website: partners.marriagetoday.com and not on Uscreen domain.
Bandwidth is unlimited.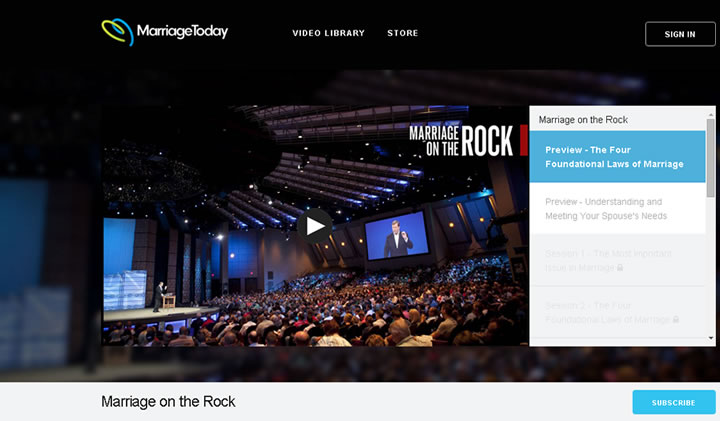 MarriageToday's video viewing interface is also fully customized with no references made to Uscreen.
Sign Up for a 14 Day Free Trial. No credit card required. No Contract!