99% WPX Hosting Black Friday Deal 2019 or 3 Months Free
WPX Hosting Black Friday Deals are live. As a matter of fact, the best Black Friday discount for 2019 in the web hosting industry is coming from WPX Hosting.
Being the best Managed WordPress Hosting service provider, 99% discount (or 3 months free) is the killer attraction you are ever going to get.
This offer is available for new clients from the 25th of November 2019  to the 4th of December
To apply the discount automatically, click this link
Recommended: Click here to have a free .com domain name for life
WPX Hosting Black Friday Discount – Why WPX ?
The WordPress Hosting business is becoming saturated. The industry is filled with unverified claims from inexperienced hosting startups. Some old folks like Hostgator are making life hard for many users, etc.
Many of these desperate industry players use the price tag to attract naive website owners who think being cheap is the best.
Though WPX Hosting isn't for everyone, they are quite cheap for the range of services they make available:
Free Migration
Free SSL certificates for life
Free Premium CDN for life (3x Your Site Speed, Free)
Excellent supported service (Going as far as helping in sorting out your WordPress issues)
Smallest package takes up to 500,000 visitors/month
Extremely fast load speed.
Daily free backup with full backup manager
Malware Scanning & Removal
Enterprise-Level DDoS Protection
Etc
You should take advantage of this year's WPX Hosting Black Friday discount and be part of the happy customers.
Get the discount here
Some details why you should grab the WPX Hosting Black Friday Deals
1) #1 most trusted host on Trustpilot
The best way to measure the quality of any service is to turn to its current users. Trustpilot is one of world's most powerful review platform, giving everyone the avenue to express their satisfaction/dissatisfaction about any service.
Out of 154 hosting companies listed on the platform, WPX Hosting ranks on FIRST position. These raters and users could not be all wrong.
Here are some more interesting stats in the industry:
Hostgator came last,
Bluehost came 152nd
GoDaddy came 139th
WP Engine came 137th
2) WPX Hosting Daily Backup manager
The best security measure you must take online is backup. I agree you need to focus on securing access to your site through various means: Strong server configuration, plugins, encryption, etc.
But we all know these are not guaranteed. There can still be leakages that may be exploited by hackers. So efficient backup strategy is the best savior.
WPX Hosting helps in keeping daily copies of your site (Database and files) and the back manager allows for full restoration with a simple click. Take a look at this video above.
3) WPX Hosting Free CDN and Load speed

Now, one of the reasons you must take advantage of this year's WPX Hosting Black Friday discount is the load speed of your WordPress site.
Speed is an SEO ranking factor. Sites that load over 2 seconds have a case file with Google. While there are many factors that affect the speed of any website, the hosting server configuration plays a big part.
WPX Hosting has taken steps to be free from any blames by offering its clients the best speed optimized WordPress hosting structure.
Besides highly configured and optimized servers, WPX experts have created the WPX Cloud, a super-fast, hand-built Content Delivery Network (CDN) with 20+ 'end points' (and growing!) around the world.
Simply put, these are mini servers scattered all over the planet, taking your site closer to visitors.
If you are reading my blog from USA, chances are that it's being loaded from a server in the US. Someone else reading my site from SA will have it loaded from a server in South Africa. So a CDN works in loading your site from servers on different physical locations, automatically picking up the server closest to the site visitor.
Every new client from this point forward will have a free CDN setup for all domains. Existing clients will have to manually enable the CDN from their dashboards.
There is no more need to pay for expensive CDNs like Cloudflare, MaxCDN, etc. WPX Cloud is unlike any of these as it was built specifically FOR high-performance WordPress hosting.
Let's look at some screenshots.
Here is Pingdom speed report for my blog before CDN was applied. Load time is 1.21s which is still very impressive: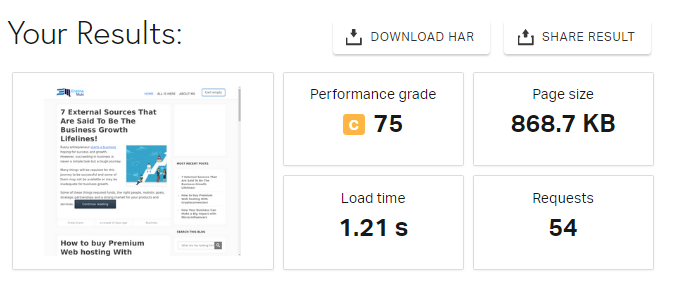 And here is load time after applying the cloud structure. It should be noted that WPX Hosting support team did the job. It included login into my WP admin and doing some speed tweaks. Here is the result: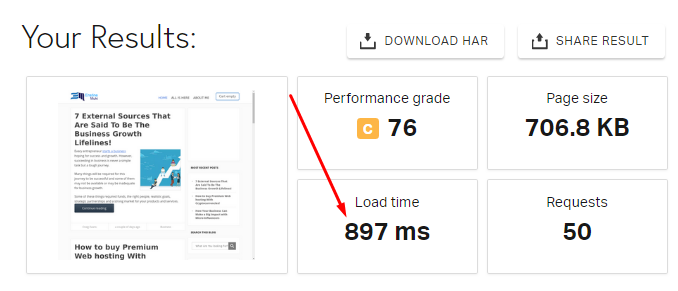 Exceptional improvement, minutes after changes.
Here is a video by some happy users who testified to the load speed of their sites:
Get the discount here
4) WPX Hosting is far above its competitors
Competition in the WordPress hosting industry is tough. But there is always a leader in any case. WPX Hosting has succeeded by way of its offerings to stand out tall. Here is a comparative table that shows the strength of this Managed  WordPress hosting company: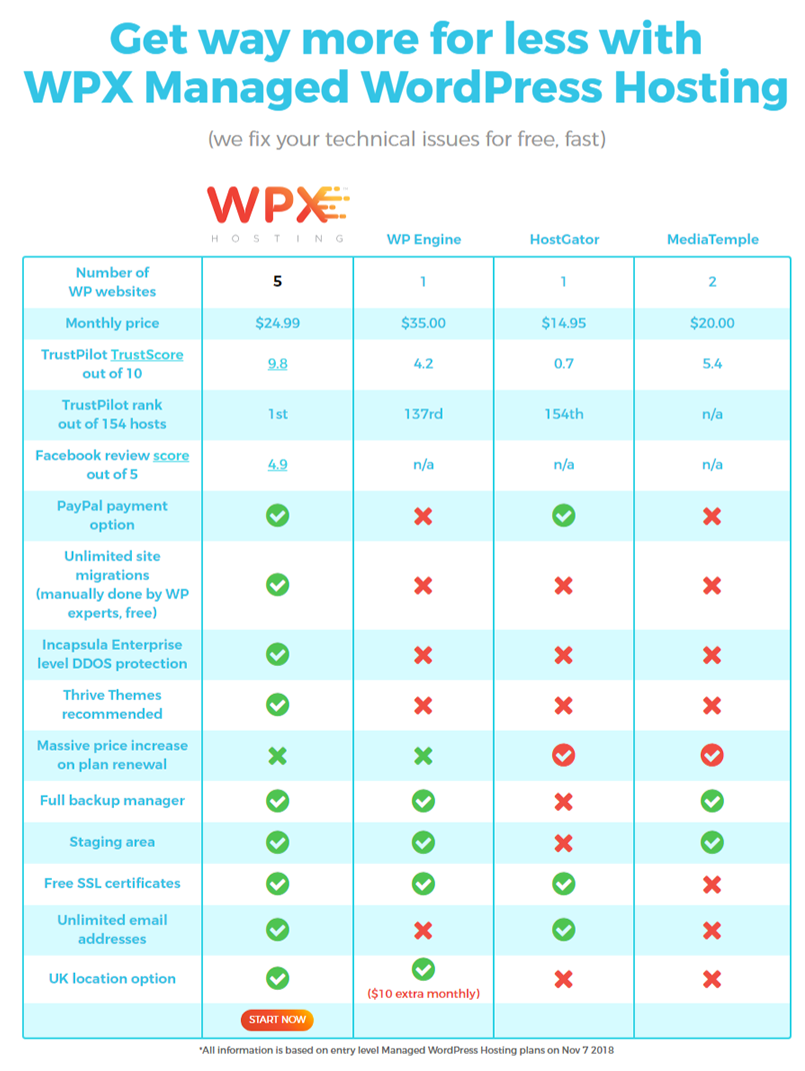 5) WPX Hosting customer service
Customer support is a key point in the success of any business. I think the folks at WPX Hosting have understood this. The WPX Hosting Black Friday deals won't be of any good without corresponding customer service.
WPX Hosting customer service is among the best in the industry. Not only are the guys super-qualified. They are also highly responsive.
Typically, you get a ticket response within just few minutes and a chat response within seconds and this is awesome.
According to statistics from the LiveChat platform, WPX Hosting has gotten 100% satisfaction rating from their clients during the past 12 months.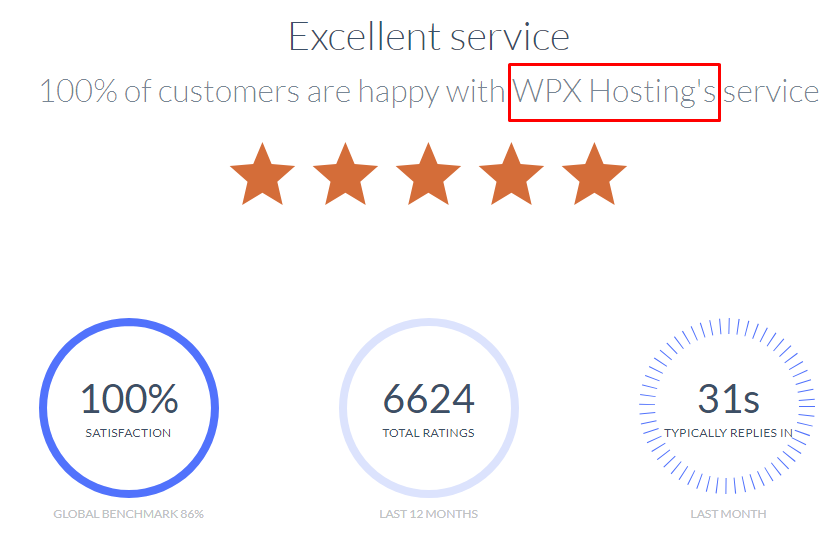 There is no doubt these guys are focusing on value to their customers and that's what's important. I personally had a bad experience with Hostgator support service. I couldn't stand the mediocrity so I just had to switch.
Here is what some clients say about the WPX Hosting customer service, the more reason you should grab this black Friday gift.
2 different WPX Hosting Black Friday deals 2019
As a matter of fact, there are 2 Black Friday deals from WPX Hosting and I want us to take a closer look at them.
You cannot benefit from both at a time. Depending on what you want, you will certainly find any of them quite lucrative.
1 – WPX Hosting Black Friday Deal  – 99% OFF
This wpx hosting black Friday deal is most exciting if you chose the monthly billing option. So you are going to have up to 99% off your first month on any of the packages:
Business Plan normally $24.99 REDUCED to 0.25 cents (1st month only)
Professional Plan normally $49.99 REDUCED to 0.50 cents (1st month only)
Elite Plan normally $99 REDUCED to 0.99 cents (1st month only)
This simply means you'll get 95% waived on your first month, but the regular price applies the subsequent months. Though this seems huge, it remains more costly. If you want long term benefits from WPX hosting black Friday promo, I'll recommend you take the next option.
Get the 95% Discount here
2 – WPX Hosting Black Friday Promo – 3 Months For Free on annual payment
This is the yearly plan WPX Hosting Black Friday promotion for the year 2019 and I think it's a better option. Not only are you getting the regular discount for choosing this plan, you get up to 3 months for free. This applies to all the hosting plans:
Business.
Professional.
Elite.
Get the 3 months free here
WPX Hosting Black Friday Discount 2019 – When does it start?
Black Friday this year is on the 25th November. That's when most deals start. Some end with the last second of that day. Others go over to Monday – Cyber Monday.
But WPX Hosting Black Friday discount extends to the 4th of December. This is more time for you to put together resources and be part of it.
WPX Hosting Regular discount and Promos!
Beside the current WPX Hosting Black Friday deals, they have some evergreen promotions. The black Friday and Cyber Monday deals end with these events. But the evergreen discounts are available any time and these are often for new customers only.
There are mainly two promo types, each applying to the two different payment types:
A) Regular 50% OFF first month on monthly payment
If you missed out the WPX Hosting Black Friday discount, you still have this opportunity (discount code) that gives you up to 50% off on your first month. Note that this is only possible with the monthly payment option.
WPX discount code for monthly payment: EnstineMuki (caps matter)
How to apply the WPX Hosting discount code for monthly payment
Note that the WPX Hosting Black Friday promo doesn't need any code. Just click to the page, select your package and proceed with payment.
But with this regular offer, you will need to apply the discount code and here is how.
Go click on PRICING -> WordPress Hosting.
Take note that this design may change with time.
This will take you to the package page. Select the Monthly tab. This discount code won't work for the Yearly option.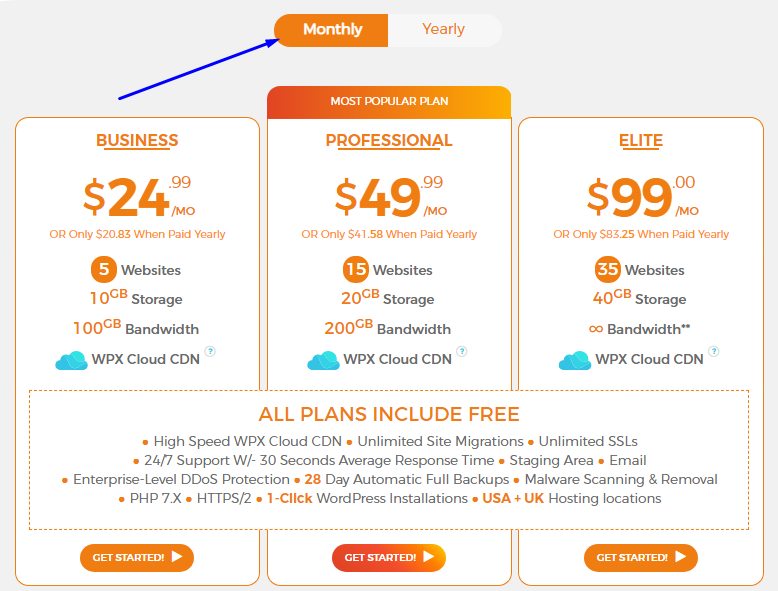 Choose your package and click "GET STARTED"
On the next page, you have two options: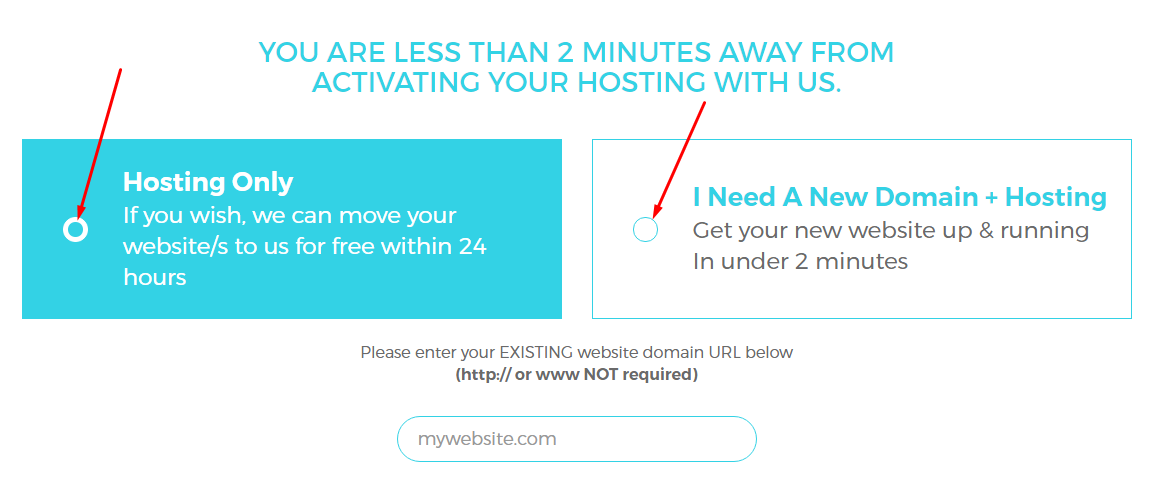 If you have your domain name already registered, choose the "Hosting Only" option. If you want WPX Hosting to register your domain, choose "I Need A New Domain + Hosting"
With option 1, simply enter the domain in the field. With option 2, you are going to have to enter the new name and extension.
On the next page, you should apply the coupon code:

Note that the coupon code EnstineMuki applies for monthly billing cycle only. Make sure you are on the corresponding tab and enter the code. Click Apply.
Move on to the next page, choose a payment method, create your account and submit the other.
B) Regular 2 months FREE on yearly payment
This is the second regular discount from WPX Hosting if you choose to pay yearly. In this option, you don't have any discount code. Everything has been programmed in the checkout procedure.
Let's take the Business plan so you can understand better.
The normal price for this package is $24.99: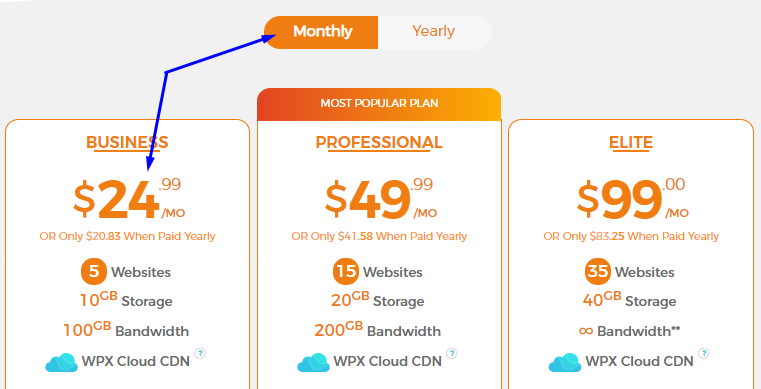 But if you choose to pay for one year, it drops to $20.83.
In this case, you are paying for 10 months plus 2 FREE Months: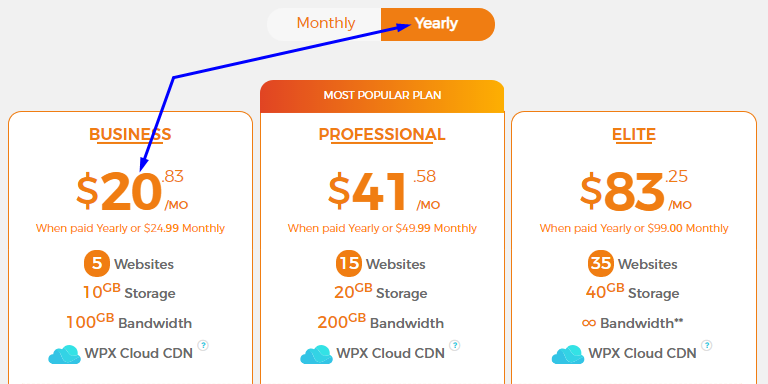 So you noticed despite the WPX Hhosting Black Friday discount that's activated every November of the year, there is always an active WPX Hosting Promo any time of the year.
WPX Hosting Black Friday Deals – Free Migration
My blog was over 2 gb when I moved from Hostgator. But that didn't have any negative effect on moving it to WPX Hosting. This is because of the expertise of the technical team. As a matter of fact, the migration was free and quick. Within an hour, migration was complete, including emails, files and databases.
If your blog is currently hosted with another host and you are concerned about moving and maybe facing some blackouts, that shouldn't worry you any longer.
Here is a video of some customers who testified about the WPX Hosting Free Migration

We've got real proof here that WPX Hosting is a great choice. All you have now is to grab this chance. The Black Friday Discount isn't forever. Though we have regular discounts that are impressive, this seasonal promos definitely add something to it.
Get the 3 months free here
Let me know what you think about this WPX Hosting Black Friday Discount in the comment box.