Webtexttool Review ~ A closer look at an unmatched web-based SEO Tool for OnPage SEO optimization!
Whether you are a blogger, ghost writer, freelance writer, etc, you need an SEO OnPage Optimization tool! This is because for every online business, Search Engine traffic is the most important. The simple reason is that it's most targeted and converts the most. But getting Search engine traffic is the difficult part.
The act of doing anything online in order to attract more visitors from search engines is generally called SEO, which stands for Search Engine Optimization. There are three main SEO areas to focus on if you want this natural traffic and boost your business. These are;
Technical SEO
OnPage SEO
OffPage SEO
But most people often don't pay enough attention to technical SEO. However, in today's Webtexttool Review post (presenting an unmatched SEO Onpage Optimization tool), I want to focus mainly on OnPage SEO.
OnPage SEO helps search engines understand the meaning and depth of your content so they can properly match it with search queries.
Poor OnPage SEO means that search engines are never going to get clearly what you are talking about in a certain post. That leads to very poor ranking, thus low search traffic.
Having the most accurately SEO-optimized post does not directly translate to high natural traffic though. Nevertheless, posts with very poor onpage SEO can clearly mean poor ranking on SERPS.
There are plugins and platforms out there designed for Onpage SEO optimization but most of them lack the necessary features to make them complete. They end at analyzing your posts, giving you stats on keyword counts and position. But Webtexttool makes a remarkable difference.
Webtexttool Review – SEO Onpage Optimization tool!
Webtexttool is both an online Onpage SEO optimization Tool and WordPress plugin created from the knowledge and expertise of top SEO experts. It has been designed to make your website content SEO proof.
Beside analyzing your keyword density and positioning, it takes you further through LSI keyword suggestion, competition analysis and keyword popularity.
Webtexttool Review: SEO OnPage Analysis tool standalone web edition
I mentioned above that this tool is both a standalone platform and WordPress Plugin. Let's look closely at how to use it to optimize your pages for SEO.
Have some time to look through the environment and get yourself used to it.  Then click the "Create" button to start a new post.

The next thing now is to select the language or country you want to optimize your content. Enter the focus keyword.
You may want to click "Give me suggestions" so this optimization tool will analyze your given keyword and provide data to help you know whether or not this is something you can easily rank for.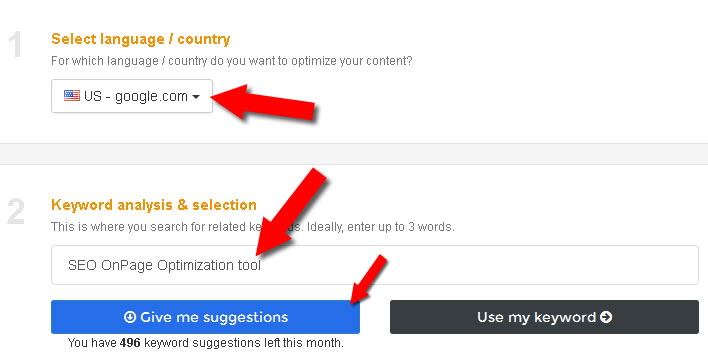 Further, Webtexttool helps you with a list of related (LSI) keywords, their level of competition, search volume and an overall SEO score.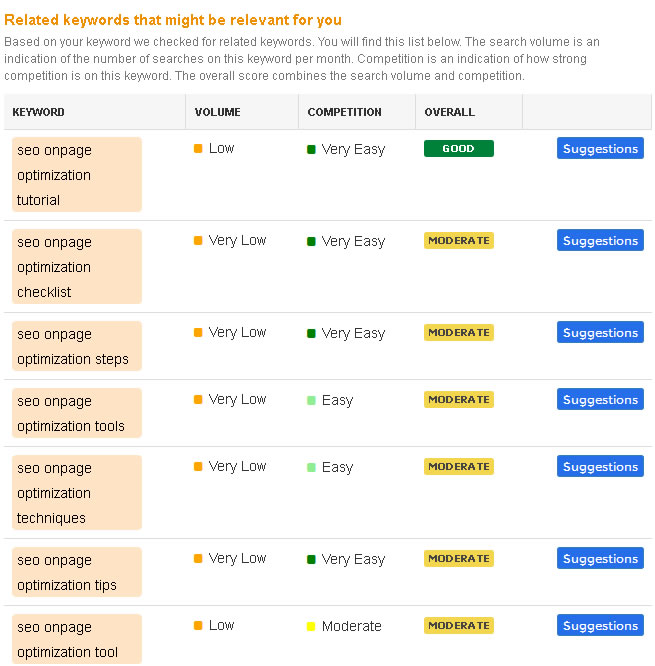 You can just copy out some of these related keywords and use them within your article. Or if any of the suggested keywords is good enough, you may want to switch and use it as your focus keyword. Webtexttool will again analyze it and generate another list of related keywords.
So once you are ok to go, click "Use my keyword" to move to the text editor.
How Webtexttool SEO Onpage Optimization tool helps your SEO!
Now, once you are on the editor, the tool will keep scanning your document and making suggestions where to add, bold or italicize your keyword.
Here is what it looks like: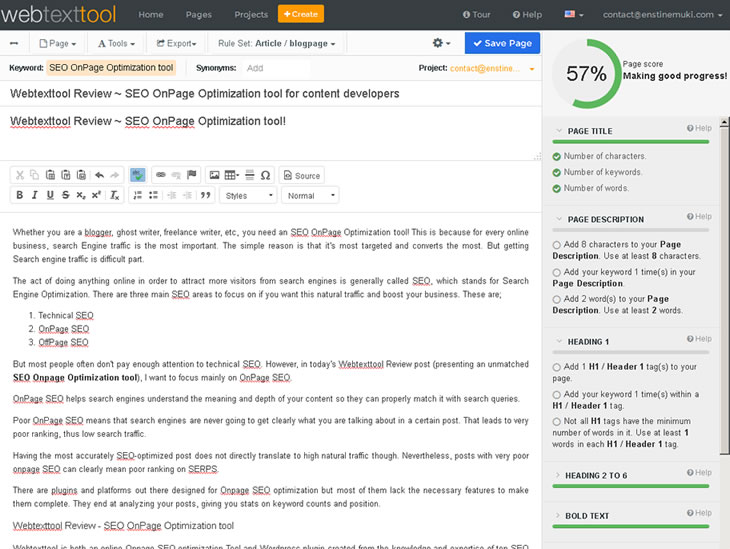 You will actually have a friendly WYSIWYG environment to edit your document. Start with your article title and description.
The tool will check for keyword occurrence in your title, description, first paragraph, <h1> to <h6> tags, bold, italicized.
Based on current number of words on your page, Webtexttool will suggest the number of times to add your keyword to the article.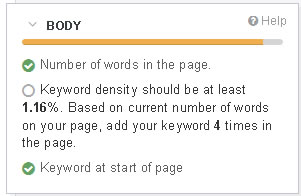 Webtexttool SEO OnPage Optimizer WordPress Plugin!
Webtexttool also has a WordPress plugin version that analyzes and optimizes your content right within your WordPress dashboard.
You can download it right here
Note that to use it, you must create an account on Webtexttool. You will be required to use your password and username to login within your WP dashboard.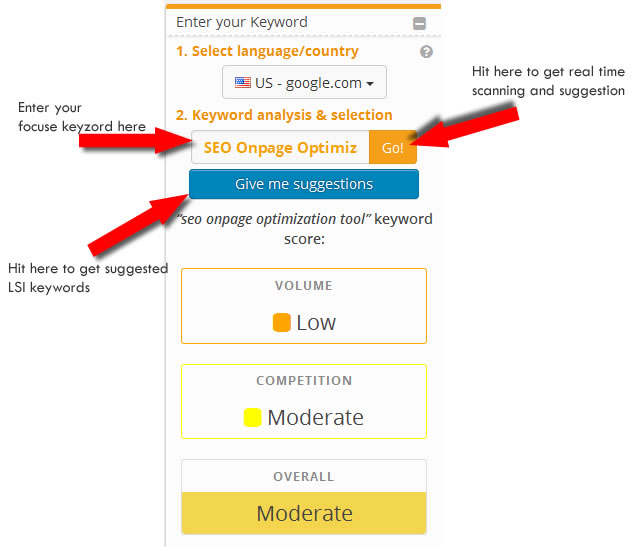 Once you hit the "Go" button, the focus keyword will be used to start analyzing your content. As you keep typing, you get more suggestions to improve your article SEO friendliness.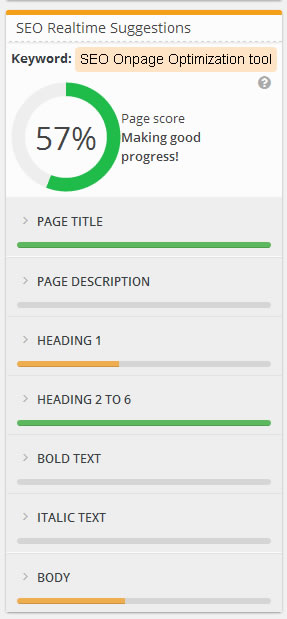 Page Tracking With Webtexttool SEO Onpage Optimization tool!
Webtexttool is not only an Onpage SEO. It helps monitor the position of your links in search engines for specific keywords.
Page Rank Tracking is an important SEO activity that helps marketers maintain their positions on SERPS and traffic. Without rank tracking, you may lose business and never know what's going on.
Webtexttool will constantly monitor your position on Google SERP and send you alerts each time there is a position  change.
Once in your Webtexttool web account, go to Page -> PageTracker;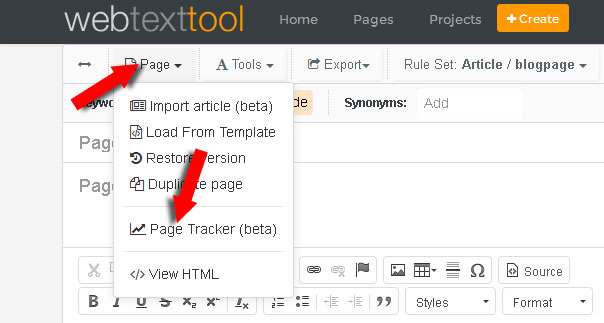 This will pop up a page where you will enter your url for your main keyword: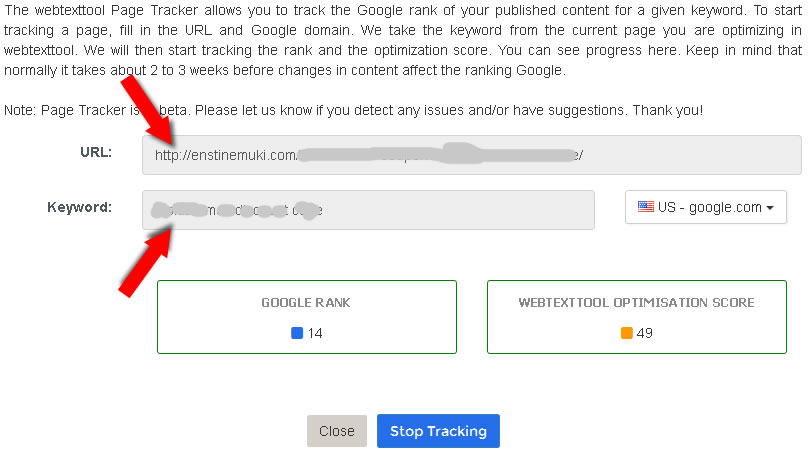 This page will be updated each time there is a change in rank. You can also notice the Webtexttool Optimisation Score. This helps you know whether or not more should be done to your content for better ranking.
4 Quick things you get with Webtexttool
Analysis of your content: It analyses your content and tells you how to optimize for maximum SEO results.
Realtime optimization suggestions: You get real time suggestion on how to improve your content as you type.
Keyword analysis & research: It helps you get the best keyword by analyzing your focus keyword and providing crucial data including search volume and competition. Adding to this, it generates related LSI keywords so you can use for more traffic.
Page Rank Tracking: Know the position of your pages in search engines for specific keywords. Get notified whenever there is a change in position.
Who is Webtexttool for!
Webtexttool is the perfect SEO OnPage Optimization tool for web content producers. Bloggers, SEO firms, SEO experts, Freelance writers, Ghost Writers and any content producer with a need for natural exposure and traffic
Create a free Webtexttool account here. 14 days – no commitment – no credit card – sign up in 10 seconds.