In this Visme Review Post, I'm excited to show you an awesome tool that allows you to create all sorts of professional graphics and animated visuals for your blog, online and offline projects, etc.
I also will be sharing my practical experience how I created this infographic and how simple it is to create just anything.
By the end of this post, you should be able to easily use Visme to;
Create infographics
Create images and graphics for your blog post
Create professional web banners
Create presentations
Wireframes
Reports,
etc
Where is the need for this?
We are living in a World where graphics play an important role in communication. It's generally said that images speak 10 times better than words.
Visual transmission of information helps in quick understanding. People on the web are busy. Reading through 1000 word document without visuals is boring. Professionally designed images can help in enhance  understanding within a very limited time.
Visme is a platform that allows anyone to create professional graphics and get the same high-end designs at a very reduced cost. It's a drag & drop DIY tool that's designed for every level of experience.
Visme allows you to add and edit anything to your creatives with tons of assets at your fingertips to bring your ideas to life;
Millions of free images from Flikr to use in your projects
100+ beautiful fonts supported in every language
Thousands of free vector assets and graph tools in any style
Visme Review – How to start!
One of the attractions of Visme is the ease to access and use the different tools.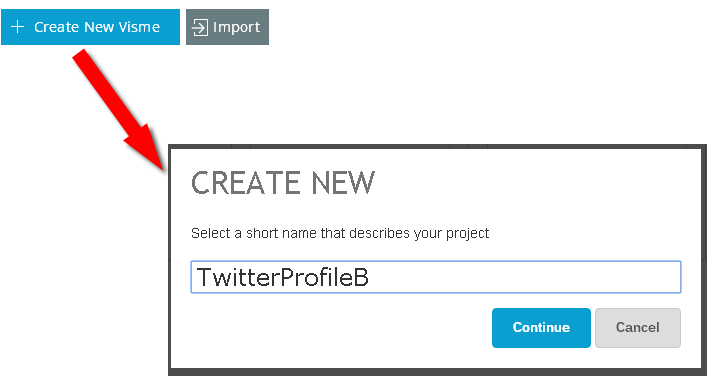 Once on the dashboard, Click "Create New Visme" and name your project. The project name is anything to identify the project in question.
For better management and organization, project names should be related to the project content.

The next thing you have to do now is chose your design type from pre-made templates – Infographics, Presentation, Banner, Wireframe, Product demo or simply a blank sheet to design just anything. Let's look at Infographics.
Visme Review – Creating Infographics
It is increasingly becoming obvious that one of the content types that drives crazy traffic and SEO benefits is infographics. Top bloggers today like Neil Patel strongly endorse publishing infographics as a means to establish authority and attract readers.
Unfortunately, creating professional infographics used to require high knowledge in using graphics software. To add more salt to the wounds, hiring an infographer in today's content business is not easily reachable.
Visme is one awesome tool that takes the hardest part away from the whole process. All you need is your brain. The drag & drop facility and assets make it as simple as ABC to create any form of infographics.
You either use one of the hundreds of pre-design infographic templates or create yours from ground with ease.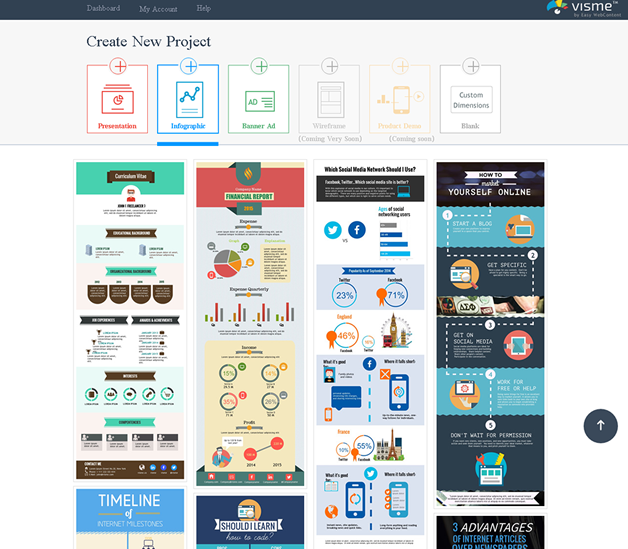 Once you select a template, editing it and adding your text and images is a breeze. The platform allows you to search and import from thousands of free professional images or simply upload yours.
Look at this…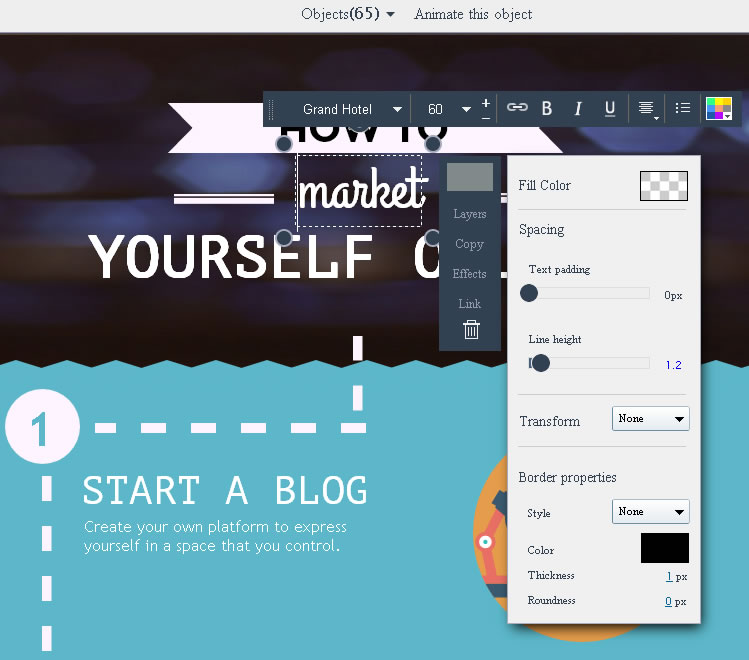 Every object on this infographics is editable. See it here life
The flexibility of this online infographic maker is awesome. You can drag and drop objects, set background and text colors, flip objects left or right, etc.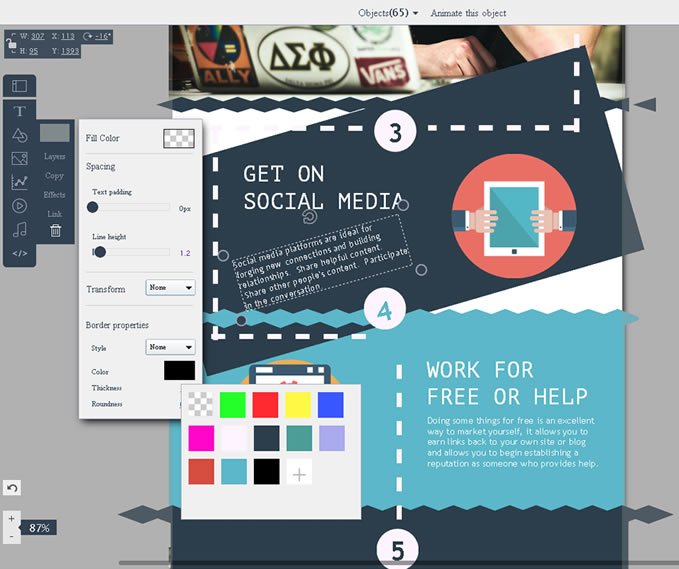 It's just as simple as that – drag & drop objects, flip, add text, set colors, import images, etc
Creating Banners Easily
One of the things you can create with Visme so easily are web banners. There are hundreds of exciting templates of all standard banner sizes making the exercise down to earth.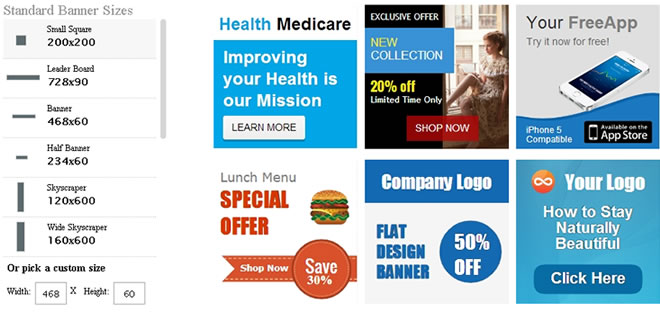 Once you chose a banner size (on the left), you have a variety of templates. Visme also allows you to create banners of your custom sizes.
The next step is to customize your banner with the inbuilt tools – add shapes, images, text, animations, ett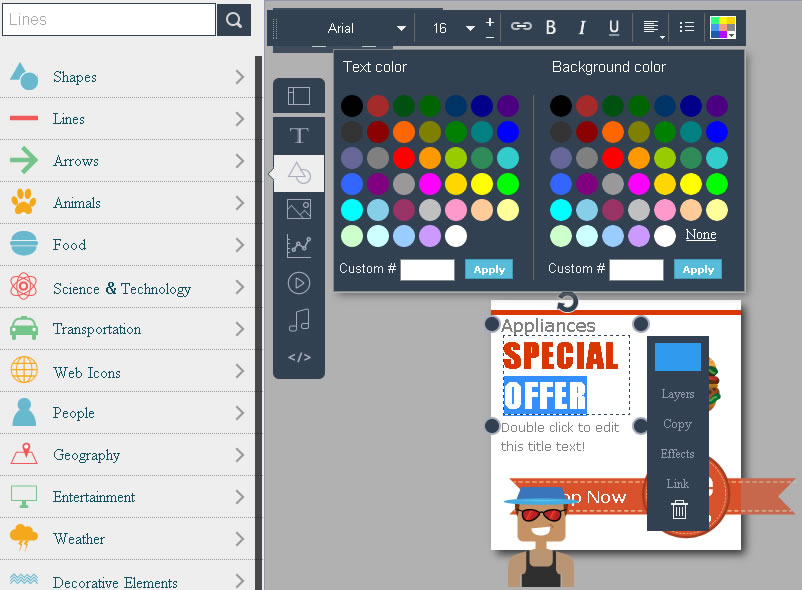 Creating Presentations
Another thing you can create easily from hundreds of templates are presentations. Visme makes it practically easy to add slides, text, objects and animations to your presentations.
You note from the image below you can search and locate professional images to drag and drop in your presentation.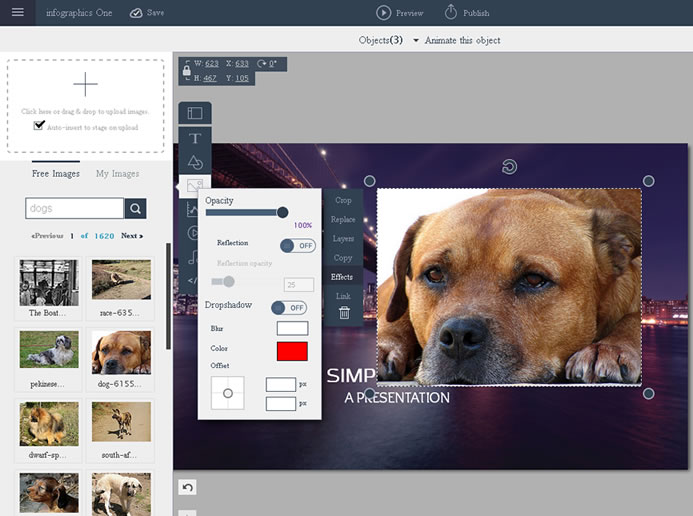 Creating anything with Visme!
While Visme gives you the opportunity to create infographics, banners, presentations, etc from pre-designed templates, it also allows you to create anything from scratch.
The first thing in this process is to determine the size of your new design. I used this option to create my Facebook profile image.
First, I had to set the size!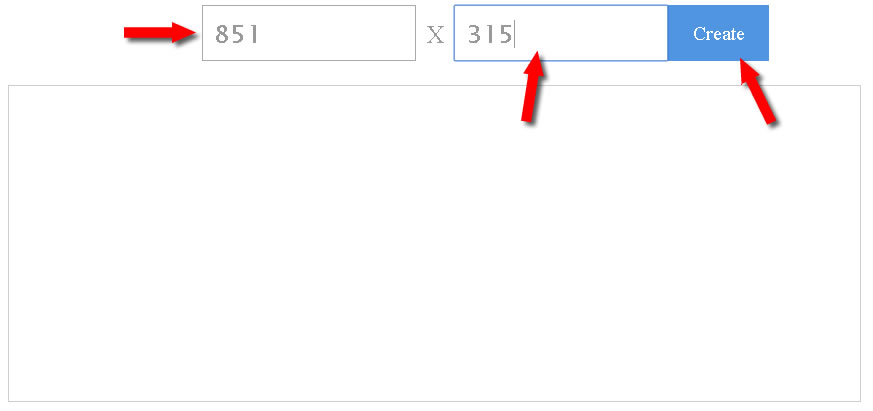 Facebook profile image default length 851pxl and 315pxl for width.
Once this is done, click the "Create" button to add the meat to the bones.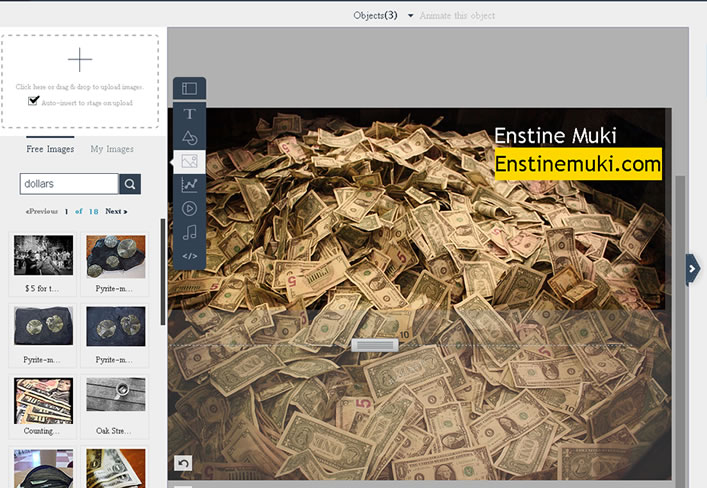 I mentioned above that there are 1000s of free professional images to chose from. Just enter the keyword in the search box to pull out a list of related images. Drag and drop, add text or even import your own images into the mix.
Here is what I got from this draft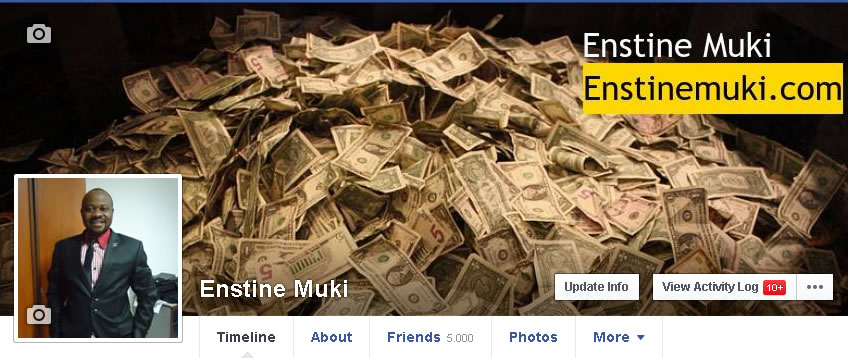 How to get and publish your designs!
In the process of creating your creatives, you are able to save and continue later. Once complete, you have the options to;
Share on social media
Allow Visme host for you while you grab the embed code to publish on your site
Download as PNG, JPG, PDF, HTML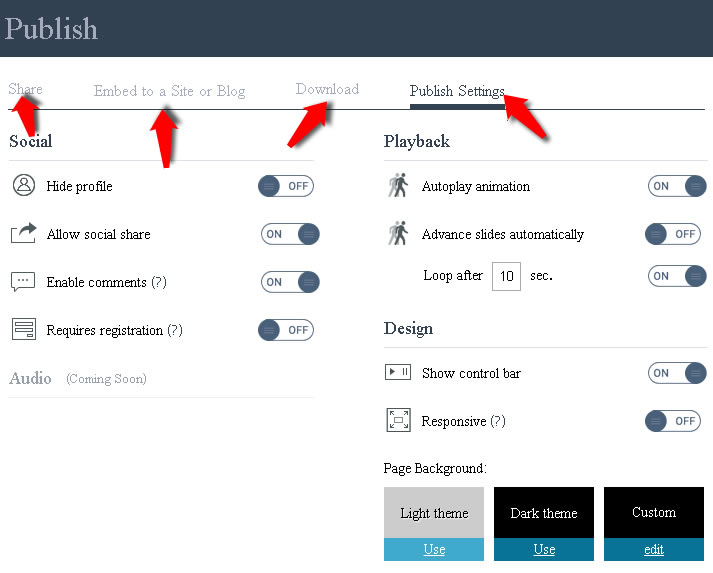 Visme Prices
You can actually start using Visme today for free. However, you get limited resources and tools to create awesome designs.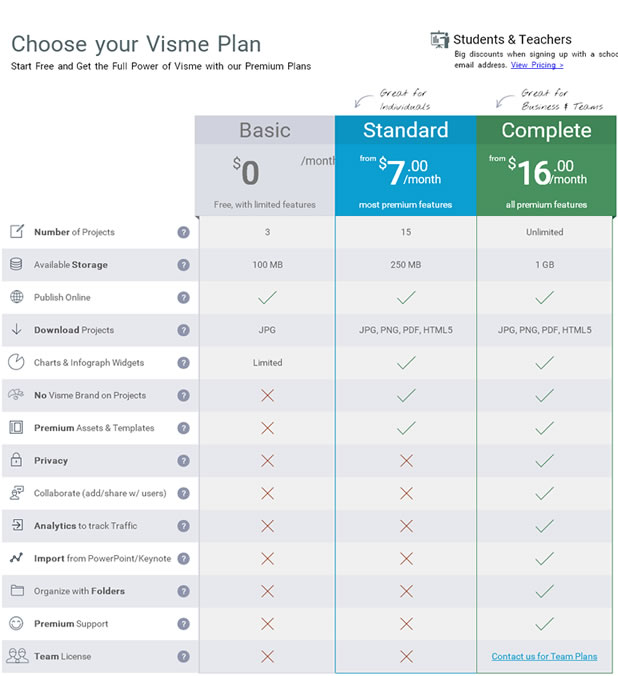 Working as a team!
Whether you are working on a one-man project or as a team, Visme is the perfect collabration tool. It is the multi-tool your team has been waiting for. Finally, one place to visualize team ideas and your data.
As team head and system administrator, you can create and manage your users, assign roles, and know what they create, where and when they login, etc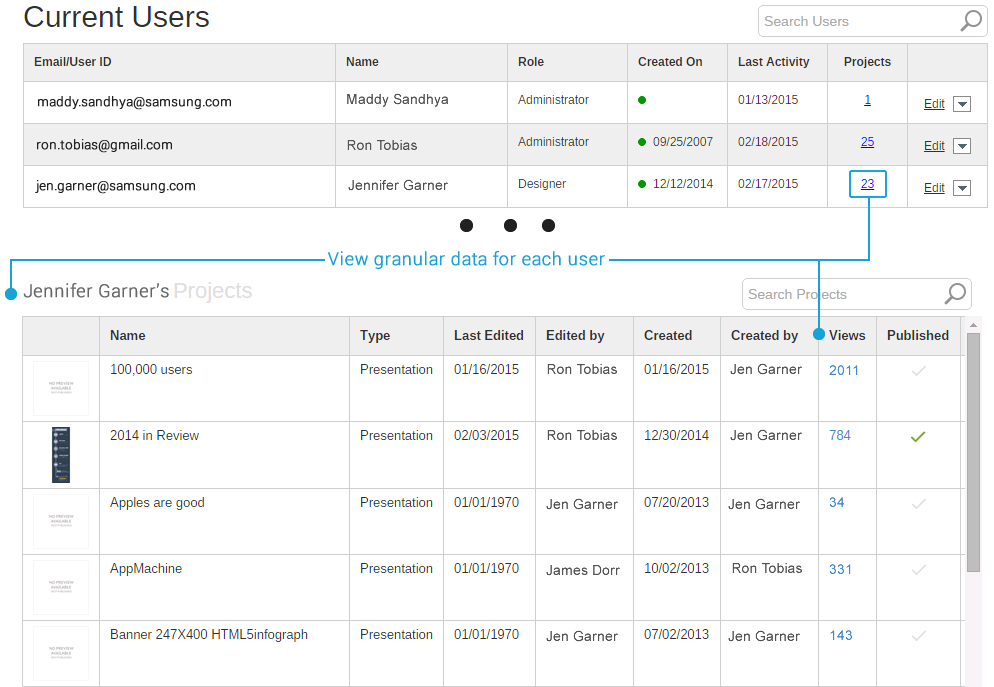 Money making proposals!
You can create a thriving business using Visme. Today, there is a huge demand for all sorts of designs; Infographics, Facebook, Google, Twitter profile images, backgrounds, web banners, logos, etc.
You just need to run a search on Fiverr for any of these and you'll uncover a large market.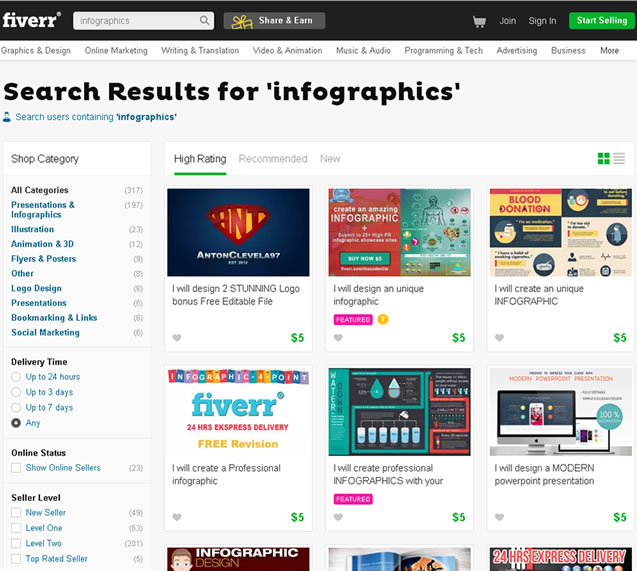 With less than $20 a month, Visme gives you all you need to create your own online business without huge investments in tools.
Verdict!
Visme is an online graphics design tool allowing you to create virtually everything from standard designs to Web and mobile animations.
The interface is responsive, drag & drop, sleek, simple, and professional with a huge range of free images, fonts, icons and infographic visuals.
However, I would love to see more templates especially in the social media domain. Currently, there are no Facebook, Twitter or Google plus profile templates. This gives some competitors a little edge over Visme but I'm sure Payman Taei and his team are working on it.
Go check out Visme and take the test drive
Drop a comment let me know your thoughts