For a quick Skype web login page, click here and start enjoying a completely  new way to chat without any need for a desktop app.
NB: Read on for some helpful information or visit Write My Essay Today to get a process essay about using Skype.
Skype, one of the most used business collaboration and video conferencing tools now has a web version.
That means you have nothing to download and install. If you have a Skype account or Microsoft account, all you need is go to the Skype Web version or skype chat online login page, enter your login info and you are in. Click here to go to web skype login page.
The first time I tried this on Firefox, I had to download and install the official browser plugin that allows me to make video and audio calls or skype call (including free skype). Once you login, the platform is going to guide you through.
I have not tried it on Internet Explorer though. Your experience may be different if you use that brower or even Google Chrome.
I remember when WhatsApp mobile app chat tool went web too. There was an air of excitement among users. But the difference here is that your mobile phone will have to be kept connected to the Internet for the web version to function.
If you didn't know about using WhatsApp on your web browser, see the instructions here
Skype Web Version ~ web skype login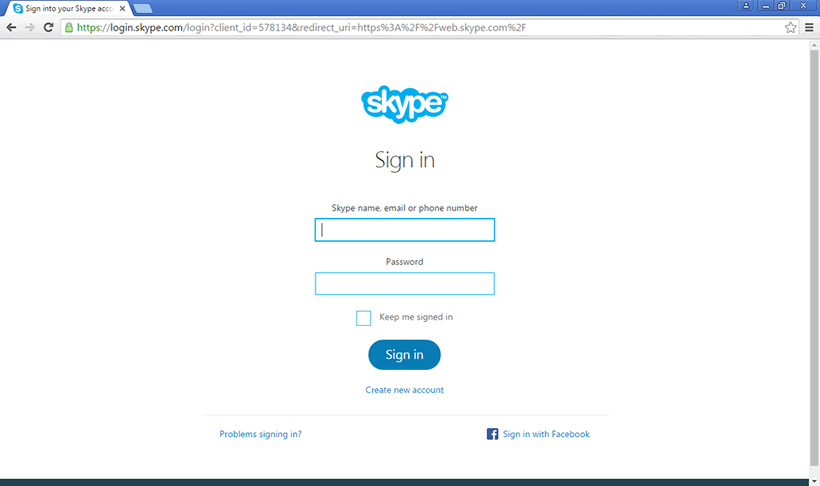 One of the problems with a desktop application is the fact that you have to always carry the computer in which it's installed along.
This is a problem and Skype has understood it. (So you don't need to download the Skype desktop app with this web version)
Again, once your operating system crashes or something bad happens to your machine, after repairs, you' have to get the installer to get the apps installed again. For licensed products, most often, you'll have to call the developers to reset the license. This too has always been a serious pain. In a WordPress-based environment, that problem is easily solvable with a plugin like WP Reset that allows you to bulk install all of the plugins and themes to get a complete restore on your site, but unfortunately desktop doesn't have such an easy fix.
Each time there is an update, you will have to download the changes and install. For people in areas of expensive bandwidth or poor connectivity, this is a factor that affects cost.
But being on the web is easier…
I like it when I'm allowed to use the web option of an application. That means I'm never limited by space. I don't even worry about what happens when my PC breaks down.
Now, I can run my business online with more ease
I can always access my account anywhere in the world using the same username and password. All I need of course is the Internet connection and a web browser.
I personally think the fact that Skype has gone web will open up for many more users. What do you think?
This is what the new Skype web version looks like and note that it's still in beta: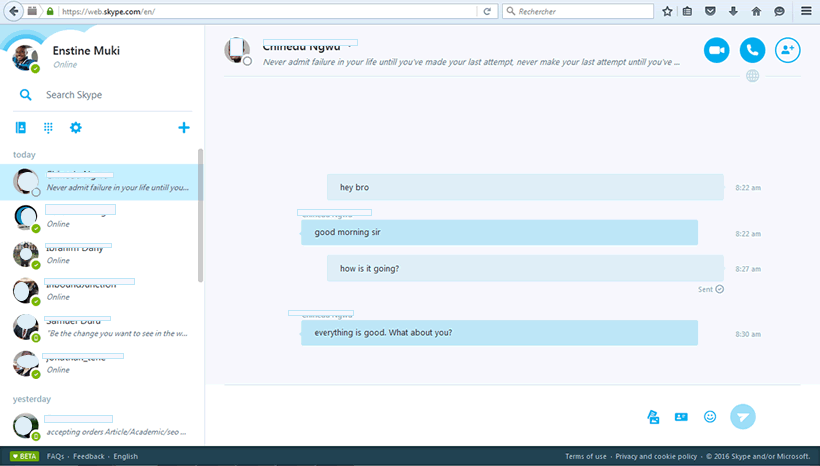 For those of you who are heavy Skype users, you should test this out to find out if everything you have on the desktop version is available.
With the skype web, you can still access your skype contacts, phone number, make emergency calling, call friends and family. You can use your webcam and even make those free calls.
The web skype allows you to reset your password easily with your email account. You can make free video calls, phone calls, video message, etc.
For quick skype online login page, click here
Three ways to use Microsoft Skype messaging app
So there are now three different ways to use Skype;
Desktop – You have to download and install
Mobile – I use it on your smartphone
Web – This is most accessible to all. Nothing to download and install.
I have tested the web version on both Firefox (Version 47.0) and Chrome (Version 51.0) browsers and found compatibility issue. If you find problems on your own browser, please share in the comment box below.
Also let us know what you think about the new Skype Web Version. Does it make any difference? Are you even a Skype user?
Note however that skype is not a replacement for your telephone though you may have enough skype credit. It's best for instant message communication with friends, family and business partners.
Use it for conference calls, voice messages, business meeting, group video calling and different online meetings
Skype for business
This is used with Skype for business server, available  Microsoft Office 365. If you want to know more about this, click here
Skype web version Audio and video settings
The web version of Skype App has facilities to help you setup your multimedia elements. It walks you through the configuration of your microphone, speakers and camera.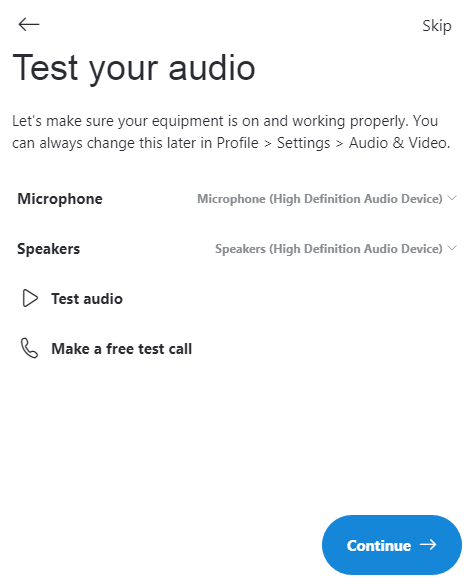 Microsoft Skype Vs Facebook Messenger
These are all wildly used messaging apps. Facebook instant messenger runs within Facebook. You can also install in on your mobile.
For mac and Windows users and any other Os. I use both on my Windows 10 OS and fully enjoy the experience.
Skype web version on Mobile phone
I tried to log into Skype web with my Windows Phone but it didn't just go. It won't go on any Android device either.  It's meant to run on Pc browsers. So chatting on the phone with Skype only works with you installing the mobile app: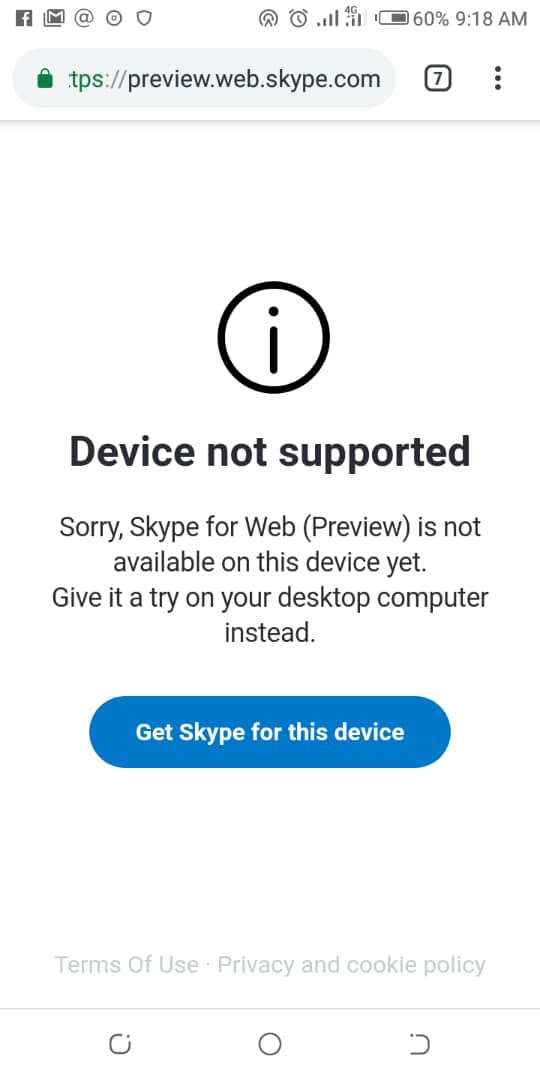 Skype web version does not support Firefox
You can't use the web version of skype on Firefox browser currently. Any other browser apart from Microsoft Edge browser and Chrome browser won't work as well.
Try it and you will be greeted with the "browser not supported" error message: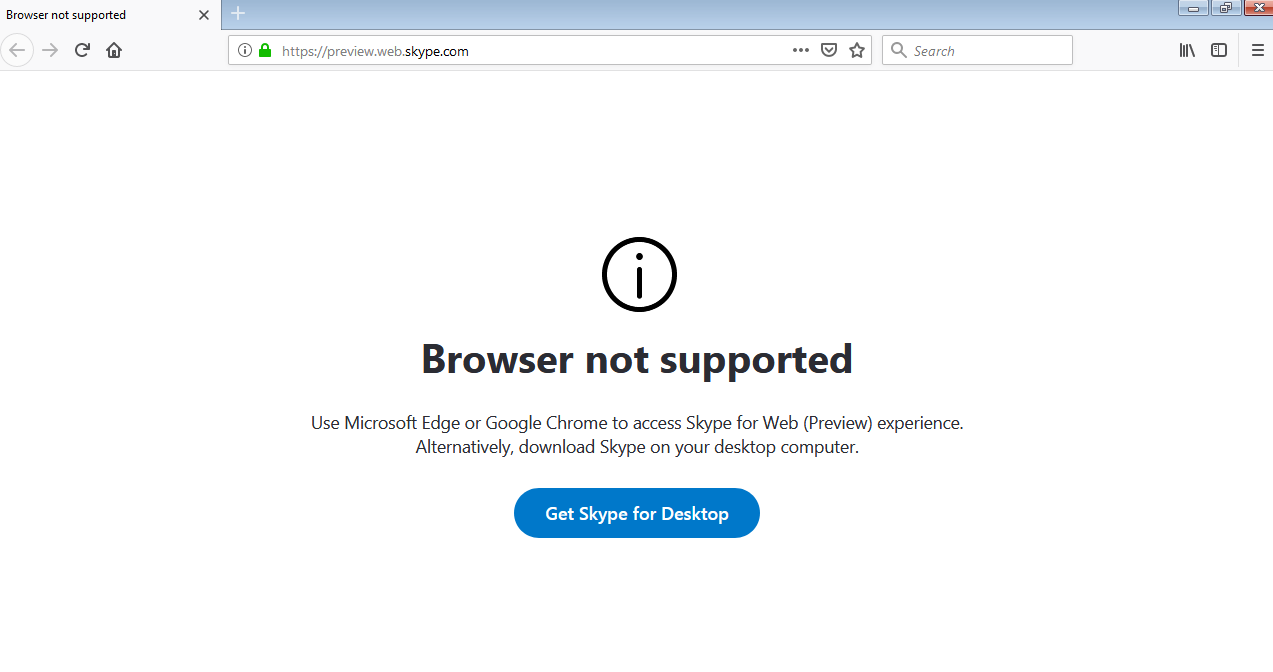 As Skype for web is a preview at this moment, Microsoft may unlock access to other browsers like Mozilla Firefox once the final version is released.
Microsoft may be maintaining this lock due to technical limitations or they just simply want to push some browsers ahead.
Go to skype web login here
Some Common questions people ask about Skype
Let me provide some answers to common questions people often ask about Skype Chat App
Q: How do I retrieve Skype password?
A: Retrieving your Skype password is easy. First, you'll have to have a Microsoft Account at live.com to be able to use Skype.
Go to skype web login page and click "Forgot username".
You'll need an email or phone number that's associated with your Microsoft account. Follow screen instructions and retrieve or create a new password.
Q: How do I access Skype on the Web?
A: Simply go to skype web login by clicking here. You'll need your Microsoft account parameters to continue.
Q: How do I log into Skype?
A: If you want to log into Skype web, you will need to access the web version on your browser or simply click here to locate the login page.
If you still want to continue with the desktop version, go and skype.
Q: How do I access Skype for Business Online?
A: Skype for business is available online here
Q: How do I log into skype web?
A: You simply should open this link in your web browser. Use Google Chrome for best user experience.
Q: Can you video call on Skype Web?
A: Skype for Web and Skype for Outlook.com have free voice and video chats for groups and individuals.
Q: Is Skype online free?
A: Very quickly, YES. Skype for web or skype online is free. All you need is your traditional skype account. Skype does not cost money.
Q: Can we share screen on Web Skype?
A: At the moment, there is no screen sharing available for skype for web. You need to install the App on your PC for it to function