Most sexy? 😉
Yes I mean the most attractive blog post on your blog. That's the article or blog post that has attracted the most traffic from the Internet to your blog (Traffic from referral and search engine sources).
I don't mean which article is the most commented, tweeted or liked. These are not often the most popular or most useful on your blog. I want to show you which article attracts the most traffic to your blog, how to tweak it for more traffic and profit.
In this article on emFastIncome, I shared with you how to use Google Webmaster Tools to identify the keyword that pulls the most traffic to your blog. You may want to check the article out. 
That was more about the keyword and to which page it draws traffic. In today's post, we are looking at the article that's the most popular landing page.
Now, everyone that comes to your blog lands on a certain page – home page, product page, contact page, about us page, product review page, etc
NB: I'm using page and post to mean the same thing here.
For the most part, your home page pulls the most traffic as a single page. However, I don't want to talk about the home page here. There is one other page or post on your blog that has gotten the most traffic since the day your blog went live apart from home.
NB: Check out this post I wrote on both referral and search engine traffic.
There are some questions that are ringing in my mind right this moment:
How old is this page/post that has the most traffic
Has it constantly been the most attractive?
What's on this article that draws the most traffic?
Was it massively promoted on social media?
What percentage of its traffic comes from search engine?
Can this page be tweaked to monetize the traffic?
Is it the page with the highest number of incoming links? if yes, why are  those links?
Etc
As a matter of fact, we will identify three different pages. Note that these three pages may be the same page. Here is what I'm talking about;
Which landing page receives the most traffic from

search engines

.
Which page receives the most traffic from

referral sources

.
Which page combines

both traffic sources

and comes top.
Note that I have not mentioned direct traffic. That's not an error. Most of your direct traffic ends up on the home page.
Most sexy page for search engines
It's easy to find out which page on your blog receives the most traffic from Google, Bing, and other search engines. Here is how to find it;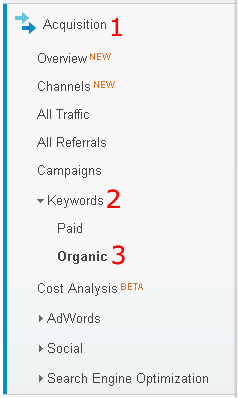 Click the Acquisition tab.
Go to Keywords
Click Organic
Now this takes you to the next page. You may not see Landing Page as I underline in the picture below. In that case, click Other -> Acquisition -> Landing page
On the page that shows the list of landing pages, make sure the list is in order of visits – that is, from the page with the highest number of visits (listed at the top) to the page with the lowest number of visits (listed at the bottom).
The page on the top of the list is that page/post that has received the highest traffic during the chosen period.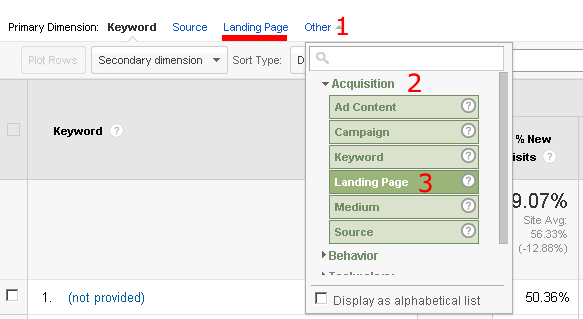 – > Most traffic from referral source
To know which page gets the most referral traffic, simply click All Referrals on the left of your Analytics page. Follow the same steps above to show the list.
– > Most traffic from all sources
To show the page or post that gets the most traffic from both referrer and search engine sources (and direct traffic of course), you have to click All Traffic on the left menu. Follow steps above to view the list.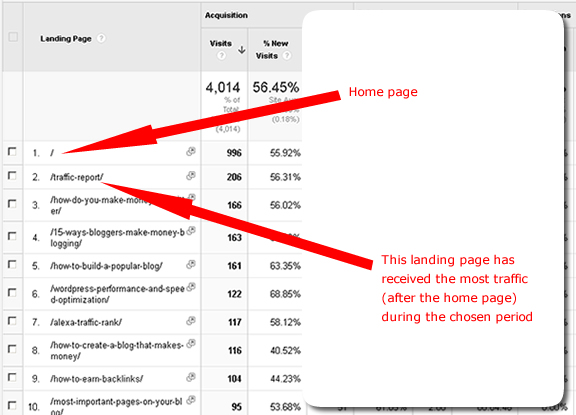 Why is this important?
Identifying the most active and attractive post on your blog is just a step forward. Knowing more about this page and what to do to increase activities on it is another step.
Now, one reason why the most active page is very important is that it helps us know what our readers want. It's one of the most perfect ways to know what your readers are most interested in. With this knowledge, you will be able to tweak the article to get more results. You can also write many more articles in that direction to make your blog more relevant.
What to do with the most attractive blog post
Edit the article and add more contents. You may rephrase or do some more keyword tweaking. Add more images and videos where necessary. Create some few more links from it to other internal and external resources.

Do some more social media promotion – Attract more Twitter tweets, Facebook likes, Google+, etc

Do some more blog commenting and drop it as commentLuv link on other blogs. In other words, create more backlinks to it.
NB: For the most part, the most attractive article on your blog will not be one of the 10 most recent posts being available in the drop down list when you comment on CommentLuv enabled sites. What I suggest you do is go to commentluv premium dashboard and set this article as one of your 5 favorite posts. This will make it available when commenting on other blogs so you can easily select and drop a link to it
All this is to refresh the article for better search engine ranking and more traffic.