This Christmas is awesome with gifts from left to right. iSkysoft has come up so powerfully with a big Santa's gift for you. This All-in-One Video Solution is absolutely what you will need to save Holiday Memories.
Don't let those hot moments with family and friends die off without capturing them for posterity. The iSkysoft iMedia Converter Deluxe will help you convert, Edit, Burn and share those Christmas unforgettable moments on any device.
Save up to 48% on iSkysoft All-in-One Video Solution! See details here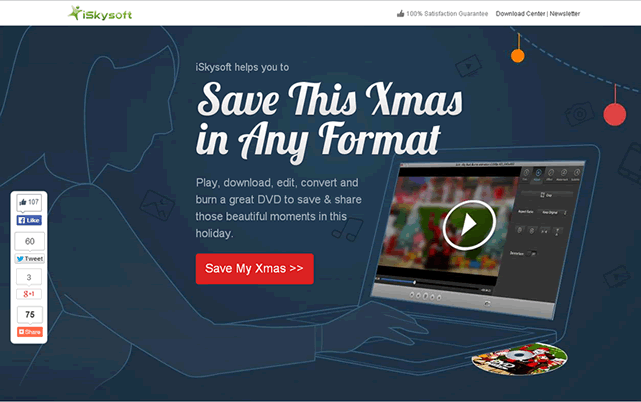 NB: Here is iSkysoft's Free Youtube Video Downloader for Mac and Windows
Big Santa's Gifts from iSkysoft
Images and videos have become active components in our daily lives. Manipulating and sharing these important files has never been easy. That's why iSkysoft is making this gift so it can be easy to edit, burn and move your captured exciting moments from one viewer to another using just any device.
Here are the beautiful Christmas gifts for you;
1 iSkysoft Video Editor
This excellent editor helps you create an amazing movie out of videos and photos. It has every tool you need to enhance your clips with a few clicks. Whatever your level is, this tool is newbie friendly.
2 – iSkysoft DVD Creator

Do you want to transform your digital video collections into DVD disc? This is absolutely what you need. It has quite many DVD templates for you to create unique DVD out of your ordinary video and audio files.
3 – iSkysoft iTube Studio

Sometimes, downloading videos from Youtube or some other video sharing sites becomes a real problem. With this Santa's gift from iSkysoft, you are able to download any video from over 1000 video sharing sites including YouTube, BBC, TED, CBS, NY Times, etc
4 – iSkysoft Video Converter

This converter is able to convert media files from one format to another at super fast speed, and with zero image quality loss – that means the converter is able to preserve the original image and audio quality of your media files. This is absolutely what you need this Christmas so as to bypass any obstacle that may arise from platform incompatibility.
See details of these gifts here
Win a $50 Amazon Gift card
More opportunities coming to you from iSkysoft. All you have to do to enter a chance to win this $50 gift card is share your story about Santa with iSkysoft to get as many likes, shares and comments as possible.  In your shares, use the harshtag #‎FindSantaNearby‬