In this Rank Ranger Review post, we are looking at what has turned out to be the most comprehensive rank tracking, SEO analysis platform and Seo competitor rank tracker.
In today's fierce and competitive SEO industry, most SEO tools lack the necessary ingredients to stand the market challenges. Recently, we had WebMeUp folding up. I did this follow up post where I mentioned about 9 tools I think are alternatives.
Rank Ranger, of course is on the list of these WebMeUp alternatives. However, a closer look at it reveals this is not just an alternative. Beside the flagship global and local rank tracking feature, it is a robust seo analysis platform that puts together more tools to make it a more complete SEO platform.
I'm going to share with you my experience with some of these flagship features one after the other and how this can help boost your SEO.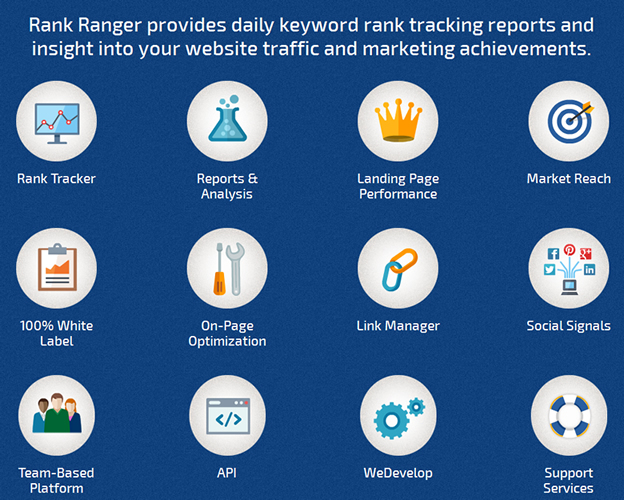 Rank Ranger review – Most recommended SEO Analysis Platform!
It's important I let you know what you get when you signup to this platform. While I can't cover all the features on this post, I'm just going to discuss a few of the benefits that are most expected of a results-driven SEO software platform. Let's begin with the Rank tracker.
1 – Rank Tracker
Rank Ranger's rank tracker and SEO Analysis Platform is an all-round tracking tool that does a great rank checking job. This tool tracks the top 500 results on top search engines and top 100 on all search engines, and makes the report available on screen in the account, on screen in a branded portal that can be shared with customers or co-workers, by e-mail or export from within the account.
Amazingly, there are a variety of different types of tracking with Rank Ranger, including:
Local Rank Tracking that let me track Google maps results by themselves or along with organic results for local search terms.
Competitor Rank Tracking (being an Seo competitor rank tracker) that provided me with critical intelligence about competitors' SEO activities by monitoring competitor rankings for my keywords.
Track from specific Location let me enter custom location options so I could refine results the way I needed to view them.
YouTube Rank Tracking helped me monitor YouTube ranking of videos for my search terms
Rank Ranger has a multilingual platform that supports more than 400 search engines in over 100 countries.
It's not enough to know about the Ranking feature. What's important is how does this feature help?
As a website owner, one of your priorities is top position on SERPs. You will need a tool that indicates to you on different search engines where you are found for specific keywords. Tracking your position helps you in knowing the effectiveness of your SEO investment.
For instance, if you hired an SEO expert to rank your site on page #1 for a specific keyword, the rank tracker will help you evaluate your investment. You should see your domain changing position, moving towards position #1 within specified time frame. If that's not the case, you should be thinking otherwise.
Another benefit is when you know your competitors' ranking strength, you can prepare for a better way to outrank them.
The rank tracking feature provides comprehensive statistics and backlink metrics from MajesticSEO, Ahrefs and Moz for all of the domains in my account – including competitors.
2 – Social Metrics
A bonus that I wasn't expecting to find is domain-based social signals. Rank Ranger provides landing page and domain social metrics from Twitter, Facebook, Google Plus, LinkedIn, Pinterest, StumbleUpon, Reddit and Delicious.
3 – On-Page Optimization
This is another reason why I think you should try this tool. I got completely blown away when I ran a first test of this tool. It helped identify and correct deficiencies to improve page content quality and rankings.

This is one of 3 tools in the set that help optimize content, the other 2 are:
a – On-Page Keyword Density Analysis that can be run on any web page URL before and after content changes. Hint: it can be used to spy on and effectively check a competitor's keyword usage and density.
b – On-Page Readability Test:
Don't over optimize for SEO and forget about human brains. I marveled at how this tool determined whether or not apage can be easily understood. Take a look at this image…

NB: You can try this right now for any page on the Internet. Sign up for a free account and go straight to the On-Page tab.
3 – Market Reach
"Not Provided" keywords revealed! Not only did Rank Ranger's Market Reach report help me determine a site's market reach, but it also provided insight into the"Not-Provided" keywords from Google Analytics. For a better understanding of this report, I have embedded this video.
There is a lot more that Rank Ranger offers to empower professional SEO campaigns. A few other things that I like are:
A Landing Page Performance report that shows how specific landing pages are performing based on the keywords in a campaign that are ranking for that page.
100% White label that enables the branding of some impressive reports and graphs with integrated data. The reports can be displayed in a web portal or automatically emailed to multiple addresses.
Team-based Platform allows for Multiple User Accounts & SEO Project Management.
Integrates with Google Analytics and Google Webmaster Tools.
Excellent Support services and user-friendly platform.
API Integration: Allows for their SEO data to be integrated into applications developed by their customers.
You can discover more about this tool by jumping aboard. Take the free test drive. No obligation. No credit card required.  Click here!
Conclusion!
I did this review to bring to you an seo analysis platform (An Seo competitor rank tracker) I know will help you in this ever-changing SEO world. Share your experience with SEO tracking tools with us in the comment box. Create your free account and some campaigns and let me know your own impressions.