13
9 Must-Have Plugins for your new WordPress site!
You've just setup a new WordPress site and you are wondering which plugins to install.
I know the feelings because I was once a newbie. But having been blogging and using WordPress for over 6 years, I can tell within the blink of an eye what you need for your new blog.
I don't even need to know the reasons or niche you are blogging in. There are plugins you must install as early as you have your WordPress blog setup.
Why?
Let's begin first by looking at some key reasons why you need plugins for WordPress and what plugins are.
Why do you need Plugins for your WordPress site?
WordPress is the most widely used content editor in our days. The reason is it's flexibility and a growing and helpful community.
But WordPress in itself is a skeleton. As business challenges multiply and become complex, there is increasing need for different functions on your website.
WordPress being skeletal lacks the necessary elements to allow its users fully run their business. Plugins simply are extensions or additional scripts to the WordPress core, allowing users to achieve more.
Basically, you need WordPress plugins so as to extend its functionality. You want your WordPress website to do more? You need specific plugins.
The more different things you want on your website, the more you stand for an additional plugin. If you want to run a WordPress based membership site, I encourage you take a look at this WordPress Membership Plugins
Plugins maybe dangerous
For some reasons, plugins are necessary. But for the most part, they may be dangerous. Plugins are the reasons some folks have had their online businesses completely ruined.
Here are three reasons having more plugins added to your blog may be dangerous:
1 – Exposure to hackers
Some plugins can expose your website to hackers by way of their poor coding. Hackers are people with unauthorized access to your blog with the sole purpose to break it. Once a plugin is poorly coded and secured, hackers may exploit the weakness and introduce a back-door or completely and instantly stop your site from running.
2 – Slowing down your load time
Everyone has the right to code a plugin. Some plugin developers have little or no coding experience, But they dare to do some work and release to the market.
If you are not paying close attention to details, you may install plugins that do a lot of database request,  Javascript and CSS calls during load time, thereby negatively affecting your load speed.
3 – Compatibility issues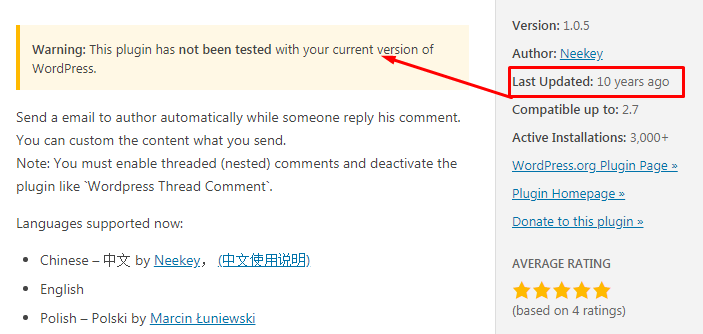 One of the biggest problems with plugins is compatibility. As WordPress team constantly add functions and depreciate some from the core script, some plugins become incompatible and obsolete.
Plugin developers are called to constantly upgrade their scripts to meet with the core updates. But this isn't always the case.
If you have a plugin that conflicts with the core WordPress script or with other plugins, chances of breaking your site are high.
Some tips not to install the wrong plugins
Make sure you only install plugins that are required
Do a lot of research to ascertain plugin's compatibility and security before installing
Make sure plugin has a good number of positive reviews
Always test on a test site first
Avoid plugins developed by a one-man team. If he's not there, you will run into problems
If a plugin is not regularly updated, remove it
If you cannot easily communicate with plugin developer, be weary.
9 Must-have plugins with your new WordPress Site.
1 – WPForms
You can't have a successful site without giving your readers the facility to interact with you. Forms are one of the things you should pay attention to on your new WordPress blogs.
WPforms has different features to help you communicate and interact with your readers:
Contact forms
Paypal/Stripe sales
Guest post submission forms
Surveys and Polls
High performance forms with smart Conditional Logic
Easy Intergration with Email Marketing tools
Etc
There are tons of contact form plugins out there. But most of these are just things you should avoid. They are limited and lack the finesse and features to allow scalability.
Check Out WPForms here!
2 – Optinmonster for list building
One of the errors I committed when I started blogging in August of 2012 was the simple fact that I didn't start building a list.
As soon as you setup your new blog, give your blog the capacity to capture lead. Your email list is your unfailing source of traffic and income.
But it's becoming very challenging today because of the distractions and information overload. Readers pay little attention to signup forms on sidebars and the usual locations.
That's why you need an intelligent lead capture plugin with features that allow you to effortlessly grow your list.
OptinMonster is a drag-and-drop builder with features you won't find elsewhere for its price:
Mobile-Friendly Popups
Lightbox Popup
Floating Bar
Slide-in Scroll Box
Fullscreen Welcome Mat
Countdown Timer
Inline Forms
Content Locker
Exit-Intent® Technology
Page-Level Targeting
Geo-Location Targeting
AdBlock Detection
Etc
OptinMonster seamlessly integrates almost all the widely used email marketing platforms, including mailerLite, AWeber, ConstantContact, GetREsponse, MailChimp, etc
Check out OptinMonster here
3 – MonsterInsights
One of the best ways to grow your business quick is to know your audience:
Where they come from
What they do on your site
How much time they spend on your pages
Etc
And the best way to begin is setup MonsterInsights on your WordPress blog. This brings your full ananytics right inside your Dashboard. This is the best and most popular Google Analytics plugin for WordPress giving you quick access to:
Real-time Stats
Ecommerce Tracking
Forms Tracking
Referral Tracking
Popular post tracking
File Download Tracking
Ads Tracking
Check out MonsterInsights here
4 – Backup and security plugins
It's needless to emphasize the crucial rule of security when it comes to online business. Though your web hosting company should play a big part in securing your WordPress blog, that shouldn't keep you away from doing something.
Beside the server core security measures, you should handle some basic security with some recommended plugins. I have been using iTheme security from years back. This is because of the strength of this plugin in security my block. It allows me :
Change my database table name extension
rename key folders on my WordPress site
Change the default admin login url
Watch against repeated failed login attempts
Secure against local and network brute force attack
Do daily backups of files and databases
Etc.
There are some other security plugins out there to start with. But I have used iTheme from the very beginning of my WordPress usage and can recommend it for any new WordPress blog.
5 – Load speed accelerator
when it comes to the load speed of your blog, there is nothing else as crucial as making sure your speed is lightening fast.
There are 4 main things that affect the load speed of your WordPress blog:
Your WordPress hosting (which is why I recommend WPX hosting, BlueHost or SiteGround).
Your WordPress theme (which is why I recommend Thrive themes Products).
The plugins you have on your blog.
The images you have built in your theme or on your articles.
While your web hosting has to do its part to optimize its services for speed, one of the things you should do is install a recommended plugin to handle the rest of the speed optimization tasks.
I use W3 Total Cache, which is one of the top speed plugins you will find out there. It handles your CSS and Javascript files, images, CDN, etc. Again, this is free to setup.
6 – SEO Plugin
Search engine traffic should be one of your primary focus with your new WordPress site. In that case, you are going to be in need of an SEO plugin to help your content optimization.
A widely use SEO plugin (which I have functioned with for years) is Yoast. You can begin with the free version which is largely enough for many beginners.
However, you may want to try out SEOPressor or  Webtexttools which are all plugins I have used on this blog or the popular All-in-one-SEO-Pack
7 – Smart Widget
If I'm starting any new WordPress blog, I'm not moving a step with this plugin. This is what you need to keep your sidebars decluttered, allowing you the freedom to place content-specific sidebar items.
No more feeling your sidebars with banners and unnecessary menus because of lack of an intelligent plugin to help you filter relevant elements out. Check out plugin details here
8 – Affiliate links Cloaking
If you have to monetize your blog with Affiliate Marketing, you should start protecting your affiliate links from day one.
Many WordPress content creators earn a decent income from their blogs with Affiliate Marketing. At the same time, you must have a plugin that helps protect your commission from theft.
If you fail to start from the onset, it may be a difficult task to edit hundreds of affiliate links on your blog after some months or years of blogging. A good option to begin with is Thirsty Affiliate
9 – Do you need any specific plugin?
I don't know why you are setting up a WordPress site. You may need some specific plugins to help in your business.
If you are creating a membership site for instance, you need a membership plugin like Memberpress. If you are to setup an eShop, you may need Woocommerce.
If you have something specific you want to do but don't know where to start, feel free to contact me and let's find the way forward.
Avoid untested, unnecessary free plugins. I mentioned above how these could be a danger to your blog. Go in just for what you need. Don't be moved by list of features. Be moved by uses.