Today I want us to discuss some lucrative online business ideas as we know the Internet has opened up new profitable businesses for everyone connected round the world.
The truth is must of us want to be able to create a successful online business without breaking the bank. The good news is that tech development has made  it quite easy to start today and make a handsome profit in the next couple of weeks. And all you need is a miserable sum under $100.
Well, you can scale up and do something more with 10x that investment. I just want to share with you two highly lucrative business ideas that can give you a real business in the next few weeks.
You won't need any brick-and-mortar business tools. You won't even have need for a website. No! It's not affiliate marketing. It's not article writing. It's not blogging.
Let's see some basic requirements…
[page_section template='1′ position='default' padding_bottom='on' padding_top='on']
Lucrative online business ideas – What you need
[/page_section]
If you already have an Internet connection and a computer, you won't have to spend over $100. All you need is the software license.
Basically, you need just 4 things to get going. These are :
Internet connection
A computer
Software licence (less than $100)
The marketplace
The good news is we already have a huge demand for these businesses. And you won't have to spend a dime on advertising.
There is a hungry market just waiting for you to show up and you won't be paying any fee upfront. You will need a few days to learn to use the software. But there is nothing to worry about. These are drag and drop applications with hundreds of templates just to customize.
[pullquote align="normal"]Again, this is going to be very simple and you are going to be loving it. [/pullquote]
Please help tweet this…
[clickToTweet tweet="2 Lucrative online businesses you can start today with $100 investment or less!" quote="2 Lucrative online businesses you can start today with $100 investment or less!" theme="style1″]
As you know there are 2 business models I want to recommend here. Now, I will examine each idea, the market and the software you need. Let's get going;
1 – Online Business Ideas: Explainer Videos & Whiteboard Animations
Do you know how to make money with whiteboard animations?
There is an increasing demand for Explainer  and Whiteboard Videos. This is explained by the fact that videos are crucial in today's world of content marketing. Video converts better and is estimated to soon be 90% of all Internet traffic.
The term "whiteboard animation" comes from the process of someone drawing on a whiteboard and recording it. An explainer video is a very short animated video, usually done in a cartoon style. Both Explainer and Whiteboard videos usually go between 1 to 3 minutes and may or may not have a narrator.
Now, there is a huge market for this and you won't need any budget for advertising.
Where therefore is the market?
Yes. Fiverr is a huge market for these simple and lucrative online business ideas. Let's take a look at some offers. Go to this page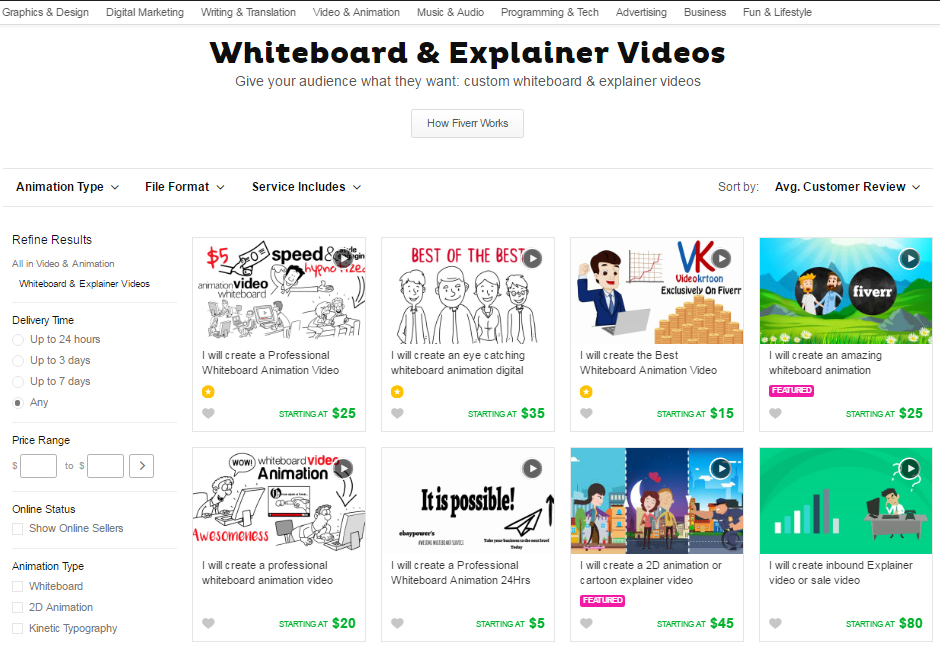 A closer look at the details of these offers, you will see an exciting number of pending orders and positive reviews. That makes it safe to believe there is a huge demand for this service online.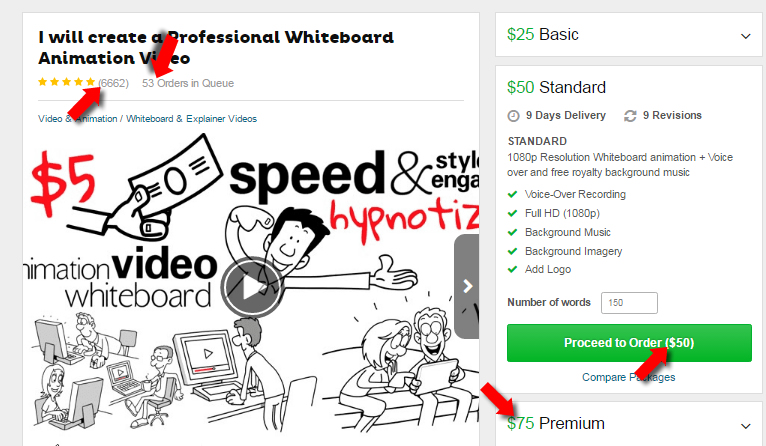 Now, what we see on this offer details is something quite attractive. 53 pending orders for $50 per order. That's a crazy $2 650. And 6,662 reviews gives an idea how popular this gig is.
But here is the problem…
You suck at video right? Your skills are just as good as nothing. That's because video is hard to make. So you think it's not for you.
Well, there is some piece of VERY exciting news. Anyone with basic computer skills can do this. You will need this video content creation software that's as cheap as less than $100.
It comes with 200+ ready to use animated scenes, 800+ whiteboard sketch elements and 100 motion video backgrounds, including professional mp3 sound tracks. All you will have to do is open up a template, change the text, import your own images.
No extra skills required at all.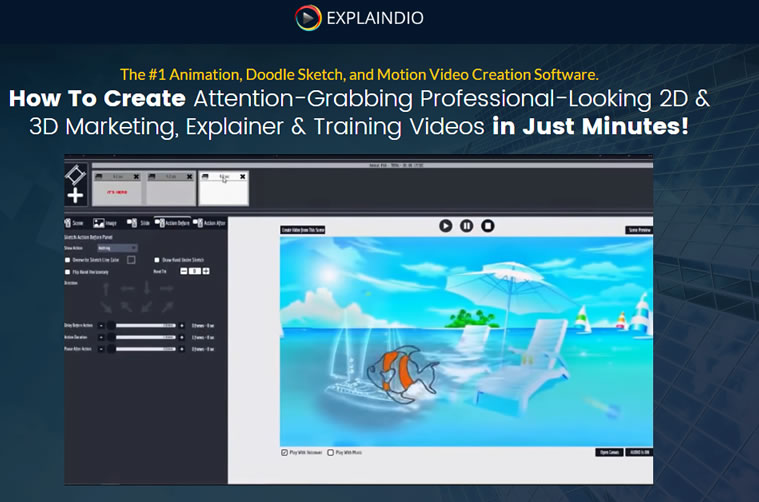 [thrive_link color='blue' link='https://enstinemuki.com/explaindio' target='_blank' size='medium' align='aligncenter']Check out this Recommended Software[/thrive_link]
2 – Online Business Ideas: Template-based Graphics & Design.
This is another huge industry. There is no virtual or paper based communication without some graphical representation. But creating stunning graphics is complex. You may need to have advanced Photoshop skills to be able to impress your first client.
However, template-based graphics software makes this activity very accessible. What you do is import a template, then change text and some images. You absolutely do not need Photoshop or any complex image processing software.
The kind of designs you will  be making are social media images, infographic, banners, business cards, flyers, book covers, etc. These are simple and highly assisted by drag and drop template based software.
But is there a market for this?
There is a huge demand for this service online. Again, Fiverr is our number one marketplace.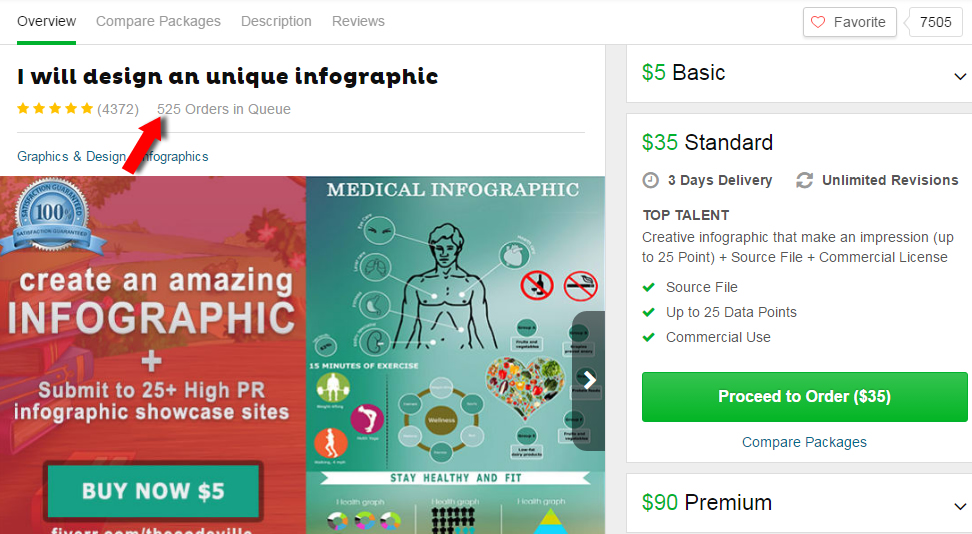 Here is a guy with 525 pending orders for infographic. We know the power this (infographic) has in content marketing. That explains the huge demand for this and other gigs.
Take a look at some of the offers in the Graphic and Design category. You will understand why I think this is one of the lucrative online business ideas.
But you are naught when it comes to Photoshop right? And you are almost kicking this idea away. You can't just stand the confusion on imaging software.
Wait!
You need to change your mind right now! The reason is that you have a simple-to-use, yet complete solution to drag and drop elements and export professional designs.
This software is called Youzign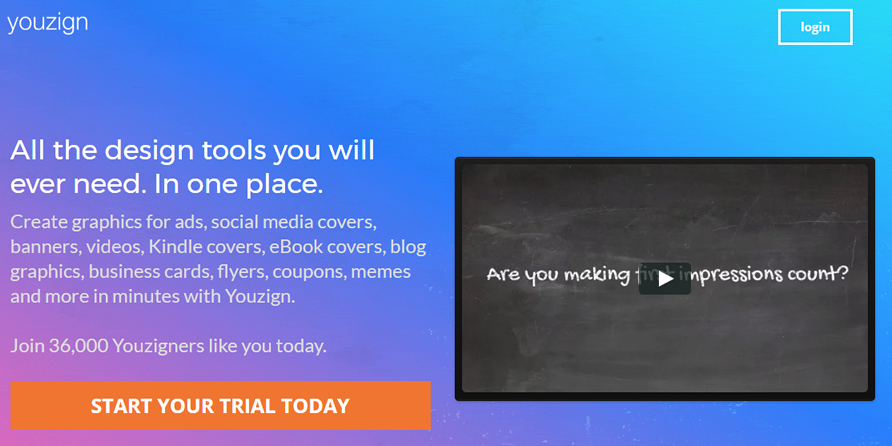 Yousign is the perfect web based design platform you will need to start a design business on fiverr and similar sites. You are never going to need any design skills.
You will easily drag-and-drop any text or image, upload your own or access the library of 1000+ high quality templates and over 1.3 million high-quality free images  from right inside the editor. With the simple-to-use Background Removal tool, it becomes incredibly easy to remove background of any photo.
[thrive_link color='orange' link='https://enstinemuki.com/youzign' target='_blank' size='medium' align='aligncenter']Check out this recommended software here![/thrive_link]
[page_section template='1′ position='default' padding_bottom='on' padding_top='on']
Attracting sales on Fiverr
[/page_section]
Now we just discussed two profitable online business ideas. It's not enough to purchase and learn these applications.
Once your gig is published, you have to be able to attract sales. Here are four ways to be found on Fiverr:
Get recommended by a happy customer
Get found on the home page or category page
Get found by the on-site search tool
Get found by Google or other external search engine
Generally, the more orders you get, the more clicks your gigs get, the more positive reviews you get, the better your ranking.
New gigs (especially from new members) often face some hard times getting noticed. While the Fiverr site itself is a huge and busy place, you may have to do some bit of external promotion to give your new gig a lift.
Sometimes, some users recommend using some unethical methods to quickly boost your ranking. These include:
Buying fake traffic from fiverr itself
Buy your own gig using dummy accounts
Paying others to buy your gigs
Etc
Note that these are unethical so I will not recommend them.
However, once you are able to offer any of these services, you have a profitable online business. It's a good idea to study these two business proposals and settle on one. Don't think you will be able to do both. Focus on one and become master in it.