One of the ways to make money as a blogger is to get brands to pay to post on your blog. But how much you earn with sponsored posts depends on a couple of factors, including the authority of your website.
The main problem in making money blogging with sponsored post has always been where to find those advertisers who are set to sponsor content on different properties.
Before we get into discussing the three main ways to land sponsored post business on your blog, I want us to briefly look at some of the problems that come with it.
Problems of sponsored posts on your blog

Like any other way to make money blogging, generating income with Sponsored posts is not without itches. Let's examine some of these roadblocks and see if there are ways to avoid them.
#1. How much to charge
Everyone making money with sponsored posts or selling some space on his blog has at one point faced this problem. It's a brain teaser for newbies who for the most part end up over-charging and scaring advertisers away or under-charging and getting paid peanuts.
There are however a few factors to guide you on deciding how much to ask from your advertisers:
-> Category of your readers: If your readers are company executives and top industry leaders, you definitely should raise your standards because these are folks with a higher spending capacity.
If readers of these categories spend time on your blog, you probably should be giving out something of considerable value.
-> Your traffic volume: How many monthly readers you get is a big price determining factor. The more your traffic, the more you are able to charge per sponsored post. Other things being equal, if you get 100k and more monthly readers, you should be charging a minimum of $1000 per post.
-> Your domain strength: Advertisers sponsor content on other blogs for several reasons. Those looking for search engine benefits will be focusing on your Domain Authority or Domain Rating (DR) metrics.
While Domain Rating (Ahrefs' metric) shows the strength of a website's backlink profile, Domain Authority (Moz's metric) predicts how well a website will rank on Search Engine Result Pages (SERPs). I have seen cases of DAs being artificially inflated. So you may start focusing on DR.
Now, these are many other factors will help you find the most suitable price for sponsored articles on your blog.
#2. Disclosures
While we are all required by The Federal Trade Commission (FTC) to disclose sponsored blog posts, most advertisers won't allow it.
You find yourself battling between a client on one hand offering a handsome pay but does not want you to mention somewhere that the post was sponsored, and the FTC regulations standing on the other side with a bunch of sanctions should you not disclose the sponsorship.
They want to ensure that "products and services are described truthfully online" Accepting an incentive may influence your opinion.
So what do you do then?
Well, disclosing or not is fully your decision based on what you are willing to face.
#3. SEO
This is one of the biggest challenges of sponsored post for bloggers. Many advertisers who want the SEO backlink benefits insist on two things basically:
Anchor text should have a target keyword
The link most be a dofollow link
But Google says a big NO to these points. Keyword-rich anchors and dofollow links on paid posts are considered an attempt to manipulate site's ranking in Google search results.
In a recent update, the search giant came up with a unique link property for all external links on sponsored content.

From the 1st of March 2020, you are required to add the rel="sponsored" attribute (or maintain the traditional rel="nofollow") to links on your sponsored articles. Without this, you will be violating Google Webmaster Guidelines
So what's the way forward ?
The decision again comes back to you. Turn the client away and lose the money or accept the pay and bear the risk of being de-indexed by google.
#4. Where to get clients
This fourth problem is what I'm trying to resolve in this post. If you want to start accepting sponsored posts on your blog, here are some proposals.
3 guaranteed ways to land sponsored articles on your blog
Now we've dealt with some of the issues of Sponsored Posts on your blog. If you'v however decided to move on and start/continue making money with sponsored contents, here are some of the ways to speed the process of landing offers:
A) Blogging Money Update $29.99  down to $19.99/m

with discount code below
This is the quickest and most assuring way to get sponsored post opportunities sent to your email every week. While scouting the net and platforms maybe time consuming and uncertain, you may want to look at Jasmine Watts' Blogging Money Update services.
Jasmine is a successful blogger who is connected to different platforms and what her service does is get these offers in different topics and send to her subscribers.
With just $29.99/month $19.99/month, you get 3 emails per week with 10-15 PAID blogging opportunities in each email. Payouts range from $65 to $5000
The Blogging Money Update is an exclusive newsletter for bloggers who are short on time but want to start making more money with their blogs.
You get sent the newsletter 3 times a week, and it's filled with PAID blogging opportunities for a variety of blog niches including lifestyle, fitness, health, beauty, travel, parenting, hobbies, tech, SEO, and more
Now you can make more money with your blog in just a few minutes every week!
Blogging Income Update $10 special discount
I spoke with Jamine and she accepted to do you a BIG favor. If you signup before 1st of March 2020, your monthly fee will drop from $22.99 to $19.99 and that will be for as long as you remain active. Use discount code: enstinemuki
[thrive_link color='red' link='https://enstinemuki.com/bmu' target='_blank' size='medium' align='aligncenter']Click here to sign up![/thrive_link]
Go to the Pricing Options and select $29.9/m Monthly Subscription: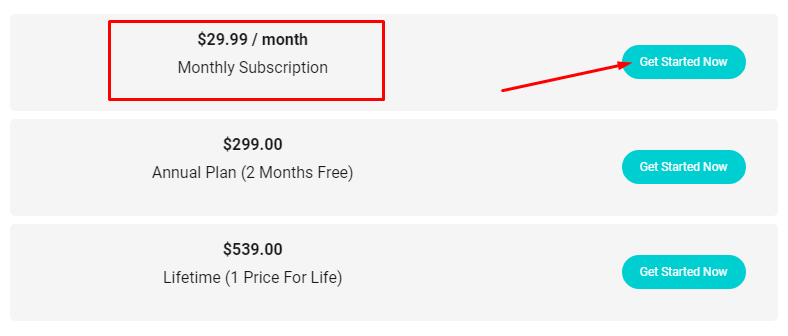 On the next page, click on Have a coupon? to pop-open the coupon code form field. Enter the code: enstinemuki and validate to bring down the price.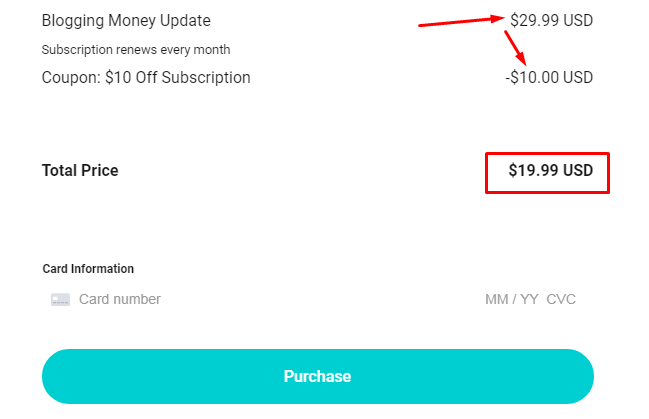 3 main reasons to signup to Blogging  Income Update
You will not run out of sponsored post opportunities as you pay someone to do the searching job for you.
Offers range between $65 and $5000 and you are send between 30 and 45 offers a month. That means you will make enough money to pay your bills.
If you signup before March 1, 2020, you will forever pay $19.99 per month, down from $29.99
[thrive_link color='blue' link='https://enstinemuki.com/bmu' target='_blank' size='big' align='aligncenter']Go here and sign up[/thrive_link]
B) Try sponsored content platforms
There are hundreds of sponsored content marketplaces to signup and find opportunities for your blog. Seeding Me Up has been highly mentioned so you may want to try that out.
Alternatively, the Blogging Money Update I just mentioned above comes with a long list of  up to 126 Blogging Networks who pay you to blog.
You may want to try out bloggersconnected.com and blogdash.com and a couple of others but if you ask me, Blogging Money Update has you well covered.
C) Open up a page on your blog
One of the ways to raise your opportunity to seal more sponsored post deals is to let your readers know your blog is opened for it.
You can simply do this by adding and "Advertise here" page where you give out details on all your advertisement options, including content sponsorship.
Conclusion
Do you accept sponsored content as a way of monetizing your blog? Do you get enough opportunities? Let me know your thoughts in the comment box.