Want a mobile phone spy tool to keep an eye on your kids, employee or someone else that should be under control? I think I have got you completely covered in this StealthGenie Review post.
As a parent, there is need to maintain some minimum control on your kids while they are away from home with friends or relatives. When you are away, you still need to make sure your kids back at home don't become rats when the cat is out. In any case, you need to have an eye on them while they are not around you.
You want to make sure they don't go bad places by tracking their exact location at any given time. You also may want to know what they are doing on their smartphones – the calls they make, the sound tracks, the videos, the pictures, the SMSs, the WhatsApp, Fascebook, Viber, Skype, BBM, etc.
You don't have to monitor your kids the old fashioned way. What you need is a turnkey parental control mobile phone-based tool.
What some parents would do is follow their kids discreetly around, ask their friends questions or grab their cell phone and go through it as they (the parents) know that their phone is the most likely place to find all the information they need.

With an excellent cell phone spy tool, from anywhere in the world, you could be monitoring their phones remotely and invisibly – > they won't even know you are doing it.
I found an excellent parental control Android, iPhone and Blackberry software that runs on your child's cell phone, collecting every activity on the phone and storing them where you can access from anywhere in the world.
I'm talking about StealthGenie. I think it's one of the world's most powerful mobile phone spy software that tracks and monitors all the activities of any iPhone, Blackberry or Android phone.
It uploads the monitored phone's usage information and its exact location into your membership account. That means at the end of the day, you are able to know the various places your child went to during the day.
Has it come to a point where you don't want your child to visit site X? How would you know if he or she is there at this very moment?
Keep reading!
StealthGenie Mobile Phone Spy Tool is also an employee monitoring software!
Now, are you the CEO of your business? You have bought business phones for your employees and want to be able to make sure they are used for your business growth.
Your employee could be cheating and sharing your client lists with competitors. There is away to monitor their phones without them ever knowing. All you need is this employee monitoring software.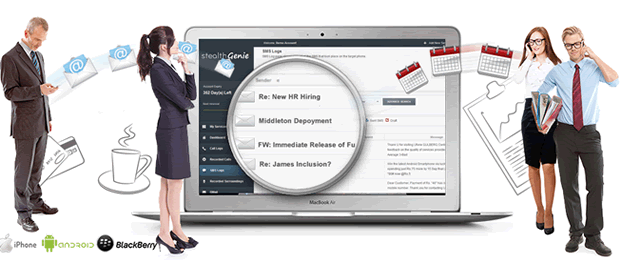 StealthGenie is a Cell Phone Tracker
With StealthGenie, you can also track any Cell Phone's GPS location at any time and from anywhere!
If you are sick of listening to your child or employee tricking you about their location, you definitely are in the need of a turn-key GPS tracking solution. Here are 4 ways this mobile phone tracking application will help you;
Know exactly where they are at the current time.
Know where they were some days or hours past.
Trace their travel route.
Mark Restricted and Safe Areas.
What if your driver drives to a restricted area or your child visits a site that's not safe? You'll be sent an SMS or email alert instantly.
Imagine you left home and ordered your kids not to move. How would you know if any of them disobeys and leaves home? StealthGenie will simply send you an SMS to let you know "Jonh has left home"
StealthGenie features!
This mobile phone spy software has lots of powerful features for you to monitor any phone remotely and invisibly. As a matter of fact, you have complete access and control of the phone you want to monitor. Here are some of the features of this app;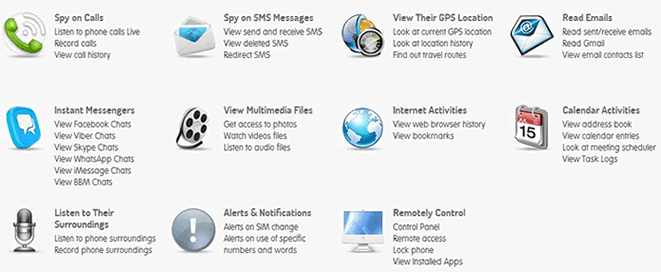 Spy on all calls (record calls, view call history, intercept live calls)
Spy on all SMS messages
Spy instant messages (Facebook chats, viber chats, Whatsapp chats, skype chats, BBM chats,etc)
View all multimedia files
View web browser history and bookmarks
Calender activities (schedules, tasks, address book, etc)
Track GPS location
Track emails
Record or listen live to phone's surroundings
StealthGenie Mobile phone spy account overview
Let's look at some of the features more closely and how the members zone looks like starting with the darshboard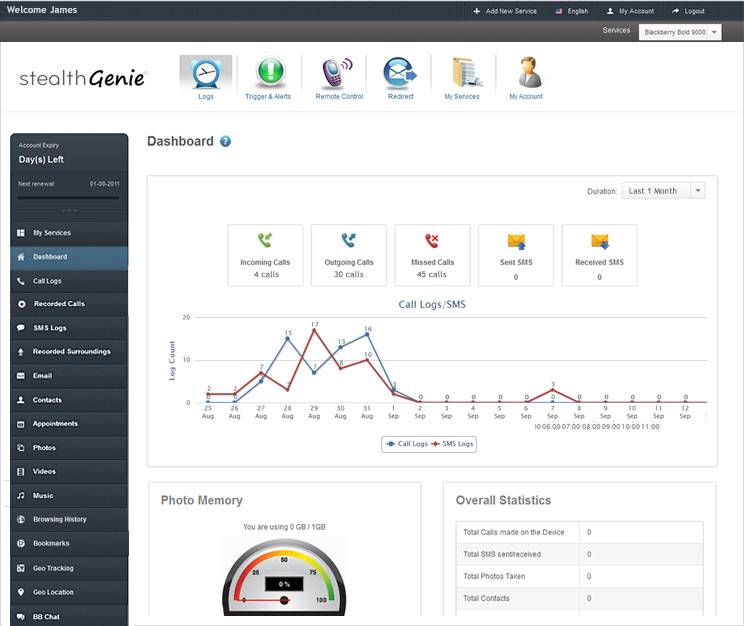 The darshboard has shortcuts to other features and a summary of activities recorded.
The SMS log Page
This page shows you interesting SMS details including sender, receiver number and time of message. No SMS communication on the monitored phone goes unrecorded. Here is a snapshot of the SMS panel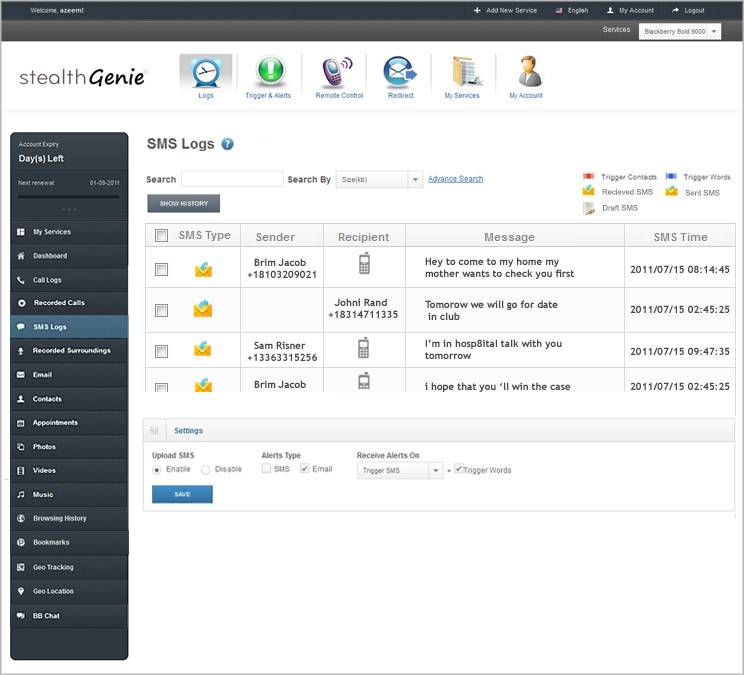 Recorded calls
It's easy to access all calls that were made to or by the monitored phone. Details include the phone duration with a possibility to download or listen to calls online. An interesting mobile phone spy app isn't it ? Here is an image that shows what it looks like.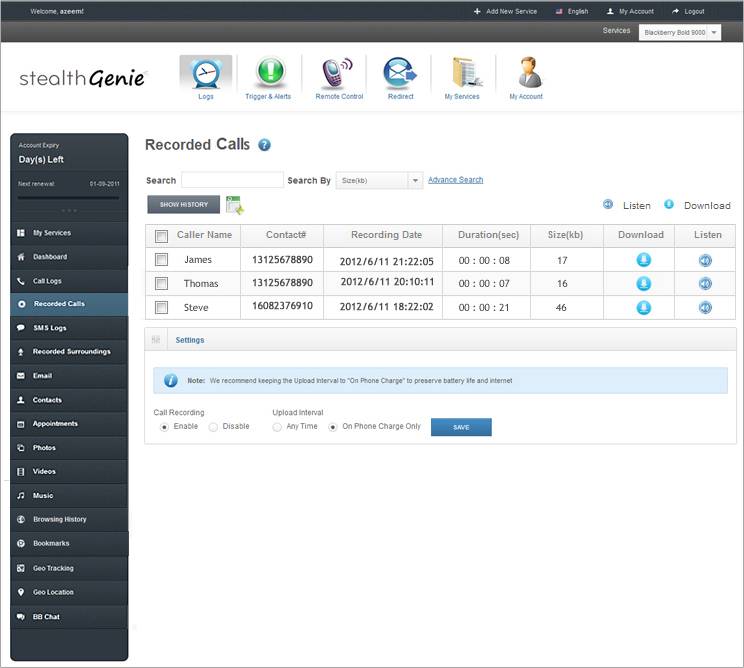 BlackBerry Chat
If the phone monitored is BlackBerry, you won't have any issues access the BBM chat messages. You can view the sender, recipient, messages and time of message.
Note that you can also view Facebook messages, iMessage, Skype, Whatsapp, Viber chats and pin messages.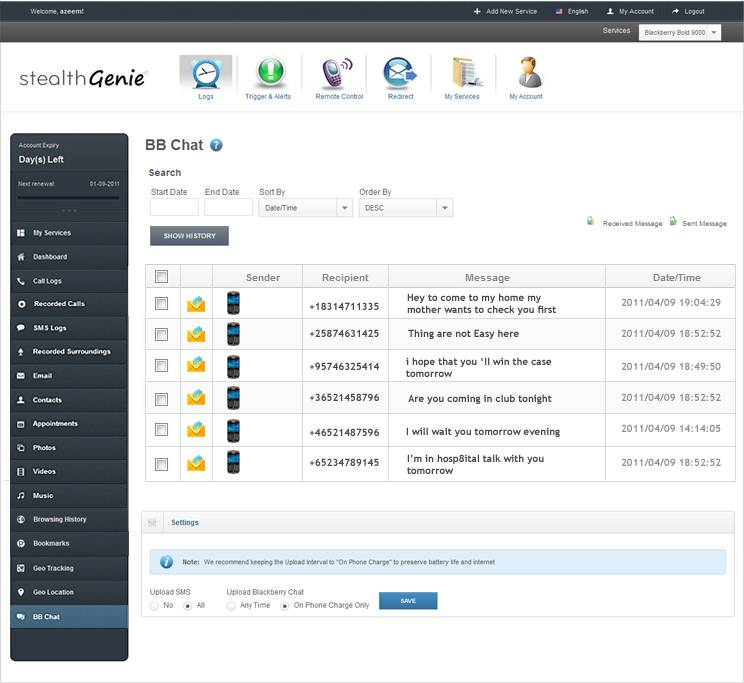 Multimedia – Photos, Music and Videos
Every multimedia file present on the monitored phone can be viewed at anytime. You need to know the kind of pictures, videos and music files your child has on his/her.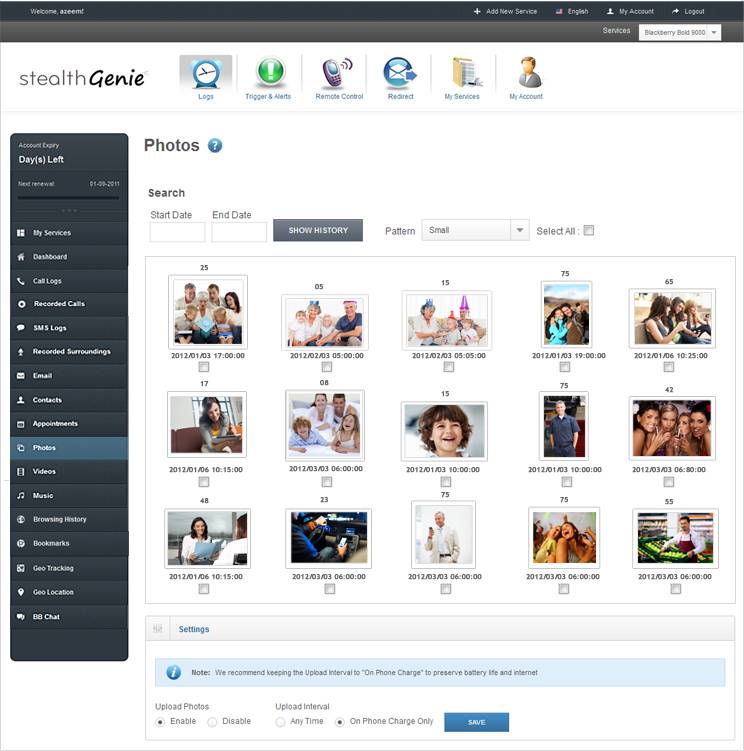 Note that these are just a few of the many features this mobile phone spy tool has. I absolutely cover a every aspect of this tracking tool in a single blog post.
Is your phone compatible?
I know you are wondering if this tool can work on your phone or your child's. As a matter of fact, it works on on all iPhone, Blackberry and Android phones as well as any Tablet running on Android and ALL versions of the iPad.
What else can you do with this Mobile phone spy tool?
This tool is robust and a complete spy machine. Here are many more things you can do with it;
Define Suspicious Words : If any of these words or phrases is used in an incoming or outgoing email or SMS, you will receive an instant notification.
Define Suspicious Phone Numbers: If the monitored phone sends or receives an SMS or makes or receives a call from the suspicious number, an instant alert notification will be sent to you.
Lock the monitored Phone: You may have critical data on the monitored phone that would be a disaster if seen by the wrong eyes. What happens if the phone gets missing or picked by the wrong hands? This tool lets you remotely send a command to lock the target phone, meaning that no matter where the phone is, no one will be able to access.
Wipe all data on the phone: Apart from locking a stolen monitored phone, you can also completely remove all data on it.
SIM Change Notifications: Sometimes, kids will change their SIM card when they want to make suspicious phone calls. Employees too may want to play tricks on their employers by trying to insert their personal SIM cards in to their work phones. You can set this mobile phone spy tool to send you an alert each time a SIM is changed on the monitored phone.
Geo Fencing feature: The Geo-fencing feature lets you find out whenever your children or employees enter or leave a location you have marked as restricted.
Buying this mobile phone spy tool!
There are different pricing options depending on your phone technology – iPhone, BlackBerry and Android and for each technology, there are two packages – Basic and Platinum. The billing circles are 3 months, 6 months and 12 months.
While buying, you have to pay attention to some features that may not be available on tablets that do not have calling facilities or cellular network connectivity.