Isn't it interesting how bloggers are beginning to give out raw cash to their readers? I'm so thrilled and won't keep back any effort to tell you about any of my friends who is giving out money.
Vineet Saxena is one of my trusted readers and when I read his email about him running a $200 commenting contest this month, I said I was going to let my readers know about this.
The simple reason is I want you to be able to make some extra money doing what you do often – blog commenting. Besides, Vineet's contest deserve some more exposure so I encourage you join me let's help him spread the word. That's what blogging is all about isn't it?

Here is a little trick to help you grow
I just want to tell you this before getting into some details of this contest. Blogging is about sharing and promoting each other.  The more you try to promote others, the more you get promoted and build valuable relationships. If you didn't know Vineet before, I strongly believe if you give him a push in his contest, you both are going to create a warm relationship 😉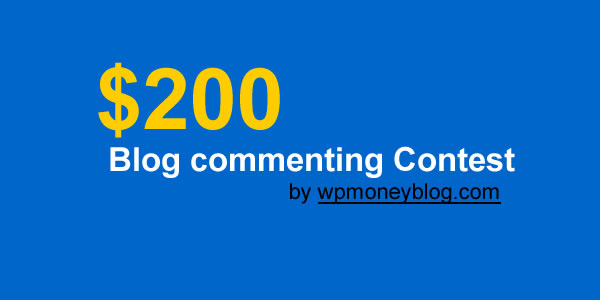 Comment and stand a chance to win $200
Ok so here is the contest. You can find details here but let me quickly bring out some points.
The contest starts on September 18th and ends on September 28th 2014. That's the first thing I loved with this contest. I hate waiting for long. This is going to be quick so you have to get your commenting fingers ready 😉
Secondly, it's opened to readers from all over the world. I don't know about your country but truth is you are allowed to take part.
If you are participating from India, you will be paid via NEFT straight into your  bank account and the exchange rate will be $1=Rs.50. For other countries, you will be paid via Paypal. If Paypal does not cover your country, You can still sort out a way but that may be difficult.
3 Winners will be chosen
There are going to be 3 winners with the following details:
First prize, contestant with highest number of comments will be $125 (Rs. 6,250)
Second prize, commentator with second highest number of comments will be $50 (Rs. 2,500)
Third prize, third highest number of comments will be $25 (Rs. 1,250).
But here is a twist. If your comment count is more than the second place and the third places put together, you get the complete package of $200 (Rs. 10,000).
NB: This is not a random selection so you can actually determine to make it.
What's nice about the contest is the fact that Vineet writes great content and his blog is quite easy to read.  Everyone can take part so go check out these details on his blog. Make sure you read the  very simple rules.
Good luck to you and I hope you grab one of the prizes.
Let me know what you think about it. Are you going to take part? What will you do with the money if you win?