BlogEngage is a paid community with about 3000 members. What that means is quality and authentic traffic. Traffic from paid communities evidently converts better simply because everyone around has a minimum spending power.
If you want the benefits of traffic from paid communities, try out BlogEngage today where you find savvy bloggers from all areas of live and every angle of the globe.
5 Reasons Why BlogEngage Stands out!
I'm an active member on BlogEngage so meet me there 😉
BlogEngage Contest  – More exposure, More Traffic
There are quite a good number of contests out there with cash as prizes. Some have products like themes, plugins, tickets, etc.
BlogEngage is giving out quality traffic opportunity as prize. That's unique if you ask me! I think traffic is the best thing someone can offer you online. You can use it to promote any promote for instant sales or recurring payment. That's why I think you should try out the ongoing BlogEngage Traffic Contest.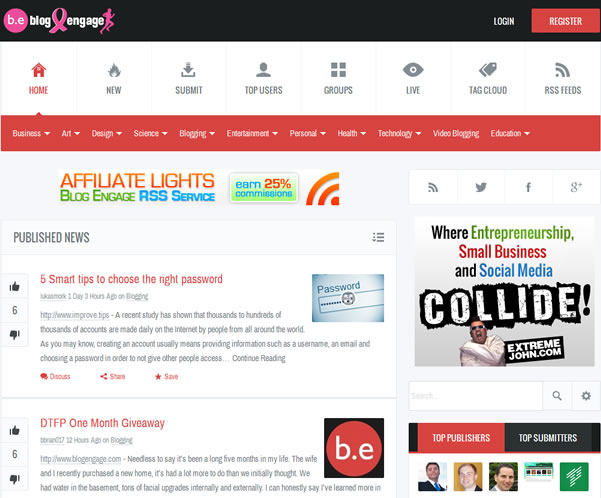 Here are the unique prizes:
1 – 1 month of our Direct To Front Page Marketing Package
BlogEngage front page is like gold. That's where you get the highest visibility and being on this spot for one whole month is a lot of exposure.
2 – Featured Spotlight
This is another feature that will get you more exposure on blogengage. I have been spotlighted in the past so I can tell you from experience that this is worth spending for.  What's more exciting here is the fact that you get to interact with many pro bloggers who often will end up on your blog.
3 – Direct To Front Page
Every 24 hours, a post will be picked from your blog and placed on the home page and that will be for 1 month. I think this is great to bring more live to your blog by being exposed to the right audience.
4 – Banner Ad Rotation
I think Brian is giving you a chance to dominate his platform and be found everywhere on it. He doesn't want any visitor to leave without noticing your presence.
5 – Newsletter Marketing
Now this point is making the whole deal sweet. Your featured spotlight article will be sent to the entire list of more than 3000 bloggers. That will mean touching them directly.
| Don't tell me you won't be part of this contest.
One reason I'll encourage you jump on this contest is its simplicity. Brian did it so simple so everyone (including those who are busy) to participate. You have just a few tasks on the RaffleCopter Widget. It should take you less than 5 minutes to grab some points and stand a chance to win.
Hidden Tip To Win
Brian is giving out up to 5 points per tweet on the RaffleCopter widget. That means each day, you can add 5 points to your entry by tweeting the contest to Twitter. So visit the contest post everyday and just make the tweet. The more tweets, the more points and the better your chance to win.
So that's it! I thought this is a wonderful opportunity to get some real traffic. You should give this a chance. It's absolutely free to enter.
Enter the Contest Here!
Good luck!