Did you know that 7 out of 10 people who leave your website will NEVER return?
That's a bad news, right?
Here's what most people do when they want more traffic.
They create more content.
Seriously?
Creating more content is NOT the solution when you don't attract enough traffic to your already published blog posts.
In fact, Brian Dean from Backlinko has only written around 30 blog posts in 4 years to attract millions of visitors to his site.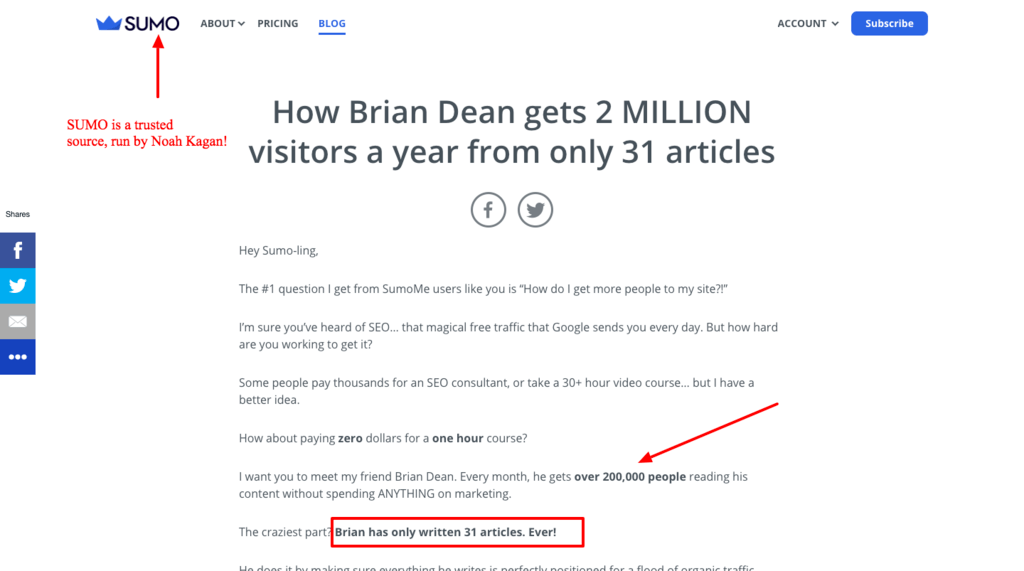 Okay, you're not Brian Dean.
What if I tell you there's a SECRET way to bring massive traffic to your existing blog posts.
The best part? You don't have to churn out more content to increase your blog's traffic. All you have to do is to use the strategy that I'm going to share with you in this post and grow your blog's traffic in next 30 days.
Sounds great? Let's dig into the details.
The secret recipe to increase your blog's traffic using your existing blog posts
Update your old blog posts with new set of keywords.
Keyword research is the KEY here and you need a good tool like SEMrush
Yikes! It's no secret.
The 3 simple steps to bring massive traffic to your existing blog posts:
Step 1: Find your top performing posts
Step 2: Find and use relevant keywords within them
Step 3: Enjoy the new flow of search traffic to your sites!
Let me tell you the BIGGEST mistake most bloggers make.
They write and publish blog posts day-in and day-out without worrying about the results.
After a few months, they realise their content is not bringing any search traffic and majority of the bloggers quit (without even realising their mistake).
STOP writing blog posts without doing keyword research. You can easily build a successful blog if you know how to do keyword research properly.
If you want more search traffic to your sites, focus on finding keywords that your target audience are looking for (on Google).
Tip: Use a website traffic checker to get a more in-depth analysis of your traffic sources.
Step 1: Find your top performing blog posts
Go to your Google Analytics account and find out all the top performing pages. There will be a ton of blog posts that might be ranking on 5th to 20th positions on Google.
Always remember that, your goal is to get top 5 rankings on Google. If you're ranking anything above 5 and below 20 (i.e page 2), you should start optimizing those pages for relevant keywords.
Quick tip: You can use SERPs tool for tracking your current keyword rankings on Google.
Here's how it looks like;

The above illustration shows that, my blog Learn Blog Tips is ranking on 16th position on Google for the keyword "motivational business quotes". Likewise you can find where your keywords are ranking on Google to easily start optimizing them to increase your search traffic.
Step 2: Get access to SEMrush
SEMrush is an incredible tool that gives you information about all the keywords that your pages are ranking for. So you can easily sort out the results to get information about the pages that are ranking between 1 and 2 pages on Google (so you can start working on them).
Pro tip: If you're NOT using it, use it from now. You can grab SEMrush free (for 14 days) using this link.
Step 3: Start optimizing your older posts with relevant keywords
Once you find all the pages that rank between 5 to 20 positions on Google, it's now time to find relevant keywords and start using them within your existing blog posts to attract more search visitors to your site.
Here's how you can find relevant keywords for your existing blog posts.
Using Google suggestion;
The simplest and fastest way to find relevant keywords for your content marketing is to use Google suggestion tool.
Just type the keyword (that your posts are currently ranking for). We'll consider the same example shown above.
As you can see above, Google is showing a ton of "highly relevant keyword suggestions" at the end of the page. You can simply sprinkle some of them (or all of them) within your existing blog posts.
Within a month or two, you'll start noticing an increase in your search engine traffic. I guarantee!
Turn your existing blog posts into EPIC and DETAILED posts
I'm working along with Anil Agarwal for the blog Bloggers Passion since 4 years and we've grown it to a great extent (not only in terms of traffic but also sales). The #1 strategy we used to grow the blog is to write in-depth articles.
Writing detailed blog posts even if they are around affiliate marketing is what helped us get a ton of search traffic and sales to the site. That's what I recommend EVERY blogger to follow: write in-depth blog posts with around 2000+ words. You'll see a huge growth in your search engine traffic within 6 months (if you're posting consistently).
If your existing blog posts are generating traffic but are not comprehensive, make sure to add more details to those posts.
Include images
Use relevant information
Add more points (give more suggestions)
Use relevant links (both internal and external links)
Find and sprinkle relevant keywords as discussed above
If you can do the above things, not only you'll see a quick traffic spike but your audience will also thank you for doing it. After all, that's what blogging is all about, right? Adding value to your target audience!
Build links to your existing blog posts
Did you know that Google considers over 200 ranking factors?
Did you know that out of all those 200+ ranking factors, 3 ranking factors play a major role?
Out of those 3 ranking factors, backlinks play the KEY role.
That means, your search engine rankings are directly proportional to the number of backlinks that your page has.
To simply put,
More no. of backlinks = More search traffic
More no. of backlinks doesn't mean that you can get as many spammy links as possible from irrelevant sources. 1 quality backlink from an authority site is better than getting links from 100 low-quality and irrelevant sites.
According to a research done by Moz, a full 99.2% of all websites had at least one external link. That shows the importance of attracting links to your blog posts from external sources.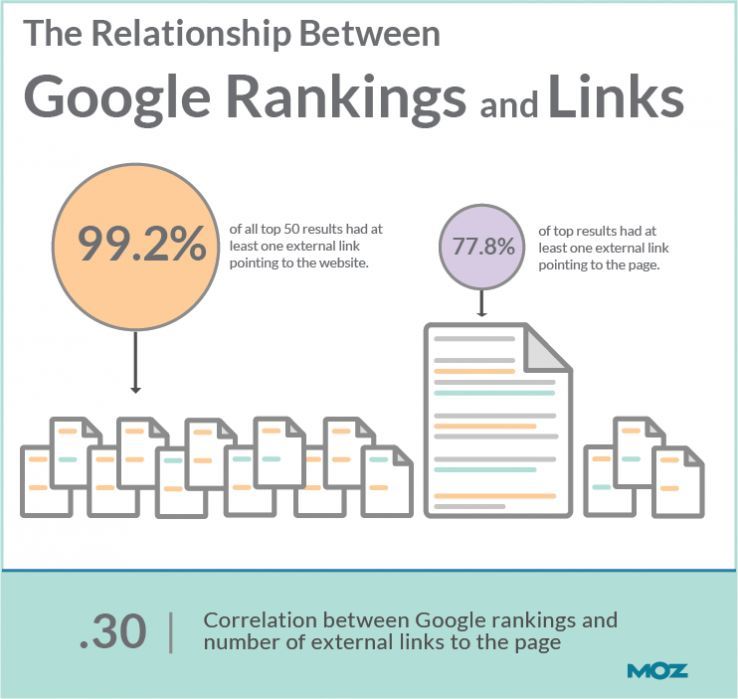 So there you go! If you want to bring massive traffic to your existing blog posts, remember just ONE thing: attract as many quality links as possible.
You can use link building tactics such as guest posting, infographics, skyscraper technique, video marketing, blogger outreach etc to build quality links to boost your overall search engine traffic to your sites.
Final verdict on getting more search traffic to existing blog posts
Increasing your search traffic is NOT a rocket science.
Instead of reading a ton of SEO tactic, follow ONE strategy and do it right: you'll then notice a traffic jump in your website's traffic. Updating your old blog posts by finding and using relevant keywords, attracting backlinks to those pages can quickly help you boost your blog's traffic.
So what are your thoughts? Did you like this post? Share your views in the comments below.