There are tons of photo sharing platforms out today but Instagram (by Facebook) seems to be the master.
While this is becoming more and more popular, users are still actively looking for Instagram Alternatives to turn to.
In this age of the internet, artists can get recognition of their skills and monetize them effectively.
The Internet has provided a groundbreaking scope to monetize the talent of the people like never before. Many social media platforms have emerged out of the blue and creators are creating a worldwide impact by using social media management tools.
Especially painters and photographers can showcase their masterpieces to the world through various digital platforms and build a following for themselves.
Instagram, YouTube, and Tiktok are viral social media platforms that can revolutionize social awareness of the work of the people.
[thrive_text_block color="light" headline="Instragram Hot Course"]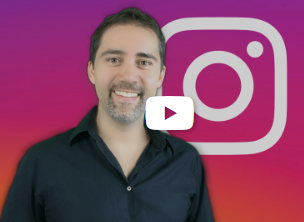 How to Use Instagram for Business: Discover the Most Efficient Ways
Learn how to use Instagram for business and become a Master of Instagram marketing today!
[thrive_link color='green' link='https://stude.co/157531/how-to-use-instagram-for-business' target='_blank' size='medium' align='left']Check out details here[/thrive_link]
[/thrive_text_block]
Instagram is one of the best photo-sharing social media platforms that not only artists but brands can leverage to showcase their services and products to a wide range of audiences.
Along with Instagram, there are so many other platforms that photographers and printers can upload their artworks and get international recognition from the same.
Let's get into these alternatives to Instagram:
10 Best Instagram Alternatives to Share Your Images
Below are some of the best Instagram alternatives, where you can share your pictures. 
1. 500px
500px is a Toronto-based photo-sharing service owned by Chinese. Founded on October 31, 2009, 500px is a subsidiary of Visual China Group.
500px is a community of 15 million photographers from 195 countries. Here, people share and contribute their expertise in photography. It's not an error to have it on the list of Instagram alternatives.
500px also works as a marketplace where buyers can purchase their favorite pictures for commercial usage. He could buy the rights by paying the photographer through the 500px platform and download the photograph in suitable dimensions.
From mobile to full-time professional photographers, everyone can showcase their skills to the world and monetize it through 500px.
It can also work as a portfolio that you can share it with potential clients and your customers.
On your 500px profile, you can mention your website URL to tell the viewers more about your professional services.
The way the bio is shown, the platform will showcase all the relevant factors that can grab potential clients' attention and convince them of the credibility of the photographer.
The website will showcase how many likes, reactions, and followers a photographer has on 500px. You can also mention whether you are available to hire or not.
Recommended: How to Use Instagram to Promote Your Blog (In 5 Easy Steps)
2. SmugMug  is one of the Instagram alternatives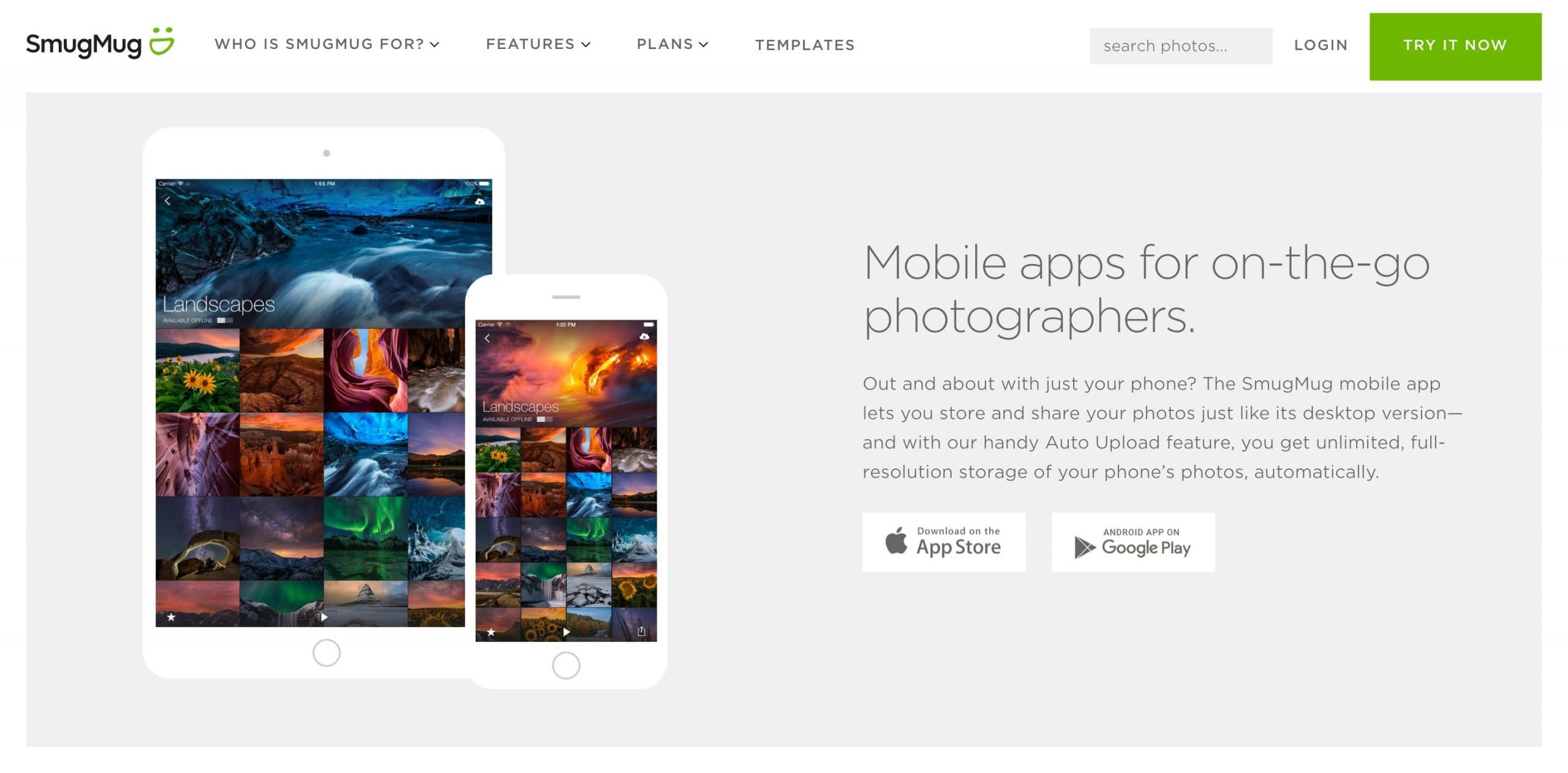 SmugMug has got everything that a photographer needs to manage their pictures, galleries, and data along with a platform to monetize skills.
It has got different plans to serve photographers with different needs.
In all of their plans, you can avail unlimited storage for your photographs, so you no longer have to purchase external hard drives or maintain cloud storage to save photos.
Photographers usually click pictures in the Raw format, which tends to exceed the usual size of the image. Therefore, they always struggle to have a secured storage capacity to save all the photos.
Moreover, SmugMug also provides a marketplace with Portfolio and Pro plans where you can sell your photos to buyers who can license your pictures and pay your asking amount through SmugMug.
All the images, you will get a text area to describe your image,  give a link to your professional websites, and mention camera gears and parameters that you set while clicking the image.
You can also build galleries and create custom tabs in your SmugMug profile to give unique user experience to viewers.
Recommended: 3 Ways to get more followers on Instagram on a budget.
3. Retrica,  on the list of Instagram alternatives
Instagram is also renowned for its filters and effects that convert a simple image to an attractive one.
Instagram has the power to dynamically generate visual appeal of a picture through different parameters.
Post-processing is one of the most vital ingredients to create visual appeal for an image, and to sell your photos online, your picture must be attractive and have that appeal to attract buyers.
That's why we have got applications like Retrica that has 190+ filters and effects that you can implement it on your images. These filters are available as plug-and-play, and you need to tap on the filter, and it will be applied to the picture.
4.  Oggl is on the list of alternatives to instagram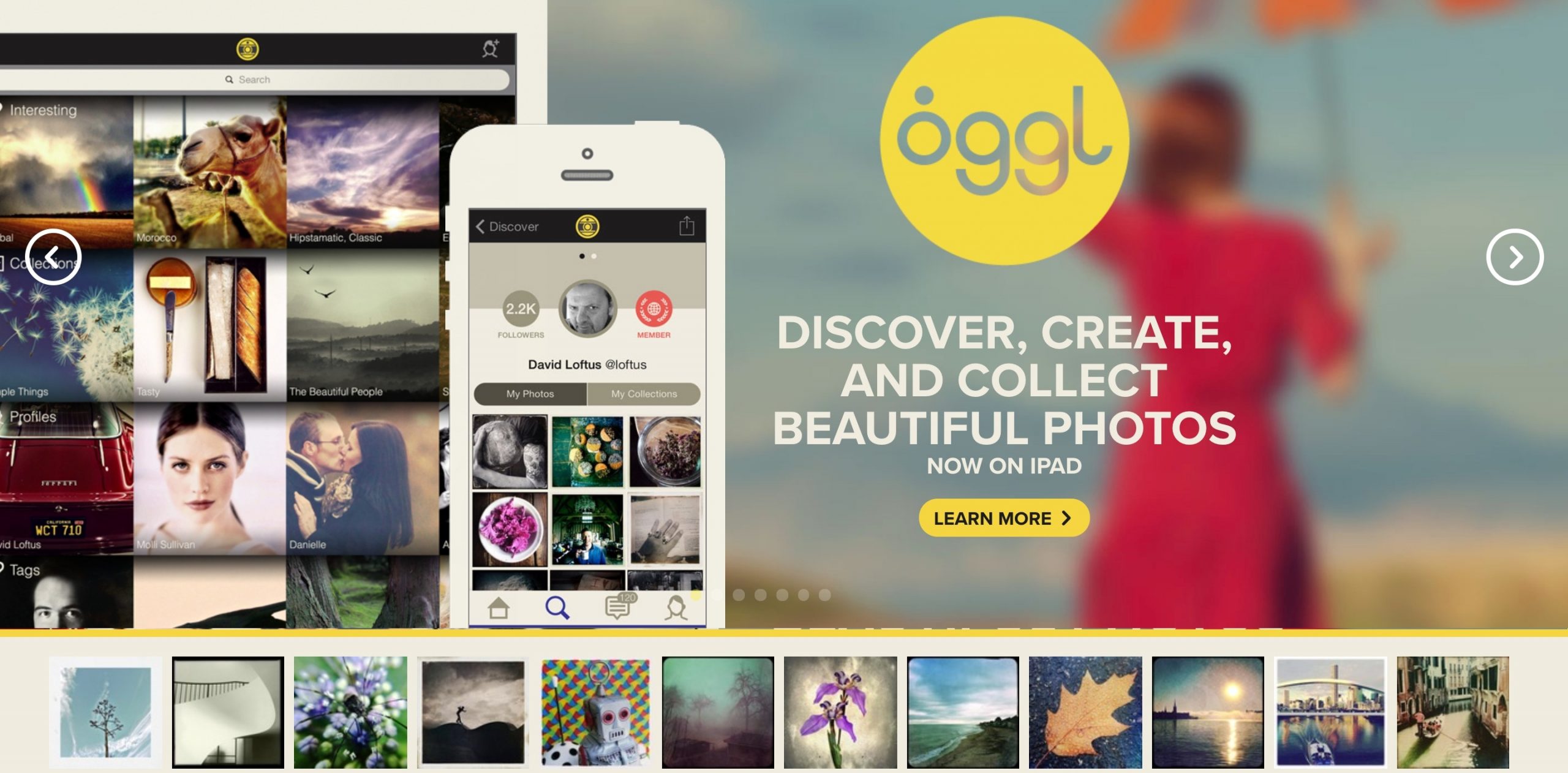 Developed by Hipstamatic, Oggl is a photo-sharing application developed only for iOS users. I see this as another Instagram alternative worth mentioning.
With the help of this application, you can capture, edit, and share your pictures with the audiences of the platform.
Oggl provides a medium for photographers and artists to build their audience and scale their network.
This application enables analog photography in iPhones and iPads. You can go through the lenses and apply effects on your frames effortlessly.
You can also curate content on the platform where you can save photographs of others' and save it as a collection.
5. Ello
Ello is a social network that provides an ad-free digital channel to artists and talented people to showcase their work to millions of people.
It is a user-friendly and intuitive photo-sharing social media platform where people can engage with the content, connect, and build their personal brand.
The team behind Ello says that they don't sell users' data to any third-party services or don't have any intentions to do it in the future. It also doesn't show any sponsored posts or paid advertisements, unlike other leading social media platforms.
That's why,  unlike Instagram, you can have aesthetic user-experience as a photographer while browsing through Ello.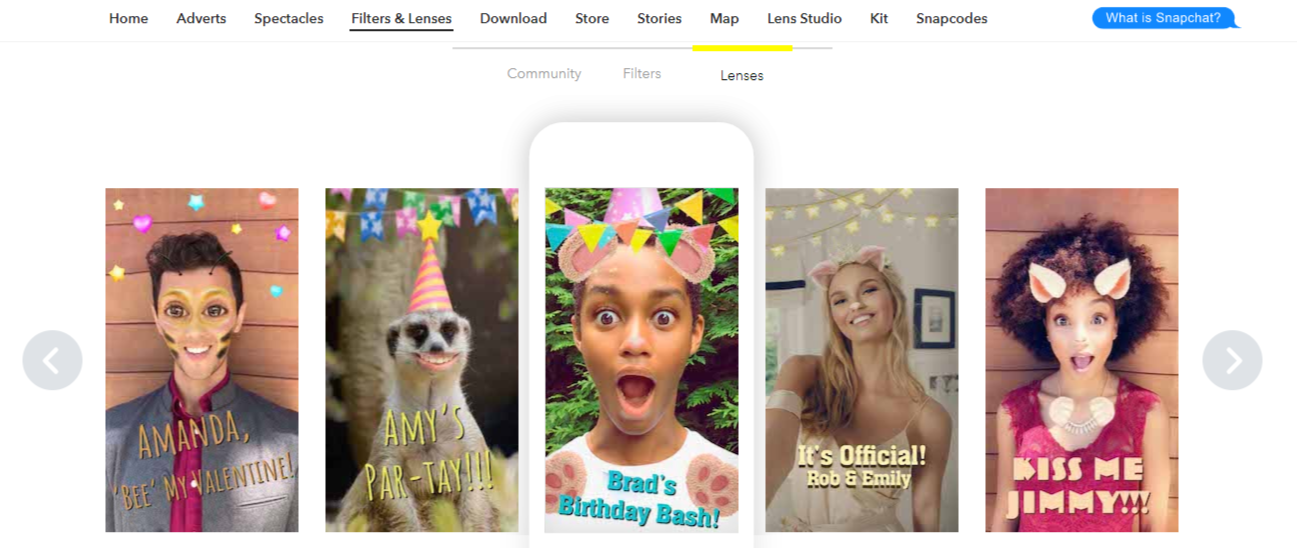 You would know about Instagram stories. It is the format of the Instagram content that stays on the platform for 24 hours and then gets deleted automatically or goes into archives if the authors have stated.
Unlike posts that stays on the page, stories have 24-hours of life.
When Instagram introduced Stories, pundits said it is inspired by Snapchat, which is a platform where you can share images of your daily activities, and those images stay there for 24 hours.
It is an engaging platform to share your moments in seconds with the world and get lasting recognition from like-minded people.
Photographers and content generators can build an engaging audience through Snapchat by sharing their daily routine on the social media platform.
Snapchat also allows artists to create personalized filters regarding their personal brand or any special events. This can enable artists to improvise their content and add a customized touch to their images. So we are not wrong to add this platform on our list of Instagram alternatives.
Recommended: Sell on Instagram ~ 3 Ways to Sell Your Products on Instagram!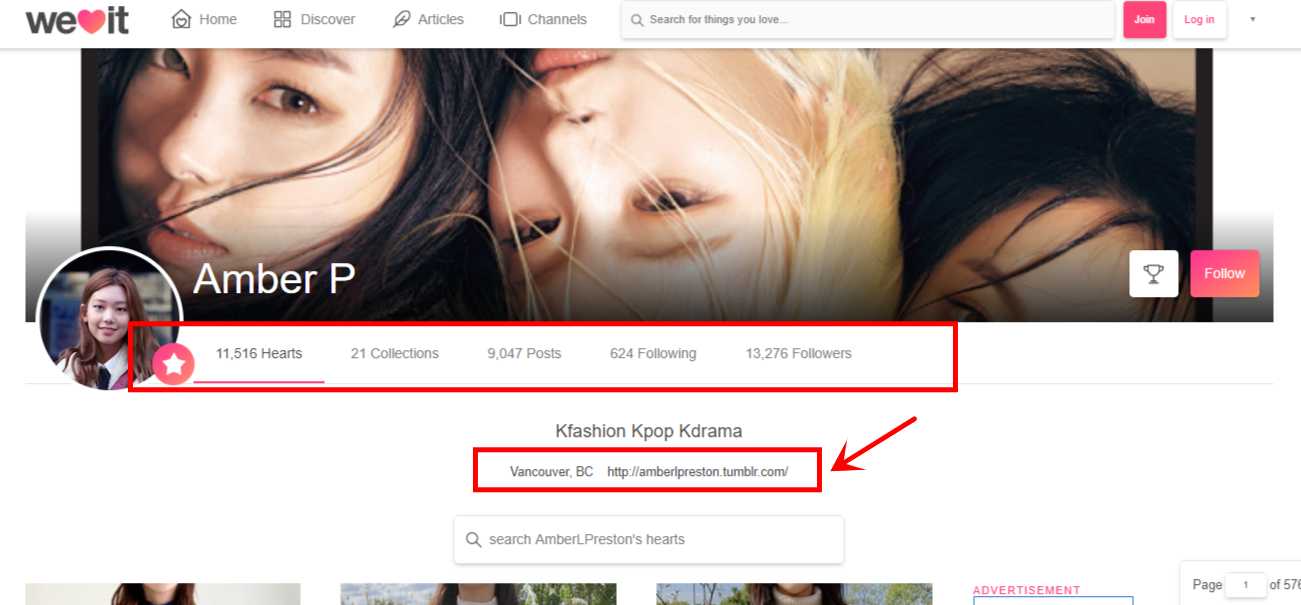 We Hear It is an online platform that delivers a channel to share images with the world.
Just like Instagram, you can share images, and people will show their appreciation through hearts. You can build your personal brand through great content and generate maximum followers for your profile.
The platform also allows you to also create your personalized gallery of the images that impacted you the most.
Adding to this, you can also group relevant images as collection and showcase those groups of pictures collectively to the audience.
Supposedly, you visited restaurants in Toronto and clicked pictures of interiors, dishes, menu, etc. Now, you can group those images and make a collection, as in a separate folder on We Heart It of restaurants in Toronto.
This photo-sharing platform has a creative way to showcase the KPIs of an artist's profile so that viewers can know how viral, likable, and engaging the content has been shared on that particular profile.

Dayflash is a social network application that helps people share pictures and short videos to the world and build a growing audience.
Just like Instagram, this is a reliable photo-sharing application. You can connect with like-minded people and showcase your work effectively.
One of the most exciting features that I admire about this platform is its ability to share full-screen pictures on the platform.
While Instagram has a particular image size and dimension that content creators have to follow, but Dayflash can give you significantly more screen-space to use.
Unlike Instagram, you don't have to add relevant hashtags with your post captions and comments to be e getting organic reach. With this application, the Internet to add relevant keywords in your profile, and your post would be discovered all the time.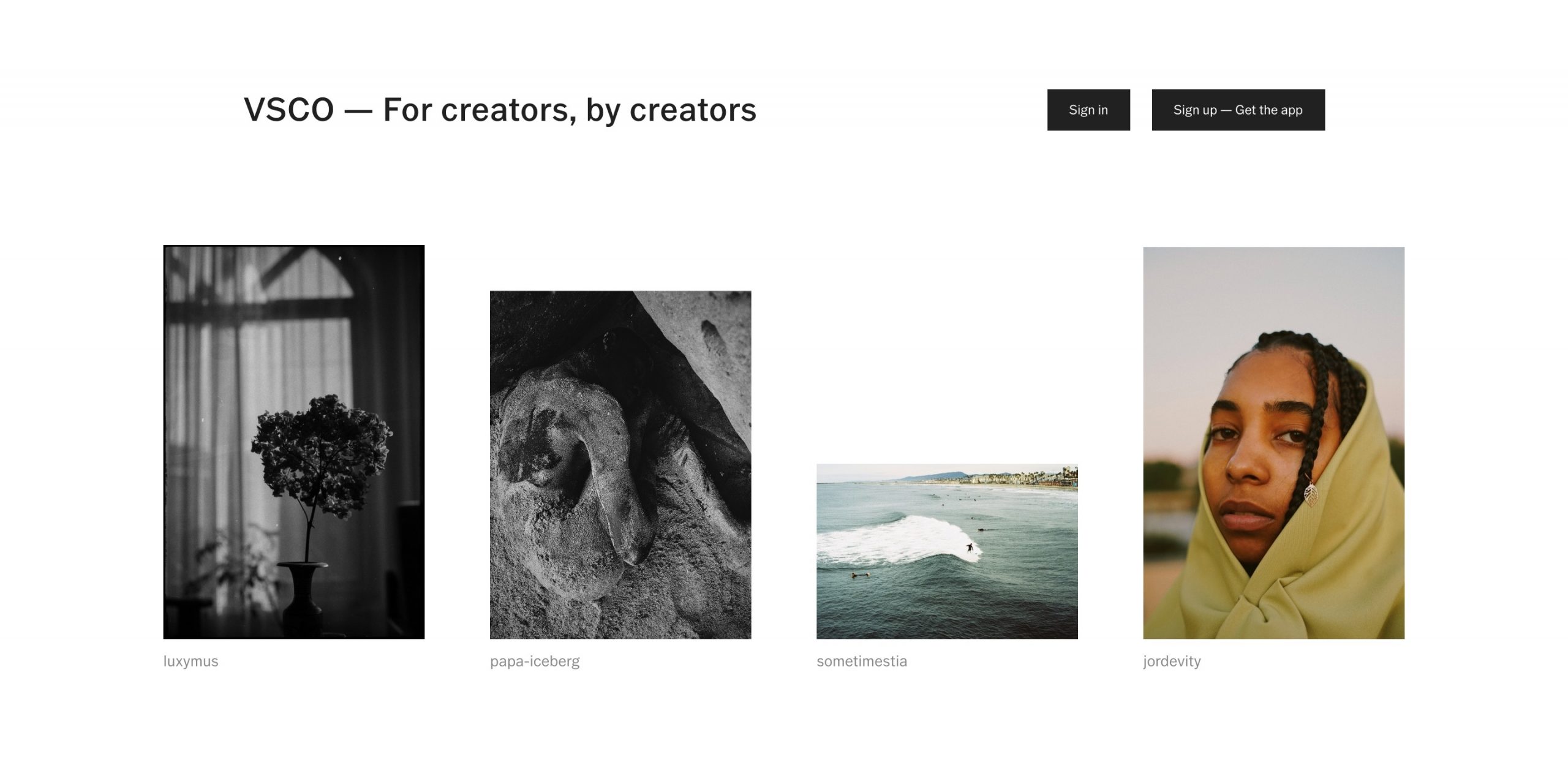 VSCO is one of the oldest photo-sharing social media application that allows photographers and content creators to show their skills to the world creatively.
The platform provides a vast range of ready-made preset templates that you can apply in your pictures to make it more appealing and attractive.
One other characteristic is that VSCO focuses on providing a community for photographers who elevate their photography skills and professional network.
The engaging community of VSCO makes it easy for people to connect and network with each other.
They have robust community support that can help photographers learn new skills and post-processing techniques for creating better frames for themselves.
You can create your profile on the VSCO platform just like you create one on Instagram and write your custom bio to tell people about you.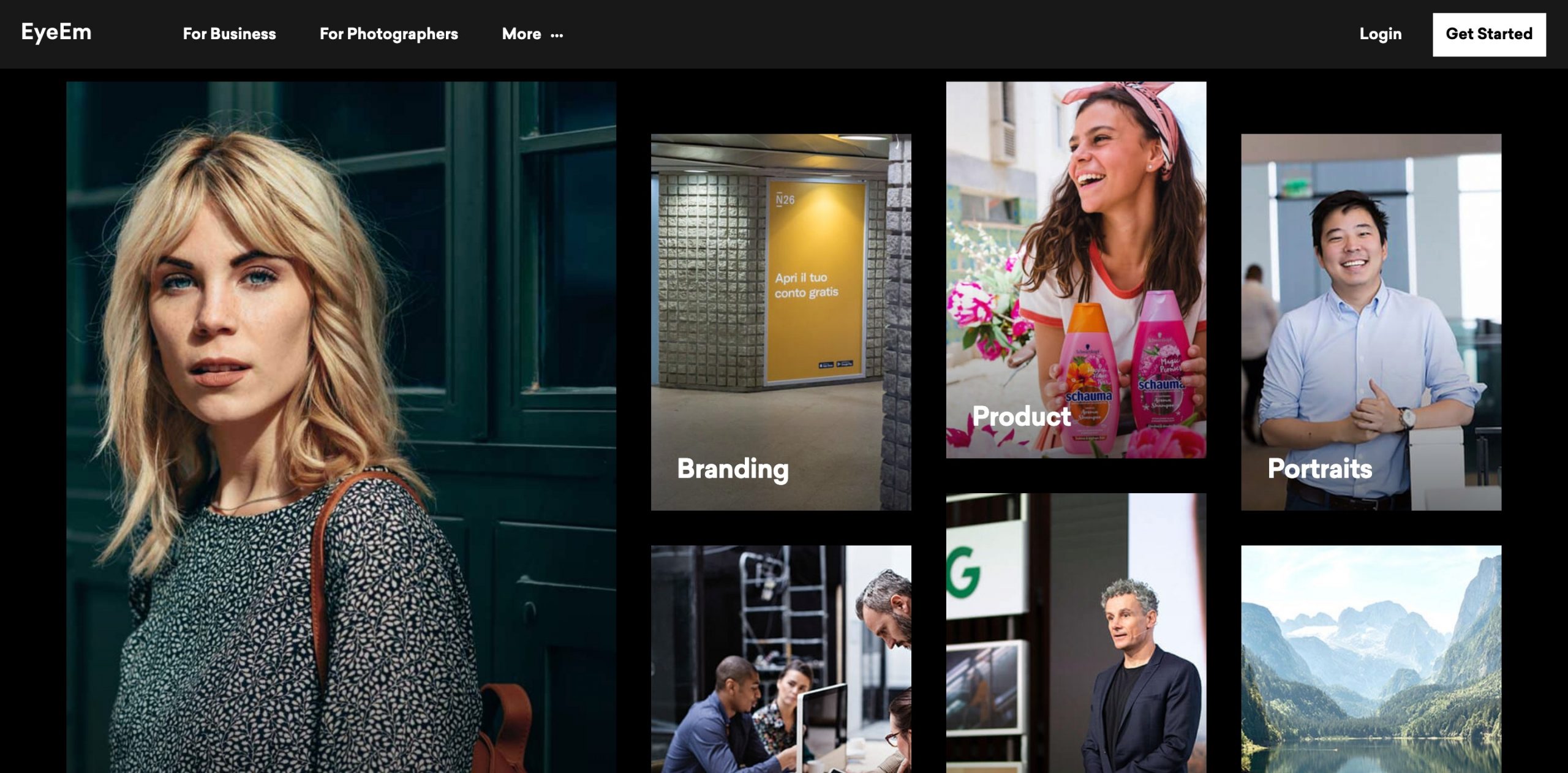 EyeEm is a mixture of a marketplace and a photographers-hunting platform that allows brands to book photoshoots and allow photographers to license their shots.
This is one of my favorite alternatives to Instagram. By leveraging this website, you can build a reputation of a talented photographer and get connected with industry experts.
Leading brands like Sennheiser, Asics, Nikon, Spotify, and tons of others' have trusted this platform.
Conclusion
Feel free to let me know what are your thoughts about the 10 best Instagram alternatives discussed in this blog.
I hope you like this article, so please let me know your feedback in the comments.
And if you are using any other alternative, we'd be thankful if you can share them in the comments below so readers can get to know more.