Treated: how to Sell on Instagram!
Instagram has transformed a lot from just being an app for posting selfies to a platform that is used by huge companies like Nike to raise brand awareness and generate sales.
Instagram is growing fast. Recently, in terms of monthly users it has even surpassed Twitter.
Though other social channels are used primarily to connect with family and friends, Instagram users may have more of a shopping drive. Its culture is unique from any of your favorite online shop or even other social channels. According to Iconosquare's 2015 Instagram study, 62% of users follow a brand on Instagram just because they like it and 70% have already looked for a brand on Instagram.
So, if you're not using this platform to sell your products, most likely you're leaving a lot of money on the table.
How would you leverage Instagram to sell your products? Let's take a look.
3 Ways to sell on Instagram
1.     Set your own rules
Unlike selling on juggernaut platforms like ebay, selling on Instagram allows you to set your own rules without any third party ToS restrictions. And, best of all, it is easier to setup and buyers have direct access to you not a third party sales person, so you have full control and can keep 100% profits with you.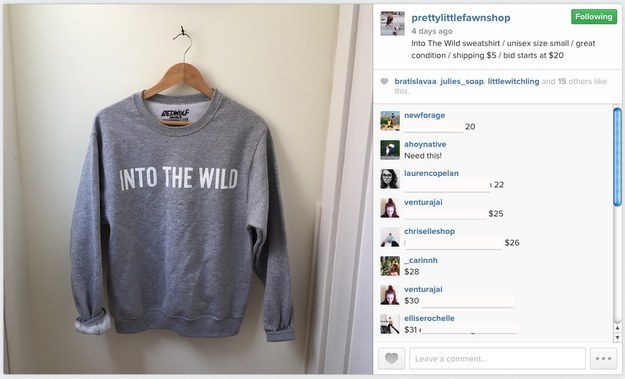 Instagram users like shopcaroline and shopathelyscloset are using this strategy to sell items from their Instagram account.
This can be a nice strategy especially if you're a seasoned seller, and has limited number of products to sell.
How to do it:
Step 1: Create an Instagram account specifically for selling products.
Step 2: Create your own shopping rules. Make a separate post about the rules and specify how you would like to process the sales like first come first serve or by bidding. In addition, specify if you accept returns, your preferred payment methods and if it needs an additional shipping fee.
Step 3: Once you set the rules, you may post items for sale. Make sure your picture is of highest quality. For the best results, reply to each comments as quickly as possible.
Step 4: Once you made the sale, create detailed invoice describing the items and send it within 24 hours of the sale ending.
To know more about selling products on Instagram by setting your own rule, you may take a look at Catalin Zorzini's excellent guide about selling on Instagram.
2.     Use apps for selling
For an online shop, it's vital to track statistics for each sale, but even though Instragram itself doesn't provide such features, a lot of the third party services are blooming that offers it. Let's take a look at a few third party services that help you sell on Instagram easily.
#1. Sell on Instagram using Soldsie.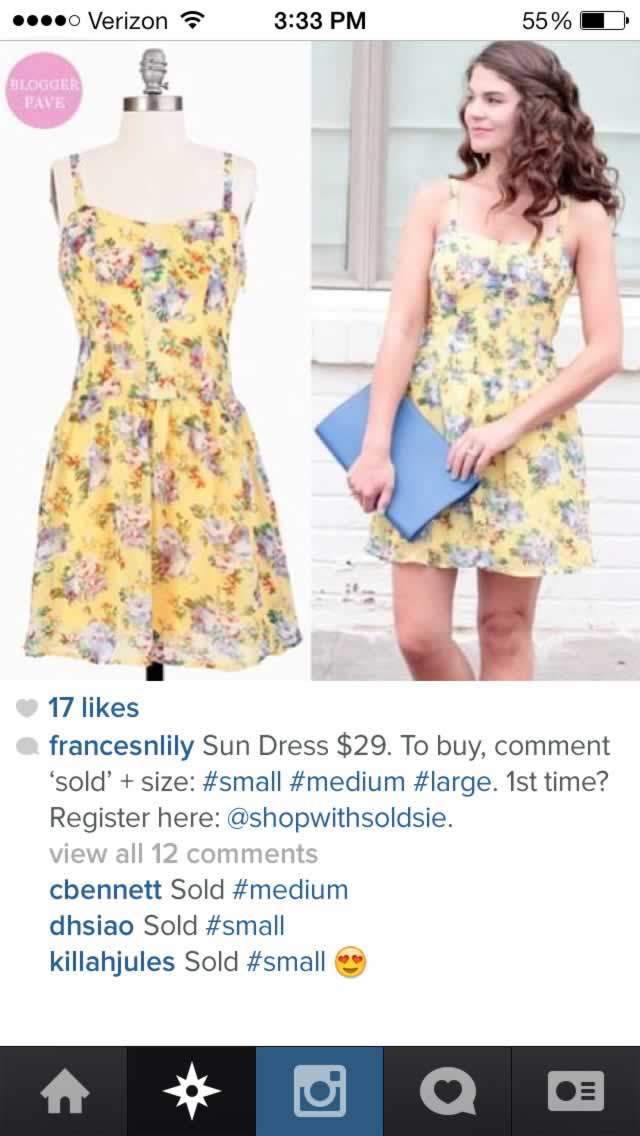 This app lets you sell directly to your Facebook fans and Instagram followers through the comments.
Here's how it works.
Once you sign up to Soldsie, upload your photos and descriptions to the Soldsie dashboard and then post to Instagram or Facebook. To purchase the product, your customers can comment 'sold' on the photo. Then, soldsie will send a mobile friendly invoice to check out.
#2. Turn a like into sales using Tapshop:
Tapshop is another app that allows your followers to easily shop your products using a tap on Instagram.
Here is how it works.
Your fans tap the branded Tapshop link in your Instagram profile page. Then they authorize their Instagram account and buy a product from Tapshop landing page. That's it. Whenever they like any photo from your feed they get an email with a product page link.
#3. Sell on Hashb.ag storefront
Hashb.ag is a search tool that lets buyers easily find products that are listed for sale on Instagram.
Here's how it works.
As a seller, you may Instagram a photo of the product you want to sell with a tag #forsale.  Hashb.ag will automatically send you an email asking the price. The product will go live in your personal storefront on Hashb.ag. When a buyer who uses the hasbhag search bar finds your listing, they can buy it right away.
3.     Build social proof
We live in a world where people judge and value the brands based on their perception rather than its actual value. In fact, humans have a tendency to trust and follow the actions and choices of other people
And, this is why brands are taking a lot of efforts on social sites like Instagram to make positive perception.
One way to improve the people's perception of your brand is by building up some social proof. Why social proof works?
By building a social proof, your followers perceive you as influential or a leader in your business, and it encourages them to buy your products.
According to Bufferapp, social proof is one of those important factors that encourage a person to purchase a product.
Here is a couple of examples of how the principle of social proof can be utilized to generate more sales.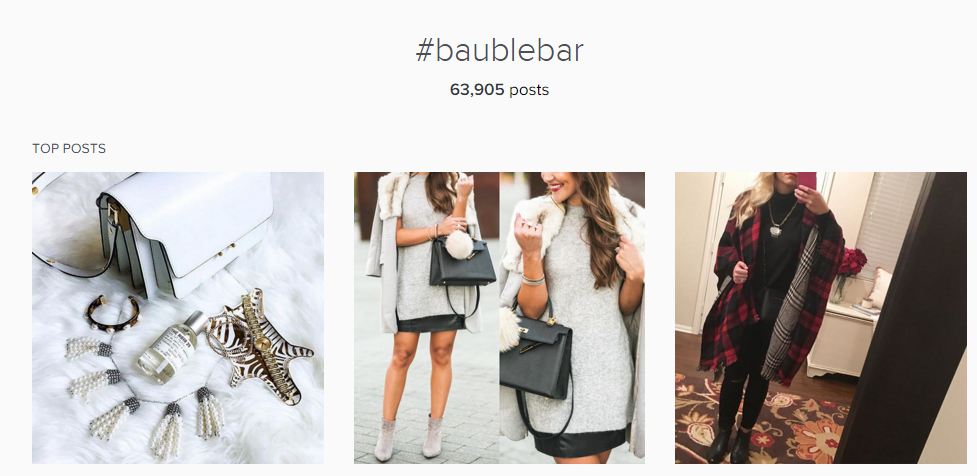 Examples– Online jewelry retailer Baublebar encourages customers to post photos on Instagram wearing the brand's merchandise tagging with #baublebar, so they can repost it on their Instagram account.
Almost the same strategy is used by clothing retailer Tsuru. They often publish photos of customers wearing their products on their Instagram accounts.
How to do it-
Encourage your customers to post photos on Instagram tagging with a specific hashtag. Republish some of those photos on your company profile on a regular basis. For encouraging more users to publish photos, you can even offer weekly prizes.
Final thoughts
Every day, people are discovering new products from their favorite brands on Instagram. Since the Facebook's acquisition of Instagram, it is growing in a rapid pace, so now is the perfect time to leverage the platform for selling your product and building your brand.
Here are some additional tips that will help you sell products.
Post the best pictures: Since Instagram is a visually-driven app, posting the best pictures of your product is the secret to making a sale. Though you can edit the pictures, it is better to use no filters while posting pictures.
Use hashtags: Tagging your photos with specific hashtags help you connect with other like-minded people on Instagram.
Let the photos speak for you: Visuals show your products without you yelling about how great they are, so you'll need to get creative with your product photos.
What do you think? Have you started selling on Instagram? Share your experiences and Instagram marketing plans in the comment section.
NB: Don't forget to grab Enstine's ebook on Affiliate Marketing for bloggers. Use coupon code CD16
Kindly show some  love and Save/Pin on Pinterest: