Hey there,
I recently wrote a post here at EnstineMuki.com about beginner internal linking hacks; those that most people know about, but still don't do. Be sure to read it someday, as it'll bring your whole SEO (not just links and link juice) to a new level, I promise.
But here, now, I want to talk a bit about advanced internal linking tactics. I say "advanced" because that's what they are. Hey… These however are friendly for you if you are new to SEO
Not because they're hard to implement; but because they involve a bit of thinking and a lot of knowledge on how Google and other search engines rank websites, (especially in regards to links and equity flow).
If that sentence sounded complicated, it's because I'm still not a writer I want to be.
But here you will learn how to maximize every drop of link juice your site has.
Let's go!
#1- Advanced internal linking: Unlock category/tag link juice (and then learn to use every drop of it)
You can recover lost link equity by removing the noindex tag from category/tag pages.

Really, not too long ago, it was SEO best practice to keep those pages no-indexed, because they are 100% duplicate content, and would make your site a target for the Panda algorithm.
But now we have to think differently.
Why?
Because it turns out that pages that are set to noindex/follow, over time become noindex/nofollow. That's because, once Google bot visits one too many times and the page is always set to noindex, then they'll drop it from their indices.
And when they drop the page, they drop the links on the page too.
Which is potentially a huge problem.
For example, my site is very small right now, it has just 10 posts. But look how many internal links point to my just one of my category page.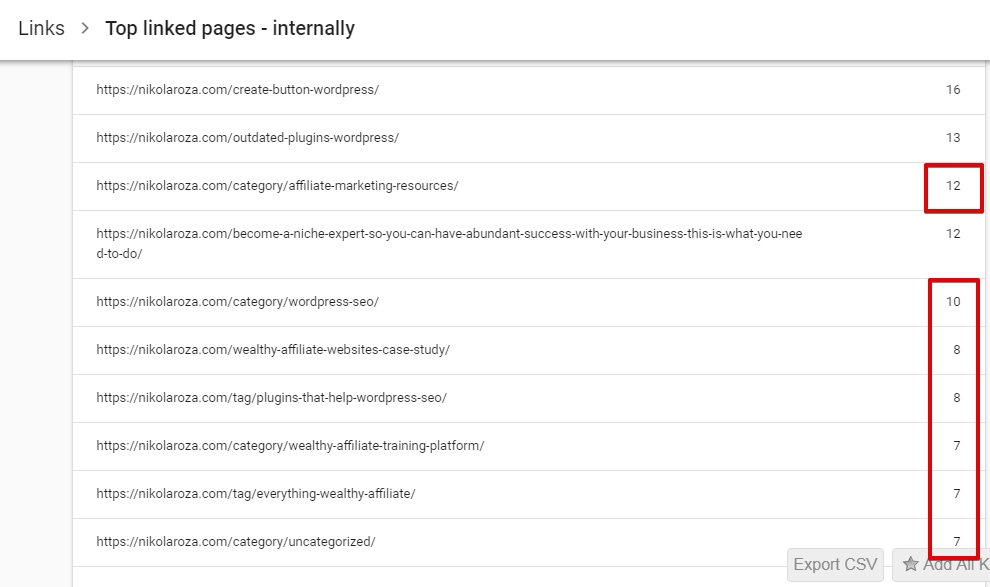 That's dozens of internal links, huge link potential going to waste and worth recovering.
And my site is small. On a big authority website like Enstine's, that number of links easily rises to several thousands (which means there's huge potential for easy traffic growth).
How to fix?
Step #1– remove the noindex tag in Yoast. (the most important step)
Step #2– Write custom excerpts for your posts.
This is a must because if you don't, then you'll have a galore of duplicate content and all links on duplicate pages are either devalued completely or considered less important by Google.
And we want them to be powerful so they help with our rankings.
How to write custom excerpts in WordPress?
That's really easy.
Enter any post's editor and at the top, you'll see "screen options". Click here and toggle "excerpts"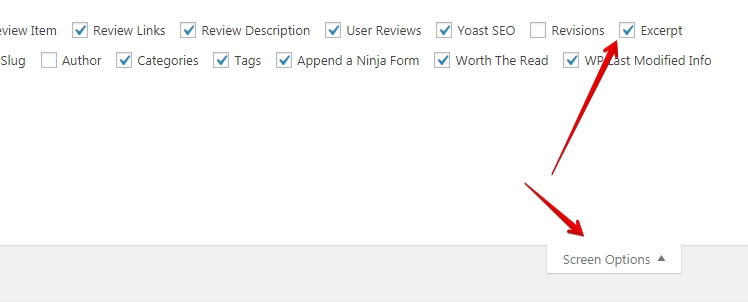 Then scroll to the bottom right below your SEO plugin of choice and you will see a new excerpt field.
Fill it in, click "update" and that is it.

This works!
Except when it doesn't.
Certain themes don't show your custom excerpts, and if yours is one of those rebels, don't despair.
Plugins to the rescue, specifically this one (https://wordpress.org/plugins/advanced-excerpt/)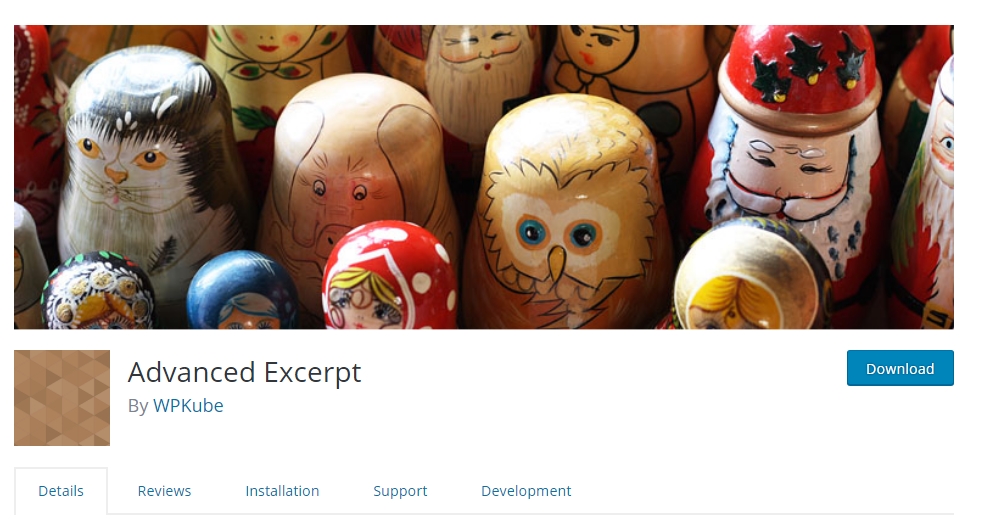 So, go and install "Advanced Excerpt" and when you do go to Plugins»Installed Plugins »Advanced Excerpt»Settings and deselect the checkbox "no custom excerpts"

And that's it.
Now you'll be able to have unique excerpts for your blog posts.
#2- Limit the number of links on a page- this increases their potency
PageRank flows and leaks through all links on the page, internal and external
So it makes sense that, if you want them to be at their strongest, you need to limit their number, right?
Here are some tips:
#1- Have a smaller menu
Online-folks hate having to choose and think.
So make it easy for them.
It's simple.
When they have ten links to look at they'll look- but won't click. But when they see three or four menu items, then they click.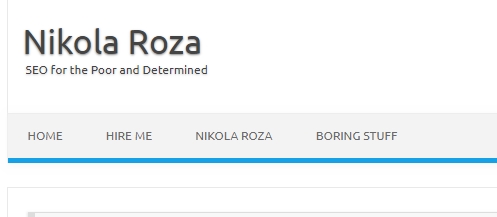 This is mainly a UX thing but it also helps with SEO because people clicking and circulating around your site shows Google that your site is the resource that people like.
So they'll serve up you site for more long tail keywords and their variations.
#2- Reduce footer link bloat
Footer links are almost useless in my opinion. Rarely a person looks at the footer and even rarer is that someone clicks.
But footer links are still links and they steal away PR that could be flowing through your main content links.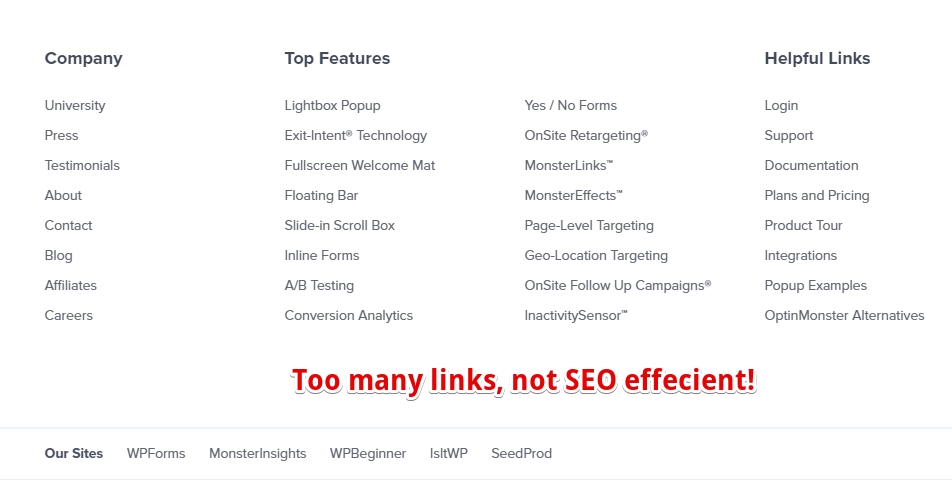 Bottom line: Make your footer as slim as possible so it doesn't weigh your site down.
#3- Learn to link purposefully. What do I mean by that?
I mean that people link willy-nilly instead of a strategically.
For example, someone talks about SEO and they link to Wikipedia page on SEO; or someone talks about content marketing, and they link to Content Marketing Institute.
That is wasting link equity because you're not helping. People on a page about SEO already know what SEO is, and don't need to visit Wikipedia to re-learn it!
People that are on a page about content content marketing already know what content marketing is, and don't need to re-learn it!
Links should help you prove your point.
For example, if I were to talk about best Yoast alternative, I'd link to Enstine's blog post (internal link).
And If I were to talk about how to properly measure your competition's strength in Google, I'd link to this post (external link)
These links are specific and helpful, and the first two are a waste of time and PR.
#4- Interlink your reviews for maximum potency
Wanna know the secret to ranking product review pages? The ones you want to rank the most, the ones where, if you do reach the top of Google, you will earn a lot of money and there's no avoiding that.
The secret is a two-parter.
#1- Create an awesome page
The one that truly deserves to rank.
#2- Make it authoritative
The former (great content) is easier said than done, trust me- I know.
There are thousands of variables in creating superb content, but authority funneling (via internal linking) is easy.
And here's how to make it super effective.
First, make a list of all post and pages of your site.
To do it go to Google and type  site:yourdomain.com. "your keyword" Then go one by one and add links to your reviews. Once you do your reviews will be much, much stronger.
How much is "much, much"?
How about an example?
I recently published my Jaaxy keyword tool review. And once I submitted it to Google Search Console (fetch as Google), it was indexed on page 15 for its main keyword "Jaaxy review".
Yeah, not good.
But then I went through my tiny 10-page website and added internal links. And what happened? Overnight it exploded onto the third page of Google for my keyword, and more importantly- it stayed there.
This is amazing stuff for a few minutes of work.
Second:
let's say you have 2 reviews that're equally important to you. Then you should repeat the process for both of them.
But then, make the reviews link to each other, using exact match anchor text.
This is because internal links exact match anchors are allowed, and they move the needle almost as backlinks do.
(I say that because at this point your reviews should be linked from all pages on yours site. Thus they'll be very authoritative and their internal links with exact match anchors will pack a punch- simple)
#5- Proper internal link anchor distribution
While Google is famously strict with exact match anchors, they don't mind them for internal links (in moderation).
So you should distribute your anchor text intelligently. I touched on this a bit above but I'll say it again. Strongest pages get the strongest anchors.
And weaker pages are used for link pillowing.
Here's are the guidelines:
50% Exact match anchor
20% naked links
20% Post title
10% generic- click here, go there, this website…
How to see which pages on yours site are the strongest?
That is easy- use Ahrefs.
But I'm going to assume you want a free alternative since Ahrefs  is a paid tool
Use Google Search Console.
Log into your GSC dashboard and click on the "Links" tab.
There you'll see both internal and external for your site.
The strongest pages are those with most links.
Now it's time to make a spreadsheet.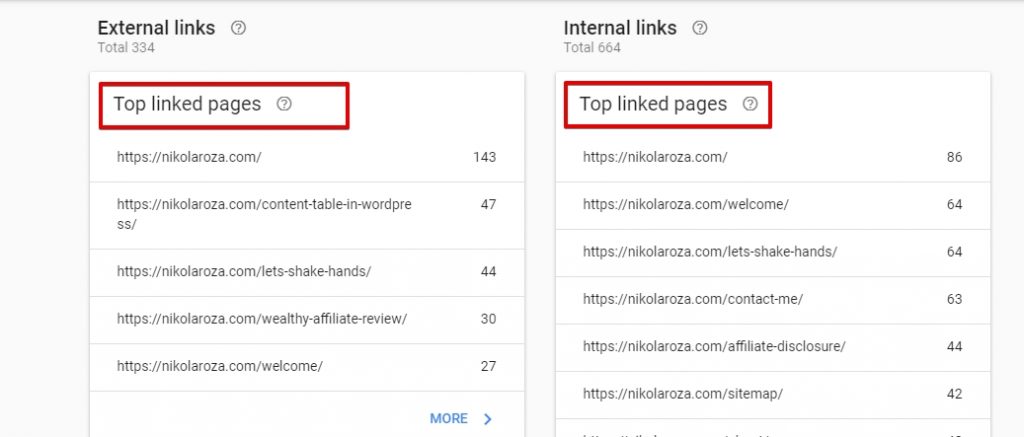 #6- Tap into obligatory pages
What are obligatory pages? They're those that make you your site look legitimate to Google.
Privacy policy
Affiliate disclaimer
sitemap
Terms and Services
You get the point.
The thing  is that those pages are usually very thoroughly interconnected with the rest of the site. However, almost always, they're set to noindex which as we now know voids all link power they have.
However,
it's possible to recover this lost link justice and it is similar to the way your resolve category/tag page link juice problem.
Step #1– remove the noindex tag in Yoast
Step #2– write unique content.
This is important because obligatory pages are usually duplicate content found on million other sites.
And for link juice to flow it has to come from unique pages
If you can write it alone- do it.
But since this is legal stuff, it might be better to get professional help.
Google it!
Conclusion- Be an internal linking ninja
Become one, and sneak up on your competitors while they're fast asleep.Think of internal links as your unfair advantage, the shurikens you can throw, while your opponents are only adept at close range combat.
Too bad for them!
There's one more thing I need you to do…
Before you go out to win higher SERP positions, leave a comment below, let me know what you think,
I'm curious to know…