In today's Positionly review, I want to introduce you to a world-class online seo software and a perfect WebMeUp alternative. Positionly is specifically designed with the sole purpose to take you to page one of search engines and keep you at that most attractive spot for so long.
You won't want to be a blind  ignorant blogger or website owner, will you? If you are smart like me, you would want to know what happens to your website's SERP position every day that goes by. Here are a few questions you should be asking yourself as an online entrepreneur; 
Is my website gaining new ranking position on SERP?
Am I dropping or moving up the SERP?
Is my blog gaining new backlinks?
Are my competitors doing better than me?
What do I need to do to get better on search engines?
Etc
You understand that you can't answer these questions properly without the help of a world class seo tool. This is where Positionly.com comes in to breath answers and make your SEO experience more friendly.
Positionly Review – The pro-level SEO tracking tools!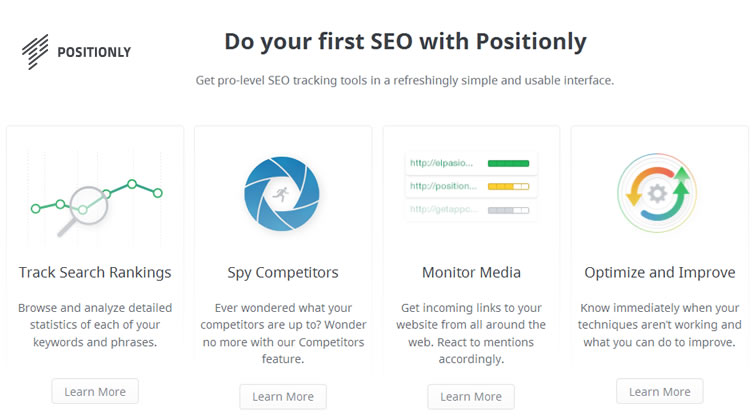 Positionly is the best way to track and improve your website's rankings in search engines. It's a set of simple, powerful seo tools that make tracking search engine rankings fast and easy. It helps you monitor daily changes, measure keyword performance, and improve rankings with simplicity. It is simply pro-level SEO tracking tools in a refreshingly simple and usable interface.
Start your 14 day Trial now! No CC required!
If you have been a disappointed WebMeUp client, this is one of the most appropriate WebMeUp alternatives.
Add your website to begin!
One of the first things you do after signing up is to add your website using the very simple yet powerful wizard.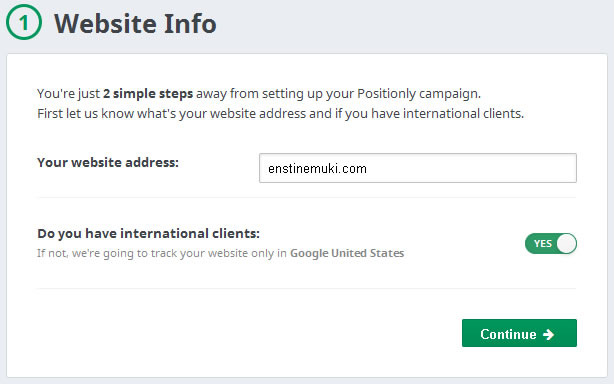 On the next screen, you will have to tell the system which search engines and countries you like to track the position of your website.  It's important to note that your position on SERPs differs in different locations and of course different search engines. The results you also get differ with location.
If you live in United States you'll most likely receive results from United States for the typed query. Let's assume that you look for a quite broad phrase like, petrol station. The results shown for the query would be relevant, but only if you would be in the UK or any other country where petrol station is commonly used. In US, the term gas station would be probably better.
Based on your physical location or the keyword that could highlight the local character of the information you are looking for, you'll get city-specific results. For example:
If you're looking for a restaurant you'd be more interested in finding a one nearby rather than the best restaurant in the country, right?
Ok. You are allowed up to 5 search engines and 5 countries. For USA and United Kingdom, you can go as far as tracking for local ranking.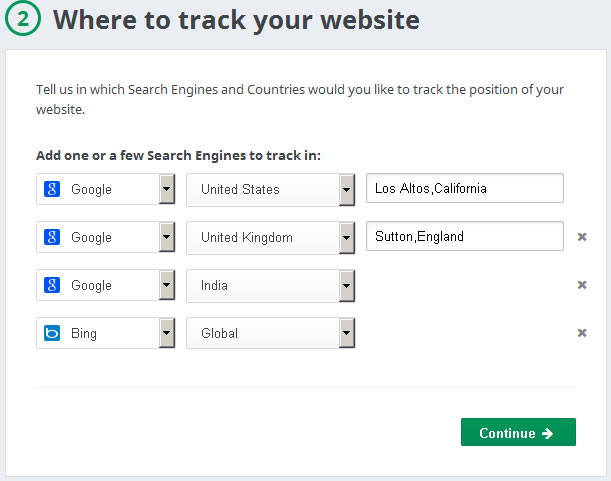 Obviously, you are going to be tracking your position for certain keywords on SERP. At this point, you need to enter these keywords, one per line.
Note that once your campaign is complete, you will be able to enter more keywords, remove some or group them.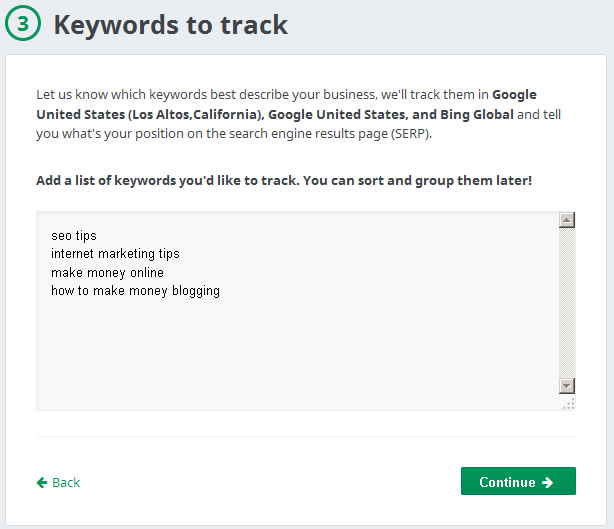 What next?
Positionly will pull up a summary report as you can see from the image below. Now I loved this when I got to this point. I entered 4 keywords but the tool was able to pull more from my domain.
You see it's quite easy to add your domain and get going. Now let's look at other facilities in this online seo tracking tool;
– > Google Analytics Connection
Connecting to Google Analytics gives an exciting user experience.  There are three reasons for connecting Positionly with your Google Analytics account:
You'll be able to import keywords from which you're getting traffic.
You can see the traffic you're getting from each entered keyword on the charts.
You will be able to see your paid and referral traffic on one simple graph too!

– > Competitive analysis
Postionly helps you compare your rankings with your competitors for a particular keyword. Such an analysis will give information on how well your overall website is performing in comparison to other websites that are trying to rank in Google for those keywords.
There are  two ways to add competitors you want to spy on;
Positionly will automatically fetch and add competitors based on the keywords you submit.
You can manually add more competitors using the the Competitors Tab in your Websites Menu.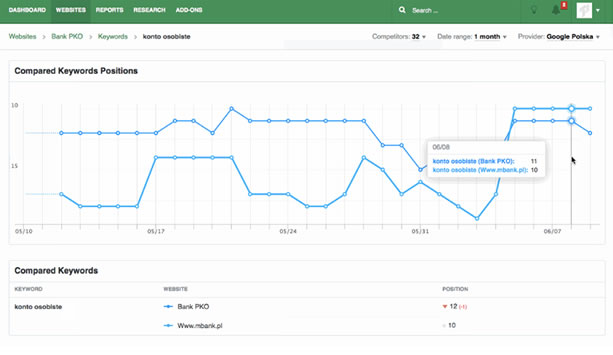 In SEO, the fight for the top position on SERP will never die down. You will constantly need to keep an eye on your competitors so they will not outrank and kick you off page #1
– > Positionly and Backlinks!
Let's continue this positionly review by looking at how this excellent seo tool handles backlinks. We know that the strength of top SERP ranking is backlinks. So we are interested in what happens to our backlinks –
Are we gaining or losing links?
Are the gained links nofollow or dofollow?
What is the DA or PR strength of the page and domain linking to us?
Etc
With Positionly, you can check and track your link building progress and see how it impacts your rankings growth.
When analyzing backlinks, you have a few metrics to consider. Positionly makes it incredibly easy to check the backlinks you get. Thanks to simple and visual graph you'll be able to evaluate and fully understand how your backlink profile impacts your rankings and overall SEO results.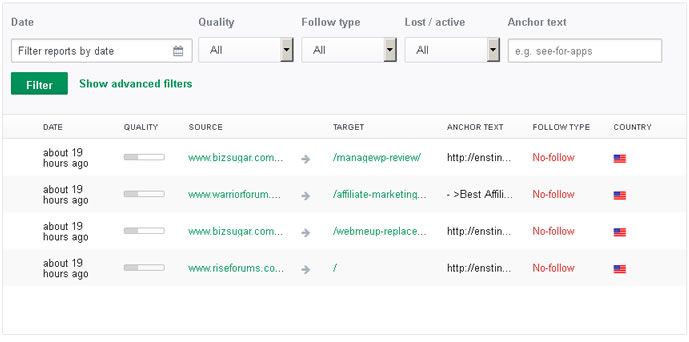 There are many filtering options that help you jump straight to list specific backlinks that meet certain conditions – dofollow, nofollow, anchor text, date, page linked on your site, etc
– > Positionly Notifications
Now, there are different types of notifications you get from this seo online tool. However, you are able to set what you get and the frequency from within your account settings page.

Looking at these options, I particularly recommend not to disable any option. Position notifications will keep you informed on any gain or loss on SERP position for any keyword you rank for. While the Backlink notification will update on new and lost backlinks. These are all crucial data to keep an eye on
– > Positionly mobile!
I would have been shocked if this first-class SEO tool did not have a mobile app. However, as I write this review, Positionly for iPhone is available from the App Store. You can find out more about the app here: https://positionly.com/iphone. Development is currently going on for Android and Windows Phone 8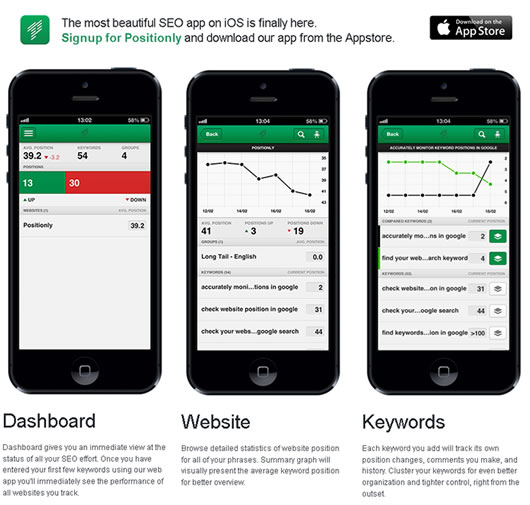 Customer Satisfaction and tesimonials

Positionly has a broad customer base including startups, SEO and marketing agencies. Its clients already include TD Bank Opower, ESPN and TUI. Here are some of these satisfied customers;

Mariusz Gralewski, CEO − Docplanner!
"Positionly is the only solution on the market that provides a simple and transparent way to monitor the effectiveness of thousands of phrases in search engines". Docplanner.com

Mike Slaats, Owner & Head of the SEM team, Qlickonline
"In 2013, we switched to Positionly as our tool for SEM, partly because of the excellent usability and honest price". qlickonline.nl

Domingo Karsten, Managing Director & Partner
How we manage hunderds of tiny niche keywords, to attract tens of thousands monthly organic visitors. solden.be
Start your 14 day trial! Absolutely free!
Unlike most online seo tools, you can take a Positionly test drive with absolutely no engagement. Your Credit Card data is never a requirement. The 14 day trial gives you full access so you can appreciate the tool before making a decision to continue.
Click here to signup for free!
Thanks for reading and leave your comment in the comment box below.