One of the biggest challenges in blogging is to know exactly what your readers really want. This does not only apply to blogging though. It applies to a lot of businesses on and offline.
No matter the amount and quality of content, traffic and engagement level on your blog, if you have not been able to figure out exactly what your readers want, chances of succeeding are very slim.
So a simple but powerful question is: Who Is Your Audience and want does it want
It's all about knowing your readers and what your they want.
In this post, I'm not going to drive you far from your already existing blog. I want to point out simple things happening on it that could just be telling you what exactly your readers are expecting from you.
What am I saying?
There are some blog posts on your blog that have become so popular. Your readers are really spending more of their time on those posts, but you have become too busy and distracted that you don't even understand the language of those articles.
How know exactly what your readers want!
If you've been blogging for a while, I want you to take a closer look at your blog in order to locate articles that have gone popular.
How do you locate them?
1 – Most commented articles
This is the most basic way to have an idea what your readers want. The article that is most commented is probably treating a particular topic. That certainly means your readers have had some interest in that topic so expanding your blog and publishing more articles in that direction could make your blog even more active.
Take a look at my blog here!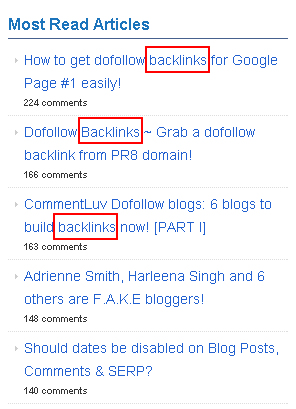 At the moment of writing this post, the three most commented articles on my blog are SEO related. Anything getting backlinks seems to keep my readers hooked.
Now, this is a very powerful discovery that tells me if I want to keep you (my readers) more satisfied, I should teach you more on SEO. If I'm wise enough, I should do more research and publish actionable posts on this topic 😉
2 – Most shared articles
Some of us do get a lot of social actions on our articles but the truth is, some of these articles get exceptionally more shares.
Why do you think these articles get more shares than others?
The simple reason is that the issue discussed in them resonates more with your readers. Evidently, if you publish more in that direction, you are certainly going to be doing some good to your blog.
But how do you know those articles with more social actions?
There are tools to help you but most of the social media sharing buttons on our blogs can already give you some data.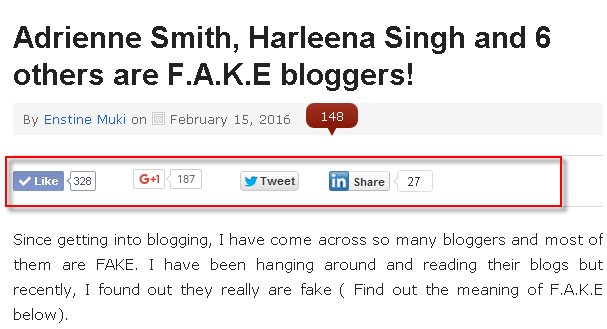 Or you may want to use a tool like buzzsumo

3 – Use Heatmap tools
One of the indisputably effective ways to know what your readers want is to use heatmap tools. Heatmap tools help you see exactly where your readers click and where they scroll to.
Look at what I got with HotJar on my blog:

What's good with HotJar is that it shows me single visitors to specific pages and how much time they spend on these pages. The more time they spend on a page, that gives me an idea how important the page is. This data can really help me know exactly what my readers want.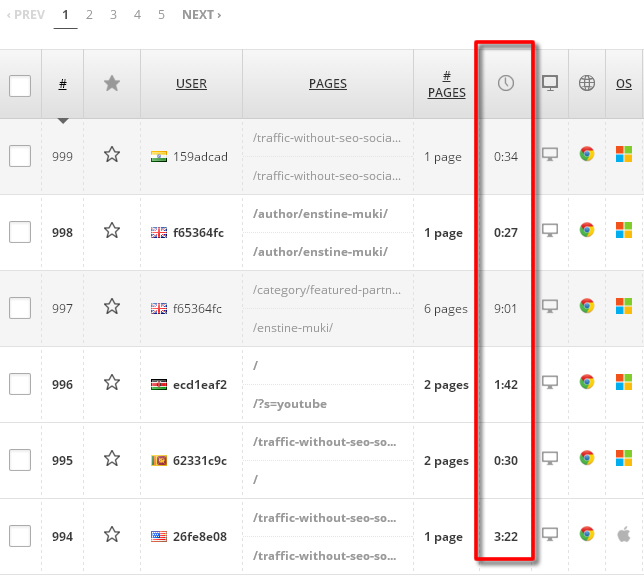 Other heatmap tools I have written about on this blog: PtEngine and LuckyOrange
4 – Running Surveys/Polls
One of the best ways businesses gather data to aid strategic decisions is surveys. It allows people speak out their minds on specific issues.
Using surveys on your blog can literally show you clearly the kind of content your readers will be excited about.
You can use a survey/poll tool (like HotJar) that will stick a questionnaire to your blog, create a blog post with a questionnaire or simply send a mail to your subscribers.
The question you ask in your survey should be aimed at allowing your readers help you come up with interesting blog topics that will keep them loyal to your blog.
Polls allow people to vote and this helps you know what your readers like more on a list of topics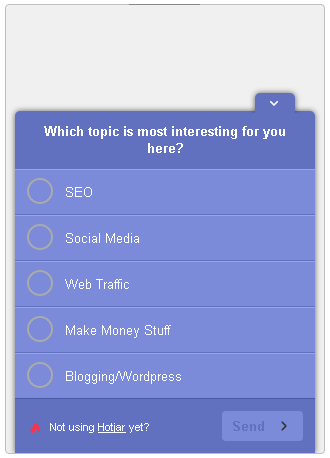 You can simply use  Hotjar to run a poll and allow your readers to tell you what they prefer on the list of topics on your blog.
5 – Pay attention to traffic from search engines
One of the little known ways to know exactly what your readers want is to monitor your traffic from search engines.
How?
Your readers from search engine may behave differently from those hitting your pages from referral sources, emails or search social media.
A huge portion of these natural visitors are first timers. Chances are that they are never going to return. You may never ever get to know what they want if you don't do something specific to them.
First, get your Google Search Console and Google Analytic accounts linked up. Once this is done, some crucial SEO data from your Search Console will be available in Google Analytics. See instructions here
Once this is done, you'll be able to see the top performing pages that get the most traffic from Google.
Go to your GA account and click to expand Acquisition -> Search Engine Optimization -> Landing Pages.

Now you can identify those pages that get the most clicks from Google. What you should do here is edit these pages with specific message targeting visitors from search engines.
You may even have a specific survey for them, based on the keywords that drive traffic to the different pages.
How do I know the keywords that drive traffic to these pages?
Your question isn't stupid at all!
You'll need to go to your Google Search Console account for the site you want to monitor search traffic. Click Search Traffic – > Search Analytics

Here, you are going to have a list of your keywords (queries) and some more very crucial data.
Now with this information, you can target your search visitors with some specific and targeted information on those popular pages and dig deep to know what they want.
HotJar for instance is a flexible piece of tool. It allows you to create surveys and target them to individual posts and pages on your blog.
With this in mind, you are able to create super targeted survey only for these pages.
6 – Online Elections
Voting and elections are fantastic ways to attract visitors to your websites. Use the WordPress Poll plugin to easily add a responsive poll to your website. You can use the Poll Maker plugin's poll types to add interesting content to your website. You may make versus polls, voting polls, text polls, choice polls, dropdown polls, rating polls, and more using the plugin. Visit the demo page to see the outcomes you may achieve with the Poll Maker plugin.
That's it!
What do you think about these 5 ways to know exactly what your readers want? Please drop a comment and let me hear from you.
If you like the post, Save/Pin on Pinterest: