One of the things I have learned as a serial entrepreneur is the fact that success online largely relies in understanding your visitors. From my test and figures, the best way to get to knowing exactly what's the need of your readers (without having to ask them to fill forms) is using a heat map tool.
I have tested many of these tools on this blog but Lucky Orange stands out from every view point. It's not just a heat map tool but a complete suite of tools for total website optimization and usability analysis.
Now, as an online entrepreneur and website owner, you should be able to understand visitor behaviors, create and diagnose conversion funnels, identify causes of abandonment on sites & then optimize for bigger results.
Of all the platforms I have used to try to understand my visitors and tailor content to meet their needs, Lucky Orange has distinguished itself in terms of tools and cost effectiveness. For as low as $10/month, you have full access to these 7 tools I want to talk about.
Before we go to these tools, here is a video presentation!
Lucky Orange – 7 Tools for total website optimization and usability analysis
1 -Heatmaps
These are simply visual representation of visitors' mouse clicks, movements and scrolls activities. Lucky Orange makes available these 3 heat maps (Clickmap, Mouse movement, and Scroll
Depth)
These 3 maps help you know the areas of your site that attract more attention, the menu items that get more clicks, the banners that attract more attention and clicks, etc. Of course, from these, you will be able to identify and possibly optimize those areas that are dormant and wasting space.
2 – Polling system
This tool helps you create real time polls to collect feedback and suggestion data from visitors. Analyzing the data from the polling system will hugely help in optimization and usability improvement.

Creating polls is amazingly simple. Take down those complex-for-nothing polling scripts from your blog and try out something stupidly simple with capacity to generate mighty results.
3 – Form Analytics
Forms are like the bridge between site visitors and site owners. The only channels that carry information from visitors to site owners are forms.
This calls for the necessity of a tool that will analyse these forms and generate enough data to help in understand user behavior while filling forms on your site.
The Lucky Orange Form Analytics tool  will automatically detect any form across your site (short or long forms), capture keystrokes, clicks, etc, of visitors and generates advanced reports that stretch far beyond traditional conversion reports.
Here are 4 main Form Analytics Reports you get from Lucky Orange:
ABANDONMENT REPORT: This helps you to see which fields visitors last type in before
abandoning.
TIME TO START REPORT: In this report, you get to know how long it takes on average for
visitors to start a form.
TIME TO COMPLETE: You need to know how much time your visitors take to complete each field on your forms. Some fields take more time and may result in high rate of abandonment.
on average.
REPEAT FIELDS: This report will show you which fields are often repeated by visitors.
Now with these reports, you are able to optimize your forms, improve your submission rate and of course increase your ROI.
4 – Chat system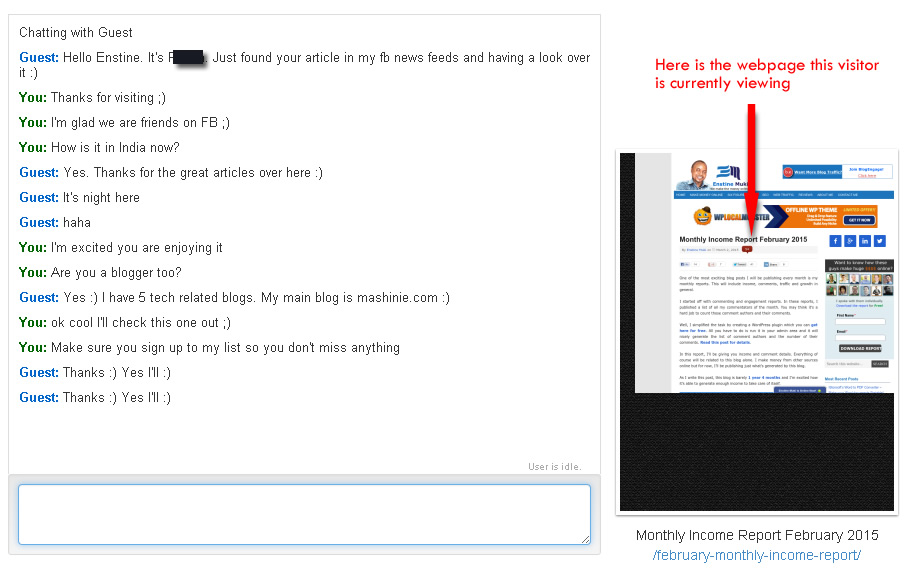 The live chat system is one of the tools that make Lucky orange unique. It gives you the ability to help your readers in real time. Another impressive feature of the chat system is that it allows chat operators to see visitors' screen live so as to better assist them.
As a chat operator, you can invite other operators into a specific chat with a visitor, transfer chat to another operator, invite a visitor currently on site to a chat, etc.
5 – Visitor Recording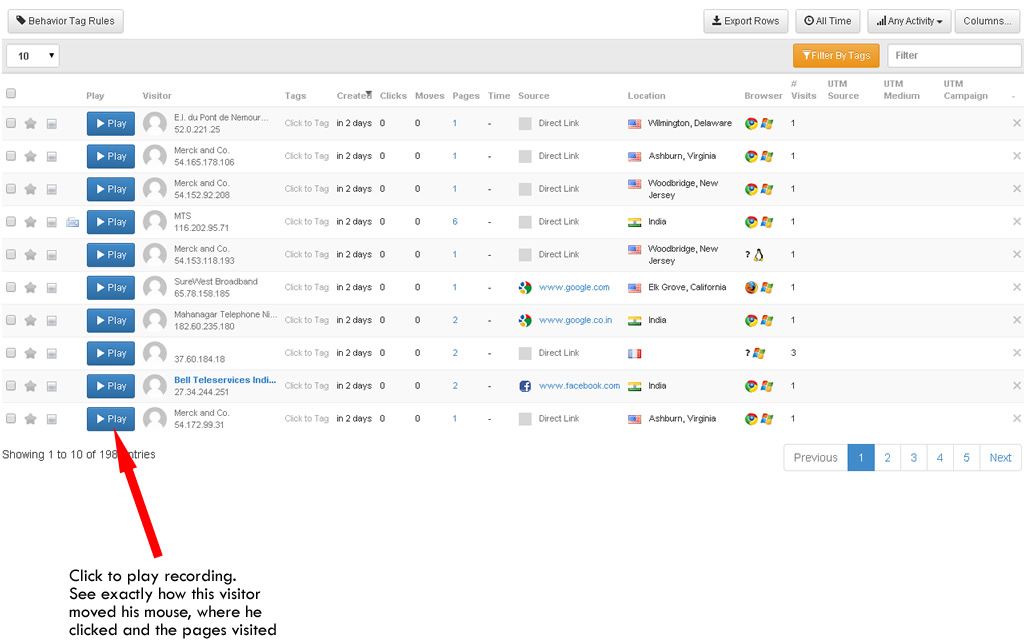 Now for the most part, we don't know what happens when a visitor lands on out site. Some get lost and others get confused.  The visitor recorder is like a camera on the reader's screen quietly spying and recording every of his movements – clicks, mouse movements , form usage, etc.
while the heat map captures clicks, movements and scrolls and prints on an image, the visitor recorder records the movement of individual visitor and gives you the possibility to playback at any time.
The recorder provides more useful data like how much time the visitor spent on your site, where he came from, how he navigated your site, which pages he visited , etc.
6 – Real Time Analytics
This is an amazing feature that helps you see each time a new visitor lands on your blog. You will be able to know the referral source, the country the visitor is visitor from, the keyword that brought that visitor, which page is that visitor currently reading, how many pages he has read, etc.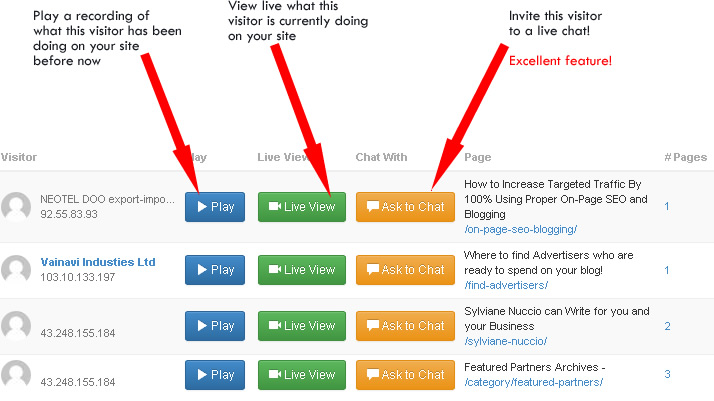 This feature is linked to the chat system giving you the ability to instantly initiate a chat with a reader that's currently on a certain page on your site.
Now, with a sharp business mind, if you notice that a certain visitor is current reading an offer page, you can right away initiate a chat and propose a discount.
Lucky Orange and  Conversion Funnels!
A conversion funnel is a group of steps that lead to and end goal. Lucky Orange makes it exciting to create funnels and see exact point in your conversion process where people abandon. You will be able to play and watch recordings of those exact visitors who dropped the process.
This will help you identify stoppages in your conversion process and develop solutions that will definitely improve your conversion rate.
Installing Lucky Orange!
In recent times, site load speed has become one of Google's ranking factor and one of the problems we face with plugins and analytic tools is site slowness.
One piece of JavaScript code is all it takes to have Lucky Orange installed. The code is asynchronous and designed NOT to slow your pages.
There are 2 ways to have this code setup on your site;
Copy and paste the code before your </head> meta tag
Simply upload and install the Lucky Orange plugin which you can download here.
Now over to you
Are you using any heatmap tool? Won't you like to try out Lucky Orange as it has more interesting features?
Let me here from you in the comment bow below!