Selling your knowledge online (for example, by creating an online course) is a great way to generate passive income. In fact, according to Global Market Insights, the e-learning market is valued at around $190 billion and is expected to grow at a rate of 7% from 2019 to 2025.
However, selling courses online isn't necessarily as easy as it sounds.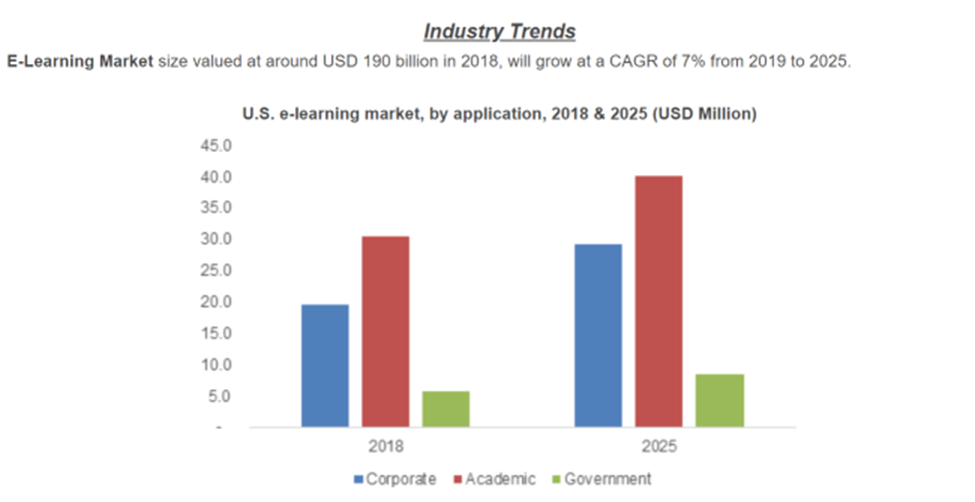 Creating an online course website involves finding hosting, installing a learning management system, integrating payment gateways and marketing tools – the list goes on and on. So, unless you're exceptionally tech savvy or have a huge development budget, you're going to need an online course platform to be able to sell your course.
In this article, we'll walk you through a four-step process for generating more profit from your online course using one of the most popular online course platforms, Kajabi.
Let's begin.
How to Sell More Online Courses Using Kajabi
For those unfamiliar, Kajabi is a digital business management platform that lets users create, manage, market and sell online courses. It's a hosted platform, which means you don't have to worry about the technical side of things.
Once you have your course topic in place, you're ready to take the next steps.
Step #1: Build an Online Course Website on Kajabi
Start off by creating a website to sell your online course through. With Kajabi, you're able to build a website for your online course, complete with landing pages and built-in email marketing functionality.
Once you've opened a project up on Kajabi, select a theme and upload your course content to it. You can choose one of the free themes that's available with the platform out of the box or upload a custom theme.
Next, use the platform's point and click system to add different sections to your website's homepage. These might include a features section (What You'll Learn), pricing plans, and calls-to-action of various types.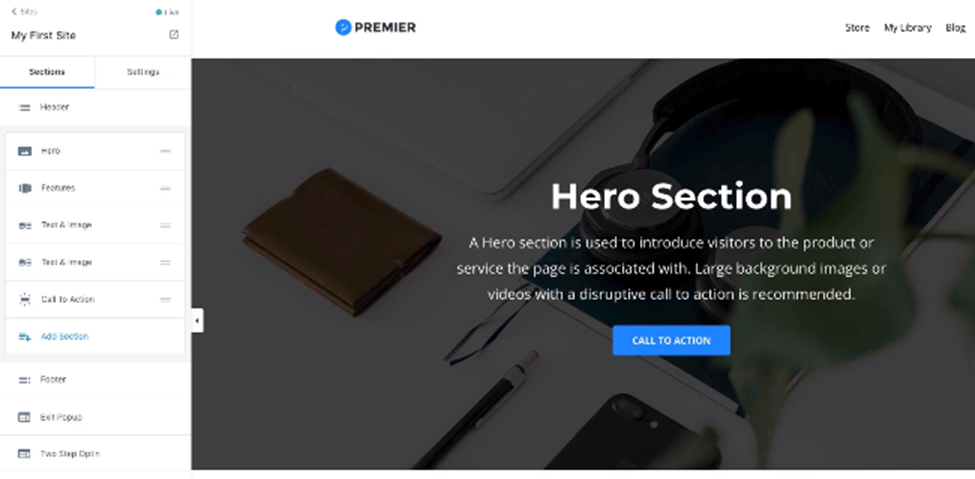 Now that your site is set up, start uploading your course content to it. To do this, navigate to Products from the dashboard. Here, you'll be prompted to pick a Product Blueprint or start from scratch. Product Blueprints are pre-built templates for creating specific types of courses for example, mini course, evergreen training, membership, or a simple online course.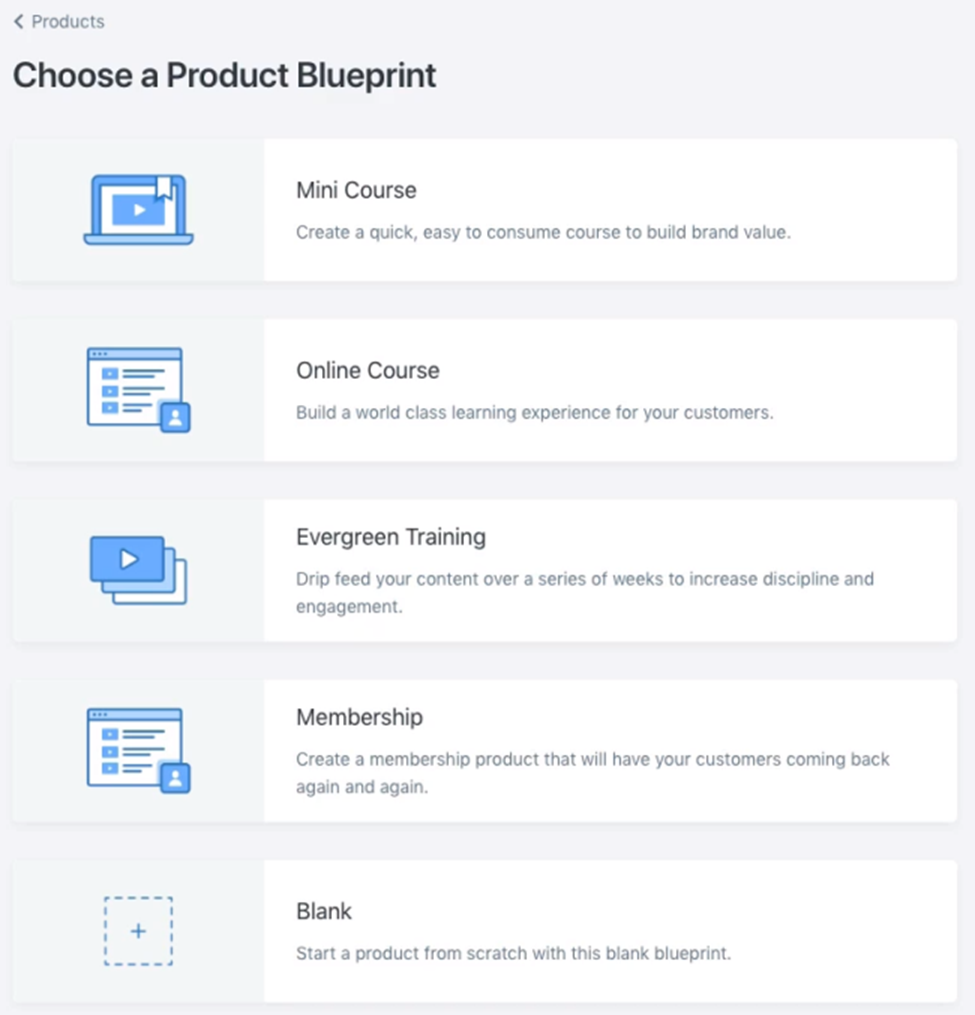 With Kajabi, you're able to upload your online course video, a poster image, additional text or media files that go with the course, and downloadable resources.  
Course videos are stored on Wistia's servers, so you don't have to worry about a slow-loading website.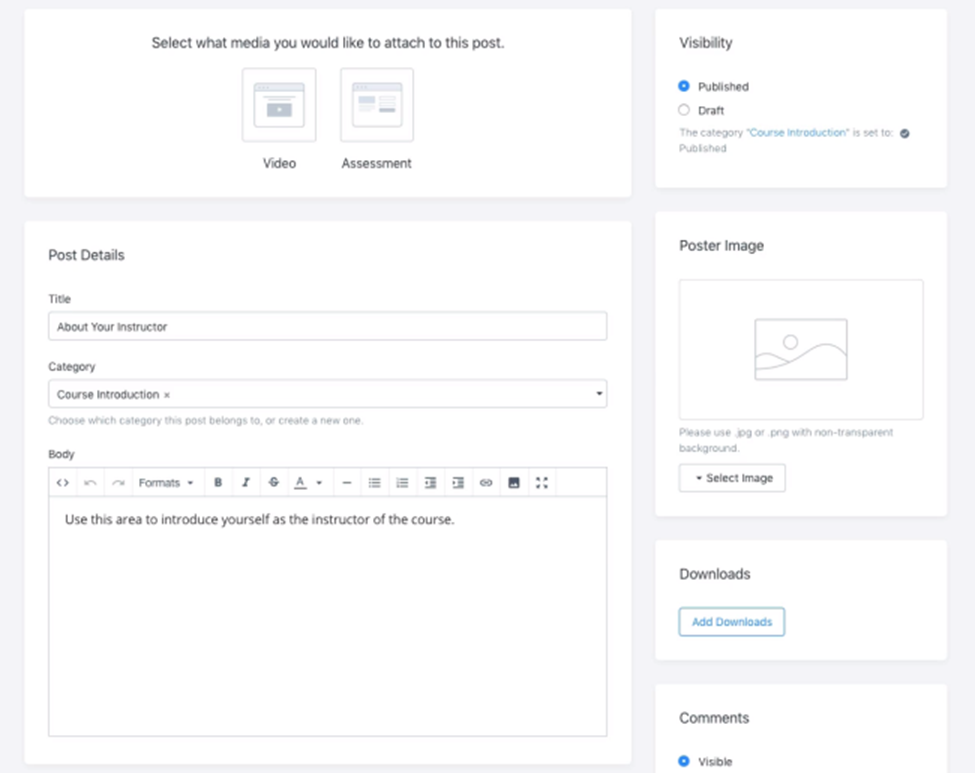 Once you've uploaded your online course to Kajabi, change the Visibility settings from Draft to Published.
Step #2: Set Up a Landing Page to Generate Leads
As we mentioned above, you can create landing pages using a built-in landing page builder to generate leads and begin promoting your online course. Kajabi comes with a number of high-converting landing page templates to help you get started quickly.
Depending on your digital marketing strategy, you might use your landing page to:
Exchange a lead magnet (such as a free course or checklist) for email addresses.
Encourage visitors to subscribe to your weekly email newsletter.
Offer free, limited time registrations for live events like webinars.
You might consider promoting your online course and posting about related topics on social media to drive traffic to your landing page. By doing so, you'll be able to build an email list of prospective customers that you can market your products to.
Step #3: Automate Email Marketing Using Pipelines
So now you've set up your online course website, uploaded course content to it, created a landing page, and are building an email list. The next step is to market your online course to your mailing list.
With Kajabi, you can get started with email marketing without having to integrate with a third-party tool or export your list to an email marketing service. Instead, you can use Kajabi's built-in Email Campaigns feature to begin promoting your products.
The Email Campaigns feature lets users create marketing campaigns, send emails to subscribers, and monitor email broadcasts. This way, you're able to see which emails are performing the best and which ones have room for improvement.
Kajabi also offers a number of powerful marketing features – such as its one-click Pipelines (sales funnel) feature – that you can use to nudge targeted segments of subscribers and prospective customers down a high-converting sales funnel.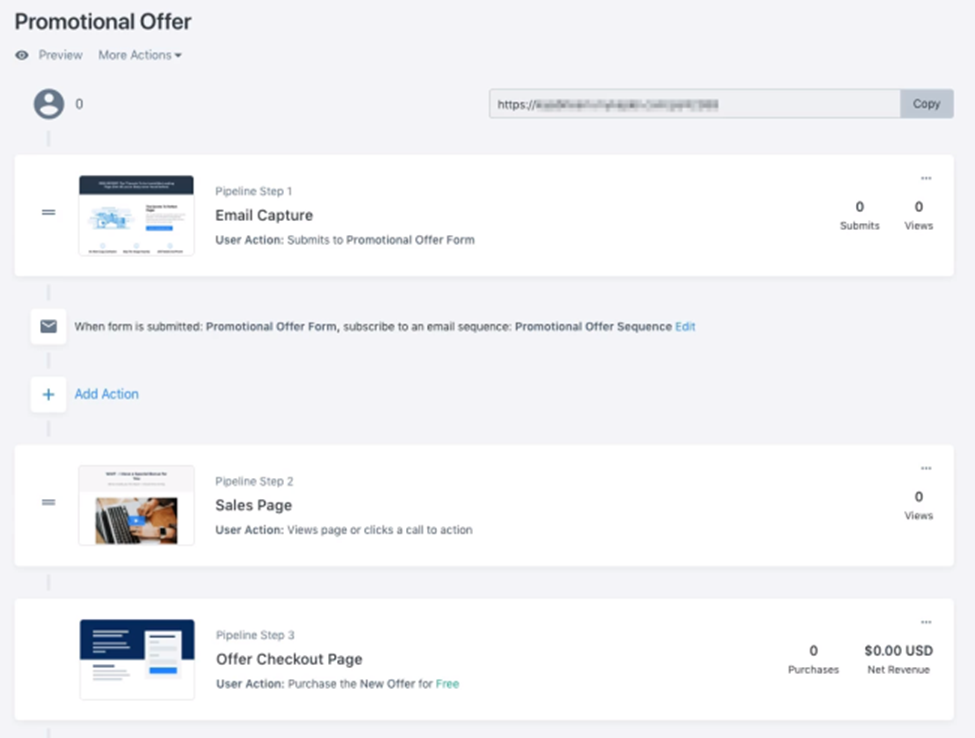 Pipelines let you automate your marketing efforts by stringing together landing pages, email sequences, and offers. So, for instance, you might create a custom pipeline that captures visitors' email addresses on the landing page, sends them an email, directs them to your sales page, and, finally, prompts them to visit your checkout page to complete the transaction.
The best part is that the tool comes with a number of pre-built Pipelines that you can use to get started right away. These include pipelines for promotional offers, sales pages, webinars, live events, and more.
Step #4: Create Upselling Opportunities
Upselling is one of the easiest and most effective ways to generate more profit from each sales conversion. It works something like this: whenever a customer reaches your site's checkout page to purchase a course, you present them with an exclusive offer that adds value to their purchase, for an additional fee.
So, if your course is priced at $49, you could upsell a bundle that contains the course in addition to downloadable resources (like in-depth guides or printable checklists) for, say, $59.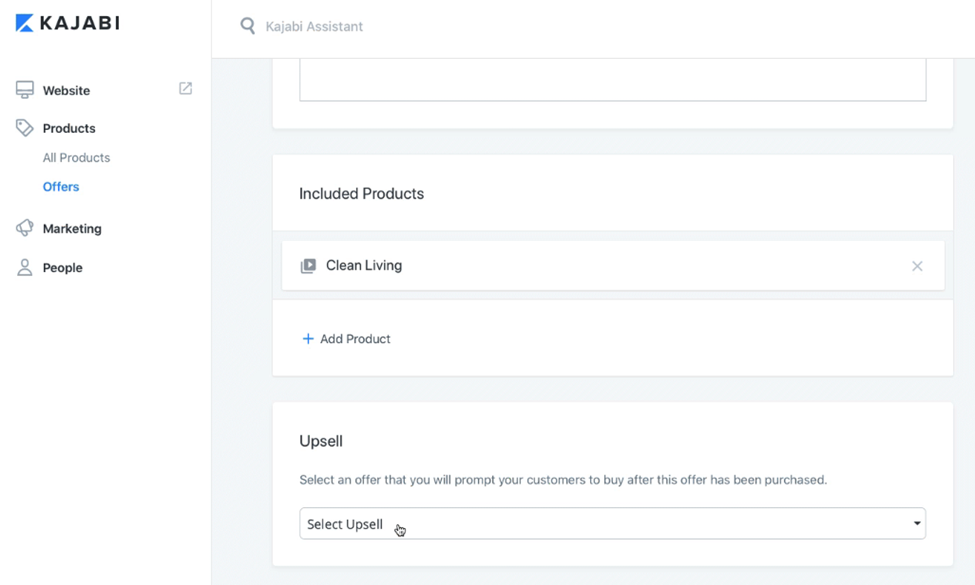 By implementing an upselling strategy, you can effectively persuade customers to spring for the $59 option, as it includes bonus material that's relevant to the course. Kajabi lets you create upselling opportunities – in-course upsells and purchase upsells – on your website using the built-in Offers feature.
Wrapping Up
Kajabi is a powerful, feature-rich online course building platform that makes it easy to create, manage, and sell courses. Course instructors are able to build landing pages, generate leads, create email marketing campaigns, and so much more without having to mess around with code or worry about third-party integrations.
To recap, here are the four steps you need to follow to generate more profits from your online course:
Build an online course website with Kajabi and use the Products Blueprint feature to upload your course content to it.
Set up a landing page to generate leads and start building an email list.
Automate email marketing using the platform's Pipelines
Create upselling opportunities – in-course upsells or purchase upsells – for prospective customers to generate more profit from each sale.
What are some digital marketing strategies you use to generate more profit from selling online courses? Share your thoughts in the comments section below.