There are many ways to earn a full-time income and one of these is teaching others online. In today's featured post, I'm bringing someone to help you with 3 steps to establish yourself as the go-to online instructor.
Just so you should know, every Thursday, I bring savvy bloggers and business persons allover the world on my blog here to share with us several different success tips.
You can see a list of those featured in the past here. Definitely something to learn from them. If you want to be featured, see these details.
This time, we have someone you're certainly going to find exciting and worth hearing.
Meet Mary Fernandez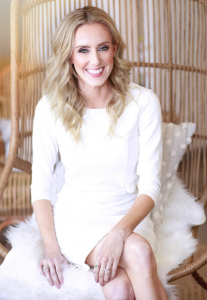 Mary Fernandez is the founder of Persuasion Nation, a website dedicated to helping entrepreneurs use human psychology to monetize their passion.
Between running her online business, homeschooling her 4 kids, and managing two real estate properties, Mary understands the challenges that many entrepreneurs are up against when building a business from the ground up.
Rather than telling you to simply "Quit your day job!", or"Do Facebook ads!", or "Outsource stuff!",Mary has a refreshingly different approach. Her bootstrapping method focuses on the skills and systems she has used as a former digital marketing professional to help grow several 7-figure websites, made do-able for people who actually have a life.
Through her complete A-Z program, Persuasion Education, Mary teaches you how to launch and grow a passive online course business in as little as 90 days– without the need for a huge marketing budget or tons of time on your hands.
Mary says all you need is the right education, a few choice tools, and 30 minutes per day to start making money online!
Here are 3 steps Mary teaches in her program that have helped her students monetize their passions and earn a full-time income teaching others online…
1 – Brainstorm a Profitable Course Topic
The online learning industry is growing at an incredible rate, and is expected to reach $325 billion by 2025. There has never been a better time to create your own online course!
Ask yourself, what do I enjoy doing? What do people ask me questions about? What do I enjoy learning about?
Make a big list of all the things that come to the top of your head. Then, do some research to determine which of those ideas could be a profitable online course topic. If other people have already created courses on your topic, that is a good sign that there is demand for your topic!
To help you with this, Mary has a list of 15 profitable niches for online courses. (Your course idea is likely to be popular if it falls under one of these 15 categories.)
2 – Create Your Course
The first step in creating your course is to outline what you need to teach. What is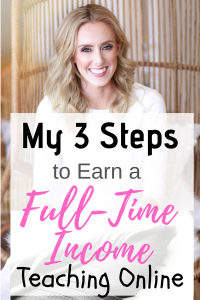 the end goal of your program, and how will you get your students to achieve that goal? What modules and lessons will you need to create? Map out each step of their journey so you know exactly what you need to cover in the entire course before you start recording.
Once you have your outline, you can start recording each of your video lessons. Mary recommends Screenflow or Camtasia to record your videos, and Keynote or PowerPoint for creating your slides (optional). Try to keep your videos to no longer than 7 minutes each– you don't want to overload your students with too much information all at once.
You can also create downloadable handouts for your students using a design tool like Canva.
Finally, you'll need to upload everything to an online course platform. There are many different platforms to choose from, but the one that Mary recommends is Kajabi.
3 – Build a Sales Funnel
Next you'll need to build a sales funnel for your online course. A sales funnel is a series of steps that your prospect will take on their way to becoming a customer.
Ask yourself, how is someone going to discover me in the first place? Do I need to create blog posts, social media posts, webinars, etc.?
Then, how can I provide incredible value up front so that they will come to know, like and trust me as the expert on my topic? Do I need to create free downloadable checklists, a free mini course, or a free email series?
Finally, what assets will I need to build in order to make the sale? Do I need offer emails, a sales page, a checkout page, etc.?
If you are using Kajabi as your course platform, then you already have all the tools you need to create these assets built right in to the platform.
Otherwise, you can use tools like WordPress (blogging platform), LeadPages (landing page builder), ConvertKit (email list provider), and WebinarJam (webinar software).
That's it! Now know the 3 steps to earn a full-time income teaching others online. To learn more from Mary, download her FREE guide: 6 Powerful Persuasion Tricks Entrepreneurs are Using to Sell Multiple 7-Figure Online Courses.
Follow Mary on Pinterest here. You can as well follow me on the same platform here.
Mary is on Twitter. Check her out here
Drop a comment to engage with Mary. Save this post on Pinterest: