You are looking for ways to double your sales right? I've got something to share with you because it's evergreen and produces results day and night.
Recently I did a crazy thing! I bought a piece of software which I did not need immediately. But I knew it would be useful for me in the near future. This act was against my "rules" to purchase something I don't currently need.
But I went ahead and bought it anyway and I'm sure many others did same.

Why?

Just One word… 

DISCOUNT.

The product seller ran a time-sensitive 50% discount for only 72 hours. When I got to the sales page, there were only 2+ hours left.

Since I was about to step out of the office and call it a day, I had to make a decision right then and there because come tomorrow the discount offer won't be available again.

So I grabbed it 😉

Whenever you run a time-sensitive discount offer, sales spike. Especially on the last day, when sales skyrocket!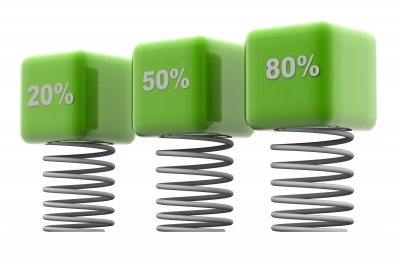 Why does this work so well?

Because people are afraid they'd miss out on good things, on good offers. They don't want to lose out. The fear of losing out is greater than the pleasure of attaining something.
How to double your sales in 3 days?

If you want to quickly explode your sales in a short period of time, run a time-sensitive discount for your product. The bigger the discount, the more sales you'll make.
What about dimesale?
That's another perfect way to scratch money from readers' wallets. In dimesale strategy, the price goes up gradually and steadily after each sale until a certain maximum is reached. That causes people to buy quickly to avoid buying it later at a more expensive price.
Take advantage of events
Some sellers are really smart, I must mention it! Some on the other hand still need to be told what to do.
There seems to be an important event everyday. Well, that doesn't mean you have event based discount code daily.
Some events are more popular that others. To be smart, take advantage of such popular events, generate time sensitive discount codes to boost sales. Make sure these coupons are only valid while the event is on.
While not do something on your next birth day? Share a gift to your readers and make more simple.
This is simple! Just create your birthday discount code and spread it around.
Overcoming platform limitations!
One of the reasons you won't be able to benefit from any of this strategies is your sales platform. Some of the widely known shopping cart platforms we have today don't have support for time sensitive discount and or dimesale systems. This is lame if you ask me.
Some don't even have the most basic of all promotions facilities – coupon tool. So what do you do if you must join the camp of the successful?
Switch to Zaxaa. Yes! that's the answer.
You need a sales platform that's endowed with flexibility. Besides, you can start selling for free.
Checkout my Zaxaa review here. This platform was designed for smart authors and product owners.
Do you sale anything online? Do you want to increase sales and double your profit? Go ahead and implement this strategy.
Thanks for sharing what you think in the comment box