Most of us are smartphone users right? It's interesting how these mini computers are making life easier. Well, most often there is still need to connect our smartphone devices to our personal computers.
That's why those of us with Android powered phones keep looking for the most advanced android pc suite. Users of iPhone devices are also looking for iPhone pc suite for a better user experience.
For the most part, you will need two software for both systems – an Android phone software and an iPhone software. That makes things a little complex isn't it?
Today, I'm bringing you Moborobo, a completely free smartphone software to let you manage your Android or iPhone from your PC.
I'm aware some brands like iTune, Samsung, etc ship their devices with copies of their operating systems. In most cases, these are always enough to help you out. However, if you switch brands, there will be need to transfer your contacts and other information stored in your phone memory.
This certainly is a pain in the butte if you don't have a smart application that can inter-connect different mobile phone technologies. Moborobo's cross-platform technology makes it the master as we shall see in this review post.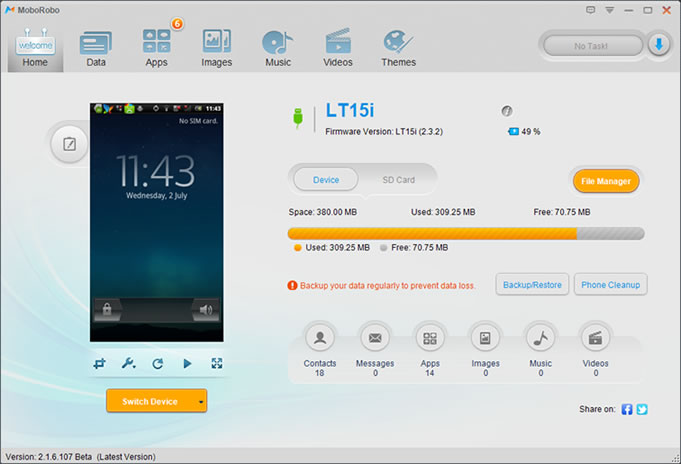 What is Moborobo?
It's simply a great, all-in-one smartphone management tool. Moborobo is both an Android and iPhone pc suite available for free download.
While Smartphone users will find this free pc app very useful, iPhone and Android store owners are able to use it to add more value to their business.
If you own an Android phone, this is my highly recommended android pc software you will need. At the same time, it's a great app for iPhone users in search of a complete iOS compatible pc solution. 
Click here to download Moborobo!
What makes this smartphone pc suite stand out?
There are a number of factors that identify Moborobo with the masters. Let's look at these features and how they can make your devices more friendly:
Moving Contacts Between Android & iPhone

Moborobo is a cross platform software that helps you move contacts and other information between Android and iOS devices. This eliminates the frustration of losing calendars, contacts, photos and other information contained in a phone when a user upgrades or makes the switch to a different platform.
There is always need to try something else so software should not be your limit when you can download it for free.
 Fast and Secure Data Backup / Restore
With a very clean interface, you can back up contacts or files on your Android / iPhone to your PC. You don't want to lose your crucial mobile phone data to stolen or damaged phone. When creating a device backup, you can specify what to include from the list of Contacts, Images, Messages, Call Logs, Apps and their Data. You also set where to copy the selected data to on your PC – that's the path.
Stop wasting time on heavy and time consuming backup/restore systems and switch to a proven platform that will save your time while ensuring data safety.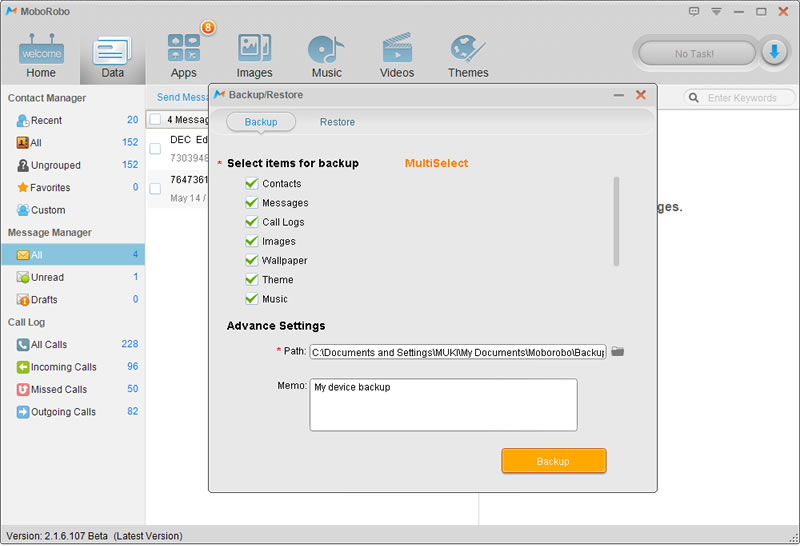 Save your 3G data usage – download using your PC
Each time you download from any remote server with your Android or iPhone device, you 3G data is used up and of course, you know with me what that means.
MoboRobo comes with a built in resource download center that allows you to search for applications, games, wallpapers and ringtones to download to your phone through PC network.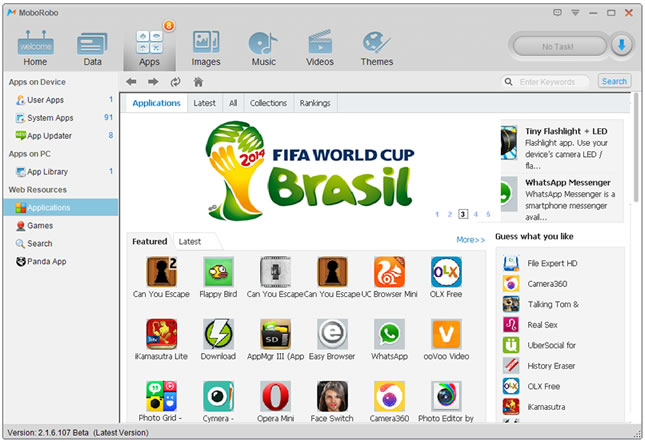 Multimedia – Music, Images, Video
Move multimedia files between your Android/iPhone smartphone devices and your PC with ease. You attended a party and took some amazing pictures. You may just want to store them on your PC or move to some other device.
Watch your video on your PC with your regular movie player or simply use the in built MoboPlayer
Send & Reply SMS from PC Desktop
Sometimes, it becomes quite of a difficult task to type messages on that tiny phone keypad.  That's one of the reasons I often don't send SMS. However, With Moborobo SMS tool, it's done with excitement. Whether it's to a single person or a group of friends it's quick and easy.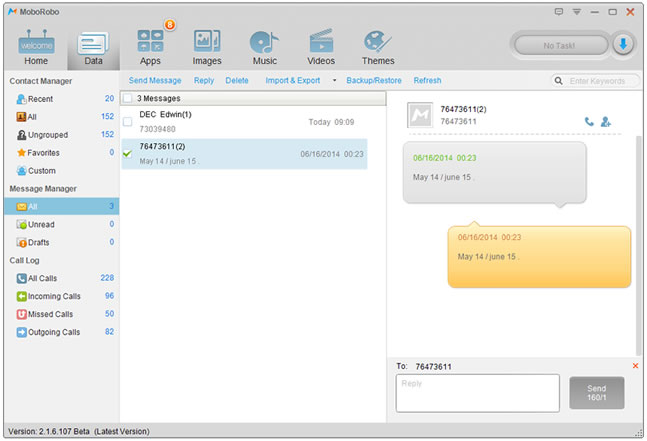 Your hunt for free Android and iPhone PC Suite has ended with you finding a great solution. Download your free copy here.
Let me hear from you…
Are you Android or iPhone user? Have you tried this smartphone pc suite before? Share your thoughts in the comment box.