Do you know the most important blog pages you need on your blog? If your old blog is meant to generate income or if you are about creating a new money making blog, there are quite a good number of pages you can create to give out specific information. While these pages are all important, 5 of theme are more crucial. These are more strategic in helping you generate more income and earning more trust for you from your community.
Before I move any further, this is part 10 in the series of creating a blog that makes money. If you missed out the first 9 parts in the series, you may want to check them out.
How to create important blog pages in WordPress
Before we look at these 5 important blog pages, here is a brief guide on how to create pages in WordPress. This is as simple as creating a post.
Point to the "pages" link on the left menu of your WordPress Admin and click "Add New"
Fill the form that shows up: Page title and page content
Click to publish when your page is ready.
As a matter of fact, there is no big deal in creating a page in WordPress. It's as simple as the steps above
Important blog pages – The 5 Most Important Pages On Your Blog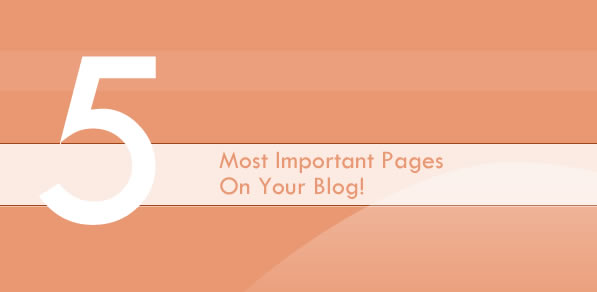 1 – > Contact Page
Your contact page is a direct path to you from your blog. Without a contact page, you are loosing business. Your blog visitors who want to get in touch with you from your blog should not have to go to your Facebook profile or some other site to send you a message. It makes the process more tedious and can keep many discouraged from getting in touch.
You should use a simple contact form and possibly phone numbers and full address.  For contact forms, there are hundreds of plugins out there. However, I warned in the beginning of this series against installing just any plugin. On this blog, I'm using Simple Basic Contact Form which I find very light and secured. If you want an embedded form (without using a plugin), check out how to Creating your First blog post
2 – > About me Page
Many people coming to your blog (especially through search engines) don't know any much about you. As a matter of fact, my about me page is one of the most visited pages on my blog. It gives more information about me and makes my visitors feel more at home.
People want to deal with real people they can trust so your About Me page should be where to tap more trust from your visitors. You can showcase some of your products on your about me page and talk about the people you work with. That increases trust.
3 – > Service Page
If you offer some services, this is where to give some details about them. Include references and testimonials from clients on this page. This will generally help sell your services
Some bloggers rather prefer listing their services on their about me page which is not bad. However, if you have a lot to write about your services, I recommend creating a separate page for it.
4 – > Disclaimer Page
This is very important for any blog that makes money by selling others' products. If you link to external resources, you will have to be clear on which grounds you recommend such products. You must not be held responsible for any damage or issues that have to do with the use of those products or links on your blog.
Writing a disclaimer page may not be easy. A fast way is to use a disclaimer generator like this one. You must however be sure to customize it.
5 – > Privacy Policy Page
This is one of the important blog pages every blog should have. This page is also very important if you are dealing with third party advertising partners who may use cookies and web beacons on your blog. Google, for instance, requires a Privacy Policy Page before approving any application for Adsense Account.
This privacy policy page should outline the types of personal information you collect from visitors and how this information is used. Again, you can use this generator to get one for your blog. Make sure you customize it.
These are the most important blog pages I think you should have on your blog now. Depending on your niche or business, you may have to add more pages. That won't be an issue at all.
In the next part, we will be looking at Creating your First blog post. If you've never blogged before, this will be very crucial for you.
Leave your comment below, share this article on social media and stay tune for the next part.