Google by far is the most important source of natural traffic for every online entrepreneur. While other search engines have a place, Google traffic seems to be the most attractive.
But getting more and more readers from Google is a tough game given the constant changes and fierce competition.
In today's post, I want to help with some tips on how to get better ranking on Google SERPs and increase your traffic in the years ahead.
While these tips will help increase your Google traffic, you will also be getting traffic from other search engines.
8 ways to increase Google Traffic and search visibility
I want to make this quick comment before we move on.
All these six tips are evergreen. That means you can apply them anytime and see an improvement in your natural exposure. So good luck!
1. Don't compete with big guns
This is one of the easiest ways to get more traffic from Google. As a matter of fact, competition is one of the reasons you are failing online. Just take a look at the number of entries competing for some keywords on Google: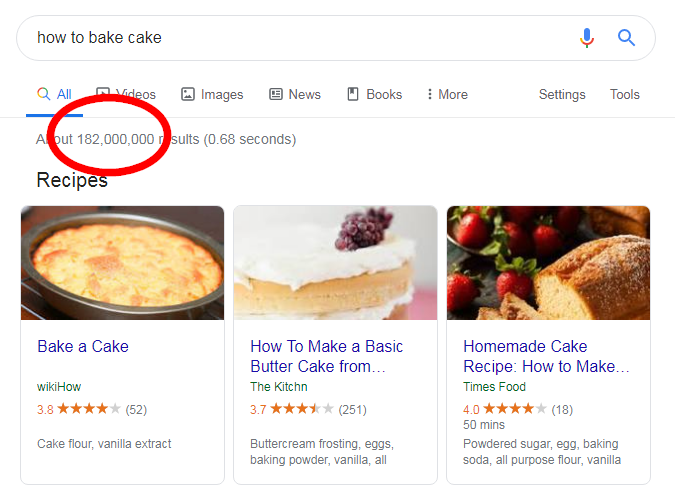 And for the most part, it's not just about the number of entries. Some marketers often neglect the strength of each competitor. While you measure the number of entries, also measure the strength of each entry.
There are always low-hanging-fruits in every industry. Do a deeper keyword research and you'll surely find some seemingly popular keywords with weak competition.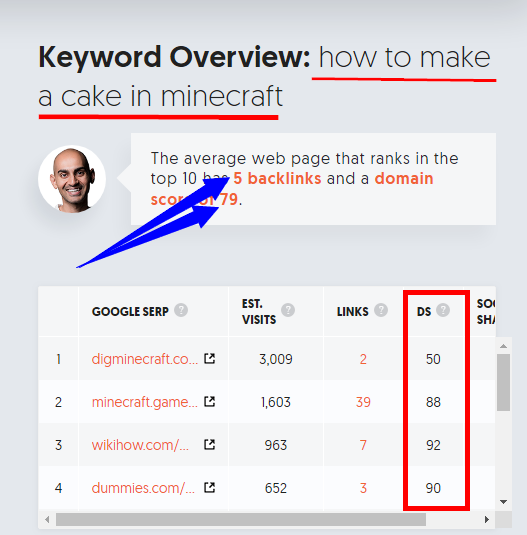 Neil's free SEO tool gives you great way to dig deeper and find keywords with amazing matrix. We moved from how to make to make cake to a longer and less competitive keywords.
Here are two key competitor strength factors to pay attention to:
Competing domains scores
Number of backlinks
Putting all these factors together, you are sure to come up with a keyword you can easily rank and pull amazing Google traffic.
2. Write in-depth unique content
This is one of the most common pieces of content marketing advice you are going to get out there. Creating in-depth content gives you enough space to touch on every aspect of the topic. A complete article topically optimized for semantic SEO will rank better for more Google traffic.
Going in-depth is just an aspect of it. Uniqueness is another factor. The ideas and facts you bring up give your content an identity. Many marketers have failed due to copy & paste practices. While it's allowed to quote someone, completely reproducing others' work is a big no.
Today's Google doesn't simply rank content based on keyword optimization. The search giant is looking for many more factors, with content being at the core. So it's not enough to scratch a topic and build backlinks. Go into its depth and make sure your readers give it a vote.
3. Edit and re-post
One of the quick ways to increase your Google traffic is to edit and re-post existing content. Going through your Google Search Console stats, you are certainly going to find out some nice keywords driving traffic to your posts.
Pick the keywords and do more relevant additions to the content they are driving some traffic to. Make the post more relevant and refreshed. Adding more text, videos, images and re-posting will increase dwell time and give it a nice SEO boost.
4. Hire SEO Agency
Another way to increase your Google traffic is to hire a qualified SEO Agency. These should help you in many ways get more natural traffic:
Sort out any SEO related technical issues on your blog
Build your backlinks
Do your competitor analysis
Carry out and advise  on keyword research
Develop your content strategy
Etc
Before you outsource your SEO to any agency, here are some of the areas to carefully consider:
Customer reviews
Success stories
Prices
Their strategies
Package content
Avoid hiring SEO agents and link builders from job platforms like Fiverr and SEOClerks. Most of these will be at the origin of toxic backlinks, ruining your online business.
5. Build backlinks
Hiring an SEO agency to grow your Google traffic is just an option and one of the things they do is build your backlinks. But this is something you may want to handle yourself or work directly with independent bloggers and content marketers.
Guest posting is one quick way to building backlinks. By submitting content to other websites in your niche, you create relations, increase your referral traffic and create both dofollow and nofollow inbound links.
Another way to build backlinks is get involved in roundup posts and interviews. Generally, you will wait to be contacted by someone for your opinion. However, services like MyBlogU provide a platform to find and submit answers to interviews and roundup posts.
Again, I recommend you stay away from suspicious SEO services and agents. Cheap backlinks services on micro job sites will end up driving you mad.
6. Anticipate keywords
One of the skills you need to develop is how to anticipate keywords.
Everyday, new developments come up. These lead to new keywords and most of these often become buzzwords.
Anticipating keyword means  seeing the possibility of people searching for something even before the thing becomes public.
When Warriorforum.com announced their failed expert training program, I was the first to write about it targeting the keyword "warrior forum vault review" even before the program was made known to the public.
This brought me to Google page number 1 and position #1 for the keyword:

Still don't understand what I mean by keyword anticipation? Check out this post for details.
7. Get rid of any technical barriers
Technical SEO (Search engine Optimization) has to do with the technical aspect of your website that affects your level of natural exposure and Google traffic.
This includes mobile friendliness. A mobile friendly test for mobile using this tool gives this:

It also involves the load speed of your website:

If your site's load speed is above 2 seconds, it's considered to be very slow. Factors that affect your load speed are:
If you do your best to have a fast loading website, well optimized for mobile friendliness, you are good to go. This doesn't guarantee more Google traffic however. Not taking care of them may bring your traffic down considerably.
Wix hosting is said to have the best load speed so far. However, you may want to pay attention to the cost of hosting your site there. Find out more on Wix Pricing here
8. Write better Titles and Meta Descriptions to increase CTR
Once your entries appear on Google Search Result Page (SERP), your page Title and Descriptions set in. Poor and dull titles with clumsy descriptions will not encourage clicks. This may have a negative effect on your ranking as Google will think visitors don't see value in your listings.
If you want to know more how these elements affects your SEO, check out this article